40 Over 40 nominations now open 🏆
Help us find and celebrate people in our midst who are improving life in Charlotte — and who are aged 40+
Help us find and celebrate people all over Charlotte who are making our city a better place.
It's that time again: Your favorite Charlotte awards program is back. Yes, we're talking about The Charlotte Ledger's 40 Over 40 Awards, Presented by U.S. Bank. Nominations open today. 
The 40 Over 40 Awards recognizes people who are making important contributions around us, and who are doing it in what some might call the second half of their lives. The Charlotte region is filled with individuals working hard to improve our community's quality of life, often with little fanfare. Other local awards programs recognize the achievements of ambitious 20- and 30-something rock stars and up-and-comers. The 40 Over 40 Awards finds and celebrates the lesser-known — and more, um, seasoned — go-getters. 
If you know people who are 40 or older who live or work in Charlotte and need to be celebrated, nominate them today! Help us discover and shine a light on some of these unrecognized greats among us.
New in 2023
◼️ Q&As/podcasts with previous award-winners: Over the last three years, we have honored 121 winners (there was a tie in 2021). Now, we're going to start highlighting their efforts to make our community a better place — and mine them for pearls of over-40 life wisdom. Starting this Saturday, and continuing on Saturdays into February, we'll run brief Q&As with some of these impressive people, accompanied with a podcast for you to enjoy the full conversation. We're kicking off the series Saturday with Amy Aussieker of Envision Charlotte. Look for future interviews with Charles Thomas of the Knight Foundation, Tim Miner of Charlotte is Creative, Manoj Kesavan of the Charlotte Boom Festival and more. The podcasts are hosted by Steve Dunn of Miles Mediation & Arbitration.
◼️ In-person awards event: We're lining up sponsors this year — such as our title sponsor, U.S. Bank — so that we can properly celebrate our 40 Over 40 award winners for 2023. We're planning an energetic in-person '80s-themed party on April 27, 2023, at the Charlotte Museum of History. It will be a fun event with a few surprises — no overpriced, stuffy sit-down dinners from us. Ducie Stark of real estate agency Dickens Mitchener is a Gold-level sponsor. We'd love to have the support of your company celebrating these outstanding folks in our midst. If you'd like to help sponsor the event, please reach out to Brie or Allison on our team.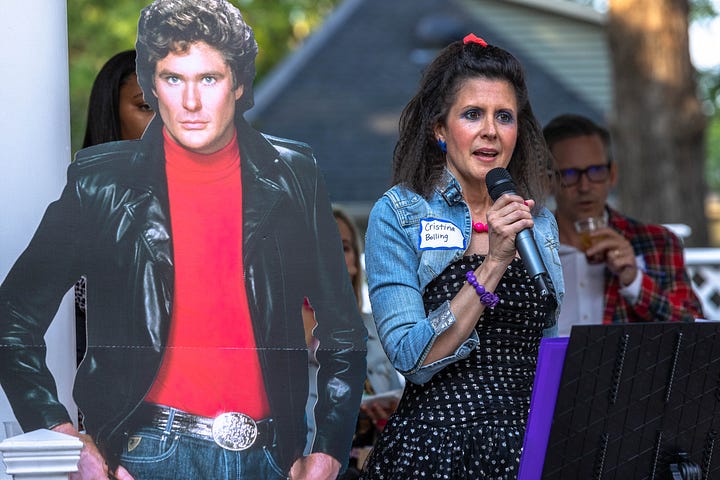 Last year's
40 Over 40 Awards, Presented by U.S. Bank
, celebrated winners with a fun '80s party with about 225 people in a sold-out crowd. We're doing it again this year on April 27 at the Charlotte Museum of History — save the date! And if you want to help sponsor it,
let us know
!
—
Learn more about the Charlotte Ledger 40 Over 40 Awards, Presented by U.S. Bank, in the latest episode of The Charlotte Ledger Podcast:
—
Free to enter, independent judges: To nominate people for the award, as in previous years, there is no fee to enter and you don't have to be a Ledger subscriber (though we think once you read it, you will want to be). Winners will be chosen by an independent panel of wise under-40 judges who do not work for The Ledger or for our event sponsors. Award recipients will receive a traditional certificate suitable for framing (frame not included) and a limited-edition "Charlotte Ledger 40 Over 40" koozie — perfect for keeping cold that adult beverage that they didn't have to show ID to purchase.
The contest will be overseen by The Charlotte Ledger, the locally owned e-newsletter that is taking Charlotte by storm by repeatedly breaking news and providing thoughtful and lively insights about Charlotte. If you need to sign up for The Ledger, which offers free and paid subscription plans, you can do that here:
This contest is (obviously) unaffiliated with any other age-based award program.
Here's how the 40 Over 40 Awards works:
Starting today, you can nominate somebody by using this easy entry form. People submitting nominations may be any age, and they may submit as many nominations as they like. We do note that while it's fine for multiple people to nominate the same person, more nominations do not necessarily mean a better chance of winning. It's most useful when the additional nomination forms give additional information. 

Your nominees must be 40 or older (born on Feb. 15, 1983, or earlier) and live or work in Mecklenburg County. 

You must personally know the person you are nominating. The main question asks why you are nominating this person. You'll want a thoughtful answer, but you can complete the form quickly. You may nominate yourself. The nomination deadline is Friday, Feb. 10, at 11:59 p.m. Eastern.

After nominations close, The Ledger will convene a panel of outstanding under-40 judges to review the applications. The judges are chosen for their wisdom and common sense. We will introduce you to them in the next few weeks. No Charlotte Ledger employees or relatives of employees will serve as judges, and sponsors of the event will have no role or influence in the judging and selection process.

Once the winners are chosen, we will notify them individually in mid-March, verify their information, and then they will be celebrated in a special edition of The Charlotte Ledger in April. We will also honor them at an in-person '80s-themed party April 27. Stay tuned for more information about the event. 

For those who are nominated but don't win, there's good news: Your eligibility to apply for The 40 Over 40 Awards in future years expires only when you do! You're not punished for slowing your career to raise kids or for spending your 20s and 30s figuring out what the heck to do with your life. And, of course, in future contests, many of The Ledger's valued under-40 readers will age into eligibility — a welcome and unexpected perk of turning 40.
For the latest news and information about the contest, be sure you are signed up for our e-newsletter. Official contest rules are available here.
Questions? Contact Deborah Goldberg at 40over40@cltledger.com.
Feel free to spread the word about The Charlotte Ledger's 40 Over 40 Awards, Presented by U.S. Bank, by sharing this post:
Or nominate a special 40+ person in your life right now:
— Tony Mecia, executive editor, The Charlotte Ledger
—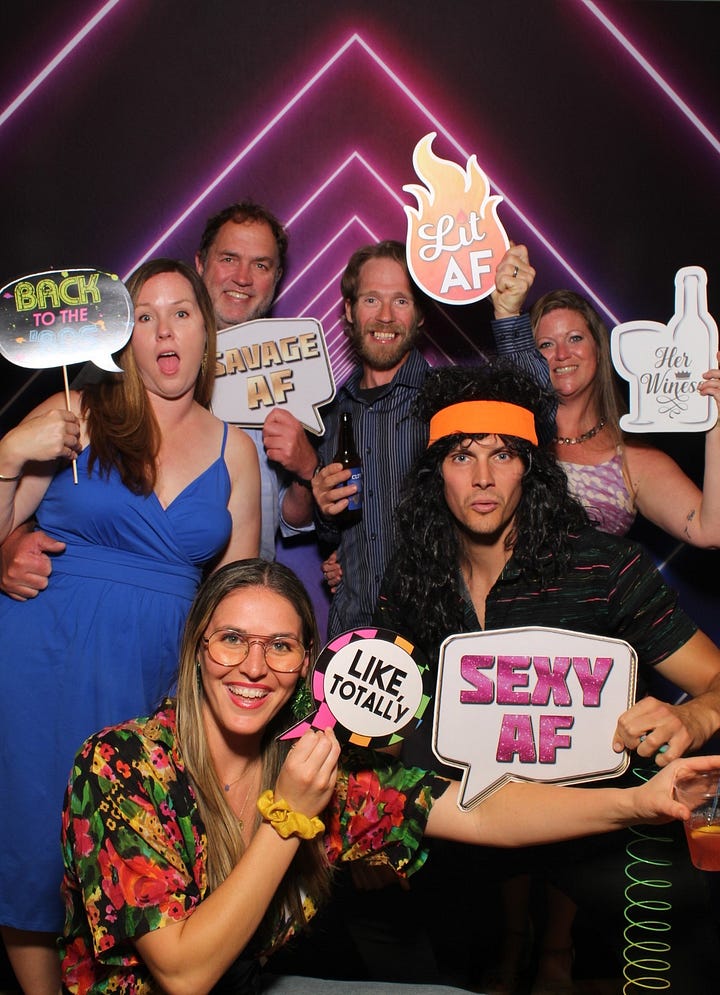 Photo booth from 2022 awards celebration!
---
Ledger 40 Over 40 team: