Discover more from The Charlotte Ledger
Delivering smart and essential news to Charlotte, one email at a time.
Over 19,000 subscribers
A new office tower for still-booming South End
Work starts this week on 11-story building on South Tryon opposite future LendingTree headquarters
Construction of second tower at Vantage South End
shows the area still has development momentum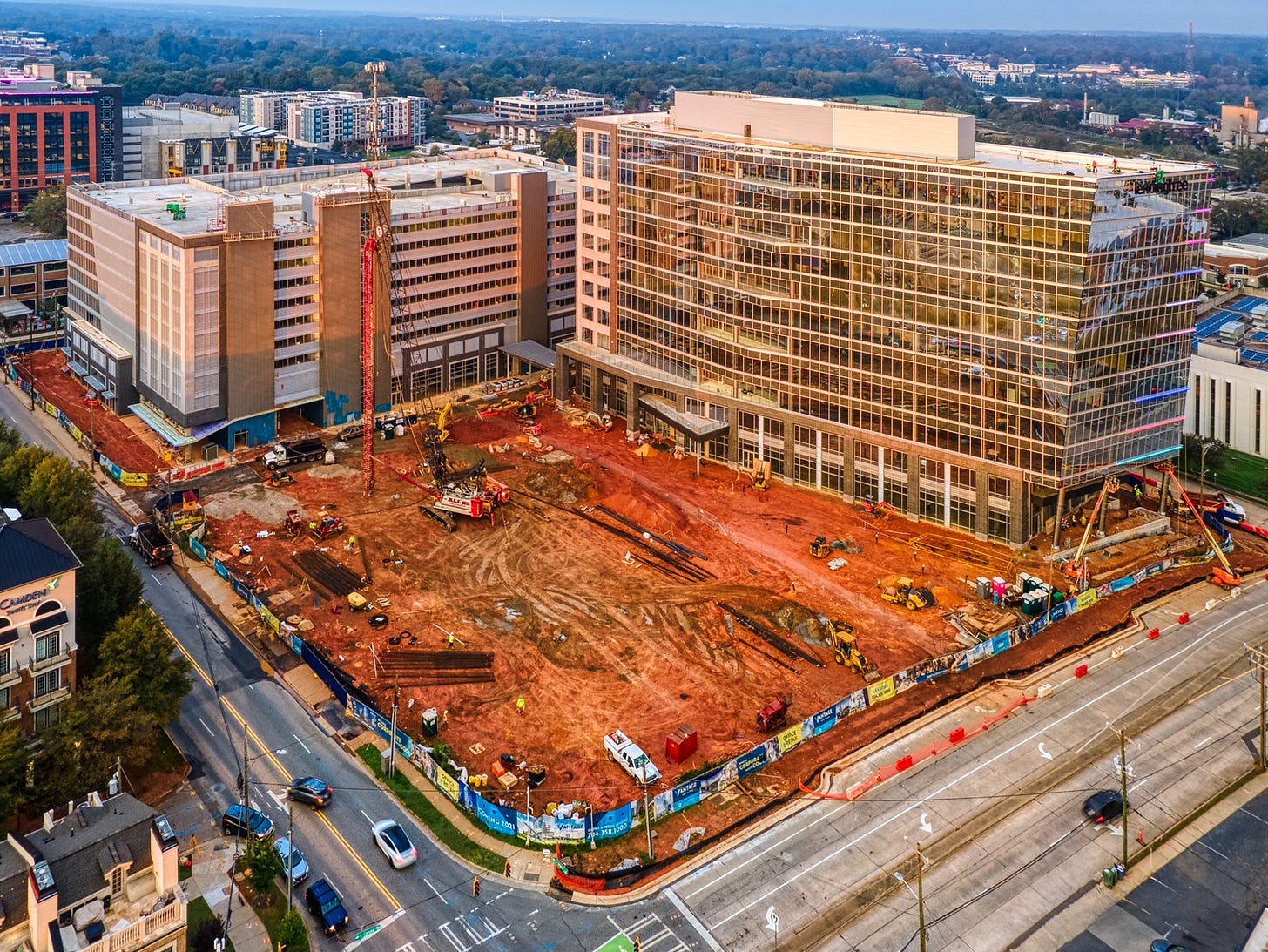 The LendingTree Tower at Vantage South End is nearly complete, and work is starting this week on its twin at South Tryon and Carson Boulevard, one block from Morehead Street. (Photo courtesy of Myles Gelbach.)
by Clayton Sealey
Over the past seven months, taking a walk through uptown and South End on any given day couldn't be more different. Uptown is eerily quiet, still feeling the effects of the shutdown and waiting for its lifeblood, the more than 100,000 people who work there every day to return. While activity trickles back in uptown, South End is abuzz, seemingly unhampered by the Covid-19 pandemic. For now, it seems Center City's momentum has shifted to South End and if you need evidence, just follow the investments.
Vantage South End, a sleek mixed-use development on Carson Boulevard between South Tryon and Winnifred streets, is setting the tone for a post-Covid world. The project, being developed in partnership by locally-based The Spectrum Cos. and Atlanta-based Invesco, already sports one glass tower that cantilevers over the street. The 11-floor tower, nearing completion, is the future home of LendingTree's global headquarters, which will take up 175,000 s.f. of the tower's 326,000 s.f. The tower is set to open for LendingTree employees in the first quarter of 2021.
Second tower: This week, work began on the second piece of the project, a 286,000-s.f., 11-floor office building that will almost mirror the neighboring LendingTree Tower. The East Tower, at the corner of South Tryon and Carson, will feature the same diagonal front facade that leans slightly over the street, accenting the project's focus on outdoor space and community connectedness.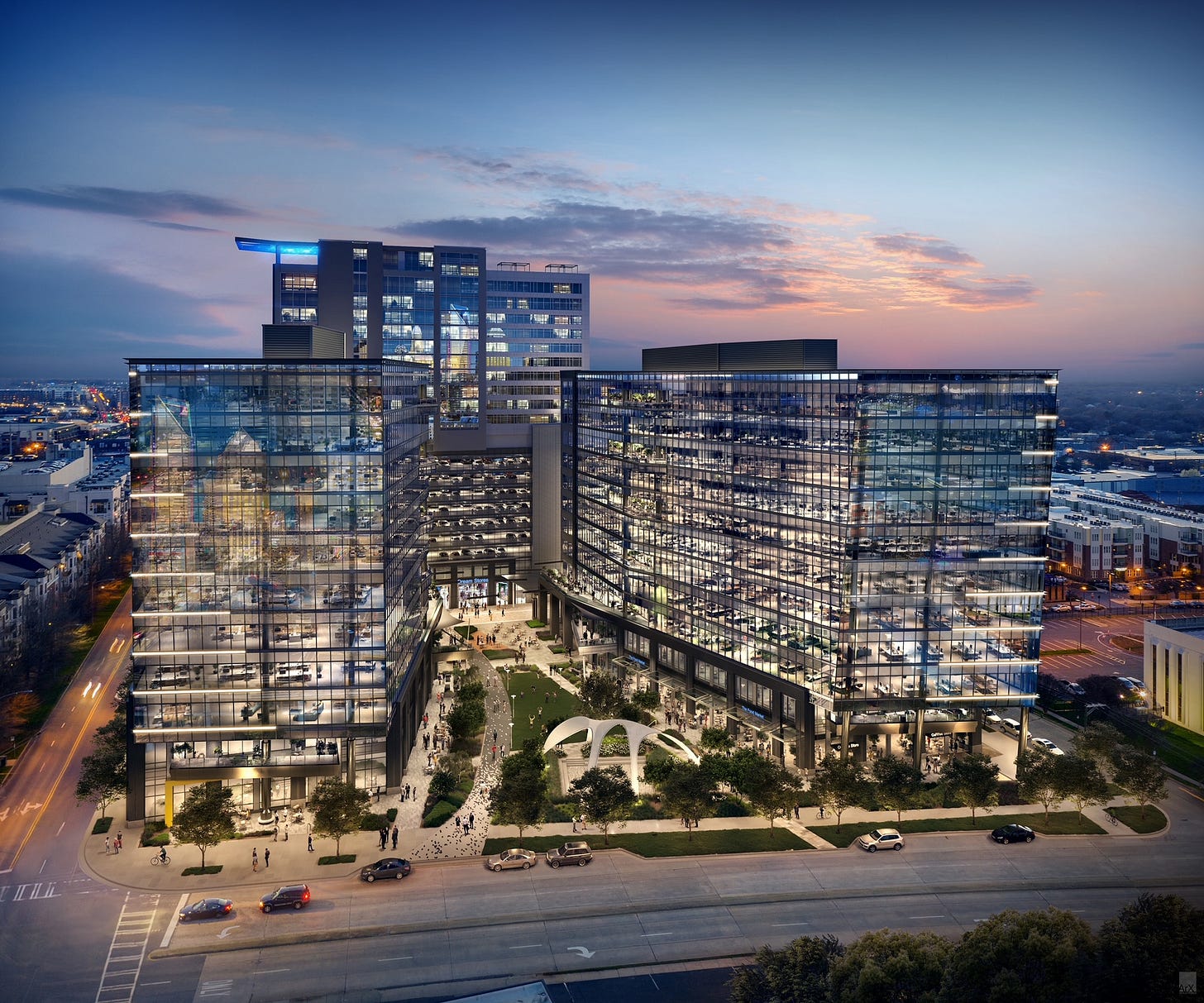 (Rendering courtesy of Spectrum, LS3P)
When the second tower opens in March of 2022, the completed office complex will feature ample outdoor terrace space, and will bookend a 1-acre green space that will radiate outwards, growing wider as it approaches uptown.
"We're really excited about our outdoor possibilities as we continue to be at the forefront of healthy workplaces — adding 18 terraces and 700+ seating options and charging stations within the green space. We're still innovating and taking advantage of our urban park," says Virginia Luther, managing director of The Spectrum Cos.
Projects like Vantage actually have a bit of an advantage over similar office concepts that were delivered over the past few years. Like most, the office towers feature large open floor plates, but because of timing, the developers have been able to be nimble with how the floors are built out to reflect the times. With a focus on healthy workplaces, they're going the extra mile to ensure top air quality, filtration, and touchless environments. They have been able to plug in vital new amenities like on-site health and wellness services. Add in perks like a boutique hotel with a rooftop bar, 55,000 s.f. of retail (including a new food hall), and you have a very attractive place to do business.
But why is South End chugging along?
South End's continued rise is pretty simple. For years, people have lamented the apartments that have continued to rise along the Lynx Blue Line, but it laid a strong foundation. Today 9,000 apartments have either been built, are in development, or under construction in Vantage's surrounding neighborhood.
Thanks to the residential boom of the past decade, there is now such a large concentration of young, educated people that the neighborhood is on virtually every relocating company's radar. Couple that with a growing food and beverage scene that offers more variety and price point options than uptown, innovative open spaces like the Rail Trail, dozens of breweries, and a burgeoning retail district establishing itself between Atherton and the Design District, and you have the recipe for continued success.
South End also benefits from the Lynx Blue Line in a way that uptown simply cannot. The Blue Line was built through uptown during a time when the Central Business District was already fairly built up, and until you get to Fifth Street, a lot of the line is elevated. This limits interactivity. On the other hand, in South End, the neighborhood has largely been built around how it interacts with the train which is at grade, visible and easy to get to. This has led to a more cohesive and attractive urban realm, and thus a more desirable place to live.
Vantage is just one of the many developments that will etch their profiles in the South End skyline in the coming years. Just two Blue Line stops away, Lowe's is establishing a 2,000-employee tech hub, housed in South End's new tallest building, built in partnership by Childress Klein and Ram Real Estate. Growth has even begun pushing into the Gold District with new multifamily options popping up by both Spectrum and Grubb Properties.
The momentum has certainly swung in the direction of South End, and it's now up to uptown and other neighborhoods to pick up the pace.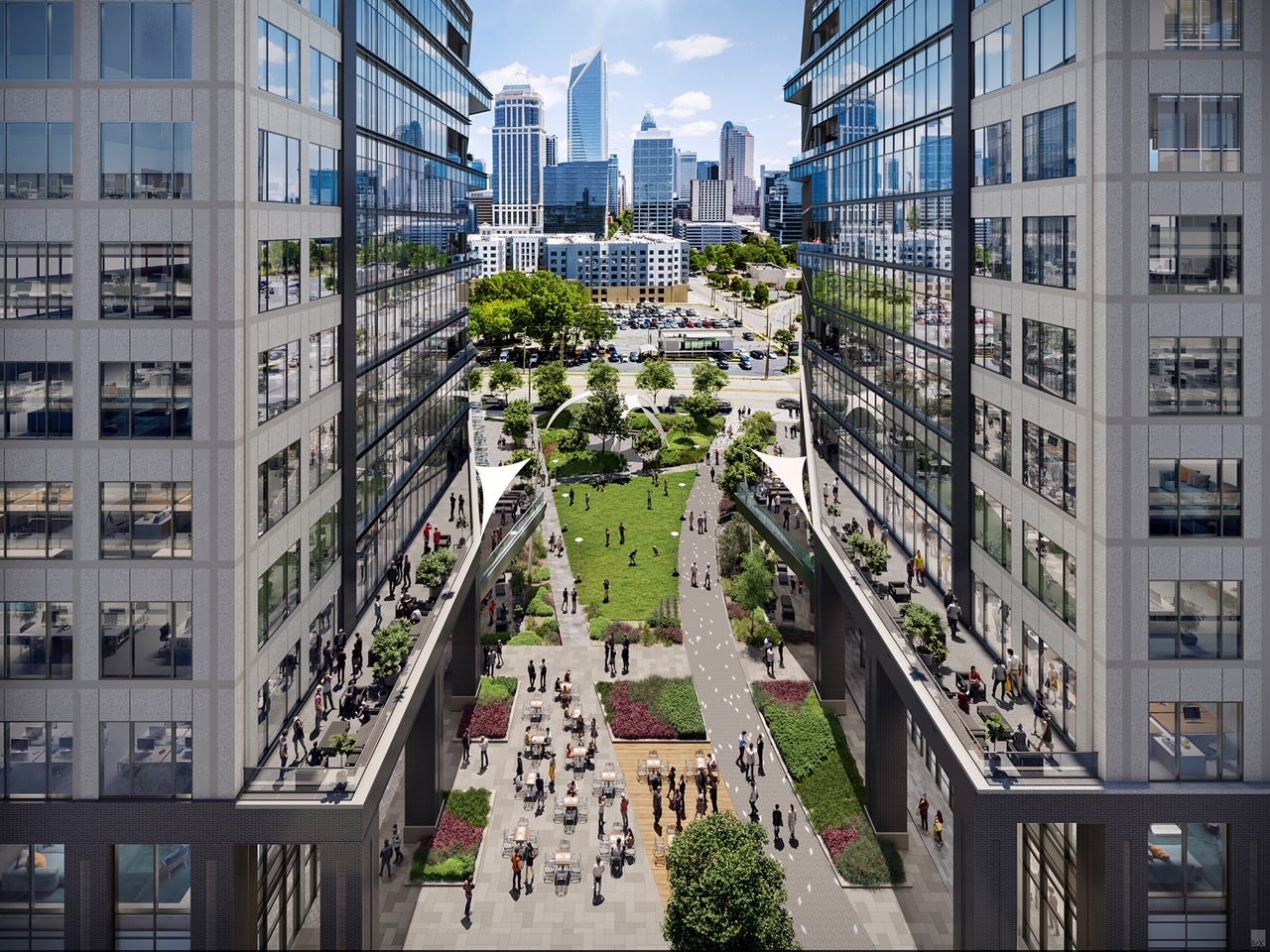 (Rendering courtesy of Spectrum, LS3P)
Clayton Sealey is a marketing professional for local design-build signage firm SouthWood Corp. and Social Media Director for CLT Development, a local social media platform that fosters and leads discussion about urban planning, architecture, transit and city-building initiatives.
---
South End from the air
In case you missed it, catch our short drone video with Clayton Sealey discussing the evolution and future of South End:
It was part of our Flyover Friday series we did in August and September, in conjunction with the video production company The 5 and 2 Project.
---
Need to sign up for this e-newsletter? We offer free and paid subscription plans:
The Charlotte Ledger is an e-newsletter and website publishing timely, informative, and interesting local business-y news and analysis Mondays, Wednesdays, Fridays and Saturdays, except holidays and as noted. We strive for fairness and accuracy and will correct all known errors. The content reflects the independent editorial judgment of The Charlotte Ledger. Any advertising, paid marketing, or sponsored content will be clearly labeled.
Got a news tip? Think we missed something? Drop us a line at editor@cltledger.com and let us know.
Like what we are doing? Feel free to forward this along and to tell a friend.
Searchable archives available at https://charlotteledger.substack.com/archive.
On Facebook, LinkedIn, Instagram, Twitter.
Need an "Essential Charlotte Ledger" T-shirt? Order here.
Sponsorship information: email editor@cltledger.com.
Executive editor: Tony Mecia; Managing editor: Cristina Bolling; Contributing editor: Tim Whitmire, CXN Advisory; Reporting intern: David Griffith