A stalled North Tryon project restarts — and it's bigger
Plus: Lime scooters invade Ballantyne; City set to rezone UCity shopping center; N.C. legislators approve oyster-shell re-use
Good morning! Today is Friday, July 12, 2019.
Need to subscribe? Sign up for free here (charlotteledger.substack.com).
Like what you see? Forward to a friend or share on social media.
---
Exclusive: Developer expands First Ward apartment-retail project, in a boost to North Tryon corridor
A long-delayed plan to build an apartment/retail complex alongside the light rail line in uptown's First Ward finally appears to taking off, with demolition starting on the site — and new plans to expand the amount of space for retail shops.
The 3.3-acre site, along North Brevard Street between 10th and 11th streets, is home to a mostly finished parking deck and several dozen concrete columns. It has sat idle for months, leading to gossip in local real-estate circles that something was amiss. The project was first announced in 2015.
But this week, the site's developer, Levine Properties, told the Ledger that everything is still a go: Demo work has started on the columns, and workers are finishing small items on the 1,300-space parking deck. There were workers out there this week.
In addition, Levine's newest plans call for some changes:
Work has restarted on the retail/apartment complex bounded by the light-rail line, North Brevard Street, 11th Street and a future 10th Street. (By Perkins Eastman, courtesy of Levine Properties.)
Why the holdup? Levine Properties spokesperson Colleen Brannan told the Ledger in an email:
The delay has more to do with the 10th Street Apartments that will wrap around the parking structure. We were originally under construction with a six-story, 224-unit wood frame project and made the strategic decision to cancel that project and instead design a concrete frame building of 12 stories with 410+ units. Ground floor retail space will now total 7,000 SF.
Brannan added that with the growth of the center city, it made sense to redesign the complex and expand it.
Why it matters: The development, which sits alongside the Brookshire Freeway and is adjacent to UNC Charlotte's uptown campus and the First Ward Creative Arts Academy, could help attract additional development to the northern side of uptown. With much of the center city's development spreading out toward South End, the Levine project represents an expansion the other direction. Adjacent blocks that seem underused, such as the one with Mecklenburg County's Hal Marshall center, seem primed for new investment.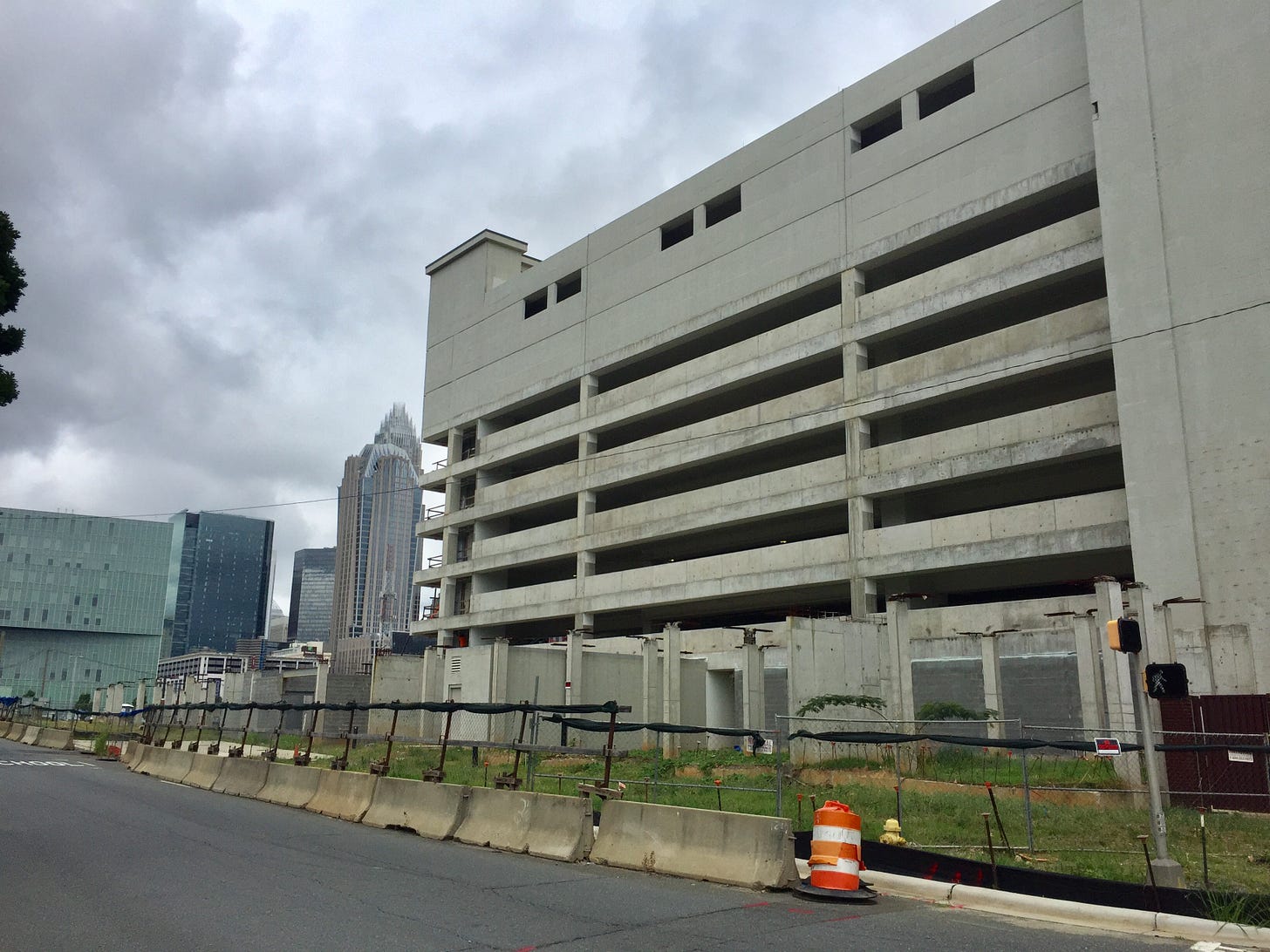 Apartments at last? Levine Properties' latest plans call for 7,000 s.f. of retail plus more than 410 apartments wrapped around this parking deck on North Brevard Street.
The North Tryon Vision Plan, a planning document from uptown business organizations and private companies, says the fate of Levine Properties' holdings are important to the health of the area:
Levine Properties' redevelopment of their First Ward property is critical to cultivating the live-work-play environment that is driving the vision for North Tryon. Young professionals seeking an enriching lifestyle in an urban environment will find a transit-oriented neighborhood within First Ward Urban Village with all the office, residential, retail and hospitality amenities they expect.
In the plan's depiction of what retail in the area could look like, it includes a photo from San Francisco of an urban hipster with a cup of coffee walking by a specialty foods store called Harvest Urban Market, whose logo is a big piece of broccoli with an "H" in it. (page 55)
The plan also calls the North Tryon area "the largest and most exciting development opportunity remaining in Uptown."
If similar developments sprout up around here, will we have to start calling it "North End"?
Levine Properties is a major landholder in the North Tryon area uptown, which is less densely developed than other parts of the center city. The site of the planned apartments/retail/parking garage is at the bottom of the green rectangle on the left. (By Perkins Eastman, courtesy of Levine Properties.)
No timetable: Levine Properties declined to offer a new timetable for completion of the project. In April 2018, developer Daniel Levine told the Observer that the building should be complete by "early 2020," which now seems impossible.
A Mecklenburg County spokeswoman confirmed to the Ledger that the parking deck's permits are current, and "there is no holdup on Code Enforcement's end."
Design of the project is finished. Perkins Eastman did the architecture work. The general contractor, Whiting-Turner, has started the demo.
---
Lime scooters go to Ballantyne
Ballantyne Corporate Park owner Northwood Office announced this week that popular e-scooters are now available in the Ballantyne area.
If you ever use scooters, you will see on their apps that they occasionally show up far away from their natural homes close to the center city — apparently when riders want to test their range and battery longevity. They occasionally are driven as far away as Pineville.
Now, though, Ballantyne has received its own stable of Lime scooters, and Northwood Office points out that they have many uses:
Scooters can be used to run errands, visit local fitness centers, meet up with a friend or explore the landscape of Ballantyne. By removing the dependence on personal automobiles for short-distance transportation, Lime-S provides a cleaner, healthier solution for the environment.
The last-mile solution: Ballantyne gets e-scooters. (Photo courtesy of Northwood Office.)
The Lime map, though, shows there are plenty of restricted areas. The golf course, for instance, appears strictly off-limits: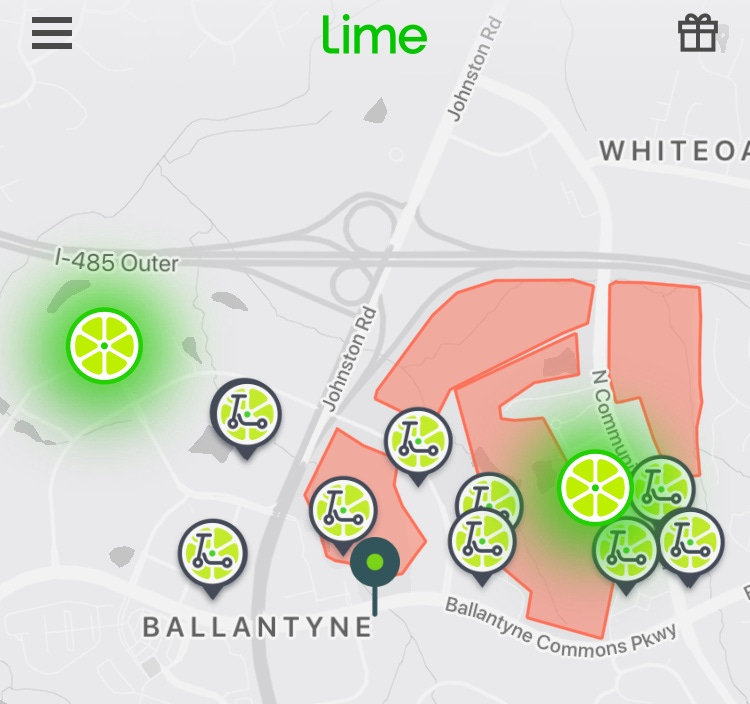 Golf carts: yes. Lime scooters: no.
Ballantyne is working to become more millennial-friendly. Northwood Office is working on plans to develop a mixed-use, walkable town center with apartments and retail.
---
Is South End moving west?
Tremont Avenue is one of the hottest streets in South End. It has a new Krispy Kreme office, Bang Bang Burgers, Zeppelin and Common Market, and breweries and trendy restaurants are within a block.
All that action is on the east side of Tryon Street. Now, though, some of that hotness seems to be migrating over to Tremont west of Tryon.
The Charlotte City Council on Monday will hear a rezoning request from a developer, The Ardent Cos., which wants to build 103 townhouses on a 5.6-acre site that's now a junkyard and auto-recycling facility on West Tremont Avenue. From the site plan submitted to the city, the name of the development appears to be 527 Tremont.
South End's origins are in industrial and warehouse, but you don't think of modern-day South End as being home to junkyards and auto-recycling — although "The Junk Yard" sounds like it could be an ironic name of a cool bar.
---
In brief
---
Food and booze news
A weekly wrap-up of the week's eating and drinking developments
---
BBC reporter grills burger on patio, sells it on Uber Eats
Food news from Britain, from the newsletter Oversharing:
The BBC set up a fake burger restaurant to see how easy it was to start selling food on Uber Eats. Then they made a video about it.

"I am astonished by what I saw, but also very, very alarmed," says Mark McGlinn, the food safety expert who received the burger that the BBC reporter grilled on his patio, topped with lettuce, and balled up in some foil for an Uber Eats delivery person to pick up. Tell me this is not one of the saddest burgers you've ever seen.

"We're in desperate times, it seems to me, if very, very large food delivery platforms can be operating in this way," says McGlinn.

Uber told the BBC in a statement it was "deeply concerned by this breach of our food safety policy" and "it is unacceptable that a restaurant that did not meet our requirements was able to use the platform."
---
Got a news tip? Think we missed something? Drop me a line at editor@cltledger.com and let me know.
Like what we are doing? Feel free to forward this along and to tell a friend.
The Charlotte Ledger is an e-newsletter and web site publishing timely, informative, and interesting local business news and analysis Mondays, Wednesdays, and Fridays, except holidays and as noted. We strive for fairness and accuracy and will correct all known errors. The content reflects the independent editorial judgment of The Charlotte Ledger. Any advertising, paid marketing, or sponsored content will be clearly labeled.
The Charlotte Ledger is published by Tony Mecia, an award-winning former Charlotte Observer business reporter and editor. He lives in Charlotte with his wife and three children.