Discover more from The Charlotte Ledger
Delivering smart and essential news to Charlotte, one email at a time.
Over 19,000 subscribers
ALE threatened to haul Whitewater Center CEO to jail
Plus: Charlotte locks up #2 banking center title; College Board believes south Charlotte faces little adversity; MLS intrigue intensifies
Good morning! Today is Wednesday, December 4. Need to subscribe? Sign up for free here (charlotteledger.substack.com). Send to a friend.
Alcohol enforcement agents get aggressive in busting brewery-sponsored 6K trail race; seize sponsorship agreements, steel cup
The U.S. National Whitewater Center has agreed to pay $3,000 to settle a case brought by the N.C. Alcoholic Beverage Control commission, after the center coordinated a trail race with a well-known local brewery.
At one point in the investigation, Alcohol Law Enforcement agents showed up at the Whitewater Center's offices asking for a sponsorship agreement between the center and NoDa Brewing Co., which underwrote last year's "Brew Dash 6K." When the Whitewater Center's CEO, Jeff Wise, said he needed to see a subpoena and call his lawyers, the ALE agent replied, "No. You can get us a copy of the sponsorship agreement, or we can go to jail," according to the investigative report obtained by the Ledger.
The Whitewater Center was one of 10 Charlotte companies that settled alcohol-related charges with the ABC Commission in November. Some of the violations provide a window into the intricacies of the state's alcohol laws, many of which were put in place after Prohibition to make booze easier to regulate and tax. Some of them frankly seem a little out of place in 2019.
Acting on an anonymous tip: In the Whitewater Center's case, ALE agents started investigating after receiving an anonymous tip that NoDa Brewing was sponsoring the June 16, 2018, Brew Dash 6K, which was part of the "Whitewater Race Series." Under N.C. law, alcohol producers like breweries are not supposed to have financial ties to establishments that sell alcohol without the approval of the ABC Commission.
The full seven-page investigative report is available on the Ledger's website. It is one of the more interesting things you might read today. In excruciating detail that reads like an old episode of "Dragnet," it recounts the movements of two ALE agents hot on the trail of an illicit conspiracy to promote and hold a trail race at the Whitewater Center. It details how agents learned that the race's packet pick-up was at NoDa Brewing and how they discovered that T-shirts had been printed with the Whitewater and NoDa Brewing logos. (Agents unearthed those details using the internet).
It recounts how agents confronted NoDa Brewing's Suzie Ford, who turned over the sponsorship agreement and answered their questions:
While I reviewed the contract, Ford said, "If that's a violation, [referring to the cooperative advertising on the t-shirts] then this will be a violation too." Ford returned with a Klean Kanteen steel pint cup with the stylized "W" logo, "WHITEWATER race series," "Proudly Hydrated By," and the NODA BREWING COMPANY'S logo on the cup. I informed Ford the cup was also a cooperative advertising violation.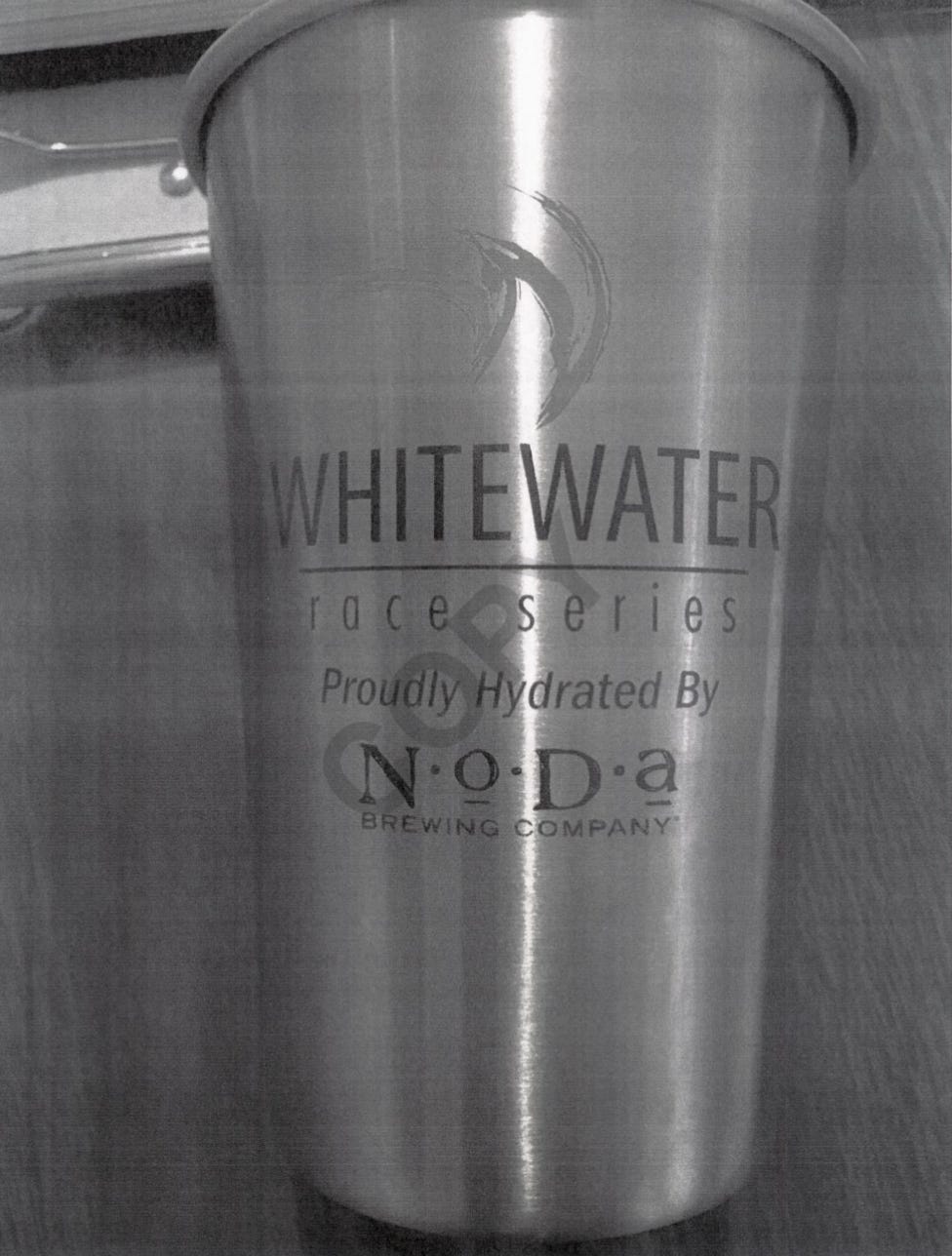 Smoking gun: A steel cup seized by ALE agents from NoDa Brewing in July 2018 shows that the Whitewater Center and the brewery colluded to advertise the "Brew Dash 6K" in June 2018, in violation of state laws prohibiting cooperative advertising between alcohol producers and sellers.
But Wise, the Whitewater Center CEO, comes off as less cooperative at a meeting in the Whitewater Center's conference room:
I told Wise, "I need to get a copy of the sponsorship agreement between you all and NODA BREWING COMPANY." …

Wise replied stating I would need to supply him with a subpoena and he needed to get his attorneys involved.

I replied, "No. You can get us a copy of the sponsorship agreement, or we can go to jail."

Wise asked me, "Under what authority?"

I replied, "18B-502." I retrieved my ALE issued state cell phone … and handed Wise my ALE issued state cell phone so he could read the statute. …

After reading the statute, Wise made comments indicating what I was doing constituted an illegal search.
Yet Wise handed over the sponsorship agreements, plus agreements with six other breweries.
The Whitewater Center said it is unable to comment on the matter because it is a legal issue.
An ALE spokeswoman told the Ledger in an email: "The relationship between the two permittees is prohibited. … While the rules and regulations may seem technical, they are in place to prevent monopolies between suppliers and permittees."
Must comply: Asked if the agent acted appropriately by threatening to take Wise to jail, she said ALE likes to have a positive working relationship with businesses but that "it is a criminal offense for a permittee (or their agent) to prevent ALE from conducting an inspection. While most law enforcement officers must obtain a search warrant or subpoena to view these documents, as Mr. Wise indicated, ALE special agents operate under jurisdiction stated in 18B-502. Much like a police officer asking for a driver's license and registration during a traffic stop, drivers are expected to comply; if they don't, there are criminal repercussions. Similarly, ALE special agents have the tools to take more serious action — physical arrest — for noncompliance."
There's no record of NoDa Brewing being cited. The Whitewater Center paid $3,000 to avoid having its ABC permit suspended for 30 days. It was charged with two counts of "cooperative advertising between an industry member and a retailer."
Observation: Companies who deal regularly with alcohol law enforcement tend to consider agents to be overly zealous in enforcing antiquated laws. But they don't say that publicly for fear of drawing further scrutiny.
Bonus anecdote: If you think this incident is humorous, check out the full record of the investigation into Unknown Brewing Co. from May of this year. It agreed to pay $2,000 to settle charges of selling cans of "Elevator Lady" beers that had the likeness of Labor Commissioner Cherie Berry, even though the label had been rejected by the ABC Commission: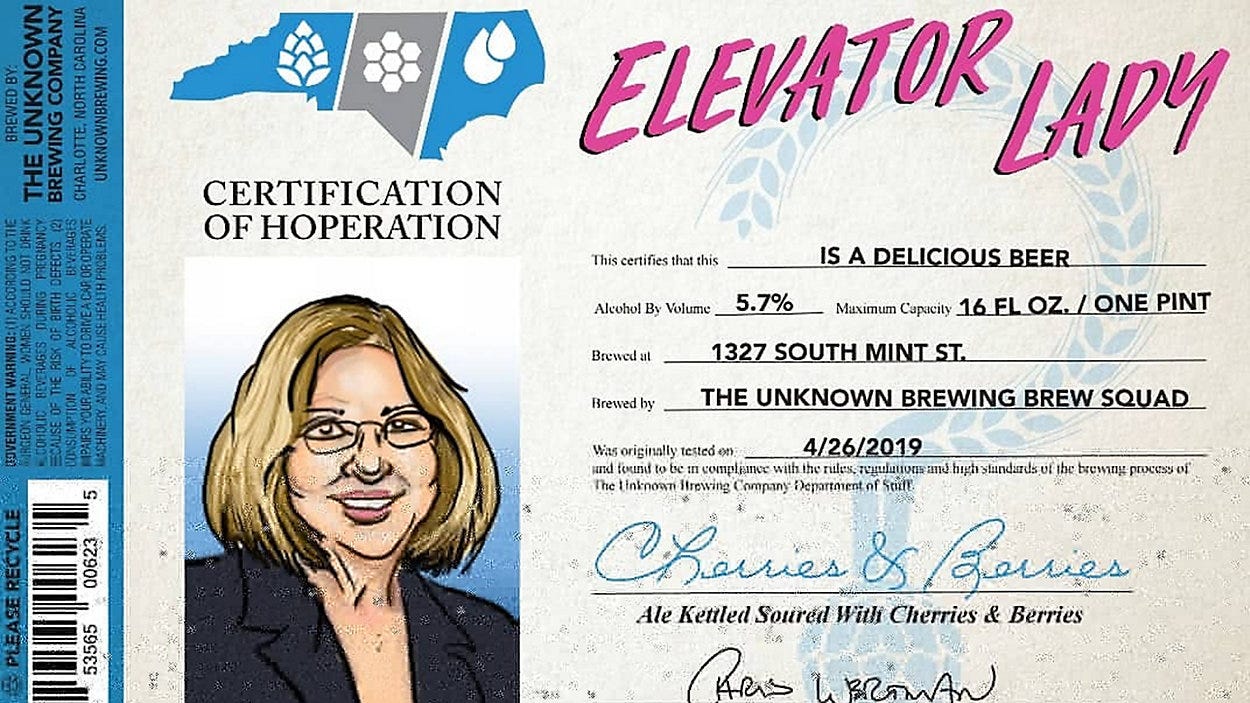 ---
100% chance of MLS intrigue intensifying this week
Major League Soccer may or may not be about to announce that Charlotte will get a pro soccer team.
There were a series of conflicting media reports this week about just how imminent such an announcement is. Citing two unnamed sources, WFAE reported that an announcement is expected "in Charlotte as early as Friday." But then the Biz Journal, WSOC and The Athletic said their unnamed sources said no announcements are planned.
What we know: All we know for certain is that the MLS board of governors is scheduled to meet Thursday in New York to discuss expansion and that any announcement of a new team will be made in the city where the team plays. Charlotte is considered to be the front-runner for a new team.
Should MLS deem Charlotte worthy, the City Council seems inclined to hand over up to $110M in tourism tax money for improvements to Bank of America Stadium and for training facilities and offices. Those are expected to be built at the old Eastland Mall site.
Look for the media leaking to ramp up starting Thursday.
---
Charlotte locks up #2 banking title
An astute Ledger reader notes that the item we ran Monday about brokerage firm Charles Schwab relocating from San Francisco to Texas is actually more significant for Charlotte than it might seem.
Charlotte has been battling with San Francisco for the title of #2 banking center, as measured by deposits of where banks are headquartered. We briefly lost the spot to San Francisco in 2017, largely on the growth of Charles Schwab, before regaining it last year. The Schwab exodus for Texas should solidify Charlotte as #2. New York is easily #1.
Then, of course, there's Truist — the combination of BB&T and SunTrust. It's moving to Charlotte and will be the #6 bank in the country. That deal is expected to close this week.
---
College Board 'adversity scores' would have handicapped south Charlotte
Remember earlier this year, when the College Board floated the idea of generating an "adversity score" that would attempt to assign a numerical value to a high school, based on factors including the crime rate and poverty levels in the area? The idea was to help give college admissions counselors more socioeconomic data to compare students from different schools.
Now, the Wall Street Journal says it has obtained the College Board's adversity scores for more than 10,000 U.S. high schools — and it is sharing that information on its website (paywall).
Not surprisingly, the Charlotte schools deemed to face the least adversity are clustered in south Charlotte. By the College Board's measure, the local schools with the lowest adversity scores are, in order, Providence; Providence Day; Ardrey Kell and Charlotte Christian (tie); and Charlotte Catholic. Those facing the most adversity are West Charlotte, Garinger, Philip O. Berry Academy and West Meck. Some private schools including Charlotte Country Day and Charlotte Latin were not included in the Journal's data.
The Journal also had a data scientist adjust median SAT scores based on the adversity index. Not surprisingly, most schools in the wealthier areas of Charlotte would see their median SATs adjusted downward, according to the Journal's analysis.
Here is how Charlotte schools listed on the Journal's site fared (adversity scores are from 1-100, with 100 being the most severe adversity):
After pushback, the College Board in August announced it would abandon plans to provide a single adversity score and instead would provide admissions counselors with more detailed information on a school's neighborhood.
---
In brief
---
This week in podcasting
A round-up of interesting moments in recent Charlotte podcasts
Catholic abuse scandal: WFAE is out with a new four-episode podcast from Sarah Delia. This one examines why Charlotte's Catholic diocese hasn't released the list of priests credibly accused of sexual abuse — and the toll that takes on victims. One of Delia's interview subjects, Anthony, talks about abuse he suffered as a teenager from a priest at St. Ann's Catholic Church on Park Road. It took away his innocence, he says: "He was obviously turned on by showing affection to young boys. … I know as a Christian today — I'm not Catholic anymore — that I should forgive people that offend you. I can tell you at this point, I haven't done that. If I ran into [the priest] on the street, God help my soul. And he better hope the police get there before, because I would be liable to [pause] hurt him. … I have so much disdain and hate for that man." (The List, Nov. 30, 24 minutes)

Charlotte gentrification: In the inaugural episode of the Cardinal Insights podcast, Clay Grubb of Grubb Properties talks with host John Culbertson about his company's plans to build affordable housing in opportunity zones in Charlotte and other cities. "There are going to be winners and losers. From a pure economic impact, the city will be a major winner. The folks that get pushed out of these neighborhoods will be the losers. On the westside, just 27% of the residents are actual homeowners. Those 27% will directly benefit from the rise in the value of their home. The other 73% are going to have a real struggle, because any new housing will be unaffordable for a big portion of that population." (Cardinal Insights, Nov. 28, 19 minutes)
---
Cheap getaways from CLT
This weekend: Charlotte to Philadelphia, $33 round-trip on Frontier (nonstop), Dec. 7-10.

Charlotte to Baltimore, $52 round-trip on Spirit (nonstop), various dates December-January.

Charlotte to Newark, $62 round-trip on American (nonstop), various dates in January-February.

Charlotte to Fort Lauderdale, $72 round-trip on American (nonstop), various dates in January-February.

Ski trip: Charlotte to Denver, $88 round-trip on Frontier (nonstop), various dates in January-February.

Charlotte to Las Vegas, $144 round-trip on American (nonstop), Jan. 25-28.

Charlotte to San Jose, Costa Rica, $249 round-trip on Spirit (one-stop), various dates in February.
Source: Google Flights. Fares retrieved Wednesday morning. They might have changed by the time you read this.
Another satisfied Ledger customer:
---
Programming note: Ledger editor Tony Mecia appears as a guest on 90.7 WFAE at 6:40 a.m. and 8:40 a.m. on Thursdays for a discussion of the week's local business news in the station's "BizWorthy" segment. Audio and transcripts are also available online.
---
Need to sign up for this e-newsletter? Here you go:
Got a news tip? Think we missed something? Drop me a line at editor@cltledger.com and let me know.
Like what we are doing? Feel free to forward this along and to tell a friend.
Searchable archives available at https://charlotteledger.substack.com/archive.
On Twitter: @cltledger
The Charlotte Ledger is an e-newsletter and web site publishing timely, informative, and interesting local business news and analysis Mondays, Wednesdays, and Fridays, except holidays and as noted. We strive for fairness and accuracy and will correct all known errors. The content reflects the independent editorial judgment of The Charlotte Ledger. Any advertising, paid marketing, or sponsored content will be clearly labeled.
The Charlotte Ledger is published by Tony Mecia, an award-winning former Charlotte Observer business reporter and editor. He lives in Charlotte with his wife and three children.