Alexa, get me to urgent care
Tech takes over healthcare. Plus: Big corporations back tax hike, Wells CEO visits Charlotte; Spider-Man invasion in Chapel Hill
Good morning! Today is Wednesday, October 30, 2019. Need to subscribe? Sign up for free here (charlotteledger.substack.com). Send to a friend.
Tech in healthcare is advancing rapidly and benefiting patients, Atrium CEO says; bionic noses at Wake Forest
Technology in healthcare is advancing so rapidly that patients will soon have many more ways to benefit by using apps on their phones, digital assistants and virtual reality, Atrium Health CEO Gene Woods said in a speech on Tuesday.
Speaking to the Charlotte Rotary uptown, Woods described technologies in their infancy that just a few years ago would have sounded as though he pulled them out of a sci-fi movie:
Atrium patients can find and make reservations at urgent care centers using Amazon's Alexa assistant.

Children with cystic fibrosis can use virtual reality goggles to distract them from medical procedures.

Providers can talk to patients about their symptoms via computer.

The healthcare system analyzes data to predict how soon patients leaving the hospital might return.

Your doctor can sync medical records with your Fitbit.
"We are trying to use this technology really for direct applicability to the patients," Woods said.
Big medicine: Woods, who joined Atrium in 2016, oversees a growing healthcare giant that has 70,000 workers and 50 hospitals throughout the Carolinas and Georgia and takes in more than $11B in annual operating revenue. It is the Charlotte region's largest employer, with about 35,000 workers locally.
Technology has transformed other industries, and now it is reshaping the delivery of healthcare. The advances aren't just in medical research, like finding new cancer drugs, but also in the way that healthcare providers interact with patients.
Other healthcare systems are making advances, too, of course. Novant Health says its patients can use Google Assistant to locate the nearest medical office and can use a device that allows providers to examine children's abdomens, throats and lungs remotely.
Wake partnership ahead: Woods also sounded impressed with a recent tour of medical facilities at Wake Forest University. Atrium and Wake are collaborating to create a medical school in Charlotte, the city's first.
Of the visit to Wake's Forest Baptist Medical Center's innovation quarter, Woods said: "They are actually growing kidneys in the lab. They had a 3D printer that we were looking at that was printing a nose and printing an ear. They haven't quite yet figured out how to put it in yet, but they are probably within five to 10 years. If you think about organ transplant waiting lists, if you can manufacture in the lab and make sure you have organ rejection capability, it's just going to revolutionize the world as we know it in healthcare in the next decade."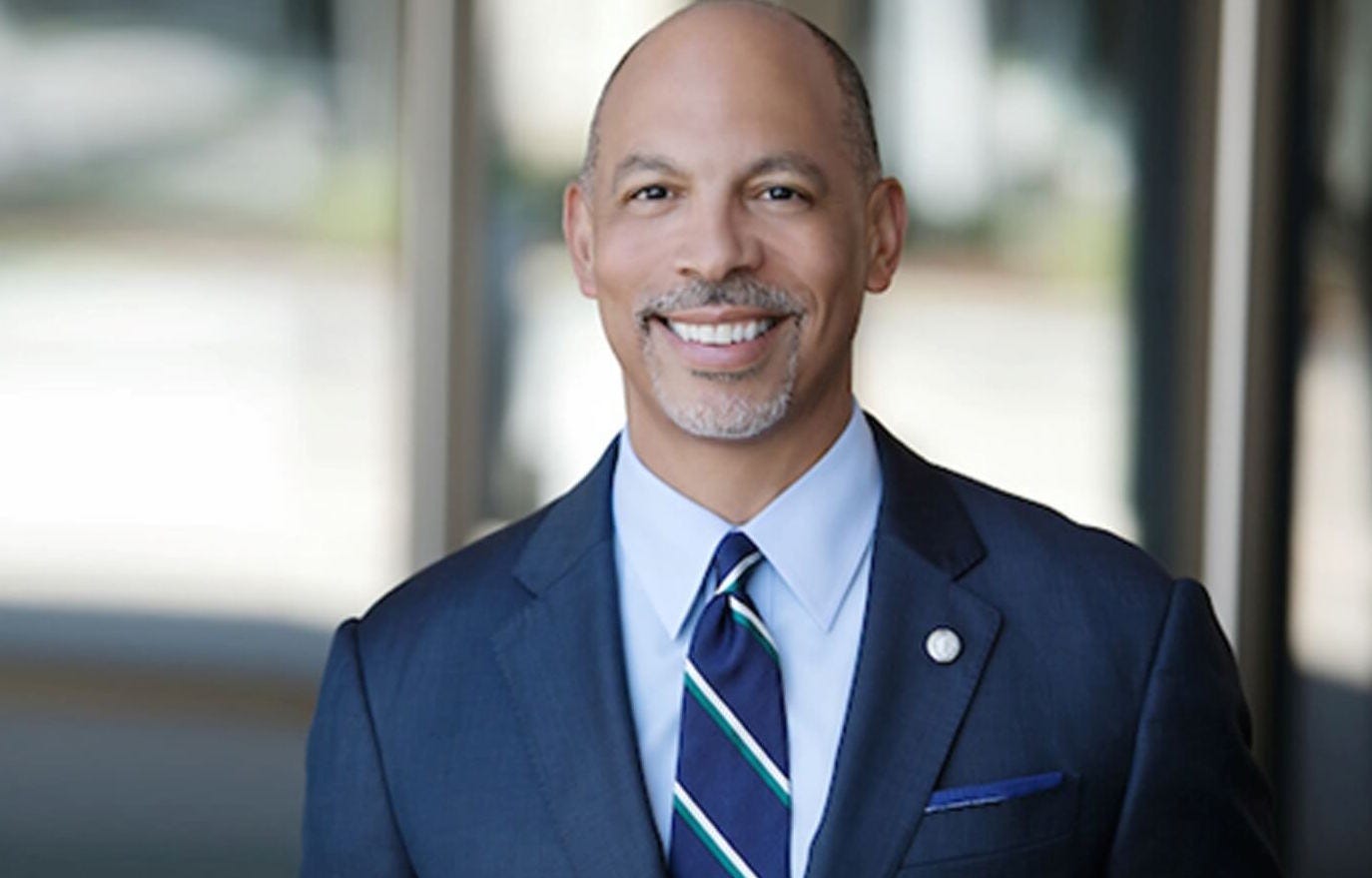 Atrium Health CEO Gene Woods says technology is changing healthcare in a big way, and more changes are coming.
Woods on other topics:
On the partnership with Wake: "Before the end of the year, we will have a lot more to say about our partnership with Wake Forest University and Baptist Medical Center there. Not only will we benefit from the $200 million-plus of research funding that they have to discover the latest cures, but also we will be bringing a medical school to Charlotte. … We will have much more to say on that hopefully in the weeks and the months ahead."
On why healthcare insurance premiums are so high: "If you look at how Atrium gets reimbursed for its services, about 60% of that is Medicare or Medicaid. So we don't set the prices on that. … 60% of our business, we have no influence on price. 10% of those that come to Atrium have no ability to pay or pay 2 cents on the dollar. … 30% is insurance, and that's where the premium focuses are. That's where we're trying to make sure there's enough covered and insured to spread the risk … You get a bill from us, and you think, 'Well, it's too high,' not knowing we probably didn't set the price at all."
On Atrium's not-for-profit future: "We are not-for-profit, and we will stay not-for-profit. Some of these competitors are for-profits with different access to capital markets."
On Alexa: "We are one of six healthcare providers in the entire nation that's partnered with Amazon. If you have Alexa, you can say, 'Alexa, take me to the nearest Atrium urgent care center and book me a reservation.' And we're just getting started on that. I think we are also developing things in the next year or two years that will take this to the next level."
---
Big companies backing sales tax for the arts
Some of Charlotte's biggest and best-known corporations are backing the pro-sales tax campaign on next week's ballot. The tax increase would raise an estimated $50M a year, and county commissioners have said the money would go toward funding the arts, parks and education. But opponents say an increase in sales taxes would fall too heavily on poor people and that tax money should be spent on more urgent needs.
According to a report filed with the state this week by Partnership for a Better Mecklenburg, a political organization that supports the tax increase, donors include:
The Carolina Panthers ($50,000)

Duke Energy ($50,000)

Spangler Cos. ($50,000)

Wells Fargo ($50,000)

Atrium Health ($25,000)

Northwood Office ($10,000)

The Charlotte Hornets ($5,000)

McKinsey & Co. ($5,000)

Pappas Properties ($5,000)

The Allen Tate Foundation ($5,000)
The Foundation for the Carolinas is also listed as donating $550,000. The Observer's Jim Morrill reported Tuesday that that money consists of "$500,000 from the Thrive fund, started in 2013 by former Bank of America Chairman Hugh McColl Jr." as well as $50,000 from the Charlotte Executive Leadership Council.
The full list of donors is available here.
Overall, Partnership for a Better Mecklenburg raised $829,000 between its inception and Oct. 21. Most of its spending has gone to a campaign consultant, Campaign Connections of Raleigh, which records indicate has bought direct mail as well as ads on TV, radio, YouTube, digital media and in the Charlotte Post. The campaign also spent money on a kickoff dance performance.
An opposition group, the Mecklenburg Tax Alliance, raised just $1,150. Its biggest donors were county commissioner Pat Cotham ($150) and former commissioner Matthew Ridenhour ($1,000). Its filing is available here.
---
Loves me some internet: Spider-Man invasion
About "40-60 individuals in Spider-Man costumes" were spotted roaming UNC Chapel Hill's campus on Tuesday night, the Daily Tar Heel reported. Other Twitter reports indicate they pretended to shoot spiderwebs from their wrists inside the school's Davis Library:
---
Charlotte magazine shines light on 'digital lifestyle publication'
Charlotte magazine came out with a strong hold-'em-accountable piece this week examining the broken promises of EatWorkPlay, a "digital lifestyle publication that caters to young professionals."
If you fall outside that demographic, you might never have heard of that company (and confused it with the unaffiliated GoPlaySave, the coupon books the neighbor kids sell to raise money for band).
But according to the article by the magazine's editor, Emma Way, EatWorkPlay has developed a big following: Its social media accounts "have more than 85,000 followers, and its website lists notable local partners that include Charlotte Center City Partners, the Charlotte Hornets, NASCAR, and NoDa Brewing. A majority of EWP's events are benefits for charitable organizations."
Except some of those charities say they haven't received the money they were promised, including Smart Start of Mecklenburg County, the American Cancer Society and the Cystic Fibrosis Foundation. Fundraisers were held at sites including Chima Steakhouse and The Broken Spoke.
Articles like these can be tough to report, because when you start asking about money, people often clam up. But Way's article does a commendable job of asking the right questions, even if the answers from EatWorkPlay's 27-year-old founder seem unsatisfactory.
In a statement on Instagram on Thursday, EatWorkPlay said that "due to a news report, we discovered that an oversight had been made in delivering contributions." The company said it apologized to the charities and has now made the contributions.
You can read the entire article here.
---
In brief
Return of Popeye's sandwich: Chicken chain Popeye's said Tuesday that its popular chicken sandwich will return Sunday. The company "also debuted an advertisement for the sandwich's return that takes aim at its now-competitor Chick-fil-A and the unavailability of their chicken sandwiches on Sundays." (Fox)

Bank CEO visit: New Wells Fargo CEO Charles Scharf came to Charlotte on Tuesday to meet with employees and the media. In a letter to employees, he wrote: "While respect for our past is critical, evolution, transformation, and change are our only options as we look forward," the Biz Journal reported.

BofA bonus update: One additional note on the employee bonuses the Ledger reported on Tuesday: The restricted stock to be awarded to employees making between $100,000 and $350,000 will vest over a four-year period. It won't be immediately available to cash in.
---
This week in podcasting
A round-up of interesting moments in recent Charlotte podcasts
Welcoming vibe: William Dissen, owner and chef at the Charlotte restaurant Haymaker, talks with host Adam Williams about his decision to expand into Charlotte after creating a successful restaurant in Asheville: "When we decided to expand here, I was pretty nervous — this guy coming from the outside in. I was scared a lot of people were going to think, 'Who is this guy?' … But I had all these guys reach out to me and say, 'Man, we're so happy you're coming here. What can we do to help you?' After the fourth or fifth person reached out, I was like, 'You know what? This is going to be all right. This is going to be a good place to call home.'" (Retail Redeveloped, Oct. 18, 36 minutes)

Grocery wars: Bill Rhyne, Harris Teeter's senior director of operations support, talks with host Ben Kinney about the growing competition in the grocery business in North Carolina: "We know the competitors we are going up against. … We have to think about making a first impression every time a customer walks in our door. That's going to keep us competitive. Having new competitors come into the marketplace helps us keep on top of our game. We're not going to hand over the business." (Mind Your Business podcast from Business North Carolina, 12 minutes.)

How not to lobby the City Council: Council member Larken Egleston tells co-host Tariq Bokhari about his frustrations with how some residents made their cases regarding proposed changes to Charlotte's tree ordinance: "The form emails just don't work. … If you just click a button, and we all get the same thing, the subject line of which is 'Send Email to City Council Members,' and then it's the same thing every time, that's not effective. It's just annoying. … If you're bringing signs to City Council, have a friend stand 10-20 feet away and see if they can read your sign. … I bet not 10% of the signs brought into our chamber are legible from where we sit. There were people with signs tonight, it was printed on an 8.5x11 sheet of paper — the irony of which was not lost on me of using trees to advocate for trees — and it's printed on, like, a 14 font, black on dark green paper. I don't think you could read that if you're sitting next to them!" (R&D in the Q.C., Oct. 21, 43 minutes)
---
Cheap getaways from CLT
Charlotte to Newark, $64 round-trip on Spirit (nonstop), various dates November-February.

Charlotte to Baltimore, $52 round-trip on Spirit (nonstop), various dates November-January.

Charlotte to Denver, $86 round-trip on Frontier (nonstop), Dec. 7-11.

Charlotte to Philadelphia, $90 round-trip on Frontier (nonstop), various dates in December.
Source: Google Flights. Fares retrieved Wednesday morning. They might have changed by the time you read this.
---
Need to sign up for this e-newsletter? Here you go:
Got a news tip? Think we missed something? Drop me a line at editor@cltledger.com and let me know.
Like what we are doing? Feel free to forward this along and to tell a friend.
Searchable archives available at https://charlotteledger.substack.com/archive.
On Twitter: @cltledger
The Charlotte Ledger is an e-newsletter and web site publishing timely, informative, and interesting local business news and analysis Mondays, Wednesdays, and Fridays, except holidays and as noted. We strive for fairness and accuracy and will correct all known errors. The content reflects the independent editorial judgment of The Charlotte Ledger. Any advertising, paid marketing, or sponsored content will be clearly labeled.
The Charlotte Ledger is published by Tony Mecia, an award-winning former Charlotte Observer business reporter and editor. He lives in Charlotte with his wife and three children.