Discover more from The Charlotte Ledger
Delivering smart and essential news to Charlotte, one email at a time.
Over 20,000 subscribers
Announcing The Ledger's first-ever virtual happy hour
We are working to build a community of people who care about Charlotte; Join us on Thursday, Oct. 29, at 5:30 p.m.
Save the date: Thursday, Oct. 29, at 5:30 p.m.
At that time, The Ledger will hold its first ever virtual happy hour, and we think it is going to be more fun than it might sound.
We are going to be using a platform we found that is much different than Zoom. This won't be you and 20 people on the same screen trying to talk at the same time.
Instead, the platform, called Wonder, is more interactive and simulates being in an actual reception room. Your avatar can walk around, see other people and move from conversation to conversation. Stuck in a dud discussion with five other people and a friend of yours enters the room? You can take off and go talk to her.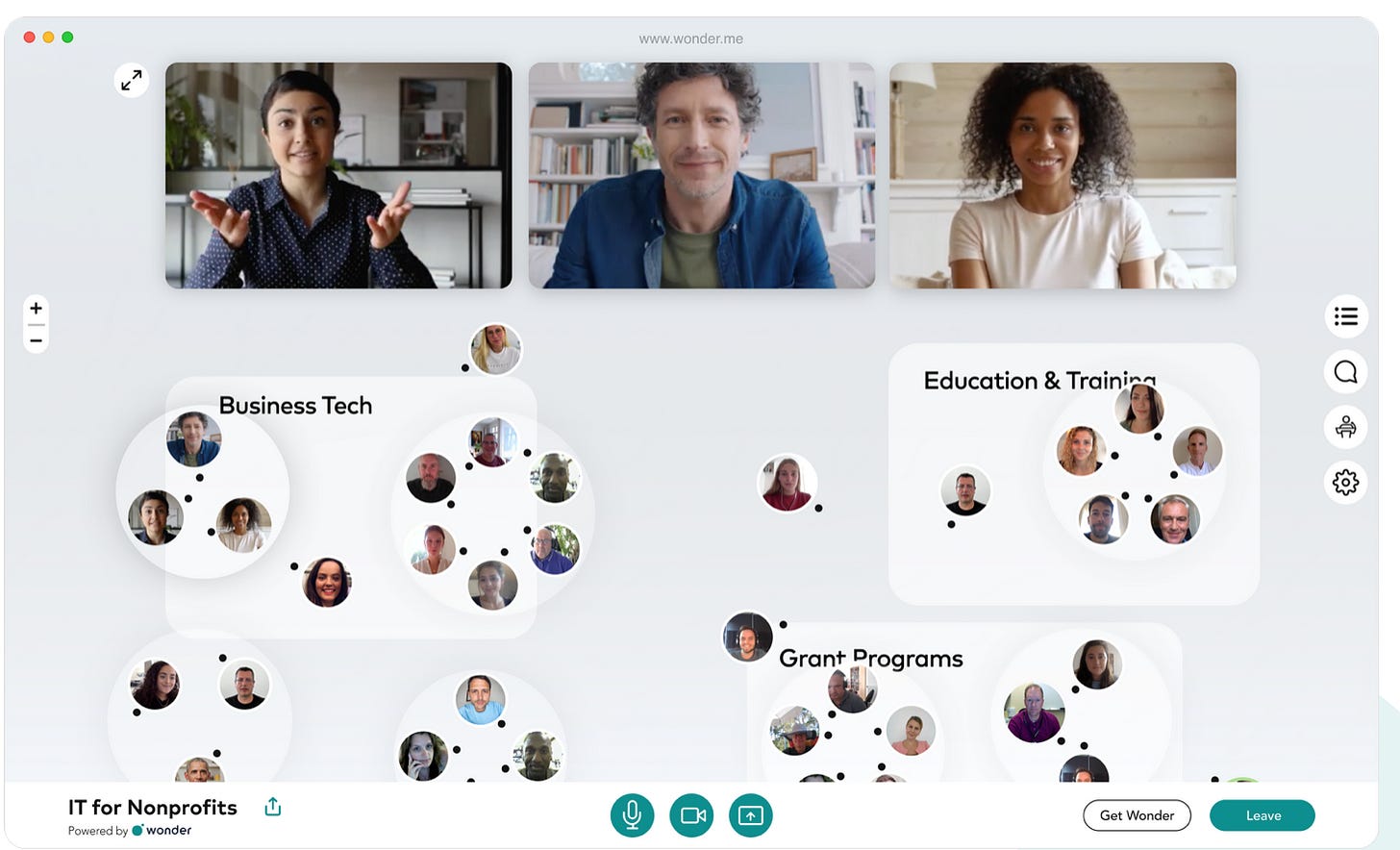 The Ledger's first-ever virtual happy hour will be held next week on a platform called "Wonder." As in, I "wonder" how this will go. Join us!
Furthermore, we can designate certain areas of the room for conversations on different topics. For instance, we could establish zones dedicated to interests such as tech, real estate, virtual learning and Ask the Ledger. If you have ideas of discussion zones you'd like to see, drop me a note. (You don't need to be in a dedicated discussion area to hold one-on-one or group conversations, so you're good even if none of the topics appeals to you.)
Experimentation time: To be honest, we don't know how this is going to work. We don't know etiquette for online mixers, or whether 10 people will show up or 100. But we're living in interesting times, so why not grab a beverage, tell a friend, and join us in this experiment on keeping up human connections in Charlotte? If people seem to like it, we'll do more.
Deal on beer delivery 🍺: As a bonus, our friends at Divine Barrel Brewing have agreed to cut Ledger readers a deal on beer for the happy hour. We're not paying them and they're not paying us, but Divine Barrel has agreed to waive delivery fees. The minimum order for free delivery is $30, which is roughly two 4-packs. Why not get some quality, Charlotte-brewed beer delivered to your front door? Go to their website and use the promo code "LEDGER" for the free delivery. Divine Barrel delivers Thursdays through Saturdays, so you might want to plan ahead.
Next steps: We'll give you more details in the next week, but save Oct. 29 on your calendar. The Panthers are scheduled to play the Falcons later that night on Thursday Night Football, so come pregame with us.
We will give access details only to paying subscribers — yet another benefit of full Ledger membership, as we work to build a community of smart people who care about their city. If you're not a paying subscriber, I invite you to check it out. It's $9 a month and you can cancel at any time — so the other way to look at it is that the happy hour has a $9 cover charge if you're not a current paid subscriber. (And next week's event is actually free if you sign up today for the 14-day free trial we are running at the moment.)
More to come! Thanks. —TM
---
Need to sign up for this e-newsletter? We offer free and paid subscription plans:
The Charlotte Ledger is an e-newsletter and website publishing timely, informative, and interesting local business-y news and analysis Mondays, Wednesdays, Fridays and Saturdays, except holidays and as noted. We strive for fairness and accuracy and will correct all known errors. The content reflects the independent editorial judgment of The Charlotte Ledger. Any advertising, paid marketing, or sponsored content will be clearly labeled.
Got a news tip? Think we missed something? Drop us a line at editor@cltledger.com and let us know.
Like what we are doing? Feel free to forward this along and to tell a friend.
Searchable archives available at https://charlotteledger.substack.com/archive.
On Facebook, Instagram (@thecharlotteledger), Twitter (@cltledger)
Need an "Essential Charlotte Ledger" T-shirt? Order here.
Sponsorship information: email editor@cltledger.com.
Executive editor: Tony Mecia; Managing editor: Cristina Bolling; Contributing editor: Tim Whitmire, CXN Advisory; Reporting intern: David Griffith