Are planets aligning for a new Panthers stadium?
Plus: Northwood Ravin accuses rival of poaching workers; New colorful lights uptown; Regulator wants next Wells CEO to be fingerprinted
Good morning! Today is Wednesday, May 22, 2019. Need to subscribe? Sign up for free here (charlotteledger.substack.com).
Charlotte Pipe land could offer an opportunity
South Carolina is putting the finishing touches on a $115M tax-incentive plan for the Panthers to move their headquarters and training facilities to Rock Hill. That follows the familiar pattern of South Carolina dangling incentives to entice North Carolina businesses to jump across the border – just as it has previously with Red Ventures, Continental Tire, Inspiration Ministries, the Lash Group … the list goes on and on.
As it relates to the Panthers, though, the real action might be taking place closer to Charlotte. Charlotte Pipe & Foundry appears close to announcement to vacate its site near uptown for a rural location that is more appropriate for a manufacturing plant.
It's not crazy to connect some dots here between the Panthers' South Carolina plans and long-term facilities needs and the imminent availability of a large tract of land adjacent to Bank of America Stadium.
Maybe it's early to be conjecturing about all this. The ink isn't dry on the South Carolina move, Charlotte Pipe has announced nothing, and the Panthers haven't even said they want a new stadium. But to be forward-thinking, you have to look ahead.
Let's lay out some facts as we know them today and see where they take us:
The Panthers haven't said they want a new stadium. So far, the Panthers' public comments have focused on renovations to the 23-year-old Bank of American Stadium – not on building a new one. Maybe that's what the Panthers really want. Or maybe that's what billionaire sports-team owners say … right up until they say they'd like a new stadium. Local officials and Panthers owner David Tepper have said they would like to draw bigger events to Charlotte, like the Final Four, and maybe even a Super Bowl, but to do that, they would need stadium with a roof. That sounds expensive to install. It's like if you're thinking of a major house renovation, at some point it makes economic sense to start from scratch.
New stadiums cost a lot of money. The newest NFL stadium, Mercedez-Benz Stadium in Atlanta, cost $1.5B, including about $700M from taxpayers. The second-newest, U.S. Bank Stadium in Minneapolis, cost $1.1B, about half from taxpayers.
The city doesn't have money for a new stadium. Charlotte has set aside $75M for stadium renovations, from local occupancy and restaurant taxes, and even that is not available until 2022, the Observer reported last year. To find an additional "funding stream" – a euphemism for new taxes – the city would need to ask permission from Raleigh, which seems questionable at best. In 2013, the city agreed to spend $87.5M on stadium renovations and other Panthers-related expenses in exchange for an agreement that the team would not move before this year. That so-called "hard tether" expires next month.
Private funding sources are limited. Those Permanent Seat Licenses (PSLs) that the Panthers sold to finance construction of the existing stadium aren't all that permanent. If the team moves or builds a new stadium, their value disappears. The Panthers could sell additional licenses for a new stadium, but they would have to tread gingerly to avoid soaking some of their most diehard fans with thousands in new charges.
The new Rock Hill site gives Tepper negotiating leverage. By moving the team's HQ and training facility to South Carolina, Tepper could be signaling he is not afraid to move other operations out of Charlotte, either. If you thought $115M in South Carolina tax incentives was a lot for a training center, wait until you see what South Carolina might be willing to cough up if a new NFL stadium is in play. Like getting involved in a land war in Asia, you don't want to get involved in a tax-incentive bidding war with South Carolina.
The Charlotte Pipe site would be tricky. The company has around 55 acres, but it is surrounded or cut through by I-77, I-277 and a rail line. (If you think negotiating with billionaires is tough, try negotiating with a railroad.) Plus, there could be environmental challenges in redeveloping a site that has been a foundry for the last century. Enough money can probably solve any of these problems. And at least some of the site wouldn't actually be available for years, since Charlotte Pipe would have to build a replacement plant first wherever it is heading (best bet: Stanly County).
There are surely innovative and complex ways to scare up some money, including parking, concessions, naming rights, bond issuance, land swaps and sales, creative financing and redevelopment. Smart people in this city are probably already thinking of them.
The rest of us might want to get ready to hang onto our wallets.
---
Lawsuit: Former workers at Northwood Ravin defected to rival, called project manager a 'dork' and 'd bag'
Charlotte apartment developer Northwood Ravin is suing two of its former employees, accusing them of breaking employment agreements by hiring away a half dozen of the company's workers for jobs at rival Alliance Residential.
In one of the lawsuits, filed in February, Northwood Ravin contends that the two employees, Rusty Davis and Hunter Buck, sought confidential company information from a current Northwood Ravin worker. When the worker refused, Davis and Buck referred to him as a "dork," a "d bag" and a "suckup" and "agreed [the employee] would deserve it if Buck 'knock(ed) [his] ass out," court documents say.
Northwood Ravin's suit says the the two former employees and Alliance worked to "recruit other Northwood Ravin employees, misappropriate Northwood Ravin's confidential information, interfere with Northwood Ravin's business relationships, and disparage Northwood Ravin."
In court documents, Davis denies he broke the employment agreement and accuses Northwood Ravin of stiffing subcontractors and failing to pay overtime. As far as calling a Northwood Ravin employee a "dork" and a "d bag," the response filed by lawyers says: "the language in the referenced text messages speaks for itself."
Northwood Ravin, based in Charlotte, lists nine Charlotte projects that it has developed or manages, including uptown apartment towers 500 West Trade, the Vue and Catalyst. Alliance Residential, which opened a Charlotte office in 2016, has developed projects just outside of uptown including Broadstone Bryant Park and Broadstone Queen City.
---
Tweet of the day
Finally landed in CLT at 4:00 AM, Uber driver immediately started telling me stories about fishing with dale earnhardt. Feels good to be home
---
Uptown gets lit
If you have driven near uptown in the last couple weeks, you might have noticed that one of the city's new skyscrapers has been playing around with its lights.
It is the Legacy Union building, called Bank of America Tower, on the old Charlotte Observer site on South Tryon Street. Some people online have ragged on it as a generic-looking bank building. But at night with the lights on, it looks pretty cool and is a worthy addition to the skyline — especially if it coordinates colors with other buildings uptown.
Folks at Urban Planet have been posting some photos: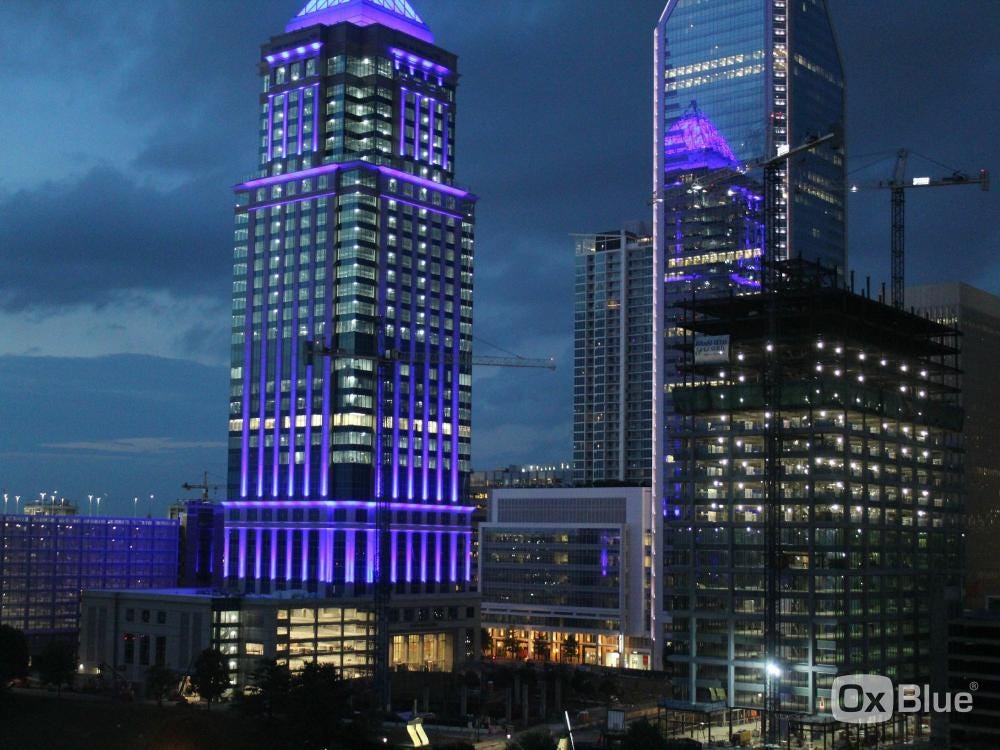 ---
In brief
---
Off the Clock
Low-key ideas for the weekend
Movies opening in Charlotte this weekend:
Booksmart (R) (100% on Rotten Tomatoes): High-school friend comedy

Brightburn (R) (80%): Adolescent son turns evil

Aladdin (PG): Live-action genie remake
Highly rated movies now playing:
Avengers: Endgame (PG-13) (94%)

John Wick 3 (R) (89%)

Long Shot (R) (81%)

Pokemon Detective Pikachu (PG) (65%)
Cheap getaways from CLT:
Charlotte to Providence, $86 round-trip on Frontier (nonstop), May 31-June 3.

Charlotte to Austin, $163 round-trip on United (one-stop), May 30-June 2 and other dates June-November.

Charlotte to Colorado Springs, $213 round-trip on American (one-stop), May 30-June 3.

Charlotte to Baltimore, $113 round-trip on American (nonstop), June 28-July 1

Charlotte to Tampa, $164 round-trip on American (nonstop), July 11-15.
Source: Google Flights. Fares retrieved Wednesday morning. They might have changed by the time you read this.
---
Got a news tip? Think we missed something? Drop me a line at editor@cltledger.comand let me know.
Like what we are doing? Feel free to forward this along and to tell a friend.
The Charlotte Ledger is an e-newsletter and web site publishing timely, informative, and interesting local business news and analysis Mondays, Wednesdays, and Fridays, except holidays and as noted. We strive for fairness and accuracy and will correct all known errors. The content reflects the independent editorial judgment of The Charlotte Ledger. Any advertising, paid marketing, or sponsored content will be clearly labeled.
The Charlotte Ledger is published by Tony Mecia, an award-winning former Charlotte Observer business reporter and editor. He lives in Charlotte with his wife and three children.