At costume shop, revelers aren't spooked by Covid
Plus: Are you a Teen Talk 'stan'?; Charlotte's top news of the week
You're reading The Charlotte Ledger, an e-newsletter with smart and essential news and analysis for Charlotte. Sign up for free:
---
Today's Ledger is sponsored by Providence Day School. Providence Day School exists to inspire in its students a passion for learning, a commitment to personal integrity, and a sense of social responsibility. Virtual admissions open houses are Oct. 29 and Nov. 8.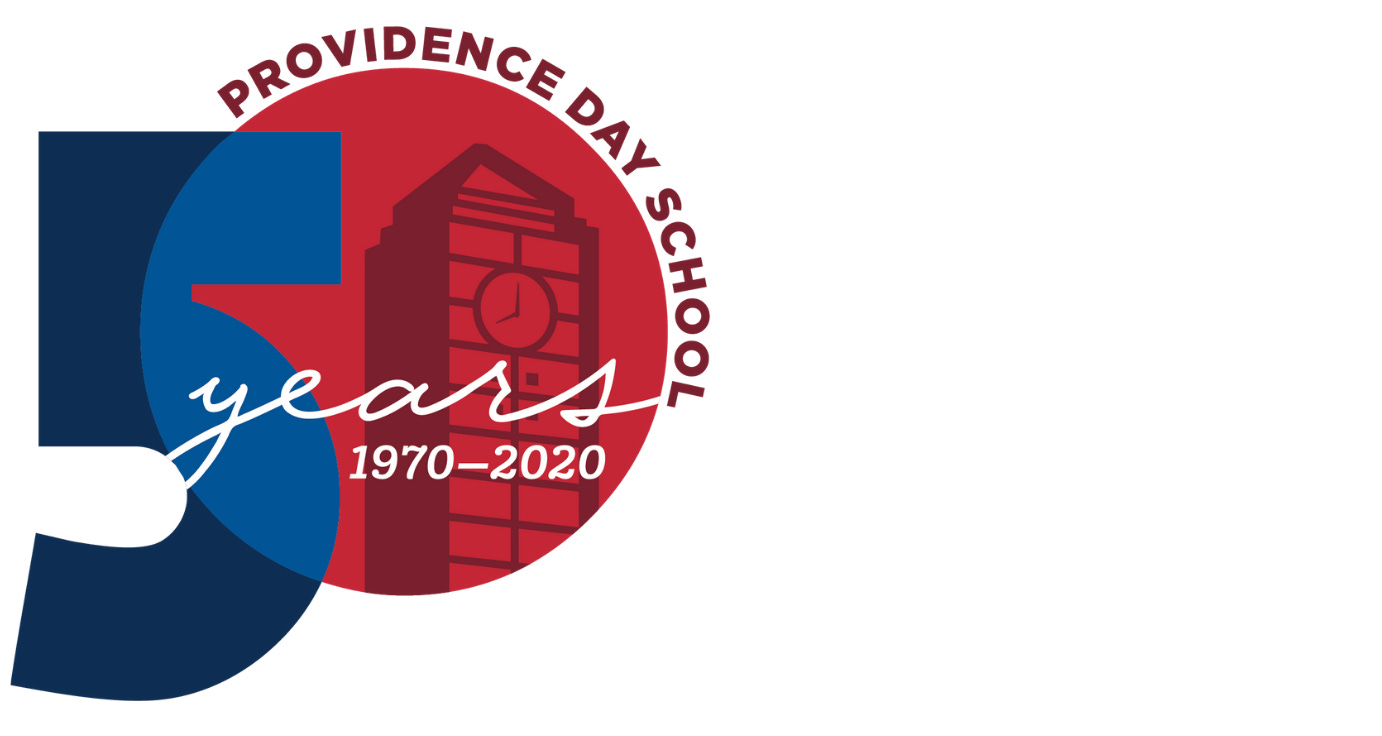 ---
At Charlotte's Morris Costumes, Halloween decorations and costume sales are still boo-ming; Zoom hats, creepy clown face coverings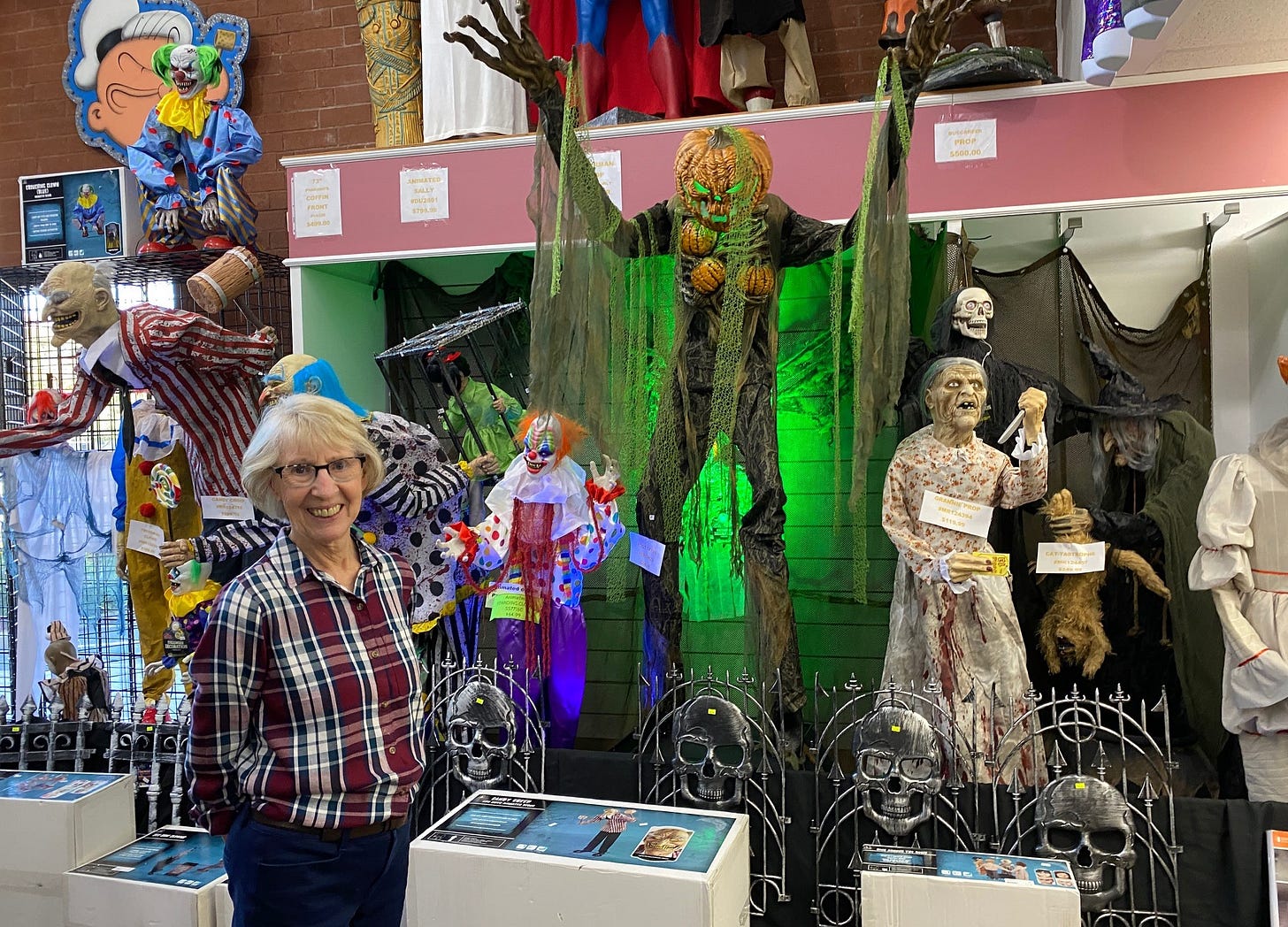 Amy Morris started Morris Costumes with her husband, Philip, nearly 60 years ago, and today the company is one of the biggest costume distributors in the world. The family still operates a retail costume sales and rental business on Monroe Road that also sells dancewear and sells and rents tuxedos.
by Cristina Bolling
Wondering what Halloween will look like in Charlotte this year? Amy Morris of Morris Costumes has some answers.
She's been in the costume business in Charlotte for nearly 60 years, and you can consider her family's big brick store on Monroe Road and their giant distribution center near University City to be like thermometers for the holiday. Plus, Morris and her staff know a thing or two about how Charlotteans celebrate.
This year, there's a definite will-we-or-won't-we mood swirling around trick-or-treating and parties because of Covid, which you'd think would point to lower costume sales.
Not so, says Morris. Costume sales are holding steady compared with previous years. What is dragging are rentals of the elaborate costumes Morris Costumes is known for — from fringed flapper dresses to velvet and silk medieval getups.
National numbers back up Morris' observations. According to a survey by the National Retail Federation, nearly the same number of people plan to dress up for Halloween 2020 compared to Halloween 2019 (46% in 2020 compared to 47% in 2019). However, only 22% plan to attend a Halloween party, compared with 32% last year.
So it's a safe assumption that there will be fewer big, elaborate Halloween parties, and more smaller-scale celebrations.
Decorations are big sellers: The biggest sellers for Morris this Halloween are the decorations, from flying bats and skeletons to giant webs and spiders.
"People come in and they say, 'We've never decorated before,' or 'We usually decorate a little bit but this year we're going to go all out,'" Morris said. "Many neighborhoods are doing walk-bys. … Everybody wants other people to be able to see what they've done."  
From ghost shows to costume sales: Morris, 84, started Morris Costumes with her late husband, Philip, in the early 1960s. They had roots in show business performing in popular traveling ghost shows, and Philip went on to become a circus ringmaster, actor and theatrical producer.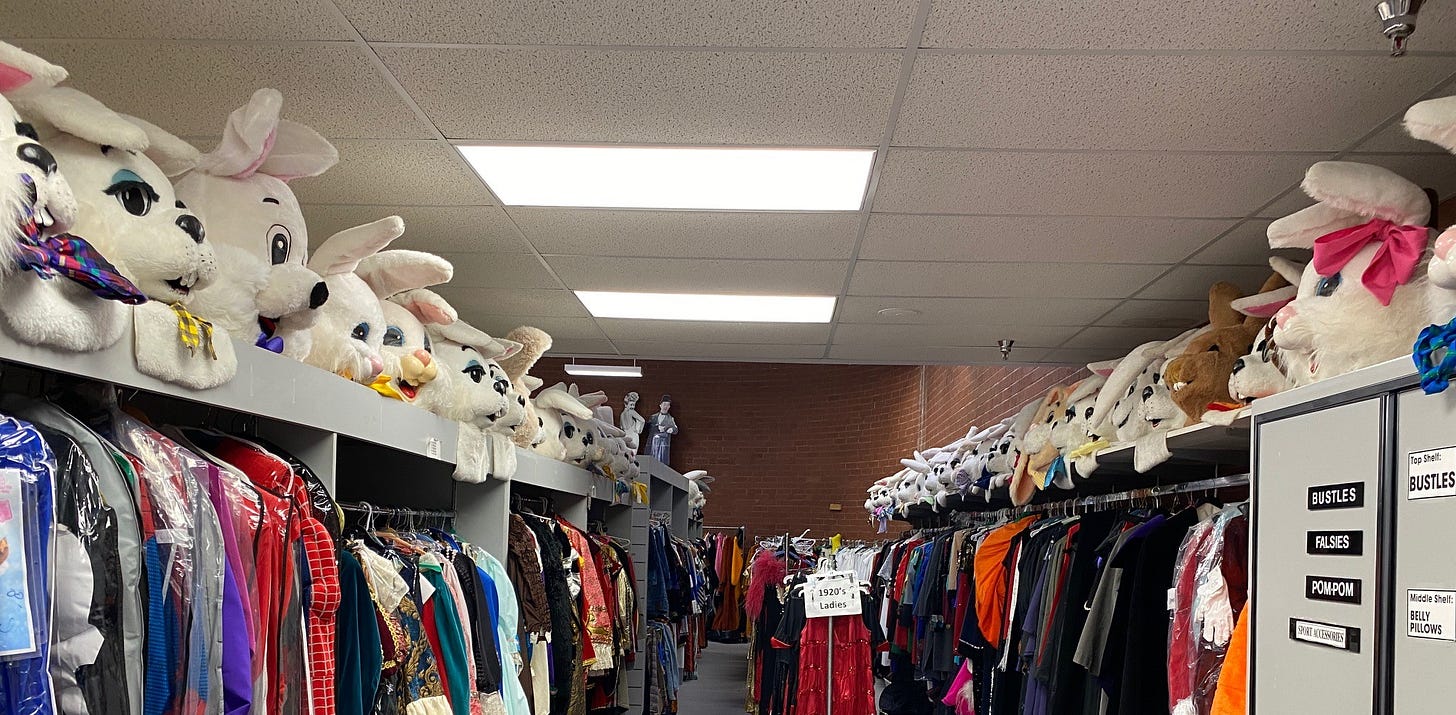 ROWS OF BUNNY HEADS: Holidays like Christmas and Easter are big in the costume rental business, as people seek Santa suits, Grinch getups and Easter Bunny costumes.
After their children were born, Philip continued to travel for work and Amy took a job for a Charlotte woman who sewed costumes.
But when her daughter kept getting sick in daycare, Amy decided to quit her job and stay home. She knew there was a market for rental costumes — people would always call her former employer looking for rentals — so the Morrises started a costume company in their walk-out basement.
They grew the business and diversified over the years, and now Morris Costumes is one of the biggest costume distributors in the world. The company is now run by Philip and Amy Morris' children and grandchildren, although Amy Morris works in the Monroe Road shop five days a week.
Their store on Monroe Road also usually does a steady tuxedo rental and dancewear business, which brings in customers year-round.
Costume shops nationally are having trouble staying in business because so many consumers head to online outlets like Amazon when shopping for costumes. What's kept Morris Costumes successful is its distribution arm, Amy Morris said.
"I see so many of our fellow costumers closing up. We're just fortunate with how we happened to do our business," she said.
Quarantine hijinks: Morris Costumes closed on March 19 because of the pandemic, and when it reopened its doors on May 9, the staff wondered who would show up.
Turns out, people were itching to have some fun amidst quarantine monotony.
Shoppers came in looking for costumes for Zoom costume parties, family quarantine parties, or masks and hats to spice up virtual work meetings.
One dad came in looking for masks to spook his kids during quarantine. "He'd make it look like he was leaving and he'd pop back in another door to scare his teenagers," Morris said.
Covid-themed costumes?: The big sellers this Halloween season haven't had much to do with Covid. Gangsters and superheroes continue to do well, like in previous years, Morris said.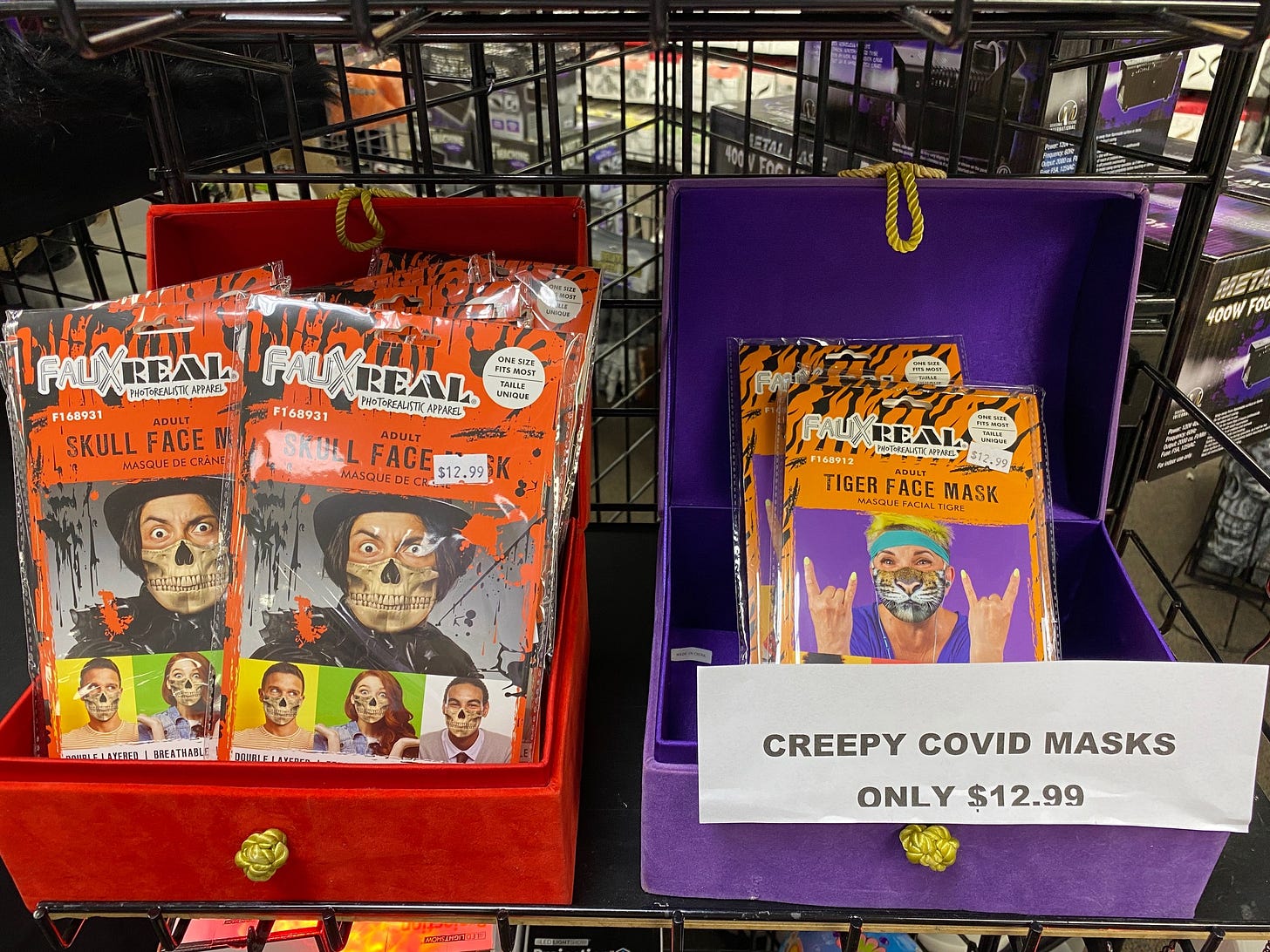 MENACING MASKS: A new offering at Morris Costumes this year are Covid-appropriate spooky face masks with creepy graphics on them. Health officials have warned that regular Halloween masks don't protect against the spread of Covid.
The store stocks Covid-appropriate face masks with spooky graphics like creepy clown smiles and skeleton teeth — all of which point to our desire to celebrate even in a strange year.
"It's really the first holiday that's come along that you can really celebrate," Morris said. "You're not going to go to bar and hang out with a whole group of people. But you still can put up scary stuff and fun stuff and play jokes on each other."
Reach managing editor Cristina Bolling: cristina@cltledger.com
---
Share with a friend:
---
Today's supporting sponsors are Soni Brendle…

… and Count on Me CLT. To help save lives, jobs and businesses, please wear a mask, wait 6 feet apart and wash your hands often. Visit CountOnMeCLT.com for more information.

---
Teen talk: Build your vocabulary
Impress and delight the young people in your life by using the words they use. The Ledger shows you how in this occasional Saturday feature.
Today's word: Stan (noun or verb)
Pronunciation: Stan
Definition: An enthusiastic or obsessive fan. Comes from combining the words "stalker" and "fan."
Used in a sentence: 
Ledger analysis: This use of the word "stan" originated from a dark song named "Stan" by rapper Eminem and Dido in 2000 about a fictional obsessive fan who kills himself and his pregnant girlfriend after he's unable to get Eminem's attention. It then morphed into a slang term for diehard fans, and was added to the Merriam-Webster dictionary in 2019.
— Cecilia Bolling, age 15
---
This week in Charlotte: In-person voting starts, south Charlotte leads CMS enrollment decline, Vance High renamed, homicides outpace 2019
On Saturdays, The Ledger sifts through the local news of the week and links to the top articles — even if they appeared somewhere else. We'll help you get caught up. That's what Saturdays are for.
Politics
Education
Local News
Business
Sports
Voter guides
Early voting began Thursday across North Carolina, and it goes until Oct. 31. Here's the link to locations and hours in Mecklenburg County.
Doing some last-minute research? We've got you covered with a selection of handy guides:
Good reads
Ledger originals
—David Griffith
---
Need to sign up for this e-newsletter? We offer free and paid subscription plans:
The Charlotte Ledger is an e-newsletter and website publishing timely, informative, and interesting local business-y news and analysis Mondays, Wednesdays, Fridays and Saturdays, except holidays and as noted. We strive for fairness and accuracy and will correct all known errors. The content reflects the independent editorial judgment of The Charlotte Ledger. Any advertising, paid marketing, or sponsored content will be clearly labeled.
Got a news tip? Think we missed something? Drop us a line at editor@cltledger.com and let us know.
Like what we are doing? Feel free to forward this along and to tell a friend.
Searchable archives available at https://charlotteledger.substack.com/archive.
On Facebook, LinkedIn, Instagram (@thecharlotteledger), Twitter (@cltledger)
Are you a Ledger stan? How about an "Essential Charlotte Ledger" T-shirt? Order here.
Sponsorship information: email editor@cltledger.com.
Executive editor: Tony Mecia; Managing editor: Cristina Bolling; Contributing editor: Tim Whitmire, CXN Advisory; Reporting intern: David Griffith