Big Retail is preparing to crush local CBD stores, dude
Plus: Rejected Wake students sue in admissions scandal; Jamie Dimon talks smack about BofA; N.C. tech CEO bares all on 'Naked and Afraid'
Good morning! Today is Wednesday, June 26, 2019. Need to subscribe? Sign up for free here (charlotteledger.substack.com).
Major drugstore and grocery chains are eyeing CBD sales, in latest threat to small, independent shops
Driving around town, you've probably seen the stores advertising "CBD Sold Here." They're all over, from South End to Dilworth, even out in Ballantyne and Matthews.
But pretty soon, a lot of the small, independent retailers who have been cashing in on the CBD craze in Charlotte and around the country could be in for a reckoning.
Independent retailers selling selling CBD products have been cropping up in the Charlotte area lately, but big retailers pose a threat.
That's because big chain retailers including grocery stores and pharmacies are seriously eyeing moving into selling CBD products, which are made from hemp — the strain of the cannabis plant that won't get you high. The scientific evidence is thin so far, but many people who have dabbed hemp oil on their tongues, eaten CBD-laced foods including honey and gummy bears and even applied lotions to their cats' arthritic paws swear by its curative powers. Consider:
Walgreens said in March that it would start selling CBD creams, patches and sprays in 1,500 stores in nine states, including South Carolina – but not North Carolina yet.

CVS said this year it plans to sell CBD products that are topically applied in 800 stores in eight states, but not North Carolina.

Retail analysts have predicted that once drugstore chains start selling CBD, convenience stores and grocery chains will soon follow. Specialty grocer Earth Fare already sells a wide range of CBD products in Charlotte. Kroger said this month that it plans to carry CBD lotions, balms, oils and creams in 945 stores. Kroger is the parent company of Harris Teeter, which has not announced any plans to carry CBD.
It seems as though availability of CBD products is destined to spread. One recent study out of Boulder, Colo., (naturally) estimated that the market for CBD products will increase 10-fold in the next five years.
Why it matters: When big chains move in, smaller retailers can suffer. That's because large stores can use their size to offer cheaper prices, and consumers often find buying at a big store to be more convenient. Think of independent bookstores before Barnes & Noble and Border's were around … or small video shops before Blockbuster … or sporting-good stores before Dick's. The list goes on.
With CBD, the demand has gotten ahead of government regulations and science. The Food and Drug Administration last week said "there are many unanswered questions about the science, safety and quality of many of these products." The agency said it's illegal to market products as having therapeutic effects without FDA approval and that it's illegal to put CBD in food. Retailers around the country seem to be pushing the limits on that guidance.
Natural-food stores, online sources and smoke shops dominated CBD sales in 2018, but that's expected to change this year as big retailers enter the scene. (Source: Brightfield Group)
Stores in the Charlotte area that sell CBD products say they hope they won't be affected by big retailers' entry into the market. They say they hope to compete by stressing their service, quality and wide selection:
Berrybrook Farm stresses education: The health-food store on East Boulevard in Dilworth gives orientation sessions on CBD — what it is, how to use it, how much to take. At bigger stores, customers "are not going to get the education on it," says manager Dironah Andrews. "The folks I've run into that were not being helped by it, they had no idea how to dose it." To a man who came in this week complaining of aches and pains, Andrews recommended he place 1 mg of CBD oil on his tongue twice a day for three weeks then re-evaluate.
Berrybrook Farms: The Dilworth store holds short orientation sessions to inform people about the CBD it sells.
Smiles and service at Infinity's End: The smoke shop with three Charlotte locations says it has a wider selection of CBD products than most big retailers would offer, including oils, edibles and treats for dogs and cats. A manager told the Ledger: "I could almost guarantee you service would be better. We're always fully staffed, with people willing to help and smiling faces when you come in the door."

Quality products and advice at Your CBD Source in Matthews: Owner Christine Pecoraro says she opened a store on Independence Boulevard in Matthews a couple months ago because she believes CBD can help people. She's been surprised that most of her customers aren't hipsters but are aged 45+. Her store's "bud bar" has been popular, as are hemp oils. Pecoraro stresses that all her products have been independently certified so customers know what they are buying. "People want to come into the little mom-and-pop stores to get information because you don't know what you're buying on the internet," she says. She's planning a second location in the area.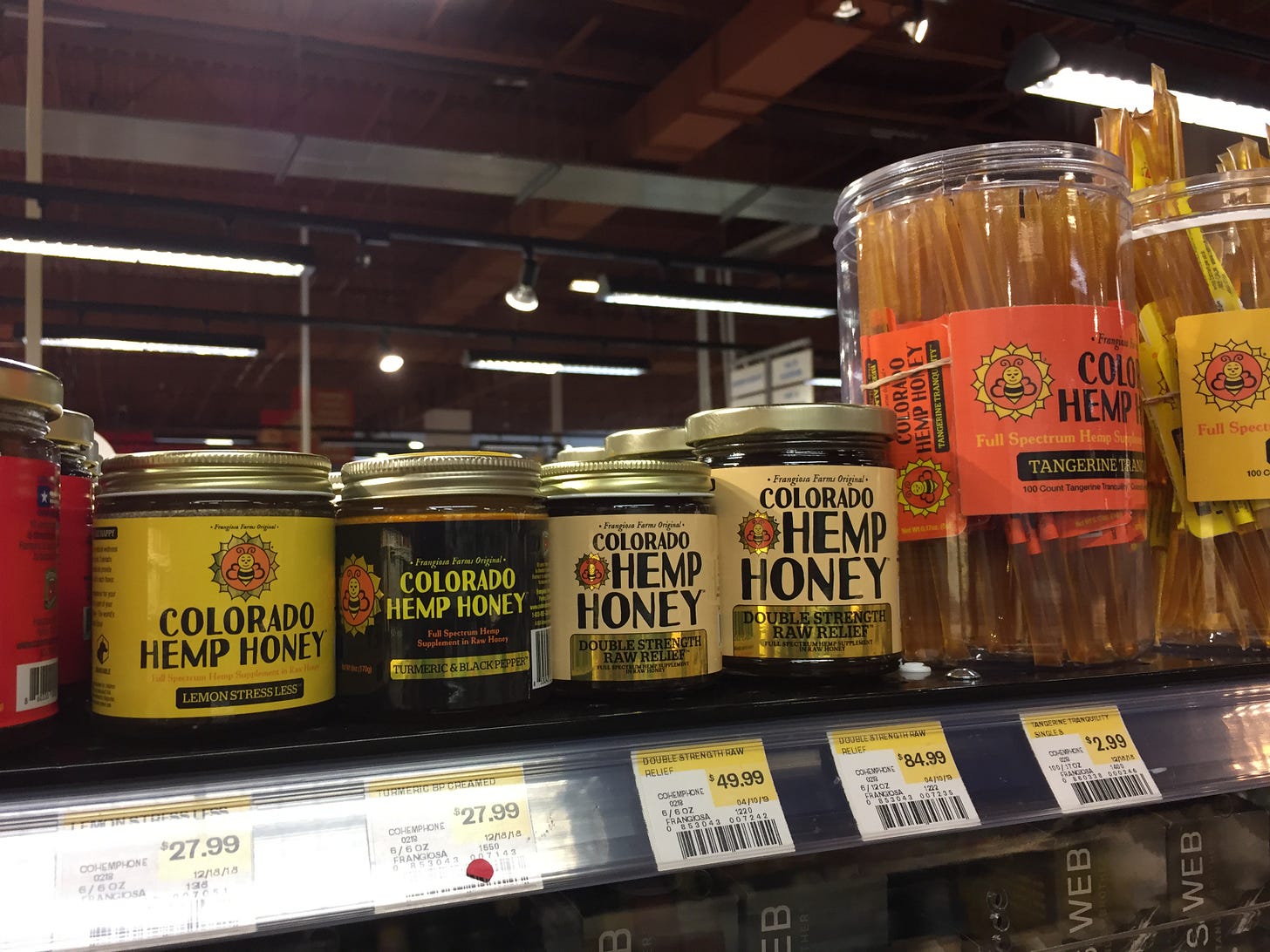 Earth Fare in Ballantyne sells a variety of CBD products, including "hemp honey" from Colorado.
The entrance of big players into the CBD market is almost sure to disrupt local retailers, says Jamie Schau, an analyst with Brightfield Group, a cannabis-research firm in Chicago (whose employees surely endure jokes about the type of "cannabis research" they conduct).
Quote: "This has been a boon to smaller businesses, but unfortunately, because it has been so successful, the mass retailers are really motivated to get into this market," Schau says. "They are waiting to pull the trigger. They have been a little bit cautious but they are about to pull the trigger."
---
State will consider Ballantyne development in plans to widen U.S. 521
The state Department of Transportation says it is aware of the proposal to add a mixed-use town center to Ballantyne, which could affect plans to widen U.S. 521.
The state has started planning to acquire the right-of-way in 2024 in a project that would expand U.S. 521 from four to six lanes between Ballantyne Commons Parkway and the S.C. border. Construction would start in 2026.
Asked how the redevelopment near the Ballantyne hotel might affect the plans, spokeswoman Jen Thompson told the Ledger: "It could have some impact. We are aware of the potential rezoning and redevelopment of the golf course. The firm developing the traffic forecast for this project will include these factors in their report, as it could impact land use and create additional trips."
Developer Northwood Office is expected to submit a rezoning application to the city later this summer.
---
Rejected Wake students file suit in bribery scandal
A Clemson student from South Carolina who was denied admission to Wake Forest is one of 14 rejected students suing top universities implicated in the infamous cheating and bribery scandal revealed in March.
The class-action suit, filed last week in California, says that Kathleen Tatusko of Aiken County, S.C., applied to Wake in 2017 but didn't get in. The suit says she paid her application fee and "reasonably believed she would receive fair consideration and a fair merit-based application process."
But then, the suit says, Wake's volleyball coach, Bill Ferguson, accepted money from a consultant for a 2017 applicant to receive favorable treatment — even though she didn't play volleyball. The consultant paid $50,000 to a private volleyball camp controlled by Ferguson, plus $10,000 to Wake's Deacon Club and another $40,000 to Wake's women's volleyball team, the suit says.
That student got in, but Tatusko was rejected. The suit seeks a refund of application fees for all those who were rejected, and it accuses the universities, including Wake, of being "negligent in failing to maintain adequate protocols and security measures in place to guarantee the sanctity of the college admissions process."
Another plaintiff was rejected by Stanford and Wake. His name is Cole Smith of Essex, N.J., who now attends Stevens Institute of Technology in New Jersey.
The case against Ferguson is proceeding in federal court in Boston. Asked for comment, the university didn't return an email Tuesday.
Wake has said it is redirecting the athletic money it received toward scholarships and plans to look into "fortifying our admissions process."
---
Raleigh tech CEO says business background helped him survive on 'Naked and Afraid'
The 49-year-old owner of a Raleigh tech support firm appeared Sunday on the Discovery Channel's reality show "Naked and Afraid," in which two total strangers are dropped without clothes into the wilderness and have to survive.
Wes Harper, owner of IT firm LightWire, was dropped into the "humid, tropical savannahs of Brazil" with a young woman named Jesse for 21 days, according to WRAL Tech Wire:
As for the naked part, that wasn't a big issue for him: "I've never been shy about being naked. It doesn't bother me."

However, a little more challenging, he admits, was teaming up with a stranger sans clothes, who also happened to be a woman.

"I had tried to mentally get ready for that exact event months ahead of time. In reality, it's a very awkward real experience. A little frightening, a little exciting — and all of it is documented on camera." …

"There are no granola bars waiting for you; there's no toilet paper. There's nothing. It's the most miserable and wonderful thing that I've done at the same time."

Did being an entrepreneur prepare him in any way for the harsh conditions? "Absolutely. [It] helped me with the focus, the drive, the mental fortitude."
(Hat tip: Business NC)
No tech support here: Raleigh IT-company owner in middle-of-nowhere Brazil on Discovery Channel's "Naked and Afraid."
---
Bring it, Jamie Dimon
Big-talking JP MorganChase CEO Jamie Dimon is bragging to fellow New Yorkers that he's ready to take on Bank of America on its home turf. From American Banker:
JPMorgan Chase Chief Executive Officer Jamie Dimon has a message for his biggest rival: We're coming for you.

JPMorgan and Bank of America both have plans to increase their national footprints by adding at least 400 branches in new and existing markets over the next few years — with each opening 90 new retail locations in 2019. That would put the two banks in direct competition for cheap consumer deposits in some of the fastest-growing U.S. cities.

"We're going right at Bank of America, folks, in Charlotte, their hometown," Dimon said to cheers and laughter at a branch opening in midtown Manhattan, a block away from his company's headquarters.
JPMorgan said in March it would start opening branches in Charlotte this year.
In response to Dimon's taunts, BofA spokesman replied: "We welcome all good competitors. It makes us even better."
---
In brief
Uptown land sale: White Point Partners, a Charlotte real-estate firm, has bought 1.2 acres of land at 4th and Brevard streets uptown, across from the Charlotte Transportation Center, property records show. The land is currently a parking lot and was bought in April by a company created by White Point from Norfolk Southern for nearly $11M. White Point didn't return a call Tuesday. Hmm.

Another 737 Max delay? American Airlines might have to keep its 737 Max planes grounded until October, CEO Doug Parker said. That would mean additional canceled flights. (CNBC)

Uptown apartment towers: "Developer Northwood Ravin said in a press release Monday that it will start construction on its 500 West Trade project next month. The plans call for 354 luxury apartments in two buildings, one 14-story and one seven-story." (Observer)

Educating contractors: The N.C. House this week is expected to pass a bill requiring general contractors to take eight hours a year of continuing education. The Senate passed the measure in April.

Nashville scooter ban proposed: The mayor of Nashville is proposing to ban electric scooters there after a scooter rider was struck by a car and killed last month. The mayor says his proposal would allow scooters to return only when there is "strict oversight for numbers, safety, and accessibility." (The Verge)

First Wells, now Truist? Rep. Maxine Waters has announced a House Financial Services Committee hearing into the proposed merger between SunTrust and BB&T — which is renaming itself Truist Bank and moving its HQ to Charlotte. The CEO grilling is scheduled for July 24 and is entitled "The Next Megabank? Examining the Proposed Merger of SunTrust and BB&T."

Workout deal disappearing: Starting Monday, the cost of a day pass to the Mecklenburg County Aquatic Center doubles to $10 ($8 for ages 55+). That gets you a 50-meter/25-yard competition pool, warm pool, a basic but well-equipped gym (including aerobic gear) and full locker facilities. $10 isn't bad, but $5 was a real steal, local swimmers tell the Ledger.

Spirit Airlines review: Editor of Charlotte magazine boards one of the first Spirit flights to Baltimore, encounters plane full of hard-partying Phish fans, has "one of the most fun flights I've ever been on." (Charlotte magazine)
---
Off the Clock
Low-key ideas for the weekend
Movies opening in Charlotte this weekend:
Yesterday (PG-13) (65% on Rotten Tomatoes): Songwriter recreates Beatles hits

Annabelle Comes Home (R) (62%): Possessed doll causes havoc
Highly rated movies now playing:
Toy Story 4 (G) (98% on Rotten Tomatoes)

Booksmart (R) (97%)

Avengers: Endgame (PG-13) (94%)

John Wick 3 (R) (90%)

Rocketman (R) (89%)

Late Night (R) (79%)

Child's Play (R) (62%)
Cheap getaways from CLT:
Charlotte to Orlando, $62 round-trip on Frontier (nonstop), June 29-July 1.

Charlotte to Fort Lauderdale, $94 round-trip on Spirit (nonstop), July 25-29.

Charlotte to New Orleans, $124 round-trip on American (nonstop), Aug. 9-12.

Charlotte to Panama City, Panama, $294 round-trip on Spirit (one-stop), Aug. 22-26.
Source: Google Flights. Fares retrieved Wednesday morning. They might have changed by the time you read this.
---
Got a news tip? Think we missed something? Drop me a line at editor@cltledger.com and let me know.
Like what we are doing? Feel free to forward this along and to tell a friend.
The Charlotte Ledger is an e-newsletter and web site publishing timely, informative, and interesting local business news and analysis Mondays, Wednesdays, and Fridays, except holidays and as noted. We strive for fairness and accuracy and will correct all known errors. The content reflects the independent editorial judgment of The Charlotte Ledger. Any advertising, paid marketing, or sponsored content will be clearly labeled.
The Charlotte Ledger is published by Tony Mecia, an award-winning former Charlotte Observer business reporter and editor. He lives in Charlotte with his wife and three children.