Discover more from The Charlotte Ledger
Delivering smart and essential news to Charlotte, one email at a time.
Over 19,000 subscribers
Bike shops shift into high gear
Plus: Sign shop adapts; Eastland and Atrium rezoning hearings on Monday; Blue Ridge Parkway reopens; Is Gov. Cooper growing a mullet?
Good morning! Today is Saturday, May 16, 2020. You're reading The Charlotte Ledger, an e-newsletter with local business-y news and insights for Charlotte, N.C.
Need to subscribe? Sign up for free here (charlotteledger.substack.com). A paid subscription, starting at $9/month, gives you access to all articles and helps build smarter original, local news in Charlotte. Details here.
---
Sales soar as Charlotte cyclists hunt for new and used bikes and repairs; 'We're just busting our butts'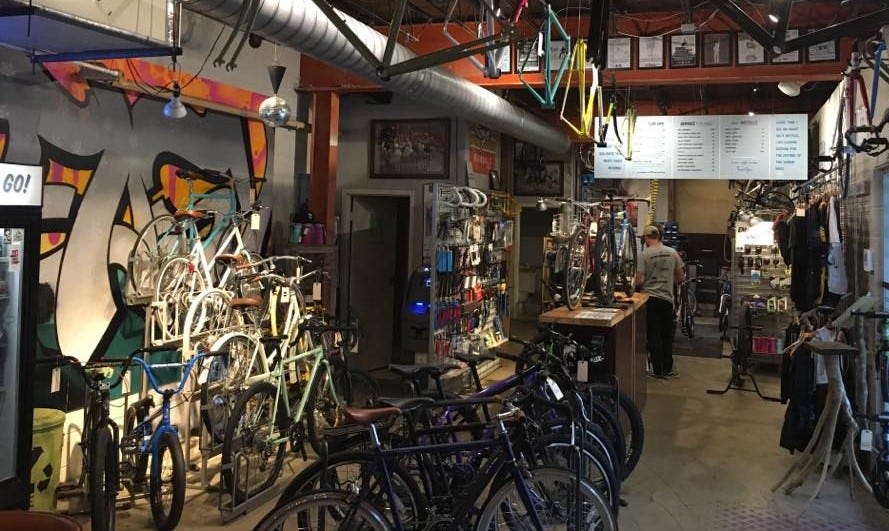 The Spoke Easy bike shop on Elizabeth Avenue, like other area bike shops, has seen a surge in demand for new and used bikes as well as repairs since the coronavirus pandemic began.
By Cristina Bolling
Workers at Charlotte bike shops say they're pedaling harder than ever, as a lack of entertainment options and glorious spring weather have customers wanting to buy and repair bikes in record numbers.
"We're pulling our hair out. We've probably increased business three-fold," said Dread Fiyah, manager of The Spoke Easy on Elizabeth Avenue. Workers there are using ultraviolet light wands to sterilize bikes and aren't allowing customers in the shop to curb the spread of Covid-19.
Nationwide, sales of adult bikes was up 121% in March over a year ago, according to retail sales data from NPD Group. Independent bike shops saw a rise in service/repairs of 20%, according to the data.
Fiyah says he's seen the increased bike demand play out different ways:
Sales are way up. "We can't keep stuff in stock. As soon as we get a bike built, it's out the door," Fiyah said. "We don't even have to sell bikes; people really are just taking everything we have. Usually people are like, 'Does it come in any other colors?' Now, they're like, 'I'll take it.'"
The demand for bike repairs has tripled. "People have their old college bikes they haven't ridden in five years sitting in their garage, and they're bringing them out of the woodwork covered in cobwebs and two inches of dust," Fiyah said. The Spoke Easy typically turns repairs around in a couple of days, and currently repairs are taking five to seven days because of the high demand. "We're just busting our butts," he said.
Used bikes are in high demand, too. The Spoke Easy consigns used bikes, and those have been flying out of the store, Fiyah said. (If you've got a bike you're not riding, now might be a good time to cash it in.)
May isn't typically the hottest month for bike sales, Fiyah said. The cycling season for avid cyclists starts in late February or early March, he said, and then he sees another peak again in July and August.
"That's what we feel like we're in now — a strong peak season," he said.
At The Bike Gallery on Park Road, owner Andres Lizarazo is helping customers by appointment only and has had to reduce hours from the normal 10 a.m. – 6 p.m. to 11 a.m. to 3 p.m. to avoid too much contact between employees and customers.
Only one customer is allowed in the store at a time, and appointments are limited to 30 minutes.
Longer waits, longer lines: The high demand and limited bike shop capacity means bike owners looking for service are having to call around and wait in lines like they haven't before.
On a recent Sunday afternoon, Dilworth resident Mike Rizer felt lucky he was able to get a quick fix done on his Orbea carbon bike at Charlotte Cycles.
He'd called two other bike shops, where he'd have to wait a week or more, but Charlotte Cycles was able to get him in quickly and do his repair in an hour while he waited outside in the fresh air.
Rizer's riding schedule has picked up greatly since the stay-at-home order started, and he's riding with friends about three times a week, so having a well-functioning bike seemed essential.
"It's a really good thing, right?" Riser said of the big bike demand. "We're trying to stay healthy, and people are getting around more."
Reach managing editor Cristina Bolling at cristina@cltledger.com.
---
Graphics company prints signs of the times
David Perlman, co-owner of Action Graphics on Tuckaseegee Road in west Charlotte, has been through downturns before. A little over a decade ago, he did printing for homebuilders. That dried up in the last recession, so he found other lines of business. "You just have to find other products you can make," he says.
Same this time: Museums don't need brochures. Churches don't need worship bulletins. Nature preserves aren't ordering maps. Nonprofits aren't even thinking about printed programs for fundraising dinners. Perlman says sales are off about 50%, and he had to furlough workers when business evaporated in March.
But he's adapting. He's made some signs for food take-out, with a restaurant's phone number for people to call when they arrive in their car. This month, he sent out an email blast advertising A-frame sidewalk signs and outdoor banners that say "We are open!" He's selling self-adhesive floor graphics that say "Wait Here" and "One Way Please" (with arrows). He's envisioning demand for more disposable menus.
He's even working on a freestanding, lightweight 6-foot-tall product for restaurants that can include a big menu and be moved from table to table, sort of like a dessert cart. No need for customers to touch it and spread germs.
And he's excited about what he calls a "Covid totem pole" — suitable for lobbies and waiting areas — that can be used to remind people to wash hands and stay 6 feet apart: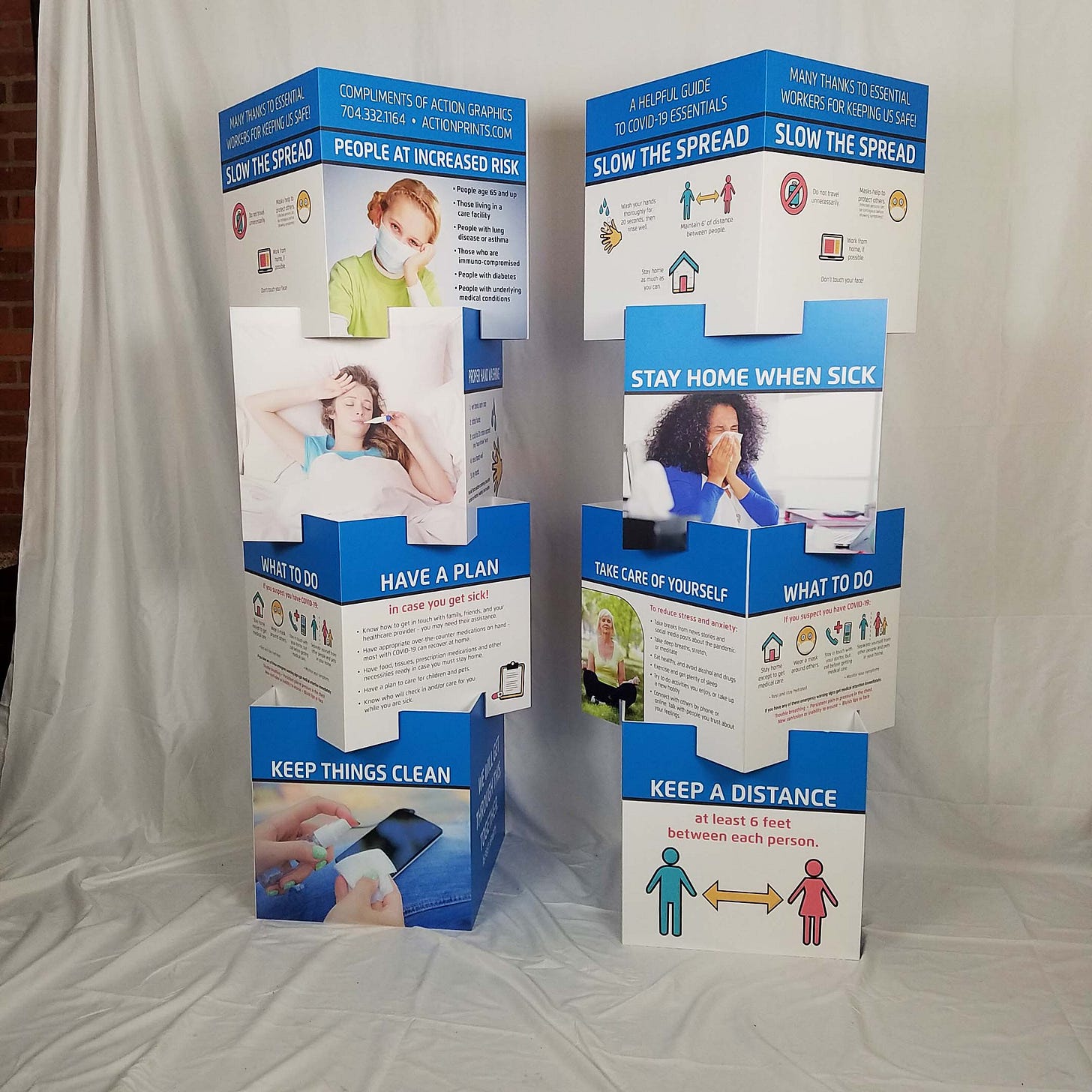 "There will be things like that that we can create that will be valuable for a little while moving forward," Perlman says.
With the help of a Paycheck Protection Program loan, he now has all 11 employees back at work. He thinks business should start trickling back soon.
"I'm an optimist," he says. "I believe this is America's finest hour." —TM
---
Today's supporting sponsors are Soni Brendle:

…and Neatbooks:

---
Is Gov. Cooper growing a mullet?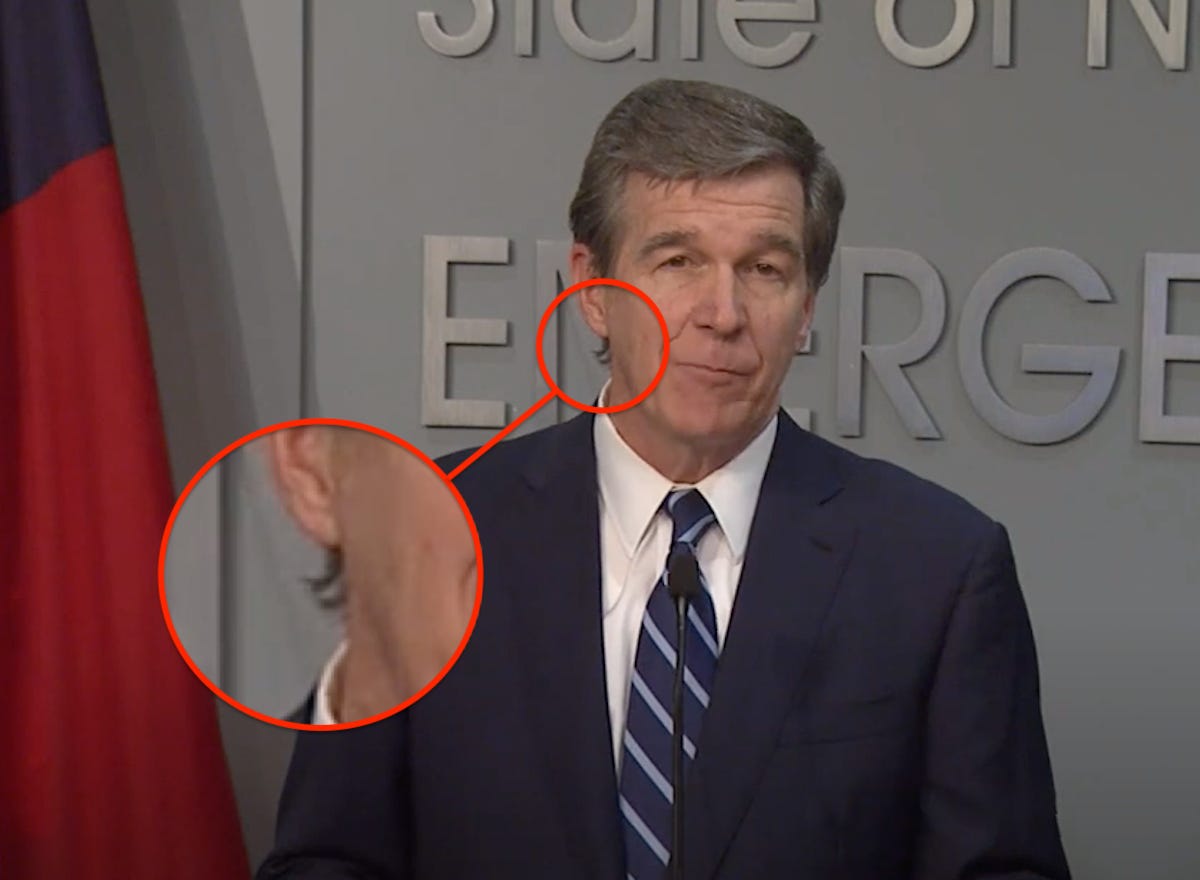 Watching Gov. Roy Cooper's news conference on Thursday, we surely weren't the only ones noting that his hair seemed to be getting long in the back. Sure enough, discussion soon
ensued on Twitter
, debating whether Cooper is growing a mullet. The governor replied on Friday morning,
writing
: "Appreciate North Carolinians being safe and flattening the curve even if it means getting a little shaggy. Yes, it's been almost 2 months since my last haircut and it's beginning to look like my college picture with more wrinkles. - RC"
---
In brief:
---
Essential radio to start your day on the right note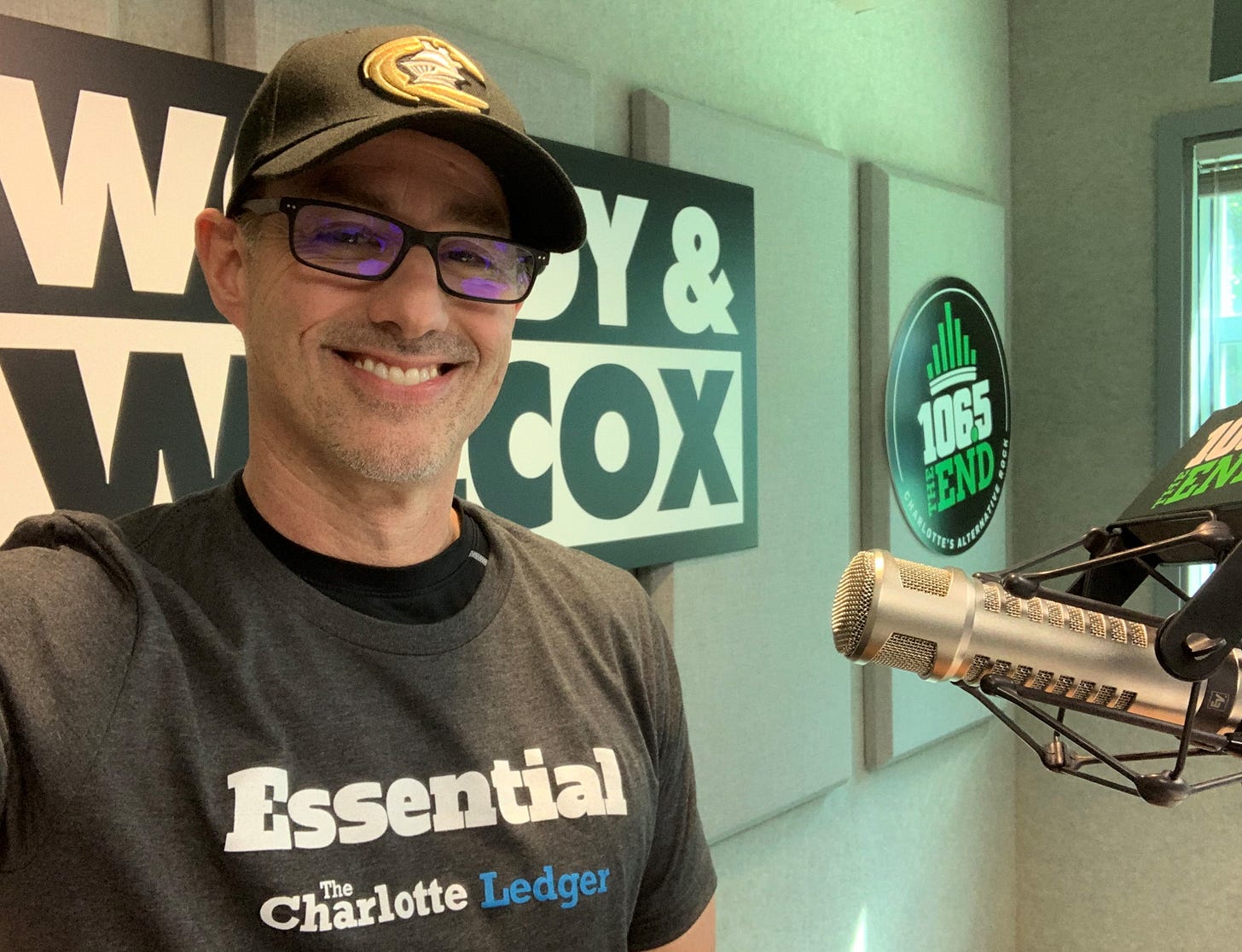 Hi, I'm Chris Wilcox of the Woody & Wilcox morning drive-time radio show on 106.5 FM The End. We believe having the perfect blend of humor, special guests and alternative rock tunes are essential to starting your weekdays, and I think listeners in our 14 markets from Asheville to Alaska would agree. Finding the right words is essential in radio, just like in newsletters like The Charlotte Ledger. Beer is essential to us, too, which is why we have our own, Radio Haze, a juicy/hazy IPA from NoDa Brewing.
Know what else is essential? A comfortable T-shirt to pull on at 4:30 a.m. when I climb out of bed and head into the studio. The Charlotte Ledger has me covered there. Their essential T-shirts are made of soft, 100% cotton, and they send the message that you're in the know about what's going on in Charlotte.
When you order, use the promo code CLTL20 and get free shipping.
Sounds pretty good to me.
Also available — Doggone Essential Charlotte Ledger dog bandanas, as featured in Charlotte Agenda:
Got a Ledger T-shirt? Send us a photo of yourself wearing it and tell us why the Ledger is your essential source of news. We'll make you famous in a future edition of The Ledger.
---
Do you want the full Ledger experience and access to everything we produce? Go with a paid subscription:
Got a news tip? Think we missed something? Drop us a line at editor@cltledger.com and let us know.
Like what we are doing? Feel free to forward this along and to tell a friend.
Archives available at https://charlotteledger.substack.com/archive.
On Twitter: @cltledger
Sponsorship information: email editor@cltledger.com.
The Charlotte Ledger is an e-newsletter and web site publishing timely, informative, and interesting local business news and analysis Mondays, Wednesdays, Fridays and Saturdays, except holidays and as noted. We strive for fairness and accuracy and will correct all known errors. The content reflects the independent editorial judgment of The Charlotte Ledger. Any advertising, paid marketing, or sponsored content will be clearly labeled.
Executive editor: Tony Mecia; Managing editor: Cristina Bolling; Contributing editor: Tim Whitmire; Reporting intern: David Griffith