Discover more from The Charlotte Ledger
Delivering smart and essential news to Charlotte, one email at a time.
Over 19,000 subscribers
BREAKING: The heart of Plaza-Midwood is up for sale
Shopping center at Central & Pecan listed as redevelopment opportunity; neighborhood's alternative vibe under further attack?
Good afternoon! Today is Thursday, September 12, 2019, and the Ledger is coming to you with HOT BREAKING NEWS.
If you received this from a friend and enjoy smart, local news, sign up for the free e-newsletter here (charlotteledger.substack.com).
For sale: 12 acres in historic neighborhood close to uptown, near brewery and restaurants
A 12-acre site right in the middle of Plaza-Midwood's commercial district is up for sale, raising the prospect that it could soon turn into a massive upscale development in a neighborhood once marked by tattoo parlors and an alternative vibe.
Berkeley Capital Advisors has put a commercial listing on its website for "Pecan & Central," with a map that shows the entire Central Square shopping center available for purchase. It is probably Plaza-Midwood's largest commercial site and home to CVS, Bistro La Bon, Five Guys, The Roasting Company and an ABC store. The site for sale also includes businesses that front Pecan Avenue, such as Sammy's Deli and Meineke Car Care, plus century-old brick buildings on the back of the property: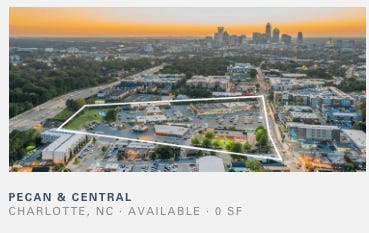 Berkeley Capital did not immediately return a phone call Thursday. The company is one of the dominant retail brokers in the Carolinas.
Property records show the site consists of three parcels and is bounded by Central Avenue, Pecan Avenue, Independence Boulevard and the train tracks. The parcels are zoned B-2, a general business designation, so the land likely would need to be rezoned for any kind of mixed-use or residential component that is in vogue for big redevelopment projects. The tax value of the parcels totals about $18M. It's rare to find 12 acres of prime, developable real estate so close to uptown.
Old vs. new in historic neighborhood: A sale of the shopping center would be a huge deal for Plaza-Midwood, as it would deepen the angst some residents feel about the area losing its soul in favor of new commercial development — a conflict between old and new that's playing out throughout neighborhoods close to uptown. The Penguin is gone, and the Dairy Queen on Central Avenue is on its way out after being there since 1950. But luxury apartments are marching down Central Avenue, and a brewery and new restaurants are catering to upscale residents.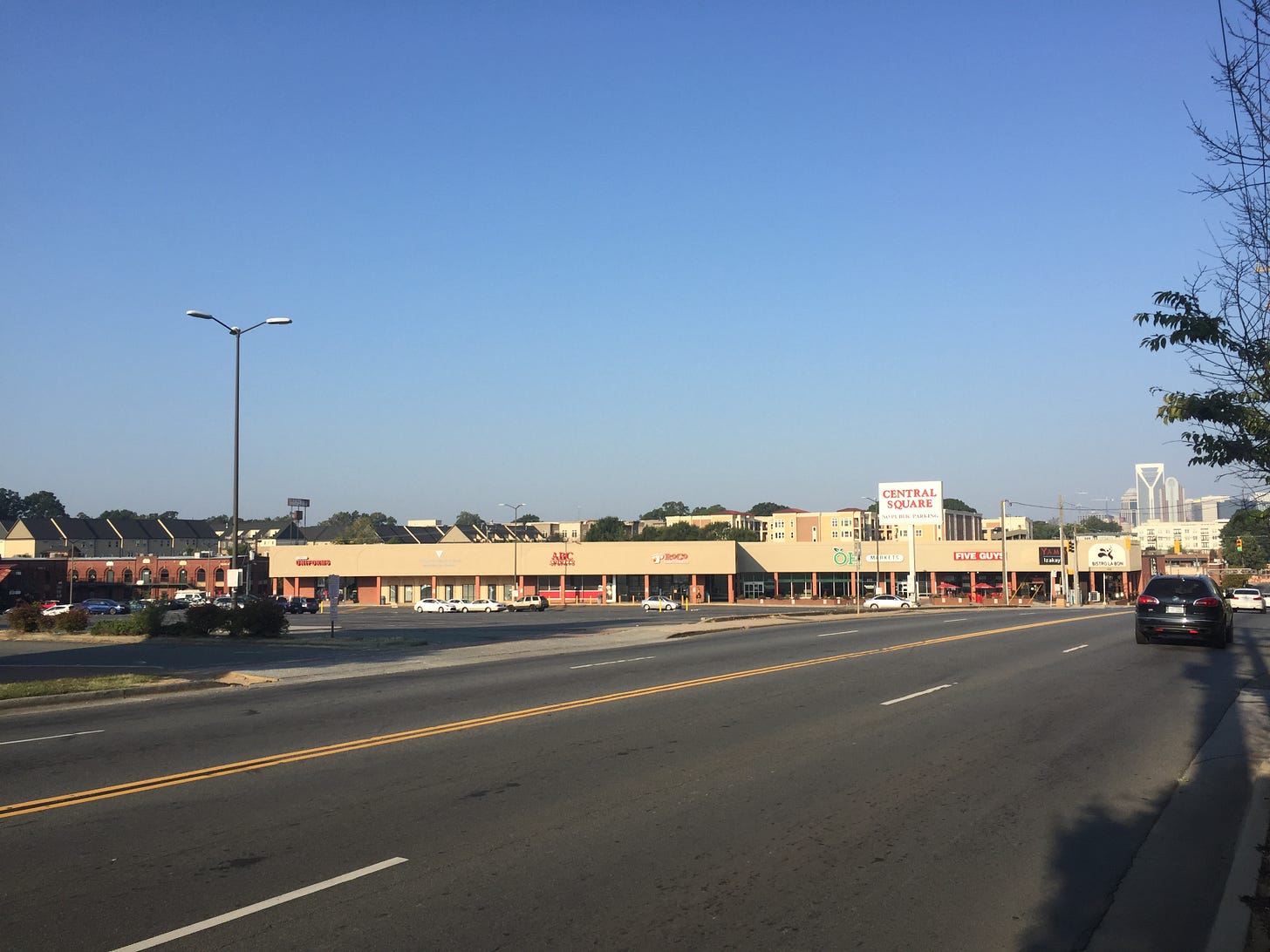 Shopping center for sale: It's a prime redevelopment spot close to uptown, but residents will wonder what will take its place.
"Land play": Berkeley Capital's real-estate listing says Pecan & Central is a "class A, infill covered land play development site." That real-estate lingo means the land is occupied and could be a smart investment for redevelopment. The listing says: "The asset is income-producing, giving buyers the opportunity to collect rent while developing a successful repositioning plan." It notes that 29,000 vehicles per day pass the site and that 289,000 people live within five miles — including 15,000 people with a household income of more than $112,000 in a one-mile radius.
Because there are existing businesses on the site, it is unclear how quickly the shopping center could be redeveloped. Any buyer would probably be more interested in doing something creative on the site, rather than just building standard-issue apartments.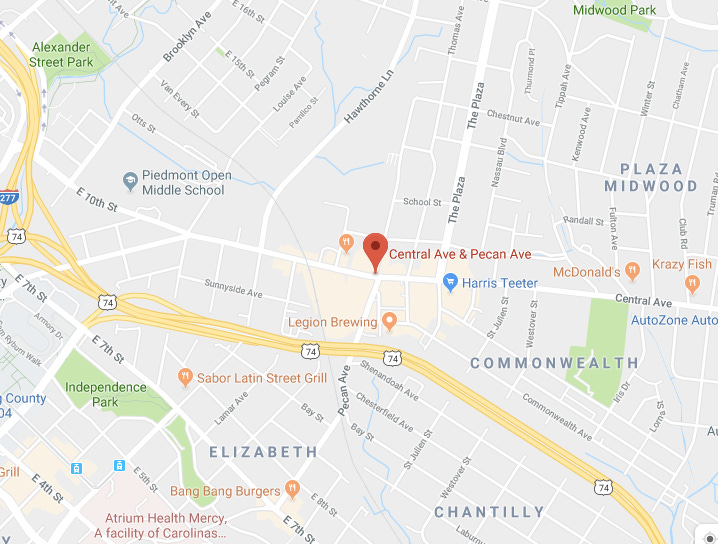 The land has been owned for years by Cole Properties & Investments, which once owned a lot of land in the Central Avenue corridor. Its longtime leader, John Hatcher, passed away in 2016. An employee answering the phone Thursday said she had no comment but had heard that the new owner was "exploring her options." The owner didn't immediately reply.
The company has come under criticism recently for its recently aggressive posture toward towing cars at the shopping center while their owners are dining at restaurants across the street, such as Yafo and Midwood Smokehouse.
We'll share any additional info in tomorrow's regularly scheduled Ledger.
---
Got a news tip? Think we missed something? Drop me a line at editor@cltledger.com and let me know.
Like what we are doing? Feel free to forward this along and to tell a friend.
The Charlotte Ledger is an e-newsletter and web site publishing timely, informative, and interesting local business news and analysis Mondays, Wednesdays, and Fridays, except holidays and as noted. We strive for fairness and accuracy and will correct all known errors. The content reflects the independent editorial judgment of The Charlotte Ledger. Any advertising, paid marketing, or sponsored content will be clearly labeled.
The Charlotte Ledger is published by Tony Mecia, an award-winning former Charlotte Observer business reporter and editor. He lives in Charlotte with his wife and three children.