Bruton Smith takes pay cut of 1 miiiiillion dollars
Plus: Hall Family Farm sold to Novant; News flash: Bankers make millions; South End bar locks out customers
The Charlotte Ledger
Fresh and real Charlotte business news that makes you smarter. Delivered to your inbox for free three days a week.
Need to subscribe? Sign up here. If you like what you see, forward this email to a friend.
Good morning! Today is Friday, March 15, 2019. Here are today's big stories in Charlotte-area business news:
Bruton Smith pay slashed by $1M in 2018
Bruton Smith and other executives at Sonic Automotive took big pay cuts in 2018, as the owner of car dealerships failed to meet earnings targets.
But don't feel too bad: Smith still made nearly $3.3 million in 2018. That's down from $4.4 million in 2017.
Pay plunged for him and the others because of big drops in incentive payments tied to the company's earnings goals, according to securities filings this week. Here are the pay details of the top five Sonic execs:
Bruton Smith. Total compensation: $3.3M. Consists of salary of $1.3M, stock awards of $1.5M, bonus of $300K, use of demo vehicles valued at $144K. (What good is owning car dealerships if you can't drive the merchandise?)

David Smith. Total compensation: $2.7M. His compensation actually rose by $100K+ because of a promotion to CEO in September.

Scott Smith. Total compensation: $2.9M. Compensation fell by about $1M. He stepped down as CEO in September.

Jeff Dyke, president. Total compensation: $2.5M. That's down by $1.4M.

Heath Byrd, executive VP and CFO. Total compensation: $1.8M. That's a drop of $1M.
It was a tough year for Sonic, which has its corporate HQ in Cotswold, across from the Pizza Peel. The company's stock fell by more than 30 percent in 2018. Nationally, car sales were flat in 2018 compared with 2017. Oh, and in case you are wondering about the company's other 9,700 employees, Sonic says their median annual compensation in 2018 was $51,600.
Gig economy: Smith's side hustle, serving as executive chairman of Speedway Motorsports, earned him $2.3M in 2017, but it hasn't reported figures yet for 2018.
Fun fact: Smith turned 92 years old this month.
If you're a car-dealership-pay nerd who wants to read the nitty-gritty of Sonic's executive compensation plan, it is available here.
---
Bought the farm
Novant Health has purchased a 38-acre site in Ballantyne that is home to the Hall Family Farm, on the corner of Johnston Road and Providence Road West.
The farm, family-owned since the 1920s, has for the last decade or so been home to a pick-your-own strawberry field, pumpkin patch, hayrides, corn mazes and tricycle rides popular with families in south Charlotte. It has been closed for the winter, but its website says it is supposed to reopen in April.
Sales price: $21M. The paperwork was filed last week with the register of deeds. Hall Family Farm did not immediately return an e-mail on Friday morning. Novant was unable to immediately provide details.
---
Luxe shopping heading to SouthPark area, of all places:
Phillips Place on Thursday announced plans for a major renovation — or as owner Lincoln Harris put it, "a major restatement of the vision for Phillips Place, the first-of-its-kind SouthPark mixed-use development that changed the Charlotte retail landscape when it opened in 1997."
At the center of the action will be an expanded, 41,000-square-foot Restoration Hardware with rooftop restaurant, heading to the space of the old Dean & DeLuca.
But wait, there's more:
Enhancements will also include a more animated streetscape, inviting indoor and outdoor gathering spaces, updated architecture, reconfigured parking and traffic patterns, and the first completed section of The Loop, a pedestrian walkway that will connect key destinations and neighborhoods throughout the SouthPark area.
And oh, are there renderings — though it is unclear how accurate they are, since they seem to envision plenty of available parking spaces near the entrance: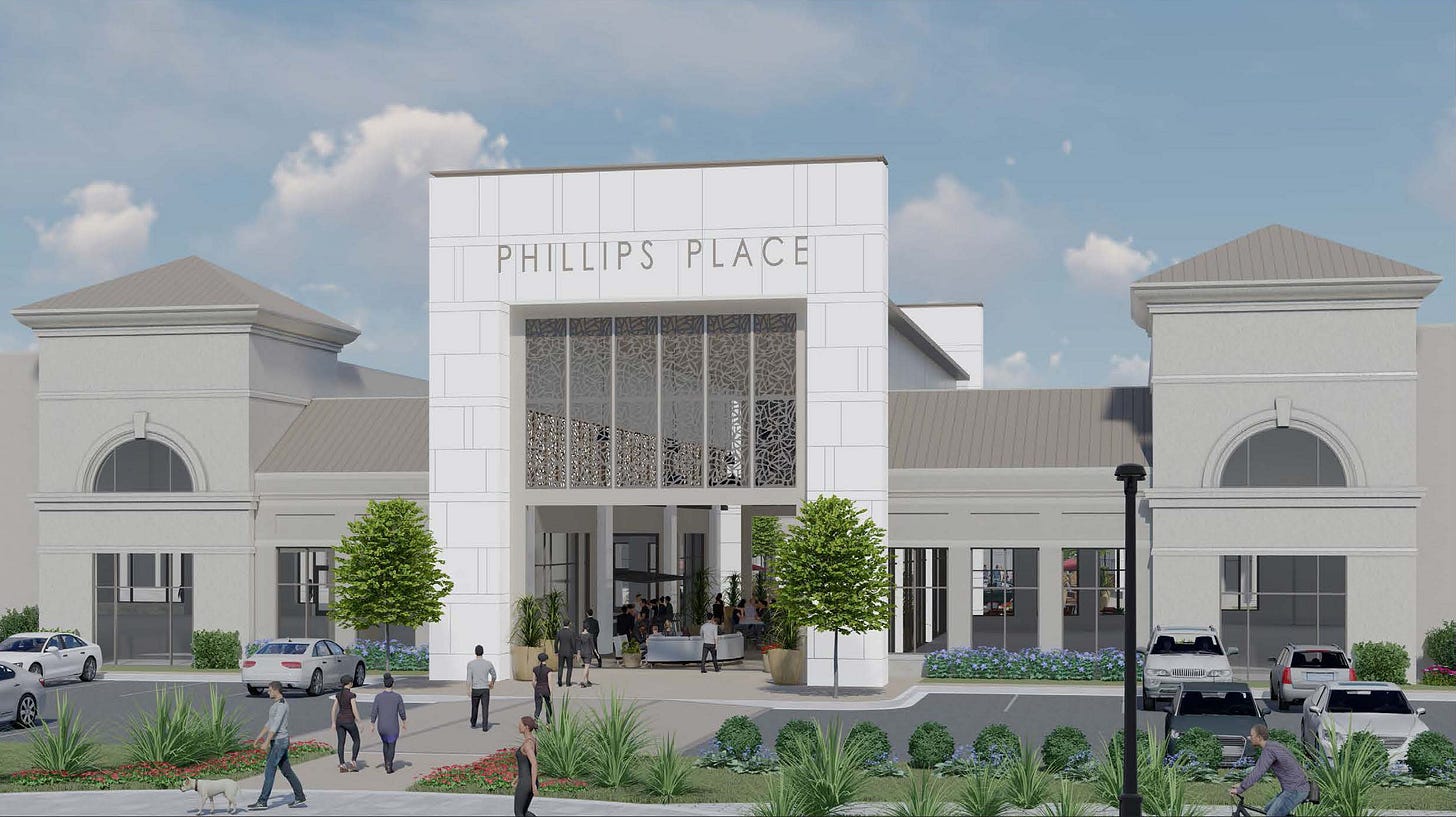 Courtesy of Lincoln Harris
Lincoln Harris CEO Johnny Harris tells the Business Journal the company expects to spend $50M over the next five years on the project:
"'The enhancements announced today will define the premier luxury retail experience in Charlotte for a new generation,' Harris says. … 'The overall vision is to be able to have a place in Charlotte with high-end specialty retail.' … 'Everything we do is going to be done with this vision in mind.'"
---
Economist: NC expected to outpace national economy
UNC Charlotte economist John Connaughton shook his magic 8-ball and made his quarterly economic forecast this week. Will the state continue its strong growth? All signs point to yes.
He foresees NC's economy growing by 3.3 percent this year, stronger than national forecasts that tend to be around 2 percent:
Fourteen of the state's fifteen economic sectors are forecast to experience output increases during 2019. The sectors with the strongest expected growth are information with a projected real increase of 6.2 percent; wholesale trade with a projected real increase of 5.2 percent; construction with a projected real increase of 4.8 percent; [and] retail trade with a projected real increase of 4.5 percent.
The lone laggard: agriculture. Outlook not so good.
His full report here.
Meanwhile, the Bureau of Labor Statistics reported Friday that the Charlotte area's unemployment rate rose to 4.1 percent in January, up from 3.4 percent in December. But payrolls rose by about 10,000 jobs.
---
Pass go, collect $20M:
Charlotte's big banks put out pay figures this week, too. Let's get to the numbers:
Bank of America
Brian Moynihan, CEO, $22.8 million total compensation, up $1M from 2017.

Paul Donofrio, CFO, $11.9 million, down $200K from 2017.

Dean Athanasia, president of retail/preferred/small business: $10.1M. (2017 not disclosed.)

Geoffrey Greener, chief risk officer, $11.7M, up $300K.

Thomas Montag, COO, $18.8M, up $300K.

Thong Nguyen, vice chairman, $10.1M. (2017 not disclosed)

Terrence Laughlin, former vice chairman + head of global wealth, $17.8M, up $6.7M.
Median employee compensation was a not-shabby $92,040. Full BofA details here, page 57.
Wells Fargo
Wells reported its executive pay this week, too. In a remarkable coincidence, the bank filed those details a mere 26 hours after members of the House Financial Services Committee completed their dissection of CEO Tim Sloan. So while they asked him about the bank's complicity in caging children, arming school shooters and destroying the environment (among occasional questions about the bank's scandals), they were unable to express outrage at his $900,000 raise in 2018.
Here's what we have:
Tim Sloan, CEO, $18.4M total compensation, up $900K from 2017.

John Shrewsberry, CFO, $12.5M, up $600K.

Mary Mack, senior EVP, consumer bank, $8.6M. (2017 not disclosed)

Avid Modjtabai, senior EVP, payments, $10.4M, down $200K.

Perry G. Pelos, senior EVP, wholesale banking, $9M, up $2.2M.
The median Wells worker earned $65,191 in 2018, the bank says.
Full Wells executive-pay details here, at page 102.
---
Carolinas & Beyond
Astute tweet of the week:
Loves me some internet — when it works:
Facebook said it has resolved one of its longest-ever outages, which affected service on Facebook, Instagram and WhatsApp on Wednesday and Thursday. The WSJ:
A Facebook status page for developers had listed the outage as lasting 24 hours. …

While internet companies occasionally experience outages caused by problems ranging from natural disasters to surges of web traffic, it is rare for such an established company to go down for so long. …

The outage could force Facebook to issue refunds to advertisers—many of which use its platforms as a core means of reaching consumers—and further damage a brand already dented by scandals surrounding privacy and data protection.
But the internet took the news in stride: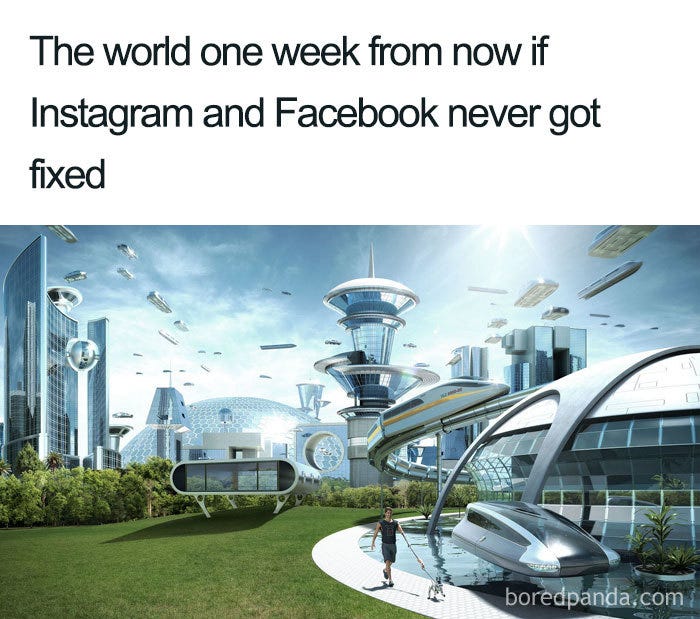 Quotable: the proposed Matthews-to-Belmont light-rail line
"To contend the Silver Line is needed for 'economic development' is – to put it diplomatically – misguided. Some might even say untethered from reality. … A deep concern that development needs a boost is, to my eyes, misplaced. Is this just the latest impatient development push from Charlotte's uptown leaders, who have not in my 40 years of residence here ever met a glitzy development project they did not welcome?"
— Mary Newsom, former director of urban policy initiatives at the UNC Charlotte Urban Institute, writing in her blog The Naked City
---
Food and booze news
A weekly wrap-up of the week's eating and drinking developments:
Carowinds, Sycamore brewery collaborate to name beer after roller coaster (Biz Journal) … New Irish pub in Dilworth (Biz Journal) … HI Tide poke bowl spot closes (first reported by Unpretentious Palate) … Tupelo Honey headed to uptown (Biz Journal) … Cabo Fish Taco opens in Ballantyne (Biz Journal) … Soul Gastrolounge opening adjoining bar/restaurant in Plaza-Midwood (Agenda)
---
Compromise scotches brewing beer battle
Warring North Carolina beer factions announced a compromise Thursday that allows the state's biggest craft breweries to ramp up production. Previously, craft breweries were capped at making 25,000 barrels a year. If they made more than that, they would fall under laws enacted shortly after Prohibition that mandate the use of third-party distributors.
It shouldn't have much effect on Mecklenburg County beer-drinking. But it will allow the biggest craft brewers to grow. The new limit, expected to be enshrined in state law: 50,000 barrels a year. Says the AP:
NoDa and Olde Mecklenburg are likely the only craft breweries currently close to the 25,000-barrel cap, but signs points to more bumping up against it without a change. The number of craft breweries in the state has grown from 45 in 2010 to over 200 today, according to the North Carolina Craft Brewers Guild. And the environment has attracted larger breweries like Sierra Nevada to build its East Coast operations in North Carolina.
Pros: Allows growth of big craft brewers. Ends divisive lawsuit between brewers and wholesalers.
Cons: Keeps antiquated distribution regulations in place.
---
Attracting customers by locking them out
Most successful businesses make it easy for potential customers to find them and spend money.
Then there's this concept, from a new Prohibition-inspired cocktail bar in South End: Make your customers search for the entrance — an unmarked wooden door down an alley. When they find it, keep the door locked — unless they have gone that day onto the bar's private Instagram account on their non-Depression-era cell phone and can recite the password into a microphone. Only then are customers granted permission to enter the small, windowless bar and pay an extremely non-Prohibition price of $12-20 for a "classic cocktail."
Oh, and the doormen are sticklers for the right password. Charlotte Agenda is on it:
A bartender will pick up and ask for the password. State it exactly as written. They take it seriously. The day I went it was a full phrase, not a word, and I kept messing it up. I was there specifically for coverage for this story and had already been inside, [and] they wouldn't even let me back in if I said it wrong. Get it right.
A speakeasy sounds kind of neat. But Prohibition ended in 1933, and ordering a cocktail in South End is far from a transgressive experience. As long as the bar is not opposed to hassling customers, why not go for the full historical effect and simulate regular police raids?
Call me, uh, old-fashioned, but I'm going to stick with bars that I can easily find. They let me simply walk in and order a drink.
---
Got a news tip? Think we missed something? Drop me a line at editor@cltledger.com and let me know.
Like what we are doing? Feel free to forward this along and to tell a friend.
The Charlotte Ledger is an e-newsletter and web site publishing timely, informative, and interesting local business news and analysis Mondays, Wednesdays, and Fridays, except holidays and as noted. We strive for fairness and accuracy and will correct all known errors. The content reflects the independent editorial judgment of The Charlotte Ledger. Any advertising, paid marketing, or sponsored content will be clearly labeled.
The Charlotte Ledger is published by Tony Mecia, an award-winning former Charlotte Observer business reporter and editor. He lives in Charlotte with his wife and three children.