CMPD traffic tickets are way, way down
Plus: Ally Bank ditches credit cards; FAA scolds American and union; Magazine editor reassesses support of Spirit Airlines
Good morning! Today is Monday, July 8, 2019.
Need to subscribe? Sign up for free here (charlotteledger.substack.com). Like what you see? Forward to a friend.
Police say they're moving away from speed traps and focusing on high-crash areas
The number of traffic tickets written by Charlotte-Mecklenburg Police officers has plunged by nearly half in the last five years, according to police data provided to the Ledger under a public-records request.
It's not that everybody in town is suddenly becoming law-abiding. Rather, police say they're writing fewer tickets because they're moving away from the idea of hanging out in speed traps to write easy speeding tickets in favor of an approach that attempts to target high-risk areas by writing "quality" tickets. They say that approach is working, with deadly wrecks down in 2019 compared with the same time last year.
The stats: Last year, CMPD made just more than 30,000 traffic stops that ended in a citation. That number has been trending downward for several years. In 2014, the department wrote more than 58,000 tickets, CMPD numbers show: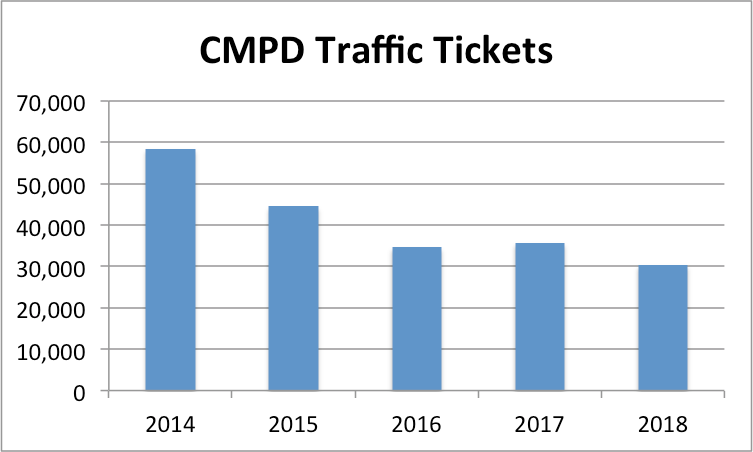 Sgt. Jesse Wood, supervisor of CMPD's transportation division, explains that there are a few reasons for the drop. For starters, he says, writing a traffic ticket is more time-consuming for officers than it used to be: "Over the years, there has been public demand for us to gather additional data. You make a traffic stop now, and when you finish the traffic stop, do notes that go into the computer, do a demographic form we have to fill out that identifies the person we stopped and why we stopped them, deal with the body cameras … a traffic stop that used to be completed start to finish in 10 minutes or less now can take 20-25 minutes."
Emphasis on quality: But even more than that, he says, is that CMPD is aiming to write tickets that have a big effect rather than just write a bunch of tickets. CMPD recently started a program called Vision Zero, in which officers crack down on violations in high-crash areas: "I am much more interested in the quality of the stop than the number of citations we write. … There are places you can go where you can write a whole bunch of tickets, but you're not really having an effect. I'd much rather somebody go to a high-crash zone and write five good tickets than go on a big, wide-open road where you can question whether or not the speed limit is too low."
No quotas: Contrary to what some people believe, Wood says, the department has no ticket quotas, and the city doesn't view ticket-writing as a source of income that needs to grow.
Wood says the shift in focus seems to be working, with the number of traffic fatalities down big-time this year. When interviewed last month, he said there were just 20 traffic deaths so far in 2019, compared with 36 in the same period in 2018. DWI deaths are also down.
Other Charlotte traffic-ticket insights from Wood include:
Focus on moving violations: "When you go write three speeding tickets and write 20 for expired tags, are you really having an effect on traffic safety? We want those moving violations and people who are issued citations to correct their behavior to get the message."
Can you drive less than 10 mph over the speed limited without fear of a ticket? "The number on the side of the road is the speed limit. That's what you should be doing. Officers have discretion. We don't set a speed at which you can't stop somebody. In these high-crash corridors, realistically we can't stop everybody who is going 2 miles per hour over the speed limit."
Drivers on phones are a huge problem: "When I was out at night, I would stop people all the time because I thought they were drunk. It turned out they were just messing with their phones."
But catching distracted drivers can be tough: "The distracted-driving law and cell phone law can be kind of ambiguous. It can be difficult to deal with sometimes. I tell the officers if you have probable cause that that person is in violation, then issue the citation. If the court dismisses it, the court dismisses it."
Is it illegal to be texting at a stoplight? "Theoretically, yes." Uh-oh — all of Charlotte is theoretically at risk.
---
Ally Bank cancels credit card
Ally Bank is getting out of the credit-card business.
Three years after partnering with TD Bank to offer the Ally CashBack credit card, Ally is discontinuing offering it.
A notice on Ally's website says:
For the past three years, Ally Bank and TD Bank, N.A. have worked together to offer the Ally CashBack Credit Card program. As of June 17, 2019, the relationship has ended. 
Ally gave no further details, and a spokeswoman could not be reached late last week. The website says cardholders can keep using the card but that it is not open to new applications.
Credit cards can be a tough business for small banks. The field is dominated by six big banks: Chase, Capital One, Bank of America, Citibank, Discover and American Express. Combined, those big dawgs of credit command about 54% of the market, according to industry data, and the figure is growing. It's tough for smaller banks to put marketing muscle behind their cards, and they also lack the operational expertise of the bigger players.
Ally is based in Detroit, but it has a big presence in Charlotte. Its CEO is based here, and it plans to occupy the Ally Charlotte Center, a 26-story office tower under construction at 601 S. Tryon St. uptown.
---
The tax cost of those Lowe's jobs
The tech hub Lowe's announced last month is expected to bring as many as 2,000 good-paying jobs to South End.
Now, the incentives needed to attract that big project are starting to come into focus. Erik Spanberg of the Business Journal reported last week (paywall) that taxpayer incentives could total more than $72M:
State government confirmed last week Lowe's Cos. could receive up to $56.1 million over a 12-year period, based on a pledge to create 1,612 new jobs in North Carolina. Job development grants would account for all but $2 million of the state incentives. On Tuesday, Mecklenburg County and the city of Charlotte — neither of which had publicly disclosed its commitments — told CBJ that combined local incentives would be in the range of $16.2 million.

Of that amount, $10.2 million would come from the county and $6 million from the city. Spokespersons for county and city government both said those figures could change before the Mecklenburg commissioners board and City Council make a final decision. Neither governing body has scheduled an incentives vote.
That's a significant chunk of change, but it's nowhere close to the top of the list of tax incentives for businesses. Among the largest in state history are offers to Dell ($260M, 2005), Nucor ($161M, 1998) and Spirit Aerosystems ($125M, 2008)
---
Big soccer announcement coming this week?
More Spanberg:
---
FAA takes American and union to woodshed over flight safety
The Federal Aviation Administration has sent a sternly worded letter to American Airlines and its mechanics' unions, warning them that they need to get along for the sake of airline safety.
American and the unions — the Transport Workers Union of America and the International Association of Machinists and Aerospace Workers — have been feuding in recent months as they negotiate a new contract. American has accused the union of staging a work slowdown that has resulted in more than 600 flight cancellations between February and May. Union leaders have threatened violent strikes.
In a June 24 letter to both sides, the FAA wrote:
The FAA cautions that a breakdown in the relationship between American and the Union raises concern about the ongoing effectiveness of the airline's safety management system. Safety is a shared responsibility of American and Union members that demands a collaborative culture, irrespective of any ongoing controversy between the organizations.
The letter urging both sides to play nice was filed as part of an ongoing federal court case in Fort Worth, in which American is seeking an injunction against the union to end the slowdown.
But the FAA is doing more than sending schoolmarm-y letters that read like an exercise in government CYA. It also has stepped up its monitoring of American, which is a standard practice during airline labor disputes, according to Dallas' CBS affiliate.
Charlotte is American's second-largest hub, with nearly 700 daily flights.
---
Flat job numbers for Charlotte in May
Hiring in the Charlotte region was flat in May, with employers shedding a net 300 jobs, according to data released last week by the Labor Department. In the last year, employment is +27,000 jobs locally, for a total of more than 1.2M.
The region's unemployment rate rose to 3.7% in May, up from 3.3% in April.
Nationally, hiring was slow in May, but new numbers released last week for June beat expectations and show that the pace of job creation picked up.
---
In brief:
---
Taking stock
Unless you are a day trader, checking your stocks daily is unhealthy. So how about weekly? How local stocks of note fared last week (through Friday's close), and year to date: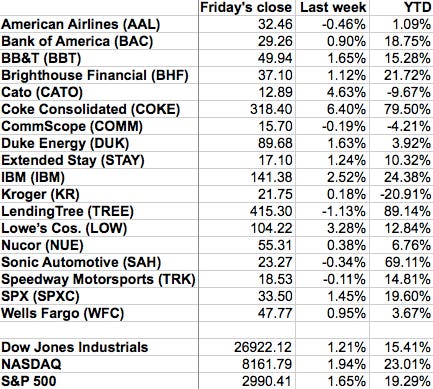 ---
Got a news tip? Think we missed something? Drop me a line at editor@cltledger.com and let me know.
Like what we are doing? Feel free to forward this along and to tell a friend.
The Charlotte Ledger is an e-newsletter and web site publishing timely, informative, and interesting local business news and analysis Mondays, Wednesdays, and Fridays, except holidays and as noted. We strive for fairness and accuracy and will correct all known errors. The content reflects the independent editorial judgment of The Charlotte Ledger. Any advertising, paid marketing, or sponsored content will be clearly labeled.
The Charlotte Ledger is published by Tony Mecia, an award-winning former Charlotte Observer business reporter and editor. He lives in Charlotte with his wife and three children.