Curtain closing on Ballantyne theater?
Plus: I-485 construction starting soon; More ideas for Eastland Mall site; Bojangles' tests pimento-cheese biscuit
Good morning! Today is Friday, June 21, 2019.
Need to subscribe? Sign up for free here (charlotteledger.substack.com).
Like what you see? Forward to a friend or share on social media.
---
Regal theater at Ballantyne Village in "spaceship" building seems to be listed as office space
The future of the Ballantyne Village theater appears to be in doubt, with plans in the works to convert the cinema into offices.
Nobody involved would talk about the project, but word has been circulating among nearby retail tenants in recent weeks that something's up. To the extent that Ballantyne has distinctive architecture, the theater's home is in one of that area's most recognizable buildings — the one that's commonly described as resembling a "spaceship."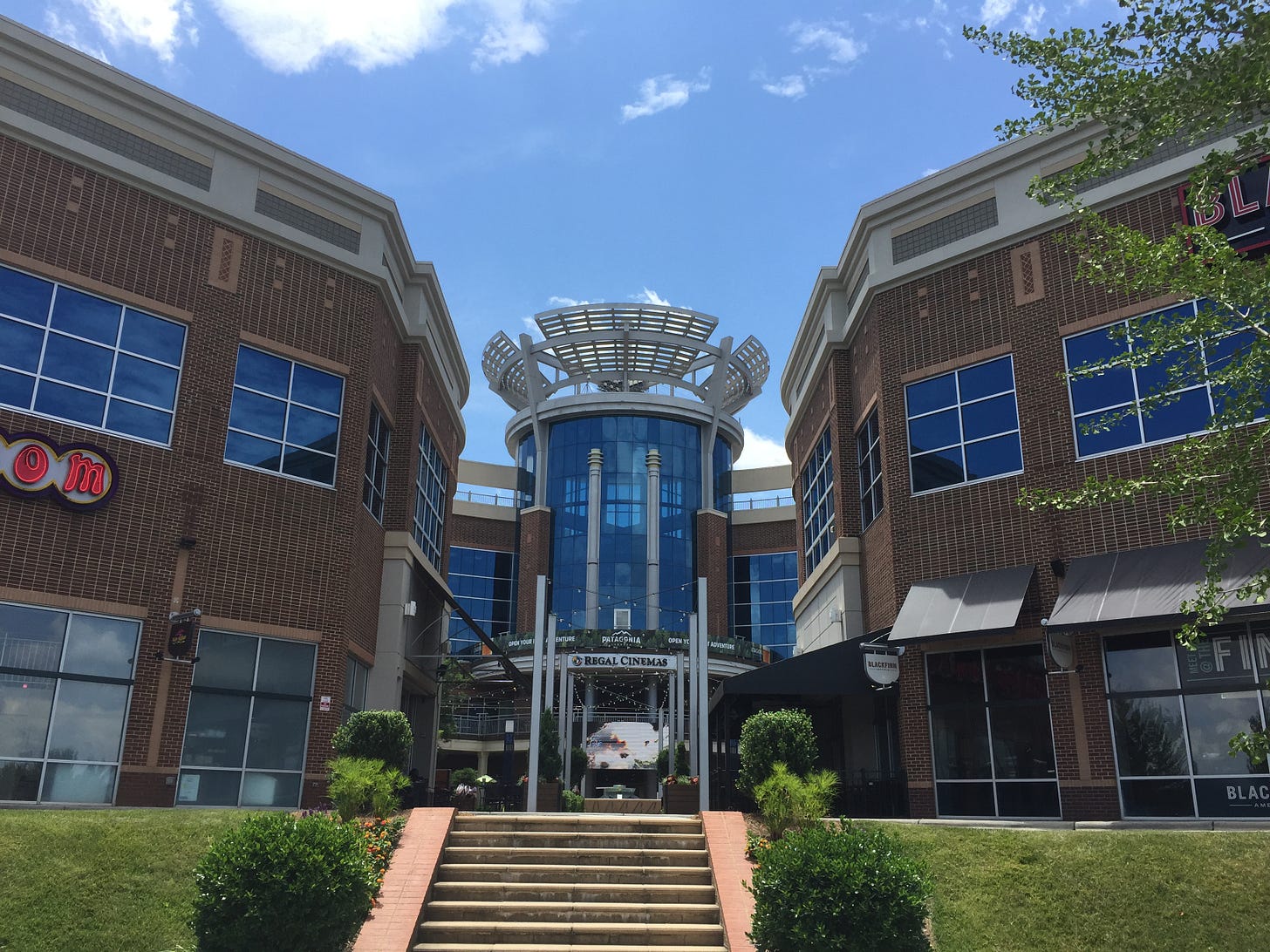 Ready for takeoff? The "spaceship" building at Ballantyne Village, now home to a movie theater, appears to be listed for lease as office space.
But evidence that the theater's days might be numbered goes beyond storekeeper gossip. Office real-estate giant JLL recently listed office space for rent in Ballantyne Village — and the listing, which is publicly available, seems to resemble the movie-theater space: "Up to 50,000 s.f. of office space available for lease. Distinctive characteristics including large glass windows, 13' high ceilings, and 2-story lobby with staircase." The existing theater has a two-story lobby with large glass windows and a staircase: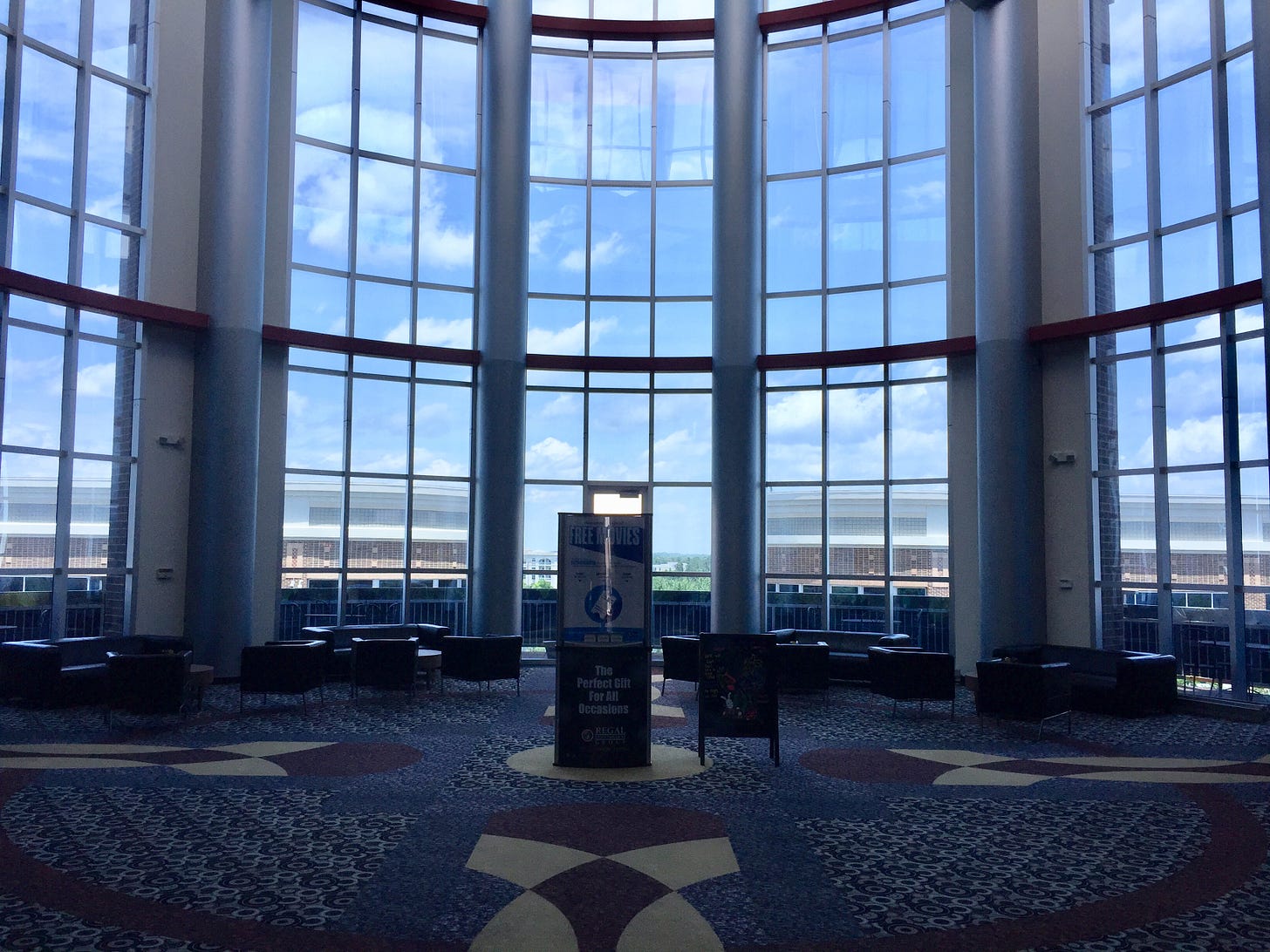 The office listing includes this rendering and floor plan: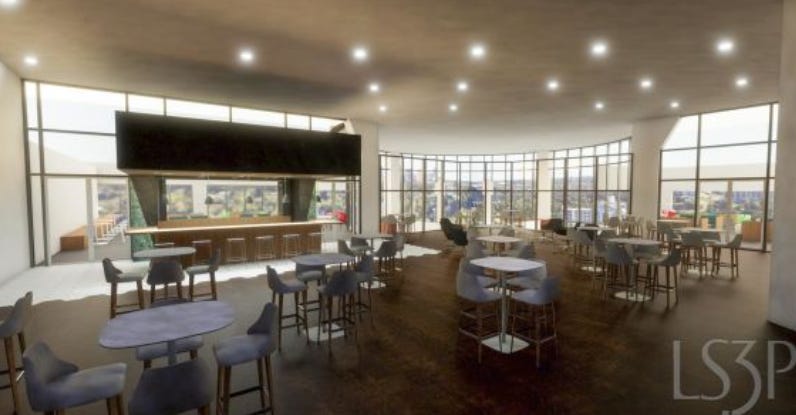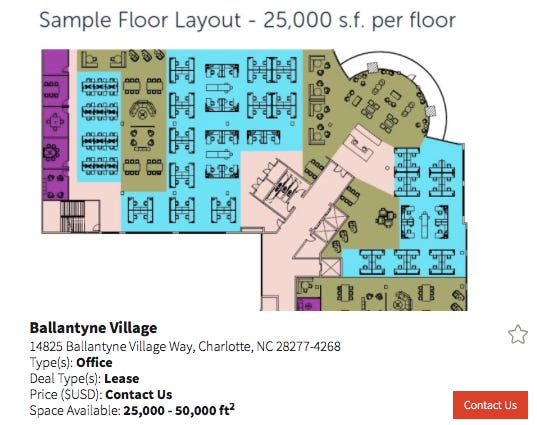 Note that the floor plan seems to show a semicircular balcony, which is a feature at Ballantyne Village that only the theater has. The rendering seems to suggest filling in the theater's soaring ceiling with a lower one, which could allow two stories of office space.
Pleasant experience: When the theater opened in 2006, it was one of the most luxurious in the Charlotte region and was also notable as one of the first to sell beer and wine. At the time, the Observer's movie critic, Larry Toppman, wrote: "The experience of watching a movie is, quite simply, more pleasant here than anywhere else in the county."
But times change, and other theaters around town started selling food besides the usual tubs of popcorn and massive boxes of Junior Mints. And they added features such as those comfortable reclining seats that allow you to doze off easily while your kids are enthralled with "The Secret Life of Pets 2." Rival theaters also started selling booze, including local craft beers.
Going independent: On its five screens, the theater shows mostly independent films. While main-run theaters this weekend are showing "Toy Story 4" and "Men in Black International," the Ballantyne Village theater is going with "American Woman" and "The Dead Don't Die." The theater entrance is on the third story of the "spaceship" building and can be hard to find.
The theater is operated by Regal Cinemas, which did not return calls or emails this week. Regal also runs local theaters including the Manor in Eastover, Phillips Place in SouthPark, Stonecrest at Piper Glen and Starlight near University City. It used to show independent and foreign films at Park Road Shopping Center's Park Terrace. That theater closed, was renovated, and is now run by AMC, which shows mainstream movies there.
Ballantyne Village is owned and managed by Stonemar Properies of New York City. Its representative did not return calls and emails this week.
---
I-485 construction to start soon
Ready to get ensnared in more Charlotte traffic? Work is expected to start by the end of the summer on I-485 between I-77 and Independence Boulevard.
The N.C. Department of Transportation will be adding express toll lanes each direction in what's now the median. Between 80,000 and 146,000 vehicles travel the southern section of I-485 every day.
The project also includes adding a regular lane between Rea Road and Providence Road, adding an interchange at Weddington Road in Matthews (by the Brace Family YMCA) and improving the interchange at John Street in Matthews.
The project is expected to be completed by late 2022. But until then, brace yourself.
"There will be times when they have to shift traffic and close lanes and close ramps, but we will do our best to alert the public about that ahead of time," says NCDOT spokeswoman Jen Thompson. "It's a busy corridor."
There's a drop-in public meeting with more info on Thursday from 12 p.m. to 7 p.m. at Endhaven Elementary.
---
Yet another plan for Eastland
There was a big meeting on Charlotte's eastside this week, with developers from Crosland laying out ideas for the old Eastland Mall site at Central Avenue and Sharon Amity Road.
Nearby residents had all kinds of thoughts about what they'd like to see at the site, according to WFAE:
Some residents were concerned there would be too much affordable housing on the site — or not enough.

One man said Crosland should build an ice skating rink on the site — a tribute to the rink at the old mall.

One speaker wants more green space.
Plans and ideas are great. They are also cheap and easy. You might recall earlier plans from a few years ago to turn the site into a movie studio. Current brainstorms include a mix of housing, offices and a sports complex.
Everybody likes to play developer — when it's not their money on the line. The pivotal point for Eastland will not be anybody's grand plan or vision or ambition, or even some nicely drawn sketches, but the actual willingness of actual real-estate types to invest actual money. So far, that hasn't happened:
Crosland Managing Partner Tim Sittema said it's been harder to get other developers interested in the east Charlotte site — as opposed to other Crosland projects like Birkdale Village in Huntersville and Waverly off Providence Road.

"The office (space) is a tougher sell at this point," Sittena said. "We have had a lot of meetings with people, trying to get jobs and offices here, and so far we have not found those lead tenants to lead something like that."

In terms of the residential part of the redevelopment, Sittema says home builders initially didn't buy into Crosland's vision of more high-end single-family homes for the site.

"Virtually everyone said, 'We are interested,'" he said. "So then we asked the second level question: 'What would you build here?' And the answer from pretty much everybody wasn't exactly what we're looking for."
Real-estate types tend to be pretty smart about what will work and what won't. Before getting too excited about the possibilities at Eastland, wait to see if any developers step forward — and how much money the city might have to pump in to make that happen.
---
Bubble bursting
Sealed Air, the Charlotte-based company that makes Bubble Wrap, fired its chief financial officer this week amid a Securities and Exchange Commission investigation into the company's accounting practices, the Observer reports:
On Thursday, Sealed Air's board of directors dismissed Bill Stiehl, CFO since fall 2017, "for cause," the local Bubble Wrap maker said in the securities filing. In the same filing, the company said that the board had appointed James Sullivan to be its new CFO, effective June 24.
The Observer had a nice look at Sealed Air's troubles earlier this month. The company's HQ is off Billy Graham Parkway near the airport.
---
In brief
I'd like 50 long-range airplanes, please: American Airlines has ordered 50 Airbus A321 aircraft — long-range, single-aisle planes that are replacing the airline's Boeing 757s and 767s. The first planes won't arrive until 2023, but they could potentially show up in Charlotte. "American Airlines is pretty explicit in saying that their primary goal with the A321XLR is to operate the aircraft from US East Coast airports to medium-sized European cities," says the travel blog One Mile at a Time.

Wells CEO: Wells Fargo's search for a new CEO seems to be bypassing Charlotte-based banker Mary Mack, Bloomberg says.

No recession, BofA boss says: Bank of America CEO Brian Moynihan says he sees the economy slowing down but no full-blown recession: "The economy was predicted by everybody to slow down ... That's coming true," he told CNN. "The reality is we feel good about the economy." A recent survey showed 69% of CFOs expect the United States will be in recession before the end of 2020.

Too loud: The City Council is expected to tighten the city's noise ordinance next week. A proposed revision to the ordinance spells out construction activity that's illegal before 7 a.m. and increases fines to $500 for the second offense and $1,000 for the third offense. One controversial provision prohibits amplified noise near healthcare facilities, a measure that's targeted at anti-abortion protestors.

Everybody loves Showmars: The Showmars in uptown's government center is requesting that the city reduce its rent from $3,000 a month to $500 a month, citing "flattened sales and very limited profitability" at the site. It's on the City Council's agenda for Monday.

New police station: The city plans to spend $2.1M to buy 3.75 acres at Providence Road at Alexander Road for a future police station, according to the City Council's meeting agenda.

Excelsior buyer? A buyer might have emerged to save the historic Excelsior Club on Beatties Ford Road, Charlotte magazine reports. The club was an entertainment venue for black residents in the 1940s and '50s but has fallen into disrepair.
---
Food and booze news
A weekly wrap-up of the week's eating and drinking developments
---
Got a news tip? Think we missed something? Drop me a line at editor@cltledger.com and let me know.
Like what we are doing? Feel free to forward this along and to tell a friend.
The Charlotte Ledger is an e-newsletter and web site publishing timely, informative, and interesting local business news and analysis Mondays, Wednesdays, and Fridays, except holidays and as noted. We strive for fairness and accuracy and will correct all known errors. The content reflects the independent editorial judgment of The Charlotte Ledger. Any advertising, paid marketing, or sponsored content will be clearly labeled.
The Charlotte Ledger is published by Tony Mecia, an award-winning former Charlotte Observer business reporter and editor. He lives in Charlotte with his wife and three children.