Desperate times call for black-market haircuts
Plus: State parks reopen Saturday; Mother's Day dining ideas; High school football headed to Bank of America Stadium; Harris Teeter crackdown on bacon hoarding
Today is Thursday, May 7, 2020. You're reading a SPECIAL BONUS ISSUE of The Charlotte Ledger.
If you like what you see, please forward to a friend.
Need to subscribe? Sign up for free here (charlotteledger.substack.com). A paid subscription, starting at $9/month, gives you access to all articles and helps build smarter original, local news in Charlotte. Details here.
---
As Charlotte grows shaggy, garages and backyards become underground salons; 'Sheer desperation'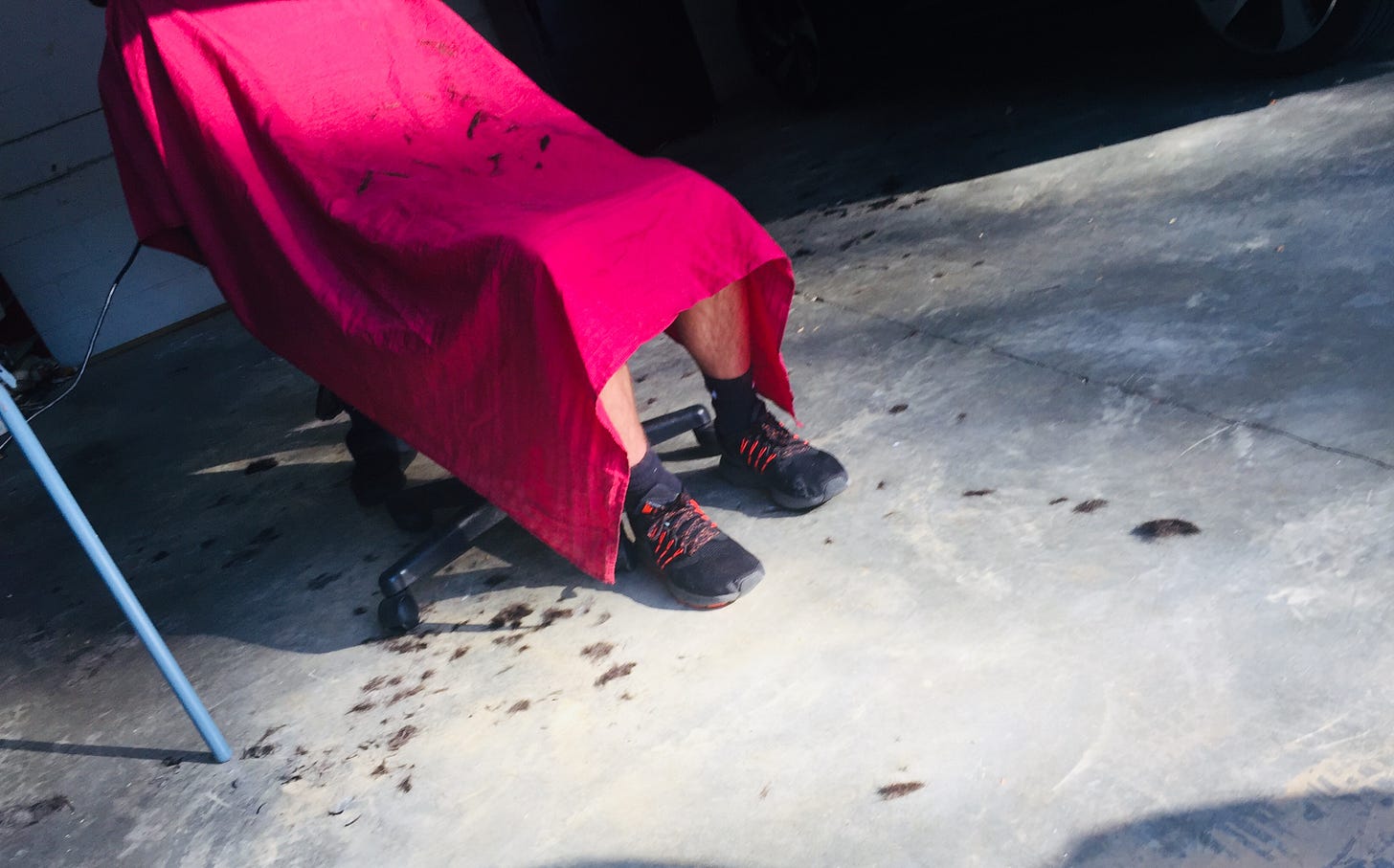 Makeshift barbershop: A customer gets a secret haircut this week inside a south Charlotte garage.
by Tony Mecia
You don't have to work too hard to hear the whispers.
There's the mom at the Mexican restaurant in Pineville overheard talking about her son's backyard haircut. The rumors circulating in Ballantyne of a hairdresser making the rounds. The hair stylist who makes a private appointment at a client's house — and winds up giving the husband a trim, too.
Six weeks into government orders closing barbershops and salons, hair is getting shaggy. Some let it grow. Others, aided by YouTube videos, entrust family members with scissors or clippers.
But there's another, more taboo alternative that seems to be gaining popularity in Charlotte: Quietly hire a professional, and pay in cash.
Risking jail and fine: Nowadays, the business of cutting hair is a forbidden activity. Violating the state's order shutting down hair-care services is a Class 2 misdemeanor, punishable by up to 60 days in jail and a $1,000 fine — though police in Charlotte have written few citations connected to any of the recent pandemic-related restrictions. Salons and barbershops are likely to stay closed until at least May 22, when North Carolina could move into "Phase 2" of its reopening. That's another two weeks of hair growth.
Because of the fear of being cited or shamed, people are as eager to talk publicly about their illicit haircuts as they are to rat out mobsters or admit to dealing black tar heroin. But haircuts are happening — and not just by amateurs.
Garage becomes salon: One afternoon this week, The Ledger watched as a professional stylist, dressed in a short-sleeve floral shirt and black pants, set up shop inside a south Charlotte resident's garage. She took out her clippers and clipper guards and two pairs of scissors and set them on a blue folding card table. She left her blow dryer and curling iron in her car.
Then, for the next two hours, she went to work trimming the hair of five male Charlotte residents who had happened to hear she was coming. Clients, covered from the neck down with an old red beauty school sheet, sat mostly in silence in a black swiveling office chair as their locks of hair fell onto the garage's concrete slab. She would wear a mask upon a client's request.
Each customer paid $25 cash.
The stylist said she works two jobs, and that she has had no steady income from the south Charlotte salon where she works since it was ordered closed on March 25. But she said she has been busy cutting hair for clients in their homes. The Ledger is not publicly identifying her or her customers so that they could speak freely.
One of her customers that day, when asked why he chose to have a haircut in a garage, said: "I kind of needed one." Asked if he was concerned about the health risks, he replied: "It wasn't a huge concern of mine."
Lynda Elliott, executive director of the N.C. Board of Cosmetic Arts Examiners, the state agency that regulates hair-care providers, says her office has been flooded with complaints about stylists working illegally. She said she doesn't have numbers. Many of the complaints stem from social media and are of the "so-and-so has posted this" variety, she said.
Education over enforcement: Her agency has the power to suspend or revoke licenses, but it's too early to say if that will happen to any hair stylists, she said. Even before the pandemic, licensed barbers and hairdressers were not permitted to offer services in people's homes, though there are exceptions for clients who are disabled and home-bound or who live in rest homes and similar places. The agency prefers to educate those it regulates about the dangers of cutting hair in people's houses.
"A lot of it is out of sheer desperation," she said. "They are really eager to get back to work. They have no money."
Many stylists are independent contractors whose unemployment benefits started coming available only two weeks ago, Elliott said.
Restrictions coming: When salons and barbershops reopen, they will have restrictions. In Georgia, which reopened hair care two weeks ago, workers are required to wear masks, and many salons and barbershops are appointment-only and have limits on customers allowed inside at once.
If you can't wait, the Georgia town of Lavonia on the South Carolina border is a two-and-a-half-hour drive down I-85.
---
Behind the state's numbers justifying Friday's reopening

New tool measures rate of virus spread in North Carolina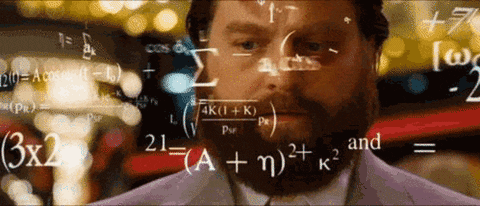 ---
In brief:
---
Loves me some internet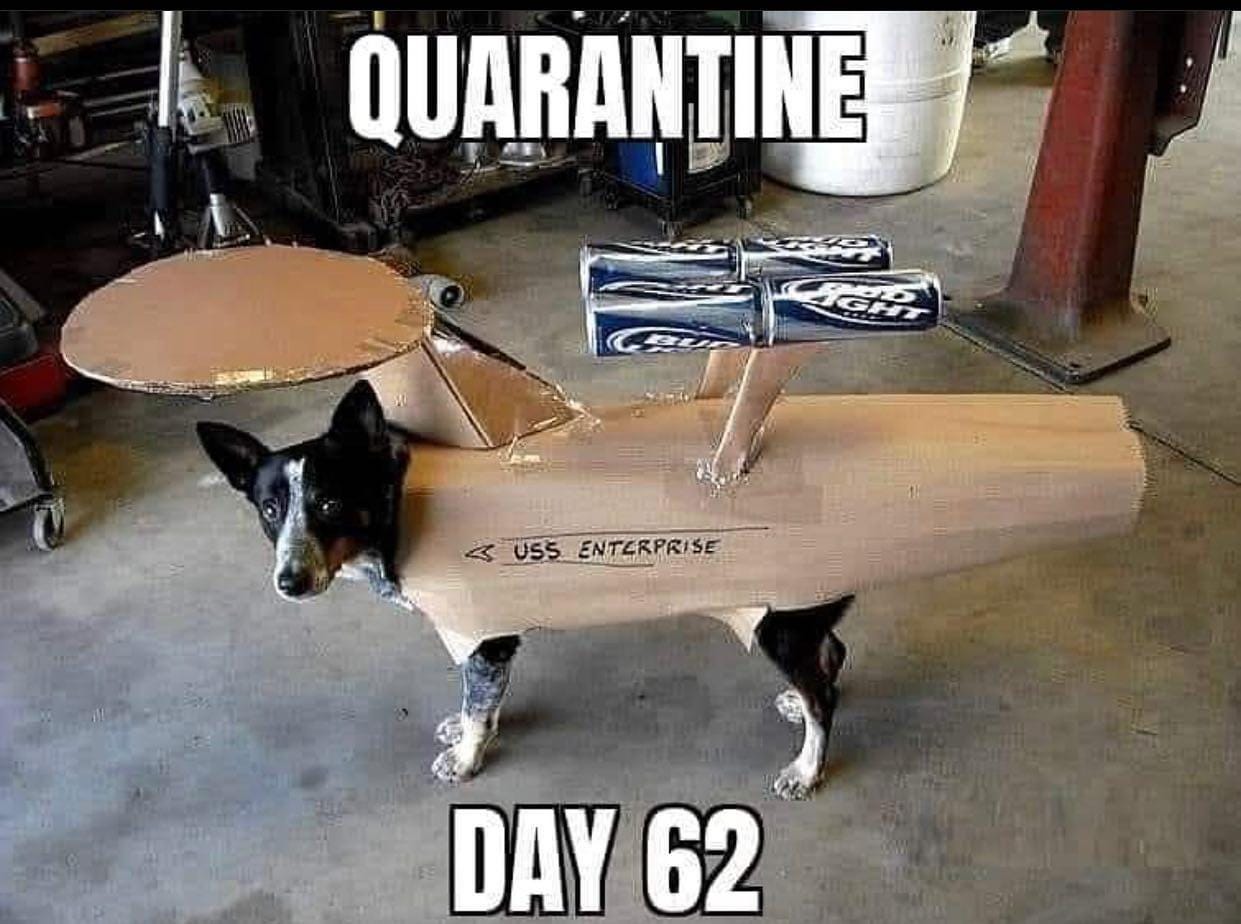 ---
Need to sign up for this e-newsletter? Here you go:
Got a news tip? Think we missed something? Drop us a line at editor@cltledger.com and let us know.
Like what we are doing? Feel free to forward this along and to tell a friend.
Archives available at https://charlotteledger.substack.com/archive.
On Twitter: @cltledger
Sponsorship information: email editor@cltledger.com.
The Charlotte Ledger is an e-newsletter and web site publishing timely, informative, and interesting local business news and analysis Mondays, Wednesdays, Fridays and Saturdays, except holidays and as noted. We strive for fairness and accuracy and will correct all known errors. The content reflects the independent editorial judgment of The Charlotte Ledger. Any advertising, paid marketing, or sponsored content will be clearly labeled.
Executive editor: Tony Mecia; Managing editor: Cristina Bolling; Contributing editor: Tim Whitmire; Reporting intern: David Griffith