Doug Smith on development and Charlotte's future
Plus: Does Charlotte's airport need more airline lounges?; BofA's Moynihan sees growth; BB&T-SunTrust OK'd by N.C. bank commissioner
Good morning! Today is Monday, July 22, 2019.
Need to subscribe? Sign up for free here (charlotteledger.substack.com). Like what you see? Forward to a friend.
Interview: Retired Observer columnist reminisces about where Charlotte has been — and where it is heading
For nearly two decades, people in Charlotte would wake up, retrieve their morning newspapers and learn from Doug Smith about the latest example of growth in our Southern boomtown. Until his retirement in 2009, Smith chronicled some of Charlotte's biggest real-estate and development stories in the pages of the Charlotte Observer.
If developers were planning a new uptown office tower or a huge new subdivision, Charlotte usually learned about it first from Smith. For years, he was one of the paper's most recognizable figures. He was with the Observer for more than 40 years and was inducted into the N.C. Journalism Hall of Fame in 2013. He and his wife, Linda, just celebrated their 50th wedding anniversary.
Smith, who grew up in Charlotte, has been out of the spotlight for the last decade. But in a recent interview with the Ledger in his home off Providence Road, it's clear that Smith, 75, still keeps a close eye on the Charlotte region's growth and development.
He shared his unique perspective on Charlotte's successes and challenges, what developers are really like, and where Charlotte has been and where it's heading.
For the FULL INTERVIEW with Doug Smith — including his perspective on the decision to build I-485, Charlotte's long-running competition with Atlanta and his interactions with Mayor Vi Lyles way back when she was a city budget analyst — go to the Ledger website. It launches today and will be a home for interviews, long-form journalism, public records and other material that doesn't fit neatly into an e-newsletter. Here's the abridged version:
On what he's been up to for the last 10 years: "I did some freelance writing and some freelance internet stuff for a couple of clients. … I did some of that for maybe the first year-and-a-half. And then it dawned on me when my income tax filing time came that I made just enough money to put myself in another tax bracket, which increased my taxes and took almost all the money I made freelancing. 
"So I said, 'I think I'll have more fun just doing what I want to do: spending time with the grandkids and my wife and doing things together.'"
On whether people still recognize him around town: "Linda and I went to the mall and were going to have some lunch at the food court. And so the security guard came up and said, 'You're Rolfe Neill, aren't you?' [the former Observer publisher]. And I said, 'No, but I worked for him.'
"And we talked for a few minutes. Then we went to order something, and the maintenance guy comes up to me and says, 'You're Doug Smith, aren't you?' More people than you would think, after 10 years.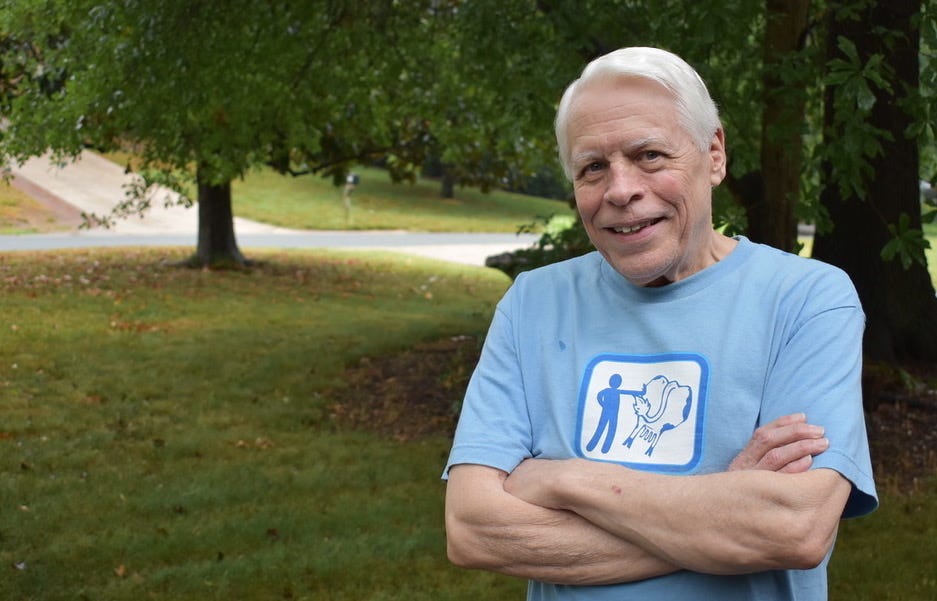 Doug Smith retired from the Observer 10 years ago. He says the areas where growth has surprised him the most are near the airport and toward Concord and Gastonia.
Sometimes it's better to have a low profile: "The ultimate was when I was at a Hornets game, and I was going to the urinal to relieve myself, and they have dividers on both sides. And this guy beside me says, 'You're Doug Smith, aren't you?' and he reaches over to shake hands. [laughs] You don't always want to be recognized."
On today's biggest growth and development story: "I think it's going to have to be transportation and access. People want to live in places where they can get to work in a hurry. The only way you can do that now is with roads, and the money is tight.
"The I-77 toll roads show that, that they had to contract that out to somebody to own it for 50 years. So we have to have a system of connecting people: people who buy, people who sell, people who shop, people who go to school. …
"The biggest growth, I think, is headed beyond the Outer Belt. We're filling in so much inside it now. If you look inside the city, there's not that much vacant land to build on, and there's not that many places you can rezone and rebuild. That's happening some, especially in South End and NoDa. But those opportunities are going to be even more limited as the population increases."
On the future of mixed-use/multi-use: "Mixed-use is here to stay, but what's in the mix may be different. Actually, I should use the word 'multi-use.' I used to correct people on this, now I'm misusing it myself.
"Mixed-use is actually two or more uses within the same building, like restaurants on the bottom, condos or apartments on top. Multi-use is many different things on the same site. Waverly, for example, would be a multi-use project. It's almost a little city within the city. 
"I think you'll see that as suburban growth continues, people will be looking for those kinds of things."
On the future of close-in neighborhoods such as South End, Dilworth, Myers Park and NoDo: "People still want to live in those neighborhoods, but it's going to become more and more expensive. It's supply and demand. As supply gets tighter, demand for it will go up, so what might be a $700,000 house today in a few years will be a $1 million-plus house, especially in upper-income neighborhoods like Eastover and Myers Park. I doubt you can buy anything in that area today for less than $750,000."
On areas of town where development has surprised him: "The stuff that's happening out near the airport now. I think they've renamed it the River District. That was a lot of farmland, open land out there, almost nothing going on. To drive out there now and there's all kinds of shopping, housing, everything going up. I never expected to see it. I thought it would happen some day.
"The other part is north toward Concord. There used to be nothing between Charlotte and Concord except a couple service stations. It was wide open. My cousins lived on a farm. In the summer, my brother and I would spend two weeks with them up on the farm, stealing their dad's watermelons and apples. For some reason, it never occurred to me it would be developed. …
"The other would be toward Gastonia, out that way. It was pretty much the airport and some service stations and some small business, but not much of anything was happening out that way. It took a while to get there, also, then I-485 came along and made it more accessible. Gaston is in a good situation now with growth. …
"The other area is Freedom Drive. … I don't know why that hasn't taken off. I thought it would have taken off long before now. With the accessibility to uptown, it's really close."
Where he'd put his money if he were a real-estate speculator: "There's a lot of opportunity in Lancaster County, along 521 especially. We see it going that way now. And maybe a little farther beyond Gaston County, maybe Cleveland County, Lincoln County. …
"I would be looking more in the outlying areas where it has yet to happen. In the places where growth has happened, prices are up to levels where you probably wouldn't be able to make a profit on it."
Charlotte's biggest challenge: "Affordable housing should be handled as a serious challenge. Back in the old days, when Myers Park was created, Myers Park owners created Cherry as affordable housing to make sure the people who work for them, their domestic employees, were close enough to come to work every day. In a way, they were the ones who said we need to have affordable housing uptown — maybe for the right reasons, maybe for the wrong reasons — but they at least saw a need to have working people close by. 
"You do have to have that diversity. You can't have all the wealthiest people in town in one place. You need to have that diversity of working people and make the workplace and the shopping available to them as much as anybody else."
On what developers are like: "It's totally mixed. There are some developers who really want to do the best by the city, and their goal is to make this a better place to live. A lot of them came to town later and always feel in their own minds that they are doing things that are improving Charlotte.
"And there are others, some here and some from outside, who are in it for profit solely. They're here to make a buck and they're going to make their money and they may leave after that. You actually can spot them after a while. You know who's in it for the long haul and who's in it for short-term profit.
"There really isn't a particular type, a stereotypical developer, even though in movies and everywhere else, developers get to be the bad guys. [Laughs]"
---
CLT's Admirals Club shortage
You've probably heard the slogan from the Charlotte Regional Visitors Authority that "Charlotte's got a lot."
But you know what Charlotte doesn't have a lot of? American Airlines Admirals Clubs.
OK, maybe adding deluxe airline clubs isn't on the top 100 list of Charlotte's needs. But a prominent travel blogger made the case Sunday that Charlotte is shortchanged compared with other hub cities when it comes to private airport lounges:
With American Airlines opening 15 new gates in the E satellite concourse of Dallas Fort-Worth airport they've surged to 900 peak daily departures at the airport and opened a fifth Admirals Club there.

Charlotte is their second largest hub, and they're growing it to 700 daily departures. There just aren't enough rocking chairs there to go around. …

Since the main terminal gate areas themselves are beyond packed, it's important to provide a space for frequent travelers to be productive. And with the airline's operational challenges, having a place for rebooking assistance is valuable too. …

Charlotte has 2 Admirals Clubs to 700 flights, DFW has 5 clubs to 900 flights. Charlotte desperately needs another club — or two.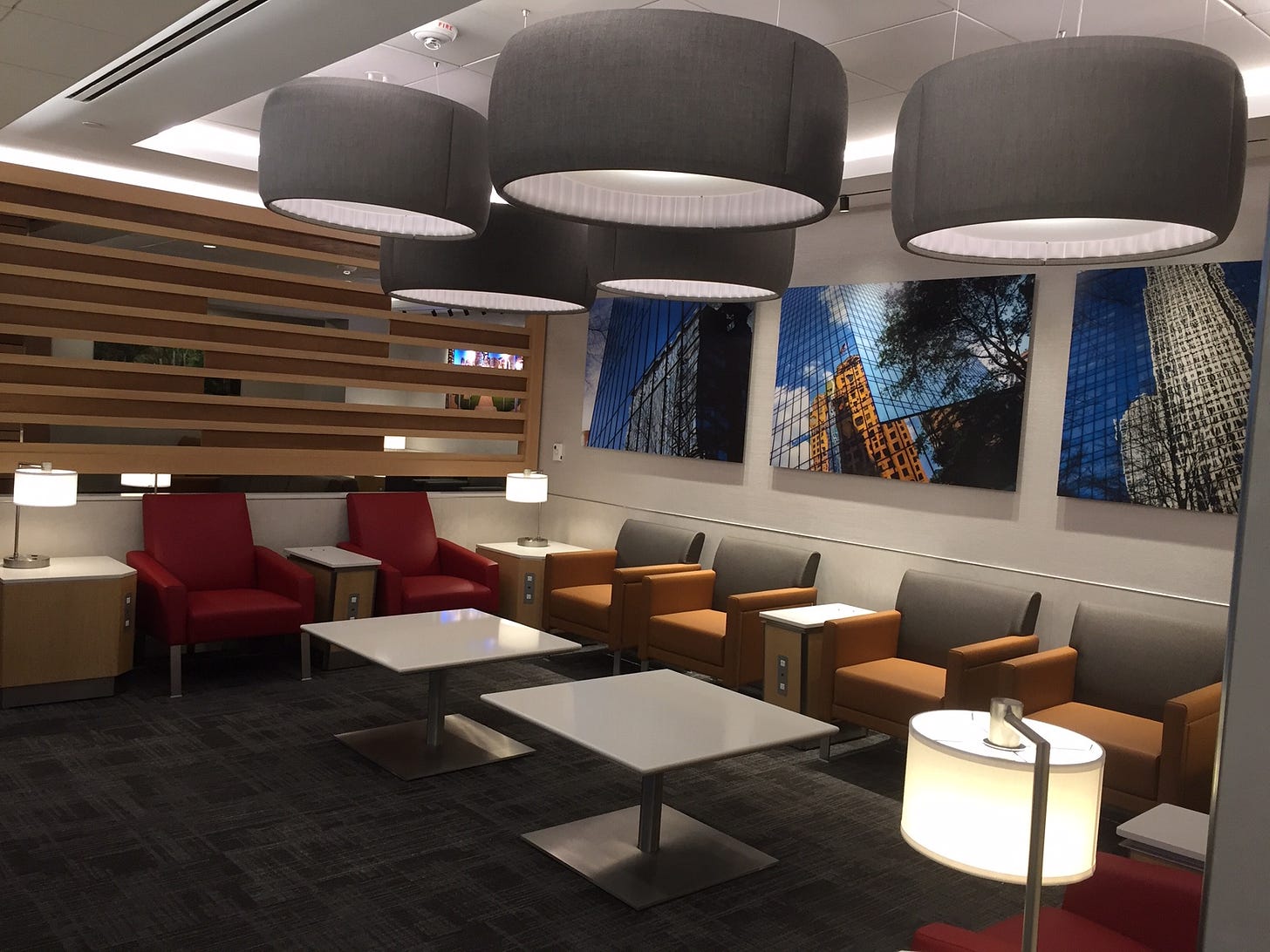 To paraphrase 21 Savage, how many Admirals Clubs you got? (Not a lot). Charlotte has two clubs and about 700 American flights a day, while Dallas has five clubs and about 900 flights a day.
American finished renovating is Concourse B club in February, and American Express is building a new lounge for its premium cardholders near Concourse D.
---
Moynihan sees growth continuing, defends detention-center decision
In an interview Sunday with Fox News, BofA CEO Brian Moynihan said he thinks the U.S. economy is in solid shape, though growth seems to be slowing. Speaking with Fox "Sunday Morning Futures" host Maria Bartiromo, Moynihan said:
We think the United States ought to grow 2.4 percent GDP growth this year.

And if you look at the world, we think it's in the low threes.  Both of those have come down a little bit from '18 to '19's predicted outcome, which last year was 3 percent.  So you expect it to tip down.  But it's not going south.  It's not a recession.

It's just a slowing down of a growth rate that is faster than most of the years in the last decade or so.  And so we have got to keep in perspective what's going on. 
Moynihan also:
Said BofA's decision to cut ties with companies that operate migrant detention centers and private prisons was designed to "make a statement": "We had teammates, because of their backgrounds and their thoughts, that were very upset about the broader issues of prison reform and sentencing reform, some of which went through in the last few weeks on a bipartisan basis, and the border. And they basically said that we should make a statement here. And it rolled through the system. We made it."

Said the bank's money-transferring app, Zelle — which is a competitor to Venmo — is growing fast: "Our Zelle volumes in the second quarter were up dramatically, 100 percent almost year over year, about eight million Zelle users sending P2P payments to people."
---
In brief:
Wednesday hearing on Truist: The House Financial Services Committee is holding a hearing Wednesday called "The Next Megabank? Examining the Proposed Merger of SunTrust and BB&T." Also, the N.C. banking commissioner approved the merger this month. Approval is still required from the Federal Reserve. The deal is expected to close by early October (Winston-Salem Journal).

Salvation Army embezzlement: "A woman who administered the payroll at The Salvation Army's divisional administrative office in Charlotte embezzled at least $200,000 through a pre-paid debit card scheme, according to a federal bill of indictment. A grand jury on Friday indicted 41-year-old Susan Watson of Gastonia on a wire fraud charge, according to a news release from U.S. Attorney Andrew Murray's office in Charlotte." (Observer)
---
Taking stock
Unless you are a day trader, checking your stocks daily is unhealthy. So how about weekly? How local stocks of note fared last week (through Friday's close), and year to date: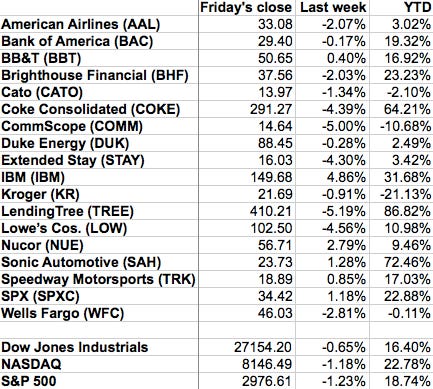 ---
Got a news tip? Think we missed something? Drop me a line at editor@cltledger.com and let me know.
Like what we are doing? Feel free to forward this along and to tell a friend.
The Charlotte Ledger is an e-newsletter and web site publishing timely, informative, and interesting local business news and analysis Mondays, Wednesdays, and Fridays, except holidays and as noted. We strive for fairness and accuracy and will correct all known errors. The content reflects the independent editorial judgment of The Charlotte Ledger. Any advertising, paid marketing, or sponsored content will be clearly labeled.
The Charlotte Ledger is published by Tony Mecia, an award-winning former Charlotte Observer business reporter and editor. He lives in Charlotte with his wife and three children.