Discover more from The Charlotte Ledger
Delivering smart and essential news to Charlotte, one email at a time.
Over 20,000 subscribers
First playoff game for Charlotte FC comes against veteran Red Bulls
Charlotte travels to NY for inaugural playoff game; Plus: Saturday's big off-field moments, Bender's knee surgery, and how a former Orlando player is hosting Wednesday's watch party
This is a special Wednesday edition of Fútbol Friday, The Charlotte Ledger's newsletter getting you up to speed on Charlotte FC, the city's new pro soccer team. We'll resume our weekly Friday schedule for as long as Charlotte FC advances in the MLS playoffs.
➡️ Need to sign up for Fútbol Friday and other Charlotte-focused email newsletters from The Charlotte Ledger? You can do that here.
➡️ Ledger subscribers can add or drop individual newsletters on their "My Account" page.
---
Today's Fútbol Friday is sponsored by Pomfret Financial.
"SUCCESS is best when it's SHARED." —Howard Schultz
Pomfret Financial is a Charlotte-based INSURANCE & BUSINESS PLANNING firm helping families & businesses since 1975.
---
Charlotte FC needs to play smart in tonight's wildcard game vs. New York Red Bulls, who are making their 14th straight postseason appearance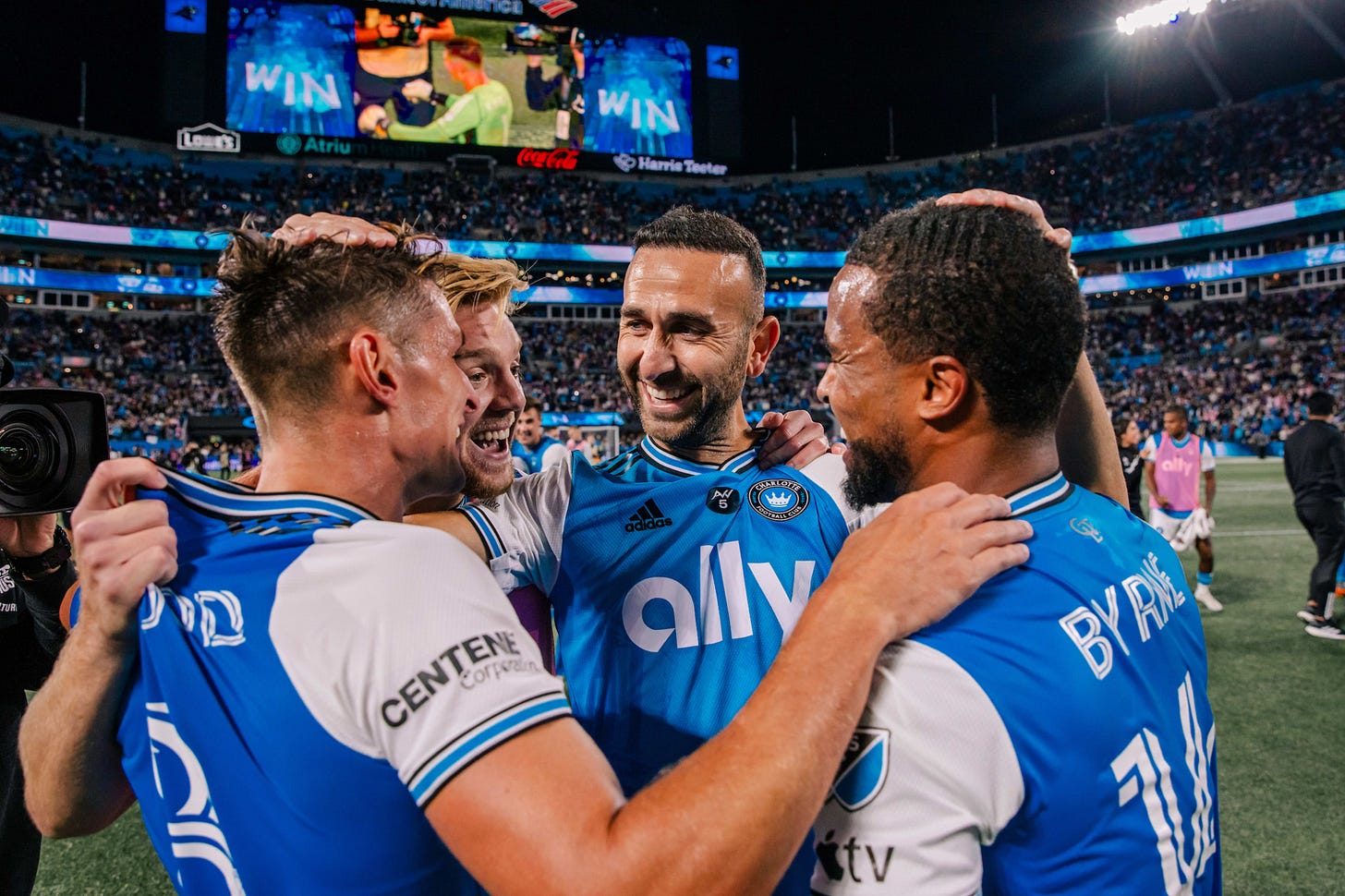 Justin Meram (center) celebrating Charlotte FC's 1-0 win over Miami with (from left to right) Ashley Westwood, Kamil Jozwiak and Nathan Byrne. (Photo courtesy of Charlotte FC.)
Players from Charlotte FC were still scattered around the field at Bank of America Stadium, celebrating a 1-0 win over Lionel Messi and Miami on Saturday night, when New York defender John Tolkin scored on a penalty kick in the 94th minute in Nashville to put the Red Bulls back into the playoffs.
Charlotte's players had known since halftime that all three games with other playoff contenders were going in their favor. (Charlotte needed two to go well to clinch a berth, all three to host a wildcard game.) But from the field, as they were celebrating, even captain Ashley Westwood had to ask fans in the stands for confirmation.
"Have we done it?" he said.
Justin Meram, 34, who earned a seventh trip to the MLS playoffs in the process, was in tears as he celebrated becoming part of the first playoff team for Charlotte and not knowing how many more chances he'll get.
"How do you like that?" he said, as he embraced Charlotte FC owner David Tepper.
It's all so new to so many in Charlotte. Not so much for the New York Red Bulls.
The Red Bulls are making their 14 consecutive trip to the playoffs, a new record for longest postseason streak in MLS history, and the longest active postseason streak in any North American sport. The Red Bulls have made the postseason in 24 of their 28 seasons in existence, which coach Christian Lattanzio knows well. He was coaching their crosstown rival NYCFC when he came to MLS as an assistant to coach Patrick Vieira.
"I think as a club when you have experience in certain situations, it shows," he said, and referenced European powerhouses Real Madrid, Bayern Munich and Barcelona. "They normally go very far because as a club, there is no substitute for history. You can smell it, you can breathe, you can feel it when you go in these places that they know how to face certain occasions. So obviously this also applies to Red Bulls. … But in the end, it's a game of football, and we have to be focused on that. And we need to be ready to play football the way we prepare the game."
That means sticking to their plan of high-pressing, dominating possession and covering the occasional counter attack. He said he wants this team to do what it did Saturday against Miami — "align the head with the heart" — to play smart in addition to playing with passion. In this game, against a team that loves to challenge physically, that means not getting baited into unnecessary fouls and yellow cards.
And keeping their heads against a team that is a perfect 3-0-0 in wildcard games.
"Red Bull might have more of the experience on the MLS side, but I think we have our experience as well," said Meram, pointing to the international experience of players like Karol Swiderski, Enzo Copetti, Westwood and Scott Arfield.
Charlotte is 1-2-2 against the Red Bulls overall (including a 3-1 loss in U.S. Open Cup play last year). Charlotte beat the Red Bulls in Lattanzio's first game after taking over as head coach 2-0 on June 11 of last year. The teams have drawn twice this year, including 2-2 on June 21 at Red Bull Arena after leading in the game 2-0.
"So we know how to go there and score goals and make it a game," Meram said. "It's not going to be easy. Preseason has a speed of play in MLS, then regular season, the notch goes way up, and then postseason, the notch goes up. It's more physical. There's so much more on the line, and you'll see that Wednesday."
---
Playoff format and what happens if CLT advances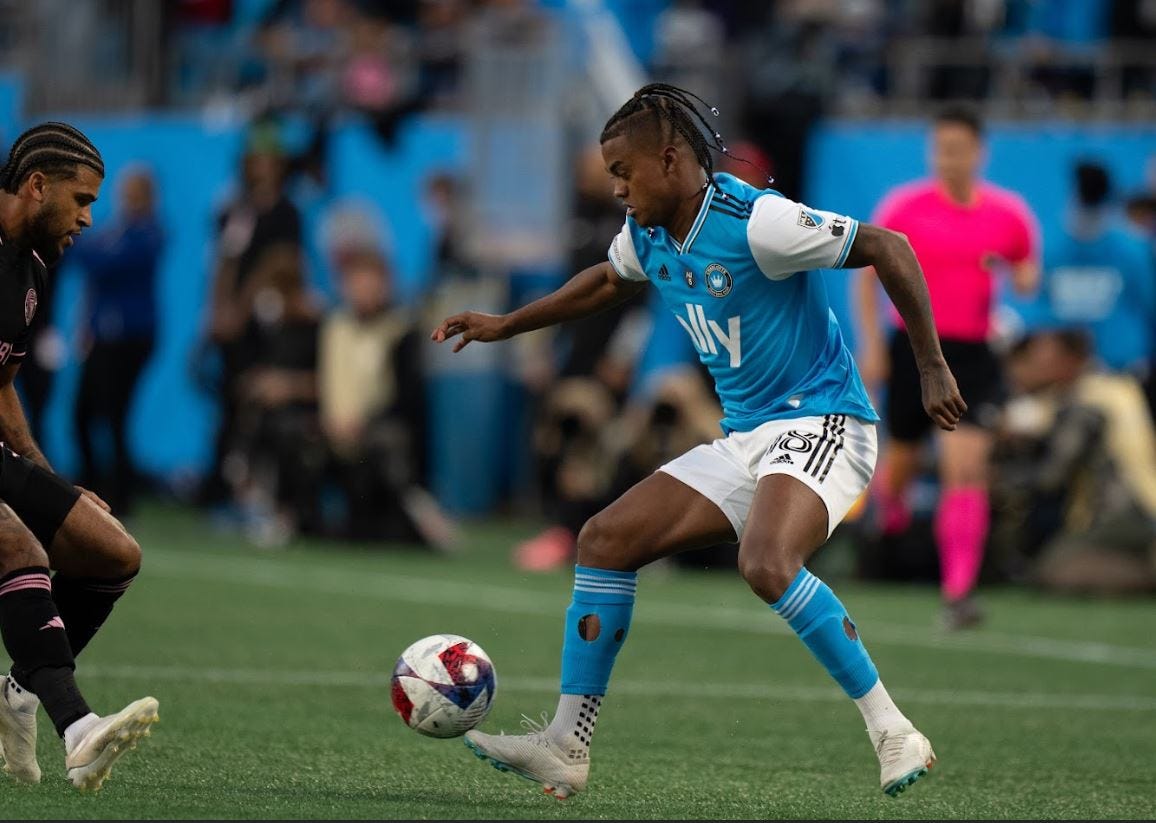 Winger Kerwin Vargas brings momentum from scoring two goals and adding an assist in the past two games, both against Miami. (Photo by Kevin Young of The 5 and 2 Project.)
If Wednesday's game is tied at the end of regulation, it will go directly to penalty kicks, meaning there won't be any extra time. (The same goes for each game in Round One.) Charlotte FC won two of its Leagues Cup tournament games on penalty kicks — against FC Dallas and Cruz Azul. Goalkeeper Kristijan Kahlina, who made multiple game-clinching saves in the final minutes against Lionel Messi and Miami, thinks that could work to their advantage.
"Everything can happen, but I think we have a really big chance now to make something because even draws do not finish the game," Kahlina said. "And we show that we're strong in penalties."
The winner of Wednesday night's game will advance to a best-of-three series in Round One against FC Cincinnati, which won the Supporters' Shield for totaling 69 points after going 20-5-9 this season. The best-of-three (first team to win two games) is a new twist to the MLS format this year, as opposed to single elimination throughout. It allows for eight of the top nine teams in each of the two conferences to host at least one playoff game.
If Charlotte FC wins tonight, Charlotte would be scheduled to host a Round One playoff game on Nov. 4, following an away game on Sunday.
Here's what it will look like if Charlotte FC advances Wednesday night:
Round One
Game 1: Charlotte FC/New York Red Bulls winner at Cincinnati (TQL Stadium) on Sunday, Oct. 29.

Game 2: Cincinnati at Charlotte FC/New York Red Bulls winner on Saturday, Nov. 4.

Game 3 (if needed): Charlotte FC/New York Red Bulls winner at Cincinnati on Saturday, Nov. 11.
---
High marks for drone halftime show
Making the playoffs wasn't the only "first" Charlotte FC fans got to witness on Saturday night. The halftime drone show was, too. Several hundred drones lit up the sky above the stadium, as they rotated from one formation to another to the delight of 66,101 fans, the third-largest at a Charlotte FC game at Bank of America Stadium. A previous drone show had been scheduled for the season-opener against New England, but it was canceled because of overcast skies.
The show Saturday night featured drones lined up in the form of Queen Charlotte, a soccer ball that transformed into Sir Minty, a Charlotte FC player (complete with "Ally" jersey) taking a kick at a soccer ball and a grand finale with a rotating crown. Martin Codd, vice president of sales for the Alexandria, Va.-based Pixis Drones, told Taylor Young of Queen City News that the entire show was computer programed by a team of eight people and featured 300 drones.
Our view from the press box was limited, but I had a 7-year-old "scout" sitting in the stands, who is still talking about the drone show days later. Here's a glimpse:
---
Bender undergoes knee surgery
Ben Bender underwent arthroscopic knee surgery on Tuesday, coach Christian Lattanzio said. Bender has been out of action since injuring his left knee as he dodged a defender in the 74th minute of the 2-2 tie against Philadelphia on Sept. 20.
Lattanzio said the surgery was for a cartilage tear — based on what the specialist had seen on an MRI — and that was good news for the affable 22-year-old midfielder. Bender, who is unlikely to return this season, would face a much easier recovery for next season than if it were something structural like a ligament tear.
Bender has made a big impression on Charlotte FC fans since he was drafted No. 1 overall out of the University of Maryland in the 2022 Super Draft. He has scored three goals in each of the past two seasons, including a brace (two) the last time Charlotte FC played in New York against the Red Bulls. He's had six assists this season.
Bender played in 28 games this year, including 19 starts. When he got injured, he was making his sixth straight start on the wing, a position move he first made in the quarterfinal loss to Miami in Leagues Cup on Aug. 11.
---
Poignant moment with Anton Walkes' daughter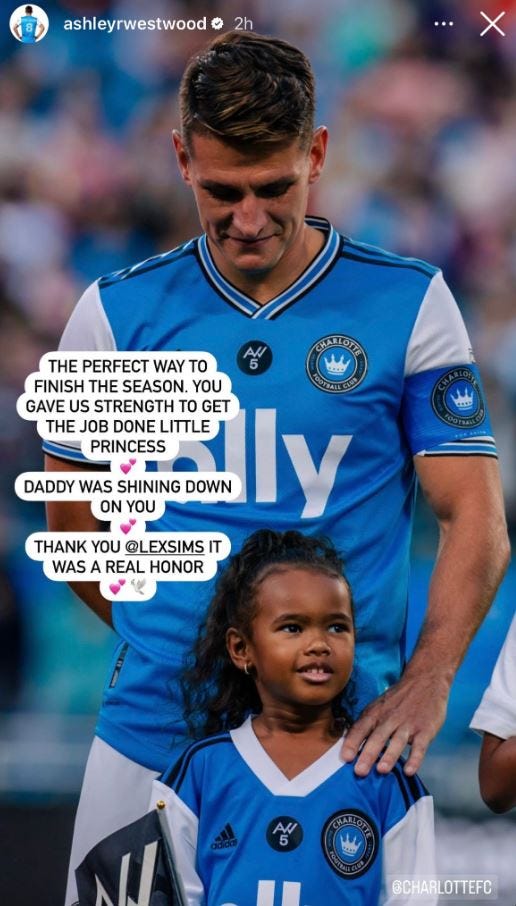 Westwood expressed his emotions toward Ayla Walkes in his Instagram post. (Photo from @ashleyrwestwood.)
For all the excitement surrounding the arrival of superstar Lionel Messi, who started and played the full 90 minutes for Miami Saturday in Charlotte, it was a pre-game moment with the daughter of Anton Walkes that was the most poignant of the night.
Ayla Walkes, the 5-year-old daughter of the late Charlotte FC defender, was escorted onto the field by captain Ashley Westwood, who led her in holding hands — and at one point leaned down to give her a peck on the cheek — and later stood with a hand on her shoulder during the national anthem.
Westwood said Monday that his wife, Becca, had spoken to Ayla's mom, Alexis Sims, about it, and that the moment was incredible.
"A lot of emotions," he said. "I thought it was something we should do. It certainly felt like he was there that night as well. It was a special moment. And she was exceptional. She was taking it all in. For me, it was just a great honor to lead her out. Hopefully, we did him proud."
Walkes was killed in a jet ski accident during the preseason in Miami. Charlotte FC has traveled twice to play in Miami since then. This was the first time Inter Miami played in Charlotte this season. Sims' had said in poignant conversations for an article in The Ledger last month that she hadn't taken Ayla to a game since the accident, but planned to bring her to the finale against Miami.
---
From opposing goal-scorer to watch party host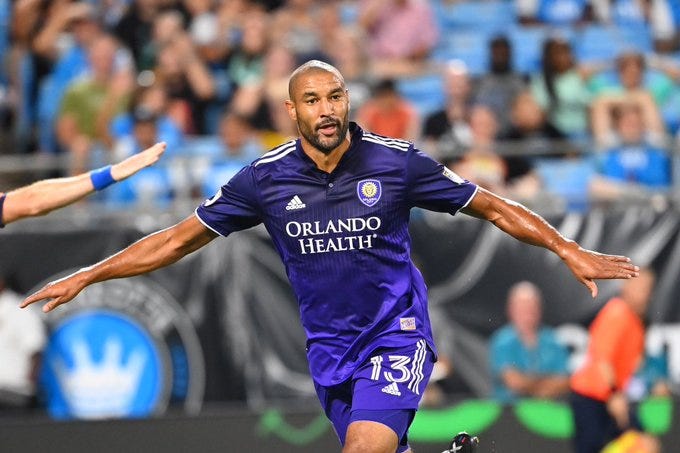 Tesho Akindele on how he went from Orlando City player scoring against Charlotte FC to real estate executive, hosting a Charlotte FC playoff watch party. (Photo courtesy of Akindele.)
Just last August, Tesho Akindele came off the bench for Orlando SC to score a late game-winning goal at Bank of America Stadium that ultimately helped keep Charlotte FC out of the playoffs. Now? He just helped arrange the watch party at Camp North End for Charlotte's first-ever playoff game.
Fans are invited to come to a free wildcard watch party Wednesday for the 7:30 p.m. kickoff. Fans are asked to register, with a maximum of four tickets per order.
"It's crazy," Akindele said Monday. "But at the end of the day, I just love soccer. I think soccer is a great way to bring the community together. … To come together, support their city with a lot of other people — I think it's powerful. And that is why I got into real estate development."
Akindele, 31, retired from MLS at the end of last season and moved to Charlotte after his wife, Taylor, took a job with accounting firm Grant Thornton. Akindele's interest in urbanism and real estate development helped land him a job at Camp North End. And his friendship with Darrius Barnes, now president of Charlotte FC's second team, Crown Legacy, got him an in with Charlotte FC.
Two weeks ago he called Barnes, who played for the New England Revolution while Akindele was with FC Dallas, to see who he could pitch about making Camp North End a regular site for Charlotte FC watch parties next season.
A week later, Charlotte FC asked if he could make that Wednesday night — for a potential wildcard playoff game. Akindele was at Bank of America Stadium for Saturday's win over Miami.
Camp North End features the 300,000 square foot Ford building, as well as an outdoor area where it hosts up to 1,000 people for outdoor movie nights. Akindele said they're hoping to attract a couple of thousand fans.
Charlotte FC held a watch party for last Wednesday's game at the stadium, but they had more lead time to prepare for that and flexibility because the Carolina Panthers had a bye week. Many Charlotte FC fans are already familiar with Camp North End from attending weekly chant practice and tifo painting sessions there.
When asked if he counts himself a Charlotte FC fan now, too, Akindele said his heart still belongs to Orlando City SC. But…
"I'm a Charlotte FC fan in the making," he said. "I've got two young kids. I plan to be here for the next 20 years, so I want to see the city do well, and part of seeing cities do well is seeing the sports teams within the cities do well."
He'll always have that memory of scoring at Bank of America Stadium, too.
"When my sons (now 2 and 4) grow up and they think I'm not cool anymore, I'll be like, 'Yeah, I used to be cool,'" he said, laughing.
---
Up Next: No. 9 Charlotte FC (10-11-13) at No. 8 New York Red Bulls (11-13-10)
When/Where: 7:30 p.m. Wednesday, Red Bull Arena, Harrison, N.J.
How to watch: MLS Season Pass on Apple TV. For information on how to sign up for a regular subscription with Apple TV, click here.
How to listen: WBT 1110-AM/99.3 FM in English and WOLS 106.1 FM in Spanish.
The radio broadcast of tonight's playoff game is moving to WBT 1110-AM/99.3 FM. That's because the usual station, WFNZ 92.7 FM, is the flagship station of the Charlotte Hornets Radio Network. The Hornets' season opener is at 7 p.m. tonight at the Spectrum Center vs. the Atlanta Hawks.

Team sponsor Ally Financial is paying for two busloads of Charlotte supporters (totaling 125 people) to go to New York, and Charlotte FC has covered the cost of game tickets. The offer was made to anyone from the supporters groups who could make it.

Ben Bender, who scored all three goals for Charlotte against the Red Bulls this season, is out with a knee injury.

Kerwin Vargas has scored two goals and assisted another in Charlotte's past two games. Both of his goals came on passes from fellow winger Kamil Jozwiak.

The Red Bulls have made 14 trips to the MLS playoffs but have yet to win the MLS Cup.

New York is known more for his stout defense than offense. Its 36 goals are the fewest of any Eastern Conference playoff team.
---
Carroll Walton is a longtime baseball writer with the Atlanta Journal-Constitution now cutting her teeth on soccer and the Charlotte FC just as fans in Charlotte do. She would love to hear from you. E-mail her with questions, suggestions, story ideas and comments!
Need to sign up for this e-newsletter? We offer a free version, as well as paid memberships for full access to all 4 of our local newsletters:
➡️ Opt in or out of different newsletters on your "My Account" page.
➡️ Learn more about The Charlotte Ledger
The Charlotte Ledger is a locally owned media company that delivers smart and essential news through e-newsletters and on a website. We strive for fairness and accuracy and will correct all known errors. The content reflects the independent editorial judgment of The Charlotte Ledger. Any advertising, paid marketing, or sponsored content will be clearly labeled.
Like what we are doing? Feel free to forward this along and to tell a friend.
Social media: On Facebook, Instagram, Twitter and LinkedIn.
Sponsorship information/customer service: email support@cltledger.com.