For dancers, only visions of Sugar Plums this holiday
Plus: We check out Krispy Kreme's 'innovative' shop in South End; Links to the week's top stories on city council investigations, the need for hotspots at CMS and Atrium's Covid war room; Teen Talk
Good morning! Today is Saturday, August 22, 2020. You're reading The Charlotte Ledger's Weekend Edition.
Need to subscribe? Sign up for free here (charlotteledger.substack.com).
---
Today's Charlotte Ledger is sponsored by Count on Me CLT. To help save lives, jobs and businesses, please wear a mask, wait 6 feet apart and wash your hands often. Visit CountOnMeCLT.com for more information.

---
What's it like to be a dancer in a year with no 'Nutcracker'? 'It's scary'; 'It's just kind of something that's always there'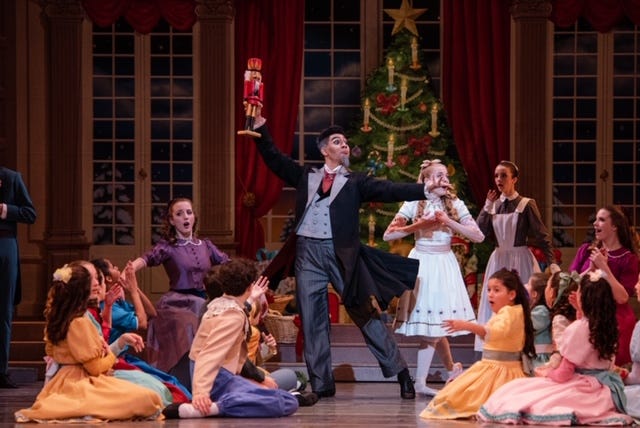 There will be no Uncle Drosselmeyer on stage at the Belk Theater this holiday season, as Charlotte Ballet has canceled its popular run of "Nutcracker" because of Covid. The ballet will stage "Sleeping Beauty: A Fairy Tailored Classic" during the holiday season instead. (Photo by Taylor Jones/courtesy of Charlotte Ballet)
by Cristina Bolling
By now, Covid-related cancelations are not surprising, but one really stung holiday traditionalists and dance lovers when it was announced earlier this month: Charlotte Ballet's cancelation of "Nutcracker."
The perennial holiday classic at the Belk Theater is so popular that last year, audiences packed 19 performances featuring the Tchaikovsky score played live by Charlotte Symphony musicians and more than 100 Charlotte Ballet Academy dancers onstage at each performance alongside the pros.
And there's the critical business side of "Nutcracker": all those performances make up more than 70% of Charlotte Ballet's annual ticket sales and more than 20% of the ballet's total revenue, said Doug Singleton, executive director of Charlotte Ballet. Other city ballets are also canceling "Nutcracker," including the New York City Ballet, the Pennsylvania Ballet and the Joffrey Ballet.
In place of "Nutcracker" this holiday season, Charlotte Ballet will perform "Sleeping Beauty: A Fairy Tailored Classic," which was postponed just hours before curtain on its opening night March 13 because of Covid. ("Sleeping Beauty" will be doable, because it's on a much smaller scale and doesn't involve academy dancers, ballet leaders said.)
For professional ballet dancers, the Nutcracker is part of their muscle-memory and a tradition they know helps keep the lights on at the ballet all year long.
The Ledger talked via Zoom with two veteran Charlotte Ballet dancers, Sarah Hayes Harkins, who dances the primo roles of Sugar Plum Fairy and Snow Queen, and Josh Hall, who plays the Cavalier and the Snow King, about their thoughts on a year with no "Nutcracker." They also discussed what it was like to have "Sleeping Beauty" called off just hours before its opening night performance. Their answers were edited for brevity and clarity: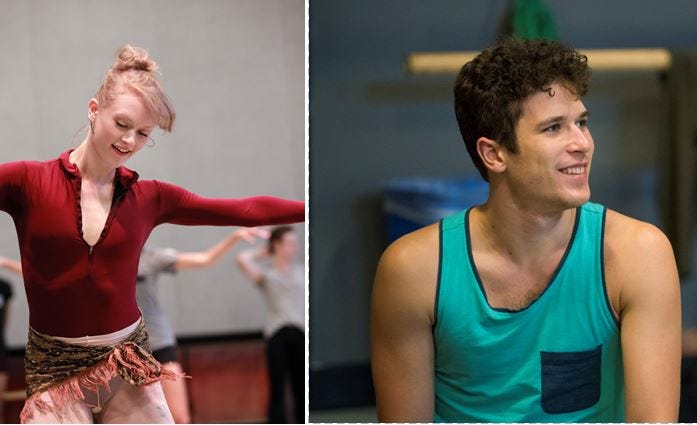 Sarah Hayes Harkins and Josh Hall (photos by Todd Rosenberg/courtesy of Charlotte Ballet)
Q: What's it like as a dancer to imagine the holidays without "Nutcracker"?
JH: I'm going to miss it. But to be honest, the first thing that came to my mind is how this was going to affect the company, because there's a reason why we do this every year. It's our money maker. So canceling it and not doing it this year — what's going to change in the company? How is this going to affect us, and being a part of the community? I think it's a big detriment that we're not doing it this year.
SHH: It's definitely scary. We know that "Nutcracker" pays for us to do the stuff we really love. I like to dance ooey-gooey, and I like doing stuff that's way different than I've ever done before. ... So I'm kind of like, 'the crazier the better.' And I know that "Nutcracker" funds those weird ballets that maybe aren't going to sell as well. … As artists, we're always thinking about how we get to the next thing that we have on our bucket list. There's a time limit to our careers. So it's scary to not be doing the one thing we know helps the company move forward financially. Not to mention just the fact that it is normal for us. There's a comfort zone with it that feels good. When you're doing "Nutcracker," you have this much work and you're on until Christmas Eve, and then it's, "Yay, let's celebrate!"
Q: How long has your personal "Nutcracker" run been? For how many years straight have you danced it?
SHH: We didn't do "Nutcracker" at my studio growing up, because there was already a "Nutcracker" in Asheville, and there wasn't enough room for two. My first time doing "Nutcracker" was with the North Carolina School of the Arts. I think I was 16. (She's 30 now.)
JH: I started doing "Nutcracker" when I was 14, so 12 years. I've done it every year. It's kind of something that's always there, so you never think about it, really. It's a for-sure thing. We do so many shows a year, and "Nutcracker" is always on there. It's just what we do in December for three or four weekends. … Doing it every year, sometimes I'll be like, "You know what, I did this last year and I want to do this. I want to try and do a triple (turn in the air) here." I'll try to push myself. You just try and make every year different.
Q: What was the experience like of having "Sleeping Beauty" halted in the final hours before opening night?
SHH: We were in dress rehearsal. The dancers only found out a couple of hours before they announced it (to the public). … I think we all had that twinge (before the announcement) of, "this is probably not happening, but we have to pretend like it is happening because if it does happen, we need to be ready." I think it really hit people hard that had really great opportunities to do new parts they had never done. "Sleeping Beauty" is a monster of a ballet. Aurora, specifically (the lead female role, which Hayes Harkins performs), is definitely the hardest thing I've ever done. There was that moment of: you worked so hard for something, and now you don't even get to bring it to fruition, and not knowing when we might get to do it again.
JH: Hope (Muir, artistic director) had to come up on stage and tell us that we weren't able to perform. And just to hear her be so emotional about it —  reality hit a little bit. To see her, and to see how it affects the company, and how they were trying so hard to just get opening night on the table, it was just really sad.
Q: You aren't back in the studios yet (indoor dance studios are closed until North Carolina moves into Phase 3 of reopening), but how much do you know about what class and rehearsals will look like?
SHH: As far as we know, we think we're going to have to be wearing masks all the time, dancing. And although I am a big supporter of wearing masks, it is a little weird to think about. My breath, I use it a lot to help me physically get through something that's more difficult. We use it to our advantage, you either slow your breathing down or breathe out in a certain place or breathe in in a certain place, and I feel like it'll be very affected. To do a role like Aurora is so hard already. So adding one more factor to that will be interesting.
JH: We have this pod system (for the dancers' rehearsals and class). We're going to go in in little groups of like five, going through the front door, leaving through the back. I guess (we) would have to have 4 or 5 classes a day of the pods going through. I don't know what that means about rehearsing, because if we're trying to get everyone into the studio, that's a lot to get people in, teach class, do rehearsals, clean, then have the next (group) in. There are a lot of variables.
To see Charlotte Ballet performances, including a program called "Home Studies," choreographed by renowned choreographer Helen Pickett and featuring dancers from Charlotte Ballet, the Dance Theatre of Harlem and the Alvin Ailey American Dance Theater, check out the Charlotte Ballet's website.
---
Ready for some 'hot now' breaking news?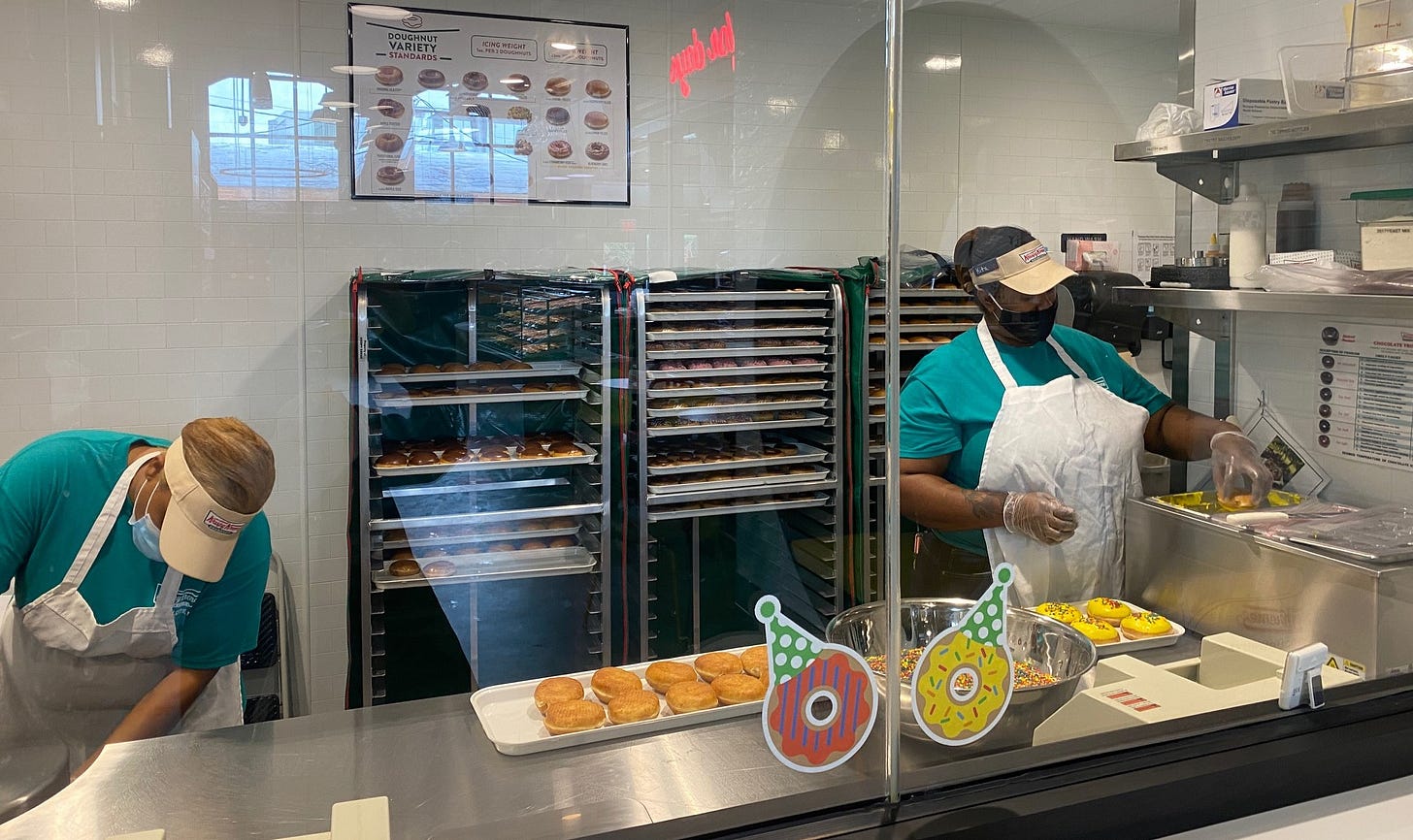 Customers at Krispy Kreme's new location in South End see "decorators" adorning doughnuts with icing and sprinkles as soon as they walk through the door. The shop opens at 6 a.m. Tuesday.
So loyal is our dedication to our readers that we braved the rain Friday afternoon for a media briefing of a soon-to-open business — the new Krispy Kreme in South End that opens Tuesday.
This isn't just any run-of-the-mill doughnut shop, and here's why: it's located on Hawkins Street, in the same building as Krispy Kreme's "Global Product and Innovation Center," and it has some unique features you won't find elsewhere.
An outdoor vending machine, the first of its kind for the company, dispenses doughnuts 24-hours a day. (A 3-pack of original glazed goes for $3.99, but there are also variety packs that include specialty doughnuts for $4.99.)
"Doughnut theater," as workers call it, with large viewing windows of each stage of the doughnuts' creation — "proofing," or doughnut dough rising in ovens, frying, moving across a conveyor belt, and being hand-decorated with icing and sprinkles.
Special menu items you won't find at most other locations, like doughnut-infused milkshakes and doughnut ice cream sandwiches.

A new Insomnia Cookies location right next door, also opening Tuesday. (Krispy Kreme acquired a majority stake in Insomnia in 2018.)
It's been a big year for Krispy Kreme. A new 24-hour location is set to open in Times Square next month, it rolled out home delivery nationwide in February, and it forged a deal with Walmart to sell pre-packaged doughnut snacks in its stores.
New location in south Charlotte
An astute Ledger reader noticed another new Krispy Kreme location being built on Pineville-Matthews Road near Pineville. (The Ledger checked, and sure enough, the exterior of the building looks like it's nearing completion — with signs and everything.)
We asked regional manager Rhianna Simard for details, but she declined to spill specifics.
"There might be," she said. "We've got some things happening." —CB
---
Today's supporting sponsors are Soni Brendle…

… and the Isabella Santos Foundation, creating change for pediatric cancer care here in Charlotte. Learn more about ISF and donate to help advance research for kids fighting in our community.

---
Teen talk: Build your vocabulary
Impress and delight the young people in your life by using the words they use. The Ledger shows you how in this occasional Saturday feature.
Today's words: Highkey/Lowkey
Lowkey:
Pronunciation: LOWE-kee
Definition: Adjective used to describe something secretive, unexpected or felt to a low extent.
Example: "I didn't expect the Jeni's sweet potato ice cream flavor to be very good, but it was lowkey delicious!"
Highkey:
Pronunciation: HAI-kee
Definition: Adjective used to describe something that is obvious or public knowledge; opposite of lowkey.
Used in a sentence: "My dad took me to Del Frisco's last weekend, and it was highkey super fancy."
Note: Keep in mind that the use of either word can change the meaning of the sentence:
"The new park in Ballantyne is lowkey pretty cool." = The speaker didn't expect the new park to be cool but is pleasantly surprised.

"The new park in Ballantyne is highkey pretty cool" = The park is extremely cool, and the speaker wants to convey the idea that the park is obviously cool.
Ledger analysis: Might take awhile for less-agile, older brains to remember the difference. Was also struck by the absence of hyphens. I requested clarification and was told the words could be spelled using them but "in general, teenagers don't use hyphens."
— Caroline Mecia, age 17
---
This week in Charlotte: Robin Hayes gets probation, CMS short 18,000 hotspots, 'Zoom bombers' vex teachers
On Saturdays, The Ledger sifts through the local news of the week and links to the top articles — even if they appeared somewhere else. We'll help you get caught up. That's what Saturdays are for.
Politics
RNC finally comes to town: (Observer) After years of planning and back-and-forth on locations, size and Covid precautions, 336 Republican delegates meet in Charlotte on Monday for a scaled-down convention. It will lack almost all fanfare. Reports emerged Friday night that President Trump might make an appearance. Protesters gathered Friday night to protest the convention and WBTV reported multiple arrests when they clashed with police uptown. Queen City Nerve shot a video of police tackling and pepper spraying protesters.

City Council investigations: (Ledger) Charlotte's city attorney said in a memo that he's hiring an outside investigator to examine accusations that Democratic council members James Mitchell and Dimple Ajmera broke ethics rules. He initially said complaints against Republican Tariq Bokhari did not need further investigation but later in the week said new complaints against Bokhari met the city's threshold for hiring an outside investigator.

Robin Hayes gets probation: (Observer) Former U.S. Rep. Robin Hayes, a Republican from Concord, was sentenced to a year of probation and fined $9,500 for his role in one of North Carolina's largest corruption scandals. He and three others were indicted last year on charges of bribing the state's insurance commissioner to make personnel changes that could have benefited the company of Durham billionaire Greg Lindberg. Lindberg was sentenced to more than 7 years in prison.
Education
Local news
Pineville or south Charlotte?: (Ledger) Town council members in Pineville objected to a car dealership's plan to include "of South Charlotte" on its signs in Pineville's town limits. Some council members believe the name slights the town, according to meeting minutes.

Private clubs defy orders: (Biz Journal) Private clubs like Dot Dot Dot and VBGB Beer Hall & Garden say they'll stay open even though authorities are ordering them to be closed during Phase 2. Private clubs, which are classified as such for liquor license purposes and are required to collect annual dues, have been open with no issues for months, but several were visited by enforcement officers this week.
Business
Tale of two housing markets: (Ledger) Ely Portillo writes about how differently the pandemic has affected the two ends of the housing market. On one end, tent cities have sprung up and evictions loom, while on the other end, home prices soar and buyers are in bidding wars because of low inventory.

Office design: (Ledger) Expect to see big changes in how offices are designed post-Covid, with seas of desks replaced by "neighborhoods," technology that tracks how many people are on a building floor, and more use of outdoor space.

Camp North End from the air: (Ledger) In case you missed it, The Ledger launched its Flyover Friday weekly video series yesterday. The first installment takes you to Camp North End, a mile north of uptown, where developers are remaking 76 acres of industrial buildings into offices, shops, restaurants and event space.
Sports
Hornets draft pick: (Observer) The Charlotte Hornets jumped from 8th to 3rd pick in the NBA lottery, which was held virtually because of the pandemic. Based on their 23-42 record, the Hornets had entered the draft with a 6% chance at the top pick and a 26.2% chance at one of the top four picks. The draft will be held Oct. 16. 
Good reads
Inside Atrium's coronavirus war room: (WFAE) Atrium's Covid "war room," set up in a conference room across from the emergency department at Carolinas Medical Center, contained American flags and inspirational quotes from Winston Churchill, Teddy Roosevelt and Rosa Parks. There was also a list of 8 "war room" rules, including "change your socks," a military expression that means "to make sure team members take care of themselves, take breaks and don't forget to eat."

So much for the bold new breed: (Charlotte magazine) In 2017, a group of under-40 leaders was elected to the Charlotte City Council with a promise of finding fresh solutions to old problems. Now, Greg Lacour writes, they're squabbling and filing ethics complaints against each other. What happened?

No parties this time: (CharlotteFive) Melissa Oyler reflects on the celebrity-filled Charlotte party scene the last time the city hosted a political convention, in 2012: "My coworkers and I drank margaritas on an air mattress on the kitchen floor of our former-mill-turned-office space. … We slept on cots under our desks, drifting off to the sounds of concerts at the Fillmore. The DNC press party was the biggest event I'd ever seen. All of the bars at the Music Factory were wide open, drinks were flowing."
---
Need to sign up for this e-newsletter? We offer free and paid subscription plans:
The Charlotte Ledger is an e-newsletter and web site publishing timely, informative, and interesting local business news and analysis Mondays, Wednesdays, Fridays and Saturdays, except holidays and as noted. We strive for fairness and accuracy and will correct all known errors. The content reflects the independent editorial judgment of The Charlotte Ledger. Any advertising, paid marketing, or sponsored content will be clearly labeled.
Got a news tip? Think we missed something? Drop us a line at editor@cltledger.com and let us know.
Like what we are doing? Feel free to forward this along and to tell a friend.
Searchable archives available at https://charlotteledger.substack.com/archive.
On Twitter: @cltledger
Sponsorship information: email editor@cltledger.com.
Executive editor: Tony Mecia; Managing editor: Cristina Bolling; Contributing editor: Tim Whitmire; Reporting intern: David Griffith