Discover more from The Charlotte Ledger
Delivering smart and essential news to Charlotte, one email at a time.
Over 20,000 subscribers
From novice to novelist, a club for all kinds of writers
Plus: PR pioneer Joe Epley dies; Answering reader question about new Congressional map; Jeff Jackson draws Democratic challenger; 2 injured in uptown shooting; Gex X nightlife
Good morning! Today is Monday, November 13, 2023. You're reading The Charlotte Ledger, an e-newsletter with local business-y news and insights for Charlotte, N.C.
Need to subscribe — or upgrade your Ledger e-newsletter subscription? Details here.
---
Today's Charlotte Ledger is sponsored by T.R. Lawing Realty:
---
Founded in 1922, the Charlotte Writers Club is a safe space for authors of all genres and skill levels to hone their craft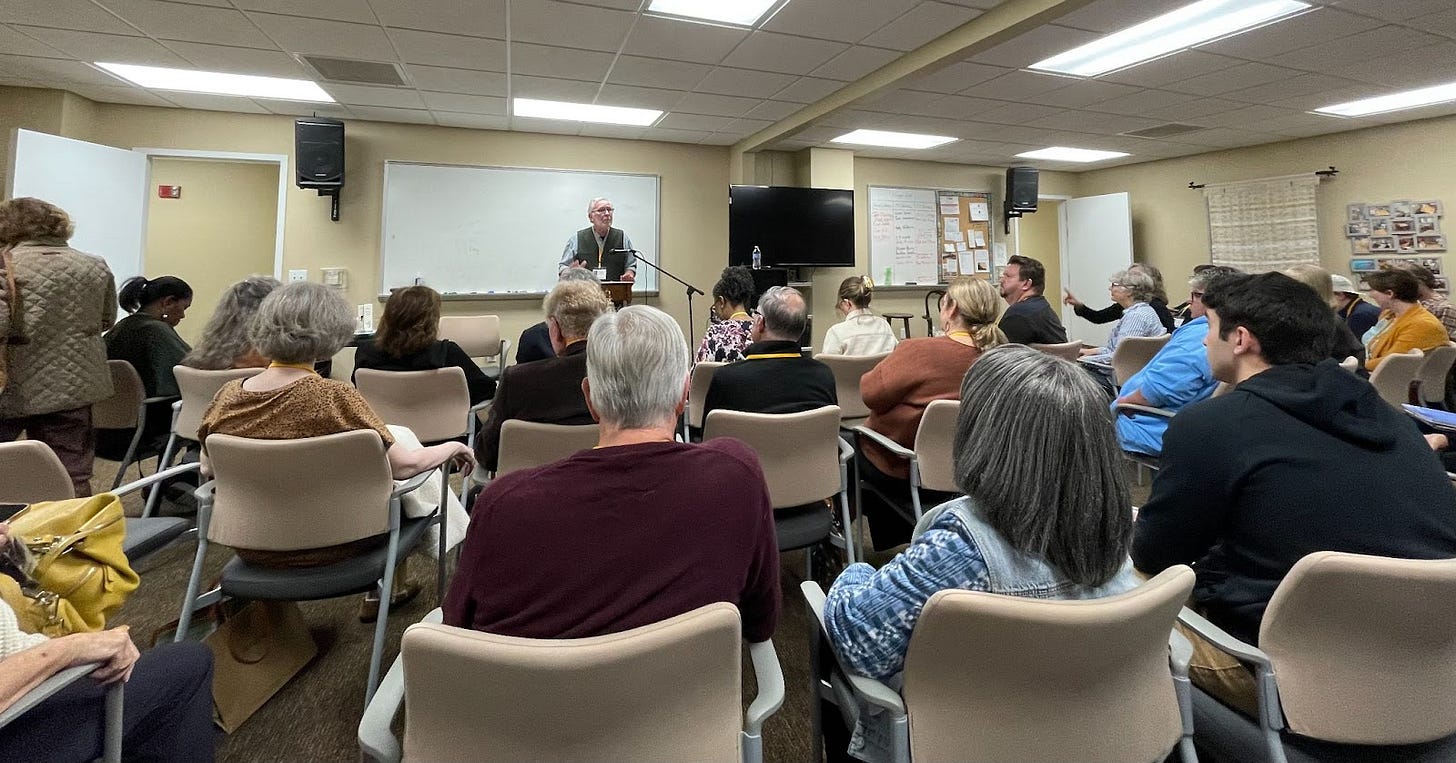 Approximately 60 people turned out last month for Charlotte Writers Club's meeting at Providence United Methodist Church to listen to guest speaker Nikki Terpilowski of Holloway Literary. She shared what literary agents look for and how to write a query letter.
by Lindsey Banks
For over 100 years, Charlotte Writers Club members have been bound together across all genres and skill levels to perfect their craft, receive feedback on their work and learn more about the publishing industry. 
The group's president, Dave Collins, is a published nonfiction author. Member Jon Heaslet writes suspense novels. Member Terri Potts is a screenwriter and playwright. Some members have their work published in literary journals like the Kakalak, which is an anthology of poets in North Carolina. There's even a children's book illustrator in the group. 
But being a practicing writer isn't a requirement for admission.
Sherri Bain, who has been a member of the Charlotte Writers Club for a year, joined the group to gain confidence and find inspiration for her first story, which she hasn't started yet. Bain, 56, worked as a newsroom assistant and reporter for The Charlotte Observer but hasn't written much since. 
"That's why I'm here, to try and figure it out," she told The Ledger at a meeting last month. Bain says she's still discovering what her genre will be.
Learning from the experts: There were about 10 new faces amid the group of 60 who turned out last month at Providence United Methodist Church to learn about what comes after the writing process: finding an agent and getting published. Among the newcomers was 24-year-old Eden Smith, who has written a poetry book but doesn't know what to do next. 
Smith was at the meeting to hear from the guest speaker, Nikki Terpilowski, an agent with Holloway Literary in Raleigh. Each monthly meeting welcomes a guest speaker to lecture and answer questions on a specific topic. Terpilowski, the group's first literary agent guest, focused on how to write a query letter, which is essentially a cover letter explaining why an agent should represent an author and their work. 
Smith moved to Charlotte almost two years ago for her job as a marketer, and she recently finished writing her first poetry book. She found Charlotte Writers Club by doing a quick Google search. 
"I've just finished my first book, so I'm trying to get out there and see the process of getting it published," Smith said, "so that really interested me in this meeting."
Support and encouragement: The group's president, Dave Collins, 78, told The Ledger that he's noticed a jump in interest over the past few years in not just writing but also trying to get work published. 
"That's our mission," Collins said, "to recognize and reward good work, and part of that, of course, is consoling the person who's still working."
Collins sent out 35 query letters before his nonfiction book, called "Accidental Activists: Mark Phariss, Vic Holmes, and Their Fight for Marriage Equality in Texas," was picked up by a publisher, he said.   
"It takes a little stamina to get through those first 30 letters where either you don't get a response or the response says, 'I'm sorry, we're not taking this kind of work at this time,' or whatever variety of refusal they give," Collins said. 
Collins is a retired English professor from Westminster College in Missouri, where he taught for 40 years. 
That's why folks join Charlotte Writers Club, Collins said — to learn how to get their work from the page to the press. Collins frequently sends out lists of writing contests and literary journals that accept entries to the club. 
All ages and stages: Charlotte Writers Club has over 300 paying members, but turnout for monthly meetings usually falls between 30 and 60 people, according to Collins. Most members are between the ages of 35 and 65, but the club has welcomed people from their early 20s to their early 80s. 
Jon Heaslet, 76, has been a member of the club for about five years. He self-published his first book in 2020, a collection of short Christian fiction stories called "Hawks Nest Chronicles: Good News From Osceola, Iowa." His next book, a dark fiction novel called "East of Apple Glen," is expected to come out next year. 
An annual membership costs $35 a year, and prospective members are allowed to attend two meetings before having to pay club dues. A membership gets you access to monthly meetings, smaller critique groups and open mic nights.
The critique groups, which are around seven people and are created based on genre, convene monthly to share their work and receive feedback on their writing. Open mic nights are held once a month at Mugs Coffee on Park Road for 12 people to read their work in front of an audience. 
The group also hosts about seven workshops a year to help writers focus on their craft. Members can attend workshops for an additional $30 per workshop. Non-members can attend for $40. 
'Deadlines are miracles': The critique groups are the heart of the Charlotte Writers Club, Collins said. 
"Life does get in the way; we're all busy," Collins said. "It's too easy to say, 'We'll get to that tomorrow.' But if you have a deadline coming up, deadlines are miracles in a negative form."
Many of the group's seasoned members have finished more than one project and have been published while being a part of the Charlotte Writers Club. But, as Collins told The Ledger, even the best writers have more to learn and need deadlines to keep them on track, which keeps them coming back. 
"[The club] keeps you writing and it keeps you from slacking off," he said, "and I think it keeps you from just writing something and saying, 'That's good enough' … Nobody's perfect. Everybody can always improve."
Lindsey Banks is a staff reporter for The Ledger: lindsey@cltledger.com
✍🏻 Want to know more? Visit the Charlotte Writers Club website (charlottewritersclub.org) to check out upcoming meetings and workshops, and learn how to join the group.
---
Taking Stock, sponsored by Topsail Wealth Management
Topsail Wealth Management partners with you to provide personalized advice. Minimizing costs and the complexities of your wealth and investing plan.
How local stocks of note fared last week (through Friday's close), and year to date: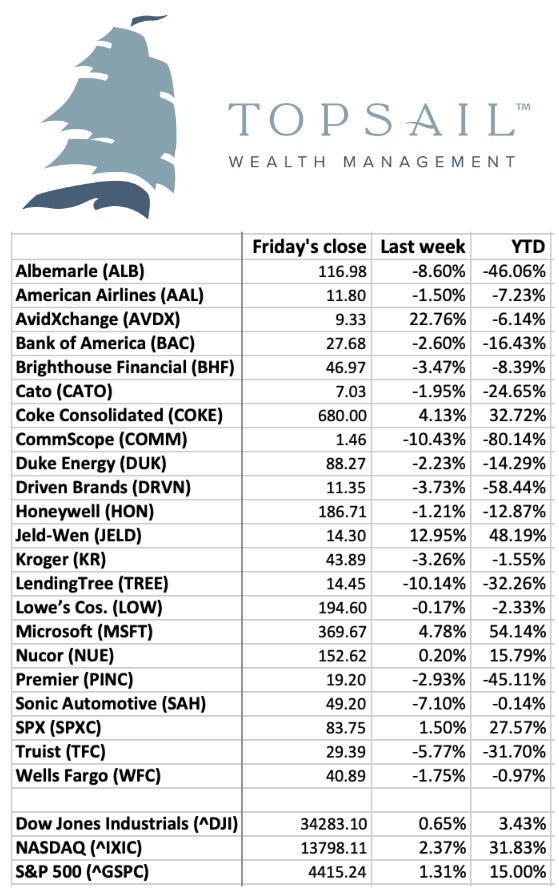 ---
PR pioneer Joe Epley, advisor to Charlotte mayors and big companies, dies at age 85
Joe Epley, widely regarded as one of the pioneers of public relations in Charlotte, has died at age 85.
Epley founded one of the first public relations firms in the Southeast in 1968, in a time when PR consultants didn't really exist. He advised the campaigns of former Charlotte mayors John Belk and Eddie Knox, and his private-sector clients included the developers of Carowinds, Central Piedmont Community College and Carolinas HealthCare System, the predecessor to Atrium Health, according to a 2005 Charlotte Observer article written on the occasion of his retirement.
For PR, he drew on his Army training in special forces operations and psychological warfare, "which he likens to public relations minus the ethics," according to the 2005 Observer article. He was also a former news reporter at Charlotte TV station WBTV.
His firm, Epley Associates, had offices in Charlotte and Raleigh. It was sold in 2005 and became part of a larger company that's now Raleigh-based Catevo.
Epley's obituary said he died "suddenly and unexpectedly" on Nov. 5 and gave no further details. In a remembrance on the funeral home's online tribute wall, one admirer recalled him as a "master strategist and married that with a quick wit" and said: "No doubt Heaven will be getting many more positive publicity reviews now that Joe's up there to lead the cause."
A visitation and memorial service is scheduled for Thursday in Travelers Rest, S.C., north of Greenville. —TM
---
You Ask, We Answer: New congressional map
Our popular "You Ask, We Answer" feature usually helps answer burning questions from readers about development in their neighborhoods. But as we are coming off a local election last week, why limit reader questions to development?
Today's question comes from Ledger reader Callie, who writes:
I appreciate The Ledger's candidate information. I tried to look up what new Congressional district my precinct would be in, to no avail. It's depressing how little simple, pertinent, factual information is presented in the media now. Perhaps you could publish a map of the Charlotte area showing which precincts are in the new Congressional Districts 14 and 12.
Callie, thanks for the question. We aim to serve.
The Republican-controlled General Assembly passed new maps for Congressional and state legislative races last month. Unlike most laws, redistricting in North Carolina is not subject to a governor's signature or veto.
The new maps favor Republicans more than the maps used in last year's elections, and there could be lawsuits. Elections using the new maps will be held next year.
There are changes in Mecklenburg County. Here's the map passed by the General Assembly, with precinct numbers. (You can cross-reference the precinct numbers from the map with the list of Mecklenburg voting locations.):
District 14, in orange, which is represented today by Democratic Rep. Jeff Jackson, will be a Republican-favorable district. It's the one the House Speaker Tim Moore has said he'll run for.

District 12, in white/yellow, is represented by Democrat Alma Adams. It remains heavily Democratic.

District 8, in blue, is represented by Republican Rep. Dan Bishop, who said he won't run for re-election. It's a Republican-favored district. Potential candidates include Mark Harris, the Republican pastor who ran in 2016 and 2018. (His 2018 campaign was made famous by his hiring of an operative who was found to have improperly collected and submitted absentee ballots.)
➡️ You can find out more on the General Assembly's redistricting page.
Have a question for "You Ask, We Answer"? Email us.
---
The Ledger's charity shout-out is back for another year; Ledger members can call attention to their favorite local charities
As we do every year around this time, we asked our paying Ledger members on Friday to help us identify and highlight local charities that could benefit from some attention.
On the Tuesday after Thanksgiving, which has become known as "Giving Tuesday," we'll publish a list of local charities recommended by Ledger members. The idea is to shine a light on the work of often unheralded nonprofits that are making our community better. About 1/3 of charitable donations are made in December.
If you're a paying Ledger member and want the details, check them out here.
If you're not a member … well, why not correct that and join our community of smart and engaged readers today?
We're happy to provide this as a service, and we love highlighting local charities, which we do throughout the year through our "Charity Spotlight" feature and via interviews with nonprofit leaders on The Charlotte Ledger Podcast.
You can find our charity shout-out lists from 2020, 2021 and 2022 online.
---
You might be interested in these Charlotte events; Small business pitch competition, interactive Charlotte music history discussion
Events submitted by readers to The Ledger's events board:
THURSDAY: Pitch for Growth 2023, 5 p.m., Mint Museum Randolph, 2730 Randolph Road. The public is invited to attend SCORE Charlotte's Pitch for Growth 2023, in which 10 small business owners from North and South Carolina will pitch their business growth proposals LIVE to a panel of local business experts. Top prize is $5,000. Free. Registration requested.
SATURDAY: Recorded in Charlotte, 1-3 p.m., Charlotte Museum of History, 3500 Shamrock Drive. What do Pitch Perfect and James Brown have in common? They recorded their most iconic songs right here in Charlotte! Join the experts for an interactive music history discussion, and come ready to listen to great music and learn about Charlotte's music story! $5, or free for members.
◼️ Check out the full Ledger events board.
➡️ List your event on the Ledger events board.
---
In brief:
Challenger for Jeff Jackson: Durham County's district attorney, Satana Deberry, says she will run for N.C. attorney general in the Democratic primary next year against U.S. Rep. Jeff Jackson of Charlotte. She was elected district attorney in 2018 and was re-elected last year and says voters want "a serious lawyer and a serious person, not a national social media following" — a dig at Jackson's TikTok and X/Twitter presence. (WFAE)

Two injured in uptown shooting: Two juveniles were seriously hurt in a shooting near Romare Bearden Park uptown on Saturday night. Police arrested a juvenile suspect. (WBTV)

Abortions fall after new restrictions: The number of abortions in North Carolina declined about 30% in the first two months after new restrictions took effect July 1, according to newly released figures. (N.C. Health News)

If you don't want to cook Thanksgiving dinner: Charlotte magazine compiled a list of restaurants that are open on Thanksgiving "if you'd rather leave the cooking to someone else this holiday." See Charlotte magazine's list. 

On the agenda: The Charlotte City Council is expected to vote tonight on tougher penalties for commercial truck parking, illegal parking and littering; accept a new plan for arts funding; and receive updates on tree canopies and a bus operations contract.

County to study health insurance subsidies: Mecklenburg County will continue to subsidize the health insurance premiums of county retirees' dependents while an outside consultant studies the policy. The county said it discovered that it is erroneously subsidizing the premiums, against county policy, but retirees say they rely on the help. (Observer)

CLT to Tulum: American Airlines announced it is adding a year-round daily nonstop flight between Charlotte and Tulum, Mexico, starting March 28, 2024.

Gen X after dark: Charlotte Five recently asked readers ages 40+ for their nightlife hangouts and published a guide with more than 20 suggestions, from Club Nile on North Graham Street ("a very nice clean exciting club for 40, 50s and up") to Petra's Bar on Commonwealth Avenue ("Diverse crowd. Fun music. Vinyl only DJs.") C5 also published a comprehensive look-back at the nightlife scene in the 90s and early 2000s.
---
Loves me some internet: Charlotte history
A recent post in the Facebook group Charlotte Over the Years about The Ivey's, a hotel and condo building on North Tryon Street that was built in the 1920s as Ivey's department store. It has a Qdoba on the ground floor:
---
Need to sign up for this e-newsletter? We offer a free version, as well as paid memberships for full access to all 4 of our local newsletters:
➡️ Opt in or out of different newsletters on your "My Account" page.
➡️ Learn more about The Charlotte Ledger
The Charlotte Ledger is a locally owned media company that delivers smart and essential news through e-newsletters and on a website. We strive for fairness and accuracy and will correct all known errors. The content reflects the independent editorial judgment of The Charlotte Ledger. Any advertising, paid marketing, or sponsored content will be clearly labeled.
🎁 Need a gift? Order The Charlotte Ledger Crossword Puzzle Collection, with 35 original puzzles with Charlotte themes and clues. Just $19.99+tax.
Like what we are doing? Feel free to forward this along and to tell a friend.
Social media: On Facebook, Instagram, Twitter and LinkedIn.
Sponsorship information/customer service: email support@cltledger.com.
Executive editor: Tony Mecia; Managing editor: Cristina Bolling; Staff writer: Lindsey Banks; Business manager: Brie Chrisman, BC Creative