Gender-pay votes at BofA, Wells
Welcome to the inaugural issue of The Charlotte Ledger, your reliable source of local business news
The Charlotte Ledger
Fresh and real Charlotte business news that makes you smarter. Delivered to your inbox for free three days a week. (Beta test edition)
Need to subscribe? Sign up here.
Good afternoon! Today is Wednesday, February 27, 2019. Here are today's big stories in Charlotte-area business news:
Bank pay gaps
:
Shareholder resolutions to disclose gender-gap pay differences at Bank of America and Wells Fargo will apparently go forward, after the SEC rejected the banks' efforts to bar shareholder votes on the proposals. Arjuna Capital of Boston cheered the move on Tuesday. It has been pushing financial services firms to reveal median pay by gender, with some success.
Here's what that would reveal: Average pay for women is lower.

Studies tend to show that the gap between average male and female pay largely, but not entirely, disappears when factors such as experience and job choices are considered. A Harvard study last year, for instance, found after examining pay data for Massachusetts transit workers that "the weekly earnings gap can be explained by the workforce choices that women and men make," such as men volunteering more for overtime. A Pew study shows that far more mothers than fathers quit their jobs to take care of family responsibilities (27 percent vs. 10 percent).

Expanding family leave policies or advancing more women into the C-suite could help erase some of the gaps at Charlotte's banks. But forcing disclosure of the actual wages by sex across the thousands of bank workers worldwide might not yield the smoking gun that proves workplace discrimination.

Arjuna says work-life choices are a "structural issue" and that pay gaps also reflect discrimination.
Bank of America and Wells Fargo typically hold their shareholder meetings in April. How would you vote, and why? Let me know and I'll print some of the responses.
Spotlight: Job Choices
Top 5 male-dominated industries, with percentage of males + weekly pay
1.     Cement masons, concrete finishers, terrazzo workers: 100%, N/A
2.     Derrick, rotary drill, and service unit operators, oil, gas and mining: 100%, $1,187/week
3.     Crane and tower operators: 99.8%, $959/week
4.     Bus and truck mechanics and diesel engine specialists: 99.7%, $811/week
5.     Miscellaneous vehicle and mobile equipment mechanics, installers, and repairers: 99.7%, $559/week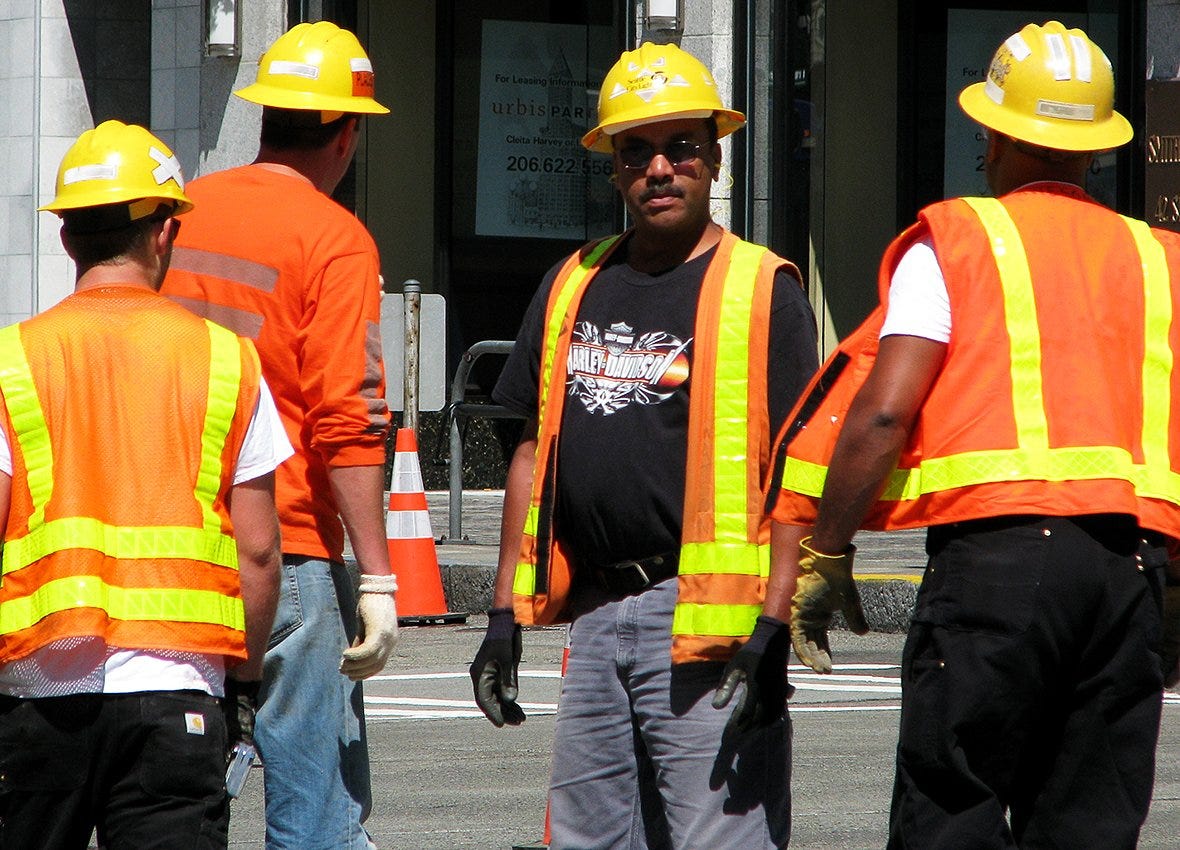 Dang, I wish I made speech-language pathologist money.
Top 5 female-dominated industries, with percentage of females + weekly pay
1.     Speech-language pathologists, 98.4%, $1,089/week
2.     Preschool and kindergarten teachers, 97.2%, $625/week
3.     Dental hygienists, 97.1%, $951/week
4.     Medical transcriptionists, 97.1%, N/A
5.     Dental assistants, 96.6%, $535/week
Source: U.S. Department of Labor      
Lowe's earnings: Blame Canada!
If you're looking for signs of weakness in the national housing market, you're not going to find much in the fourth-quarter earnings of Mooresville-based Lowe's, which came out pre-market this morning. The Street reports that earnings beat analysts' expectations and, critically, that the company affirmed its guidance for 2019 that calls for a 2 percent rise in sales. The company said that "'U.S. macroeconomic fundamentals remain sound' while cautioning that its Canadian business would face 'continued weakness in the housing market.'"
Overall for the quarter, Lowe's had a net loss of $824 million, compared with $554 million in income a year earlier. The loss was mostly related to a one-time goodwill impairment charge on its Canadian business. Rival Home Depot's earnings this week disappointed analysts.
Ram turns Hawk loose
As though there aren't enough animals walking around South End, the development company Ram Realty Advisers is breaking ground this week on a luxury high-rise apartment building called Hawk. Ashley Fahey of the Charlotte Business Journal reports (with renderings) that it will be a 13-story, 71-unit apartment tower with ground-floor retail at the corner of Hawkins and Doggett streets, or a block toward Tryon from Pike's Soda Shop.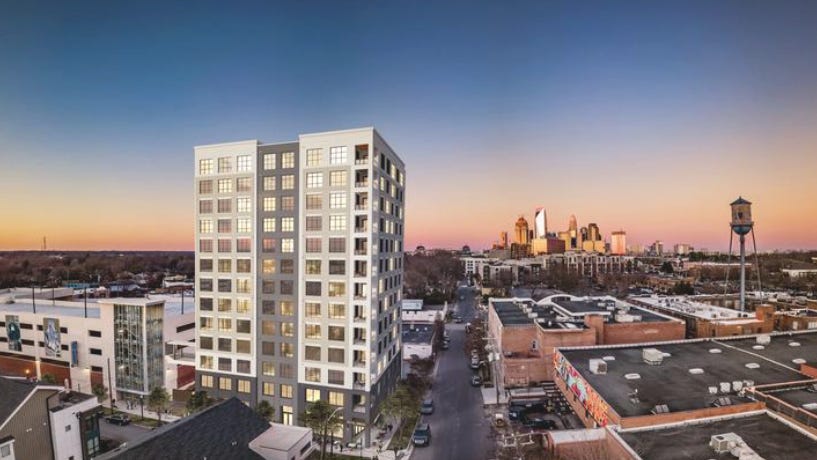 Watch out, uptown, the Hawk has its sights on you
My guess is that it will be nicer than your first apartment: It will have "finishes like solid wood entry doors, wide-plank flooring and 'expansive warehouse-style windows,' Kitchens will have French-door refrigerators, gas ranges, custom walnut cabinetry, brass and black hardware … Bathrooms will feature glassed shower rooms with freestanding soaking tubs, separate toilet rooms and rectified porcelain tile floors." For the amount of money it will cost (not yet disclosed), you'd hope they would rectify whatever is wrong with the porcelain tile.
Concentrix layoffs
Concentrix says it is laying off 173 employees in east Charlotte, according to a notice filed with the state. A spokeswoman tells N.C. Business News Wire, without elaboration, that the layoffs spring from a "change in business strategy." California-based Concentrix closed on the purchase of Convergys last year. It says it is a global business services provider "specializing in customer engagement" – which is corporate-speak that means they run call centers on a contract basis. Its facility is at 8600 McAlpine Park Drive, off Monroe Road near McAlpine Creek Park, or, for those who prefer restaurants as landmarks, Captain Steve's Seafood.
Beer and football stadiums, together at last
Stop the presses! You'll soon be able to drink beer on the field at Bank of America Stadium. The Panthers announced Tuesday: "Beer enthusiasts and brewers from around the world will assemble on the field at the stadium to celebrate beer and breweries from across the United States." Saturday, May 4. Three hours costs you $45, four hours for $60. Tickets on sale Friday, presale to PSL holders is already underway. Guess who's all over this story? Charlotte Agenda, that's who (lead story this morning).
Carolinas & Beyond
Big merger: AT&T's purchase of Time-Warner is set to move forward, with the Justice Department dropping its opposition after losing – badly – in a federal appeals court this week.

House money: Nevada regulators hit Wynn Resorts with a $20 million fine, the largest ever by the state's gambling board, following allegations of sexual misconduct by founder Steve Wynn.
Press release quote of the day: "With the addition of a major erotic products company on the other side of the world, Adam & Eve has become truly international. We soon expect to be selling a growing number of toys and accoutrements for better sex on all continents, except perhaps Antarctica." – Phil Harvey, founder of Hillsborough-based Adam & Eve, announcing the acquisition Tuesday of Australian sex-toy maker Excite Group for an undisclosed sum. (Hat tip: NC Biz News)
Off-the-clock
Saturday and Sunday: Free admission to Charlotte museums for Bank of America/Merrill Lynch customers (H/T: Charlotte on the Cheap)
Concerts:
Saturday: Casting Crowns, Cabarrus Arena, tickets $30+
Highly rated movies, PG-13 or lower:
How to Train Your Dragon: The Hidden World (PG, 92% on Rotten Tomatoes)
Fighting with my Family (PG-13, 91%)
Isn't It Romantic (PG-13, 69%)
The Lego Movie 2: The Second Part (PG, 86%)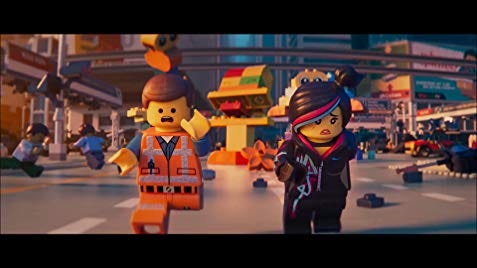 Everything is awesome … except "What Men Want"
Cheap weekend getaways from CLT:
Orlando $76 round-trip (March 30-April 1) on Frontier

Philadelphia $141 (March 22-25) on Frontier

Denver $191 (March 28-April 1) on United/Frontier
Subscriber Nick F. reports: "clt to new Orleans direct on AA $106. Just discovered on my own, what a scoop!" — I see several dates in March and April, nonstop on American
Source: Google Flights
Discuss
Outside of the office, where is the best place in Charlotte to conduct a job interview? Let me know, and I'll print some of the best responses.
Got a news tip? Think we missed something? Drop me a line at editor@cltledger.com and let me know.
Like what we are doing? Feel free to forward this along and to tell a friend.
The Charlotte Ledger is an e-newsletter and web site publishing timely, informative, and interesting local business news and analysis three days a week. We strive for fairness and accuracy and will correct all known errors. The content reflects the independent editorial judgment of The Charlotte Ledger. Any advertising, paid marketing, or sponsored content will be clearly labelled.
The Charlotte Ledger is published by Tony Mecia, an award-winning former Charlotte Observer business reporter and editor. He lives in Charlotte with his wife and three children.