HBO's 'Veep' finale disses Charlotte and N.C.
Plus: Charlotte real estate might be cooling off; Ballantyne/South End convergence; Bishop advances to face McCready in House race
Good morning! Today is Wednesday, May 15, 2019. Need to subscribe? Sign up here (charlotteledger.substack.com).
Charlotte film twist: Final episode of comedy series is shot in L.A. but set here
HBO broadcast the series finale of its comedy series "Veep" this week — and it took plenty of shots at North Carolina. Almost all of the 48-minute episode was set at Charlotte's Spectrum Center, on the occasion of a fictional 2020 presidential nominating convention.
In an unusual twist, the episode was set in Charlotte, but almost all of filming was done elsewhere. Is this a sign of progress — that Charlotte is now world-class enough to have TV shows and movies set here without being filmed here?
Usually, Charlotte-related movies and TV shows fall into one of three camps:
Filmed here, set elsewhere. Like the early seasons of "Homeland," which was shot a lot of places around town but set in Washington. [Ledger editor note: this paragraph has been modified from its original version, which said "Homeland" was shot in Myers Park and Foxcroft.]

Filmed here, setting ambiguous. Like "Shallow Hal" (2001), which was shot around uptown, Dilworth, SouthPark and Freedom Park.

Filmed here, set here. Like "Talladega Nights: The Ballad of Ricky Bobby" (2006), where shooting locations included Charlotte Motor Speedway (technically Concord) and Lake Norman (technically Cornelius).
If filmed-elsewhere-and-set-here indicates Charlotte is making progress, nobody seemed to tell "Veep's" writers, who took the familiar Hollywood tack of portraying North Carolina as an unenlightened backwater. It featured digs at HB2, racial segregation and even Charlotte's airport.
Plot: The episode's plot centers on Julia Louis-Dreyfus' character, Selina Meyer, who attempts to win a presidential nomination at her party's deadlocked political convention. The series ended its seventh and final season on Sunday. The show has won three Emmys in the "Outstanding Comedy Series" category, but this episode was good only for a few smirks. It's not Seinfeld.
A few of the lines:
HB2
[Meyer mistakenly walks into an empty men's bathroom in Charlotte's Spectrum Center, walks out to applause of onlookers.] Aide tells her: "Congratulations, ma'am, you just broke North Carolina's transgender bathroom law."
—
Daughter: "Mom, you need to tell the party that they never should have held the convention in North Carolina."
Adviser: "Their bathroom bill is an absolute disgrace."
Meyer: "Guys, who gives a s--- where people s---?"
—
Right-wing Nevada governor: "God created men's rooms and women's rooms, not everyone rooms. I don't want to go into a bathroom and be next to a woman who is looking at my genitals. I want that person that I'm next to to be a man, or better yet, lots of men."
South Carolina elections
Meyer: "Stealing South Carolina is the bedrock of our political system, Senator. … If you can't figure out how to steal South Carolina, you have no business being president."
Charlotte airport
Meyer: "I didn't come to North Carolina to lose. I don't even like to change planes here."
Segregation
N.C. delegate addressing the convention: "The great state of North Carolina – the home of historically black Fayetteville State University and historically white Duke University – would like to yield to the great state of Maryland!"
Of course, the real mark of a big-time city is not caring how you're portrayed by outsiders. Charlotte has made gains but isn't quite there yet. Here's the scoop on some of the scenes:
Although most of the episode's scenes are set in the Spectrum Center, they were actually filmed at the University of Southern California's Galen Center, according to New York magazine's entertainment website, Vulture.

There are plenty of shots of uptown Charlotte, usually with the Spectrum Center in the foreground.

The episode also identifies a hospital as "Carolinas Medical Center-Mercy" that is actually a different hospital (CMC-Mercy is red brick).

Inside a political war room of the Spectrum Center, a Charlotte Hornets poster hangs prominently in the background.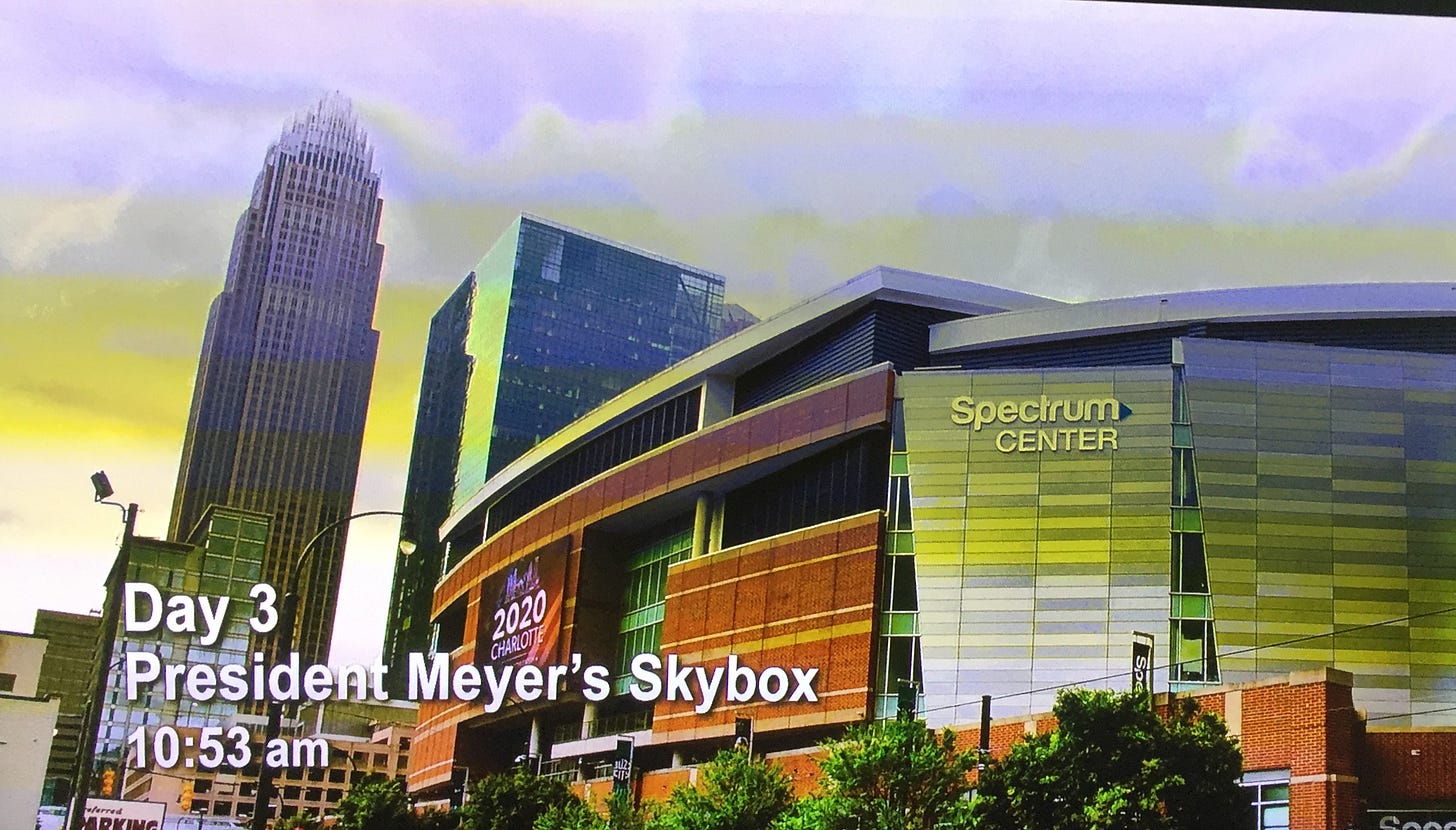 Laura White, spokeswoman for the Charlotte Regional Visitors Authority, confirmed to the Ledger that "a very small group from their crew came to film some 'establishing' shots of Charlotte."
According to the Charlotte Regional Film Commission's 2018 annual report, total film spending in the Charlotte region totaled $9.9M last year, down from $43.8M a year earlier. That sounds like a huge drop, but film spending can experience big swings. For 2018, the report noted:
Highlights of filming in the Charlotte region included, but were not limited to, commercials for Atrium Health, Coca-Cola, Spectrum, Kirishima Shochu (Japanese commercial), NC Lottery, John Deere, Henkel-Loctite, NASCAR, IBM, Car Gurus, Fox Sports, Brighthouse Financial, Cheerwine, Bojangles', Altria, NBA, Mobil 1, Bank of America, LendingTree, Goody's Headache Powder and NBC Sports Network.

A sampling of reality shows include Discovery ("Investigation Discovery"), Cooking Channel ("Southern and Hungry" and "Late Nite Eats"), Food Network ("Comfort Food Crawl"), CMT ("Racing Lives"), CNN ("Declassified") and Travel Channel ("Bizarre Foods with Andrew Zimmern"). Charlotte was used as a still photography backdrop for brands such as Hyundai, Syngenta, Seiko, National Geographic, Belk and Lowe's.
Beth Petty, director of the Charlotte Regional Film Commission, told the Ledger that Charlotte is a great place to film and that "we are going to see more activity moving forward." When reached by phone Tuesday afternoon, she declined to offer specifics and said she was scouting locations.
If HBO decided to economize and also set this weekend's "Game of Thrones" finale in Charlotte, well, that would be a real achievement.
HBO opted to finish one of its series in Charlotte. Why not another?
---
Charlotte real estate: swinging to buyers' market?
The Observer's Danielle Chemtob analyzes the most recent data from the Charlotte Regional Realtor Association and finds that while inventories remain low, there are some signs that the Charlotte region's red-hot housing market could be cooling off. She writes:
After declining for 11 months, year-over-year home sales were essentially flat in April, according to figures released Friday from Carolina Multiple Listing Services. While it's not a major shift, especially as the spring buying season is in full swing, it's an improvement from what was expected to mark a full year of decreased sales.

It's also the latest in a series of reports that show the region's tight housing market could be changing.

Home prices are still going up — but not as fast. Homes are selling quickly — but not everywhere. And sellers are less likely to get what they ask, as more homes are selling below list price, the reports show.
To be sure, one month of data does not constitute a trend. With interest rates at almost their lowest point in a year, at just above 4% on a 30-year fixed, buying is cheap — if you can find the house. That's the problem.
---
What Ballantyne and South End have in common
The once-bright line between urban and suburban development in Charlotte is blurring, writes Ely Portillo, the former Observer reporter, from his new perch at UNC Charlotte's Urban Institute. In an astute article this week, Portillo noted that the recent announcements that LendingTree is moving its HQ to South End and that the owners of Ballantyne Corporate Park are building apartments upend the traditional ways we think about growth in those areas:
A generation ago, the idea of a major financial company moving to South End might have been implausible — and building a luxury apartment tower in the midst of Ballantyne Corporate Park would have sounded even more outlandish.

But a pair of recent announcements in Charlotte show how much office and apartment markets have shifted, and that more developers are getting serious about the "live-work-play" dynamic that's been talked about ad nauseam. …

Something interesting is going on: Ballantyne Corporate Park is about to get apartments mixed in with its office buildings for the first time. … Meanwhile, South End has become a Class A office submarket in its own right. …

The distinction in Charlotte between "suburban office park" and "hip former industrial neighborhood," once razor-sharp, is starting to get a bit blurry.
One way to beat sprawl is to encourage developments that allow people to live closer to where they work. The morning commute from Ballantyne to uptown shows there's still an imbalance, but those two announcements are encouraging signs.
---
Ledger featured on industry site
The Ledger likes to navel-gaze about as much as it likes to talk about itself in the third person — which is to say not at all. But we will take note of a nice write-up of our efforts this week by UNC Chapel Hill business-journalism professor Chris Roush, whose website Talking Biz News is a must-read if you happen to find yourself in the niche-niche world of business journalism:
Business news email newsletters have become popular in the past five years, with dozens sprouting up across the country produced by daily and weekly newspapers as well as websites.

Business journalist Tony Mecia may be the first, however, to launch a business news email newsletter that is not backed by a publication or website.

Earlier this year, Mecia launched The Charlotte Ledger, an email newsletter that is sent out three times a week covering business news in and around the North Carolina city. He's been at it now for two months.

"The idea is to try to serve the demand for local business news in a way that is smart, engaging and entertaining," said Mecia. "There's a lot of innovation going on at the national level, particularly on newsletters (The Hustle, Axios, etc.), but I'm not aware of much being done along those lines in local journalism." …

"Changes in the media landscape have resulted in less local coverage, but people in Charlotte still hunger for smart and entertaining local news," said Mecia. "Charlotte is a business town. A city of its size should have more choices for business news and analysis." …

"It is still early, but I am happy to report that subscription growth is steady and that the Charlotte Ledger is already more profitable than Uber and Lyft combined," added Mecia.
The full article is available here.
---
In brief
---
Off the Clock
Low-key ideas for the weekend
Movies opening in Charlotte this weekend:
John Wick 3 (R) (95% on Rotten Tomatoes): Assassin hunted by killers

A Dog's Journey (PG) (67%): Dog has an adventure

The Sun Is Also a Star (PG-13): Immigrant romance confronts deportation
Highly rated movies now playing:
Avengers: Endgame (PG-13) (95%)

Long Shot (R) (81%)

Breakthrough (PG) (65%)

Pokemon Detective Pikachu (PG) (64%)
Cheap getaways from CLT:
Charlotte to Providence, $96 round-trip on Frontier (nonstop), May 31-June 3.

Charlotte to Fort Lauderdale, $118 round-trip on Spirit (nonstop), June 22-25 and other dates in June-October.

Farther out: Charlotte to San Diego, $273 round-trip on Delta (one-stop), July 12-15.

Farther out: Charlotte to New Orleans, $178 round-trip on American (nonstop), Aug. 2-5.

Farther out: Charlotte to Denver, $126 round-trip on American (nonstop), select dates in September-November.
Source: Google Flights. Fares retrieved Wednesday morning. They might have changed by the time you read this.
---
Got a news tip? Think we missed something? Drop me a line at editor@cltledger.com and let me know.
Like what we are doing? Feel free to forward this along and to tell a friend.
The Charlotte Ledger is an e-newsletter and web site publishing timely, informative, and interesting local business news and analysis Mondays, Wednesdays, and Fridays, except holidays and as noted. We strive for fairness and accuracy and will correct all known errors. The content reflects the independent editorial judgment of The Charlotte Ledger. Any advertising, paid marketing, or sponsored content will be clearly labeled.
The Charlotte Ledger is published by Tony Mecia, an award-winning former Charlotte Observer business reporter and editor. He lives in Charlotte with his wife and three children.