Discover more from The Charlotte Ledger
Delivering smart and essential news to Charlotte, one email at a time.
Over 20,000 subscribers
Highs and lows define second season for Charlotte FC
From off-the-field turmoil to playoff-clinching win over Miami, CLTFC rides wave in Year 2. Plus Top 5 goals of the season, first roster moves of winter and Berchimas playing for U-17 World Cup
It's time for Fútbol Friday, The Charlotte Ledger's weekly newsletter getting you up to speed on Charlotte FC, the city's new pro soccer team.
➡️ Need to sign up for Fútbol Friday and other Charlotte-focused email newsletters from The Charlotte Ledger? You can do that here.
➡️ Ledger subscribers can add or drop individual newsletters on their "My Account" page.Today's Fútbol Friday is sponsored by Pomfret Financial.
Go after your GOALS! 
Pomfret Financial is a Charlotte-based INSURANCE & BUSINESS PLANNING firm helping families & businesses since 1975.
---
Charlotte FC makes wildcard game in wild second season, which began following the tragic death of defender Anton Walkes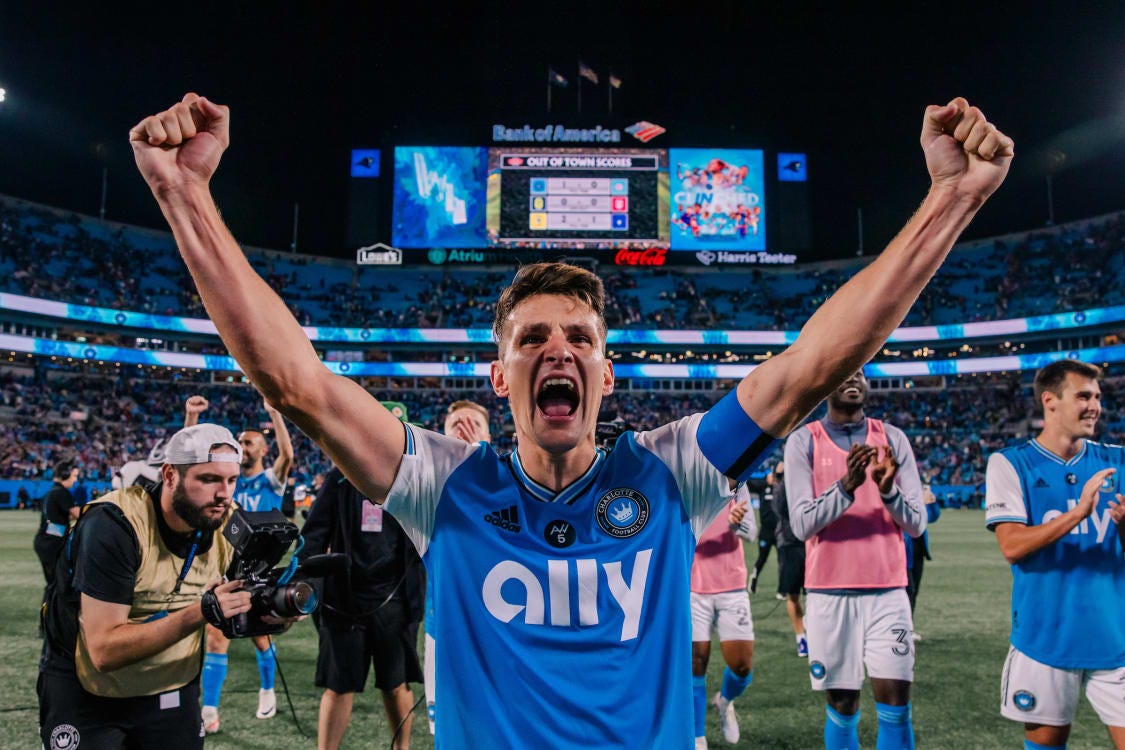 In his first year with Charlotte FC, captain Ashley Westwood celebrates clinching playoff berth after 1-0 win vs. Miami. (Photo courtesy of Charlotte FC.)
The "sophomore" season of Charlotte FC was anything but cliché. The term "slump" couldn't cover the scope of ups and downs this second-year franchise endured from January through October. In fact, it was just the opposite. Unexpected became part of the norm, dating back to the January morning when the team — and shortly thereafter the rest of us — found out center back and team leader Anton Walkes had died from injuries in a jet ski crash on an off day from preseason training in Miami.
From that point on, all bets were off.
If somebody had said in January that the first event I would cover in the 2023 season would be a funeral, that Andre Shinyashiki would be banished to a team in a former Soviet-bloc country called Azerbaijan, and Charlotte FC would defeat a Miami team featuring Lionel Messi to make the playoffs on the last day of the season, I would have spit out my latte.
(Though I'll give full credit to Charlotte FC podcasters and self-dubbed "fan-alysts" Danny Bramlette and John Hayes, who raised the possibility of Messi in Charlotte for all the marbles months ago on the Charlotte Soccer Show. Much respect. Y'all didn't see Azerbaijan coming, through, right?)
One thing I did have a feeling about, though, after Charlotte FC opened the season with three straight losses — falling 1-0 in the last minute to New England in the home opener, a 3-1 loss to new expansion club St. Louis in its first home game and a miserable 3-0 home loss to rival Atlanta United — was that maybe those three opponents were actually really good, and surely, Charlotte FC was not that bad.
Ultimately, New England and Atlanta finished fifth and sixth in the Eastern Conference, and St. Louis won the Western Conference in its inaugural year. All three teams are still alive in the MLS playoffs. Charlotte fought off the slow start and off-field turmoil that continued when Shinyashiki and Nuno Santos were linked to a sexual assault case. Then came a rash of blown leads during a "Ted Lasso"-worthy string of draws. That left Charlotte needing to produce results in its last four games (three wins and a draw) to make the playoffs. Getting there came at a cost, and Charlotte FC fell flat in the wildcard game, losing 5-2 at the New York Red Bulls.
Coach Christian Lattanzio pointed to "mental tiredness" afterward, which might have sounded like an excuse if captain Ashley Westwood hadn't reiterated it in his postgame comments, too. When you consider Charlotte had played three games in seven days, up and down the East Coast — from a rescheduled game in Miami to Charlotte to New York — all with the season on the line, you could see why.
They were coming off as emotional a game as you can imagine in the 1-0 playoff-clinching win over Miami. You had Messi playing in Charlotte for the first time, and he played 90 minutes when many predicted he wouldn't play at all. He was representing the city where the Walkes tragedy occurred. Westwood had escorted Walkes' daughter, 5-year-old daughter Ayla, onto the field for the national anthem before the game. And oh yeah, it was "Decision Day," the final day of the MLS regular season, and Charlotte had to win — and two other results had to fall right — to advance to the playoffs for the first time.
My 7-year-old son sat in the stands that night wearing noise-cancelling headphones. He could have passed them around. Talk about sensory overload. Looking back on it, though, here's the takeaway from that night and this season: Charlotte FC finally matched their big moment.
They'd lost 1-0 loss to the L.A. Galaxy in front of their MLS-record 74,479 fans at last year's inaugural home opener. They upset English Premier League powerhouse Chelsea on penalty kicks last July in front of 52,673 fans, but it was an exhibition and little more than a preseason tune-up for Chelsea. When 69,345 came to the season-opener this year, Charlotte gave up a goal in the 89th minute to lose 1-0 loss to New England.
But on Saturday night, Oct. 21, in front of 66,101 fans — sure, many thousands to see Messi — they made a one-goal lead stand up from the 13th minute until the end, something they'd struggled to do all season, in a super-charged atmosphere.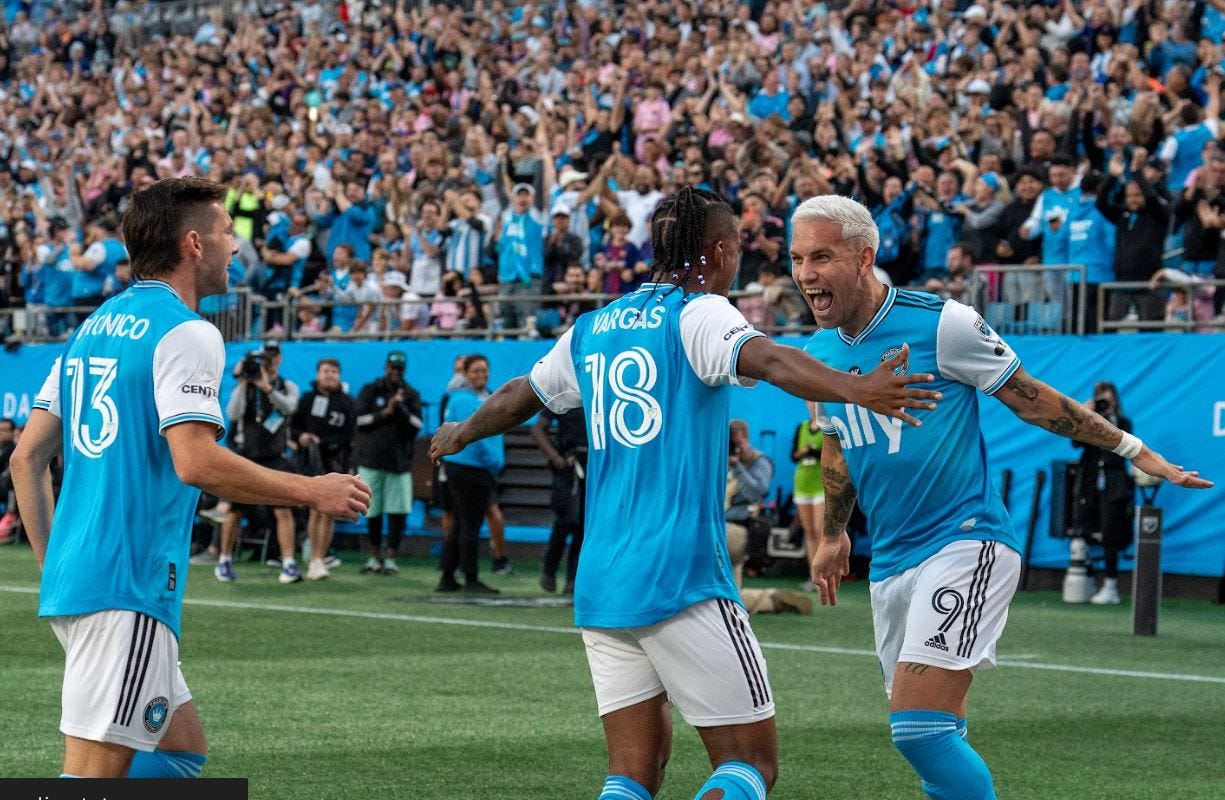 Kerwin Vargas celebrating his lone goal in the 1-0 win over Miami. (Photo by Kevin Young of The 5 and 2 Project.)
This year, Charlotte FC produced points on the road — from 11 points last year to 17. The team made a quarterfinal run in the Leagues Cup tournament, which pitted MLS teams against those from the Mexican League. And they won when they absolutely had to give themselves a shot at the playoffs. And while they won fewer games overall (10-11-13) vs. last year (13-18-3), they also lost fewer and tied 10 more.
In the grand scheme, they reached their goal of making the playoffs, and for that reason, they're not expected to part ways with coach Christian Lattanzio or sporting director Zoran Krneta. I wouldn't be surprised to see star player Karol Swiderski make the jump to Europe this winter, and maybe winger Kamil Jozwiak will depart as well. There's revamping to be done, but the trajectory is moving forward.
Personal achievements: For all the highs and lows, the second year proved a good learning experience for me on the soccer beat, too, whether it was to dust off some cops reporting skills or learn the term dropped points from winning positions (Charlotte FC led MLS with 25 of them this season).
Looking back, one of the highlights was getting to know so many women around the team whether it was Rosie Krneta, wife of Zoran Krneta, captain Ashley Westwood's wife Becca Westwood, or Walkes' girlfriend Alexis Sims. I was also learning a lot behind the scenes from women who follow the team like radio color analyst Jessica Charman, and Bridget McCall and Kara Hunter with Queens' Pitch Podcast. They added depth, not to mention some fun, to our Futbol Friday coverage this year.
---
Editor's note: With Charlotte FC's season over, we're wrapping up our coverage, too. We'll finish up next week with a look at roster decisions facing the club this winter. After that, look for our regular weekly emails on Charlotte FC to resume in February, when the 2024 season starts. Thanks for reading.
---
First offseason roster moves: Jones, Gaines, Afful among 7 players to depart
Charlotte FC made its first roster moves of the offseason as it began to evaluate where to go from here. The club exercised options to keep six players for next season: striker Patrick Agyemang, midfielder Ben Bender, defender Hamady Diop, goalkeeper George Marks, center back Andrew Privett and midfielder Nick Scardina.
The club also declined options and parted ways with six players: veteran defender Harrison Afful, winger McKinze Gaines, goalkeeper Pablo Sisniega, center back Jan Sobocinski, as well as midfielder Chris Heghardt and goalkeeper Adrian Zendejas — both of whom had been loaned out to USL Championship teams.
Perhaps the biggest surprise was the departure of Derrick Jones, whose contract expired and who is now eligible to sign elsewhere through free agency. The steady defensive midfielder had been moved to center back this season to fill a void left by Walkes. His playing time diminished as Privett emerged at center back and Charlotte FC acquired midfielders Scott Arfield and Brecht Dejaegere during the summer transfer window.
Winger Justin Meram's contract expired as well, but the club announced it has begun discussions with him to sign a new contract.
---
Our picks for Top 5 Charlotte FC goals of the year
---
Berchimas makes U-17 World Cup trip to Indonesia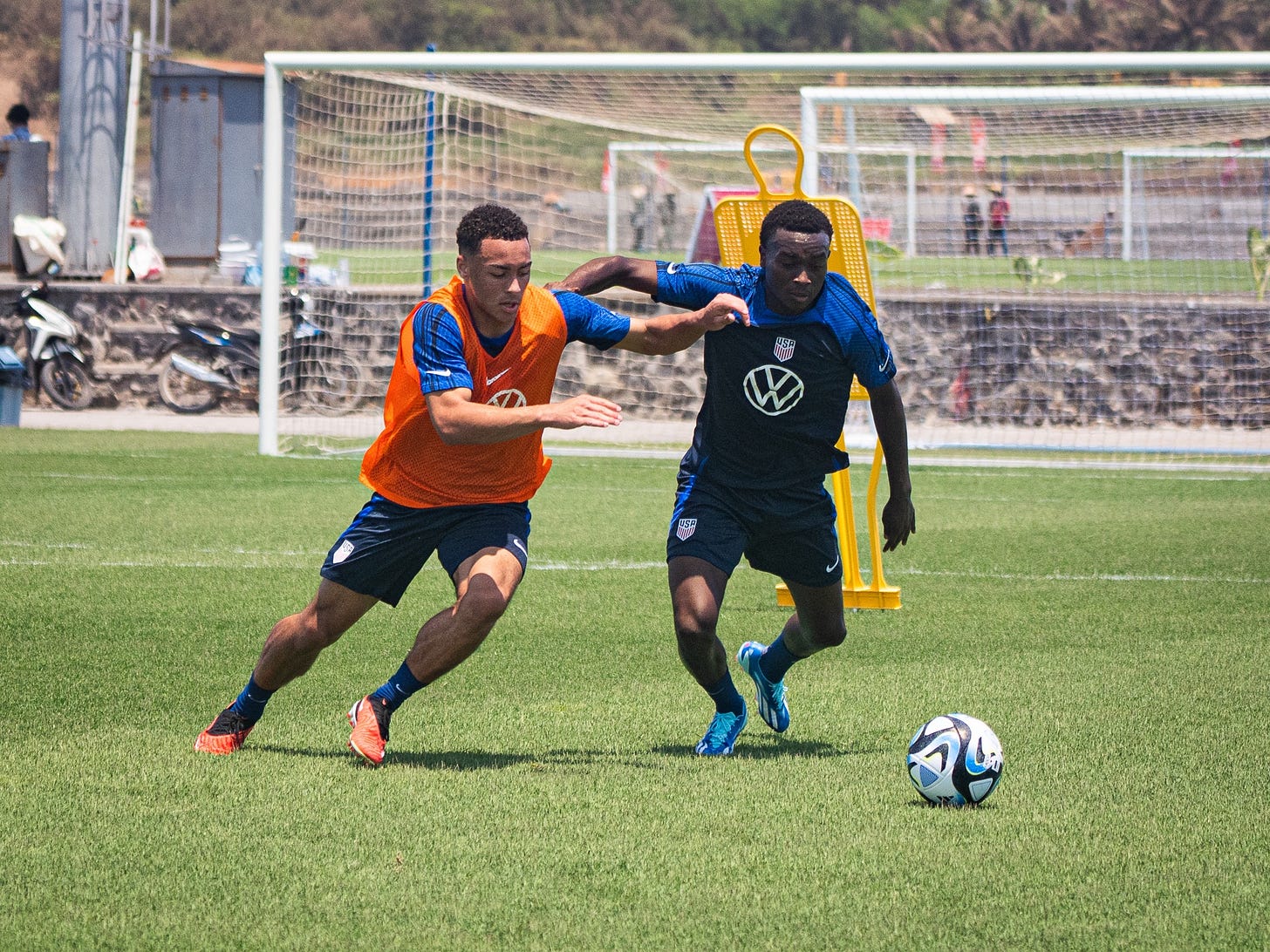 Nimfasha Berchimas makes a move during practice in Indonesia. (Photo courtesy of USYNT.)
Yes, Charlotte FC's season is over, but there's still something to cheer for this month, and it's Nimfasha Berchimas. Charlotte FC's second-ever homegrown signee (after Brian Romero) was called up to play for the U.S. Youth National Team in the FIFA U-17 World Cup in Indonesia, beginning Nov. 12.
Berchimas, who is only 15 years old, became the youngest player to make the USYNT roster in this tournament since Freddy Adu did it at age 14 in 2003. (Adu had just become the youngest American to ever sign a major league professional contract in any sport, signing with DC United that year.)
It's been a busy year for the talented winger Berchimas, who played for Crown Legacy FC in between traveling to play and train in places like Germany, Portugal, Brazil and the Czech Republic. He took time to respond to a few questions in an e-mail from Indonesia, including one about all the international traveling he's been doing:
"The international travel has been good, but for me, I don't really like long rides," Berchimas wrote, and then added two laugh-until-you-cry emojis. "But I just listen to my music."
Berchimas was an infant when his family moved from Tanzania in Africa to Georgia and then finally settled in High Point, where he grew up. When he misses home on these long trips, Berchimas wrote, "I always just look at pics of my family or just something that my family had. … I just pray to God and (it) makes me think of them."
---
Carroll Walton is a longtime baseball writer with the Atlanta Journal-Constitution now cutting her teeth on soccer and the Charlotte FC just as fans in Charlotte do. She would love to hear from you. E-mail her with questions, suggestions, story ideas and comments!
Need to sign up for this e-newsletter? We offer a free version, as well as paid memberships for full access to all 4 of our local newsletters:
➡️ Opt in or out of different newsletters on your "My Account" page.
➡️ Learn more about The Charlotte Ledger
The Charlotte Ledger is a locally owned media company that delivers smart and essential news through e-newsletters and on a website. We strive for fairness and accuracy and will correct all known errors. The content reflects the independent editorial judgment of The Charlotte Ledger. Any advertising, paid marketing, or sponsored content will be clearly labeled.
Like what we are doing? Feel free to forward this along and to tell a friend.
Social media: On Facebook, Instagram, Twitter and LinkedIn.
Sponsorship information/customer service: email support@cltledger.com.