I fought my sky-high Atrium bill — and won
Plus: Airport plans new entrance monument; Lawsuit hopes to stop Bruton Smith's Speedway Motorsports deal; Lawyer claims video-game competitors are actually well-rounded
Good morning! Today is Monday, September 23, 2019.
Need to subscribe? Sign up for free here (charlotteledger.substack.com). Like what you see? Forward to a friend.
Guest column: $2,600 for an hour at the SouthPark ER? I pushed to lower my hospital bill, and you can, too.
By Michelle Crouch
When my husband's doctor sent him to the emergency room for a CAT scan after he hit his head on a Sunday, we knew the bill would be high.
But when we opened the bill from the Atrium ER in SouthPark, we were shocked at the total: $4,386. After the insurance adjustment (we have a high deductible plan), we still owed $2,597!
That was the cost just to walk into the ER. It did not include another $1,000 charged by the radiologist who read the scan or the reasonable $243 fee charged by the ER physician.
Was it an error? We thought it must be a mistake. When my daughter had gone to the ER a year earlier for a broken nose, the fee had been closer to $2,000 — and she had emerged with six stitches. How could they charge more for my husband's visit when he had received no medicine and no treatment — just a quick exam before getting the scan? We had been in and out in less than an hour.
We decided to fight. It wasn't easy. But with a little research and multiple phone calls, we finally got some relief: a $1,000 discount.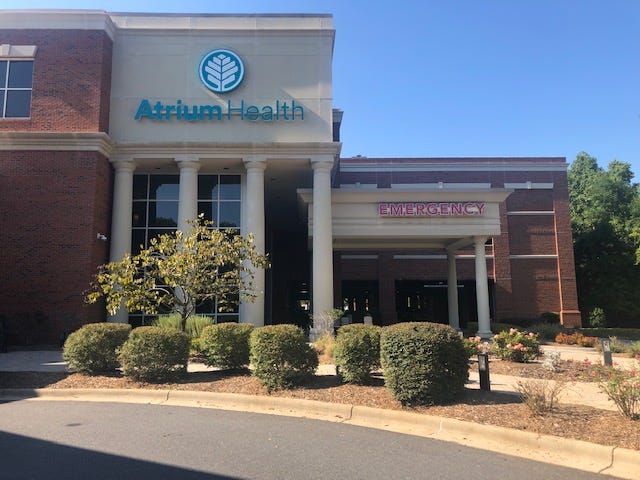 Contesting an expensive medical bill — like the one the author's husband received from Atrium's ER at SouthPark — takes time and effort but could result in savings.
Ready to dispute your own sky-high medical bill? Here's what worked for me:
Request the itemized bill. The first bill I got from Atrium provided no explanation of what the fee covered. Unfortunately, that's a common practice on medical bills. By some estimates, as many as 80% of hospital bills have errors, but you can't spot one unless you can see exactly what you're being charged for. I called the billing department and asked for a detailed, line-item bill. I also requested they extend the bill's due date, because I was planning to dispute it. (You don't want your bill to go to collections during a dispute.)

Do your research. The itemized bill for my husband's visit listed only two charges: one for the CT scan ($2,013) and another for a "Level 4" emergency department visit ($2,372). A quick Google search revealed that most hospitals "level" ER visits based on the intensity of hospital resources required for the visit, with 5 as the highest intensity. I also checked the healthcare cost-comparison tool at FAIR Health and learned that local averages are significantly lower than what Atrium was charging: The in-hospital CT scan average is $794 (60% less than the amount on our bill) and the average for a high-severity ER visit is $1,553 (34% less).

Build your case. The next time I called Atrium, I had a pointed question: Why was my husband's visit, which required a minimal amount of staff and resources, coded a level 4, the second-highest level? "A CT Scan is automatically a level 4," the rep said, adding that Atrium's prices were "competitive." Her answer helped me formulate my two big arguments for a price reduction:

We shouldn't have to pay for a "high-intensity" level 4 visit when all we did was walk in and ask for a CT scan.

Atrium prices were actually not "competitive" but dramatically overpriced compared with similar services in the area, and we simply couldn't afford to pay such a big bill.

Keep asking for supervisors. The person answering the phone in a medical billing center often lacks the authority to reduce a bill. So when I wasn't getting anywhere with her, I asked for a supervisor. At first, she said no one was available. When I insisted, she said I might be on hold for a long time. She was right: I waited 14 minutes to talk to a supervisor, who reiterated the bill was correct. I had read that billing centers will sometimes give you a discount if you offer to pay immediately rather than set up a payment plan, but the rep refused. "You have insurance so you don't qualify for any discounts," he said. That's when I asked for his supervisor. (I kept detailed notes of each conversation that included the date, who I spoke to and what they said.)

Be pushy, but human. I left a voicemail for the next supervisor. When she called me back, she insisted the hospital was following "guidelines" that called for any visit with a CT scan to be coded as Level 4. I seized on the word "guidelines" and pointed out that by its very definition, a "guideline" is not a hard-and-fast rule. She said things like, "We have already audited your bill and verified that the code is correct," and "I'm not going to debate the level. We are consistent in the way we apply these prices." I kept pushing. I mentioned that our medical costs are high because my husband is a brain tumor survivor still under a doctor's care. And I noted that we were already in debt to Atrium over my daughter's broken nose. Still, no dice. It was time to ask for her supervisor. I left a message for him.
I received a call from an Atrium assistant vice president a few days later. After hearing my story, he reiterated the charges were correct according to hospital guidelines. But then he said the words I had been waiting for: "However, I would be glad as a courtesy to adjust $1,000 off your bill."
Victory, at last. It had not been easy, but by investing a few hours and refusing to back down, I saved $1,000. I share my story in the hope that you, too, can get some bill relief!
Michelle Crouch is a freelance journalist in Charlotte who covers health, personal finance and parenting. Her work has appeared in a variety of local and national publications, including Reader's Digest, Real Simple, Prevention and AARP.
---
New crown monument for Charlotte airport
The Charlotte airport is planning a cool new entrance monument that should be in place by August 2020. Check this out:
It is described as a "concrete structure with glass-fiber-reinforced plastic panels and illuminated custom metal fins." It was designed by the Charlotte firm C Design Inc., which the city hired at a cost of $539,000 earlier this year.
The site will also have three "aluminum-clad letter forms with up-lighting" that say "CLT":
The City Council tonight is expected to approve a $4M contract with Edison Foard Inc. to install the monument and signs and to grade and landscape the site.
---
Lawsuit hopes to undo Speedway Motorsports deal
Some Speedway Motorsports shareholders are trying to contest the company's sale in a management buyout to Bruton Smith and several of his family members.
The $225M deal to take Speedway Motorsports private closed last week. But plaintiff's lawyers are circling, with one filing a suit late last month and another sending out a news release last week saying it's hunting for clients. Shareholders seemed to make out well in the deal, with the company offering $19.75 per share, which was a 42% premium on its price from the day the deal was announced in April.
The allegation, though, seems to be that the company could have been worth a lot more if it weren't taken private and placed under the control of the Smith family and companies they control. Smith, family members and related entities controlled 71% of Speedway's stock.
The lawsuit, filed in federal court in Delaware, claims the company's public statements were "false and misleading" by failing to mention whether the Smiths shopped Speedway Motorsports to NASCAR or to rival International Speedway Corp. The suit also alleges there were "potential conflicts of interest" in having the Smiths and other executives remain in control of the company.
In other words, it all sounds like typical NASCAR drama.
---
Best of Nextdoor: Stonehaven
---
Claim: 'E-sports' players are not just 'nerds who barely emerge from their parents' basements'
Business North Carolina published a fascinating interview last week with a Wilmington lawyer who represents "e-sports" competitors. For the uninitiated, "e-sports" are what we used to call "playing video games" — except now it is a big business, with high-dollar competitions and top video game players who can earn millions.
So the emerging industry now calls itself "e-sports" to make playing electronics sound somehow comparable to displaying athletic prowess. You might very well have a budding "e-sports competitor" training nonstop with an Xbox on your TV.
The lawyer explained that demographics and intense marketer interest explain the growth of "e-sports":
The average MLB fan is around 55 years old and quickly aging. The average NFL and NHL fans aren't far behind and also rapidly aging. Soccer and the NBA have some of the youngest average fan ages sitting around 40 years old and are a bit more stable. The average esports fan is at least 10 years younger than that. Moreover, 18- to 25- year old males are watching more esports than all of traditional sports combined. Marketers refer to the esports viewer demographic — young, educated males — as the Holy Grail of marketing. The demographics are the primary reason behind the growth of esports.
And to hear him tell it, it's not just a bunch of geeks playing Fortnite 24-7. Why, video game competitions are a unifying force that bring together folks from all walks of life:
In some ways, the typical professional gamer profile is what you'd expect: male and late teens to mid-twenties. Outside of those two attributes, however, players come from all walks of life and backgrounds. You have young men from rural, urban and inner-city backgrounds, all competing on a level playing field. You have players who spend their free time bodybuilding, others who travel the world, others who are foodies, and so on. There's no archetype for esports players and I think it's important to dispel the stereotype that these are just nerds who barely emerge from their parents' basements.
You can read the full interview here.
---
In brief:
Scare your teens with this: "Teen spends 5 days in the hospital due to vaping" (WCNC)

Business money: The City Council tonight is expected to approve a business grant of $37,000 to Columbus McKinnon Corp., which plans to expand its regional R&D headquarters by adding 25 jobs and investing $3.1M. Mecklenburg County is expected to kick in an additional $62,000.

Uptown land buy: The city is planning to buy 2.8 acres of land that's now a parking lot near West 4th Street and the railroad tracks by South Cedar Street. The City Council is expected to allow the city manager to spend up to $9M for the parcels, which could be used for future light-rail lines.

South Charlotte sidewalk: The city is planning to build 3 miles of sidewalk on the north side of Pineville-Matthews Road between McAlpine Creek and Ridgeloch Place near the Arboretum. Work should be finished by the end of next year.

Extended development: The Brooklyn Village redevelopment plan around Marshall Park could be postponed for as long as 10 years under a new city-county agreement. (WFAE)
---
Taking stock
Unless you are a day trader, checking your stocks daily is unhealthy. So how about weekly? How local stocks of note fared last week (through Friday's close), and year to date:
---
Need to sign up for the Ledger? Here you go:
Got a news tip? Think we missed something? Drop me a line at editor@cltledger.com and let me know.
Like what we are doing? Feel free to forward this along and to tell a friend.
The Charlotte Ledger is an e-newsletter and web site publishing timely, informative, and interesting local business news and analysis Mondays, Wednesdays, and Fridays, except holidays and as noted. We strive for fairness and accuracy and will correct all known errors. The content reflects the independent editorial judgment of The Charlotte Ledger. Any advertising, paid marketing, or sponsored content will be clearly labeled.
The Charlotte Ledger is published by Tony Mecia, an award-winning former Charlotte Observer business reporter and editor. He lives in Charlotte with his wife and three children.