Discover more from The Charlotte Ledger
Delivering smart and essential news to Charlotte, one email at a time.
Over 19,000 subscribers
In Sun City, golf cart cruising is the new canasta
Need to sign up for The Charlotte Ledger? You can do it for free here:
Active adults forced to adjust to quieter social calendar; Goodbye, bocce and bridge, hello 'golf cart rides and watching Zoom'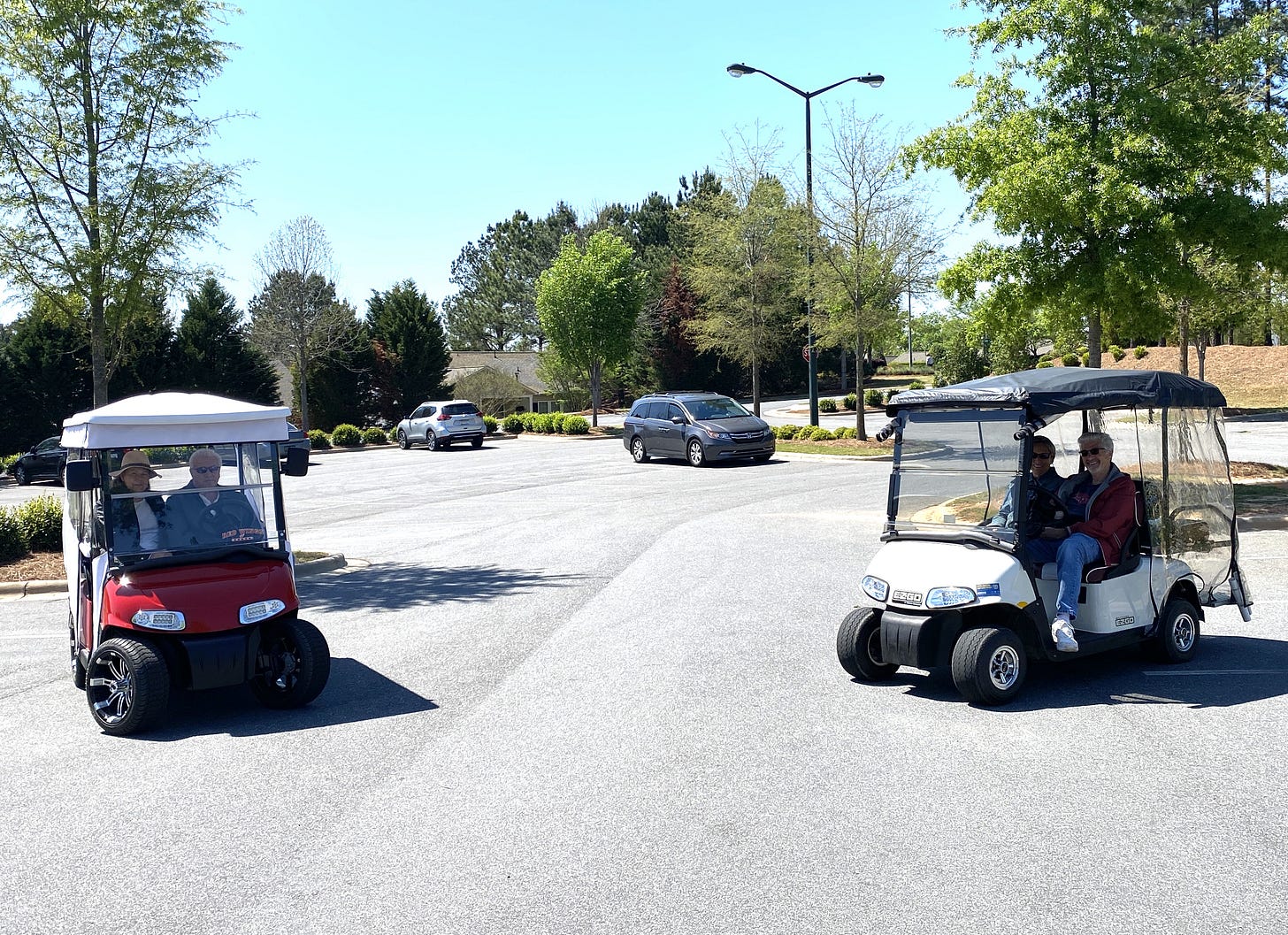 Sharon and Ed Beether (left) and Mary and Joe Cardullo live on the same street but decided that remaining in their golf carts a healthy distance apart in a Sun City parking lot would be the safest way to visit face-to-face.
By Cristina Bolling
It's mid-afternoon on a sunny Saturday, right about the time Mary and Joe Cardullo and Ed and Sharon Beether should be making plans for a double-date dinner or hitting the bocce ball courts in their community of Sun City Carolina Lakes.
They live just 16 houses down the street from each other in this massive over-55 community six miles over the state line in Indian Land, S.C.But there's no popping into each other's homes these days for a quick catch-up.
This afternoon, both couples decided they needed to see each other face-to-face, so they hopped in their golf carts and zipped down to a parking lot in the center of Sun City, parked a generous 15 feet apart and sat in their respective carts for some laughs and a good long chat.
"It's so much easier, because we get to spend a half-hour, 45 minutes together, talking," says Joe Cardullo, with a shrug of his shoulders. "On the phone, it doesn't work that way."
"It's just so nice to see each other," chimed Sharon Beether.
Sun City is billed as one of the region's biggest "active adult" communities, with some 3,160 homes and more than 5,000 inhabitants. Communities like it continue to spring up across Charlotte, as more retirees move here to join children and grandchildren.
Higher risk: They are the population most vulnerable for falling seriously ill with coronavirus. Local health officials say those over age 60 are four times more likely to be hospitalized. Across North Carolina, 80% of Covid-19 deaths occur in patients aged 65 and older.
There have been six outbreaks reported at nursing homes and residential care facilities in Mecklenburg County, and the Centers for Disease Control have issued special guidelines for preventing the spread of Covid-19 in retirement communities and nursing homes.
In healthier times, Sun City residents pack pickleball and bocce ball courts from dawn till dusk, organize more than 100 clubs around interests from railroad travel to jewelry making, and even stage and star in four elaborate theater productions each year. (This May's scheduled production of the musical "Echoes of War" has been postponed to October.)
"If you want to just buy just a home, you don't come here. You can buy a bigger home with more land for less money elsewhere," Joe Cardullo says. "You come here, and it becomes a lifestyle."
Life, interrupted: That lifestyle has changed drastically since Sun City shut down all of its indoor and outdoor public spaces and canceled all activities in mid-March out of fear of Covid-19. (And it seems to be working: So far, none of the Sun City residents the Ledger spoke with knew of any residents or staff who have tested positive for coronavirus.)
Suddenly, there was no Saturday Night Dance Fever to attend, or Friday night karaoke. Tennis, water aerobics and yoga all halted. Stitch-n-chat, mahjong and bridge clubs canceled. Gone for now are the days of waking at 6 a.m. to register for the uber-popular Cellar Dwellers wine club or the Cooking Fingers kitchen demonstration and tasting.
For seniors used to a packed social schedule, the pause feels, well, off.
"In the beginning, it was kind of nice, because you weren't going out every single night," laughs Fran Hohenberger, who moved to Sun City from Long Island with her husband, Bob, four years ago to be near her son and daughter-in-law and two granddaughters who live in nearby Ballantyne.
Golf carts and Zoom: It didn't take Hohenberger long to find digital workarounds to staying connected with her friends and activities.
Quickly, she learned Zoom and now logs on to attend yoga and to watch Sun City board meetings. Soon, her stitch-n-chat sewing club will be meeting virtually. Her canasta group is still figuring out how to play through Zoom, but she's playing Scrabble with people she knows using the gaming app Words With Friends.
And when she's tired of the screens, there's always the miles of walking paths that weave through Sun City or the golf cart she and Bob can take out for some fresh air.
"It's golf cart rides, and watching Zoom," Hohenberger said of life these days in Sun City. "They've done a wonderful job of keeping us as busy as you want to be. I don't feel depressed here at all."
From packed social schedule to cleaning out the garage: Carolyn Sheridan and her husband, Bob, were some of Sun City's early residents. They moved down from Maryland 11 years ago to be near their two daughters and their families while the community was still being built, and they bought their house brand-new.
Carolyn Sheridan isn't too keen on Zooming, and these days she's missing seeing friends at Monday's computer and lifelong-learning clubs, Tuesday's stitch-n-chat, Wednesday's Bible study and Friday's mahjong. Bob was on the backstage crew for the now-postponed "Echoes of War."
"We were very active," she says.
Even standing outside and chatting with a neighbors at a safe distance can be tricky, she says, because residents zipping by on golf carts also want to stop and chat, and suddenly, there's an illegally large group gathered on the street.
One of the things Sheridan says she misses most are how activities would often end with friends going out to lunch or dinner together. "Now, I'm here in the kitchen," Sheridan says. And in the garage, which she and Bob have cleaned out. And their home office area, sorting through files.
Sheridan keeps up with her friends through texts and phone calls, and most of her contacts, she says, are like her — "doing the things they had wanted to do, but never took the time to do."
And waiting for when they can get back out there and fill the activities centers and the sports courts once again.
"People are putting up with it so far," Sheridan said, "but I think if it goes till June, it'll be a different mood."
Reach managing editor Cristina Bolling at cristina@cltledger.com
Feel free to share this article with a friend:
---
The Charlotte Ledger is an e-newsletter and web site publishing timely, informative, and interesting local business news and analysis Mondays, Wednesdays, Fridays and Saturdays, except holidays and as noted. We strive for fairness and accuracy and will correct all known errors. The content reflects the independent editorial judgment of The Charlotte Ledger. Any advertising, paid marketing, or sponsored content will be clearly labeled.
Need to sign up for this e-newsletter? Here you go:
Got a news tip? Think we missed something? Drop us a line at editor@cltledger.com and let us know.
Archives available at https://charlotteledger.substack.com/archive.
On Twitter: @cltledger
Sponsorship information: email editor@cltledger.com.
Executive editor: Tony Mecia; Managing editor: Cristina Bolling; Contributing editor: Tim Whitmire; Reporting intern: David Griffith