The following article appeared in the July 1, 2020, edition of The Charlotte Ledger. Sign up for free to have original business-y news about Charlotte delivered to your inbox:
---
Beloved Business is an occasional Ledger series checking in with some of the Charlotte area's best-known local companies.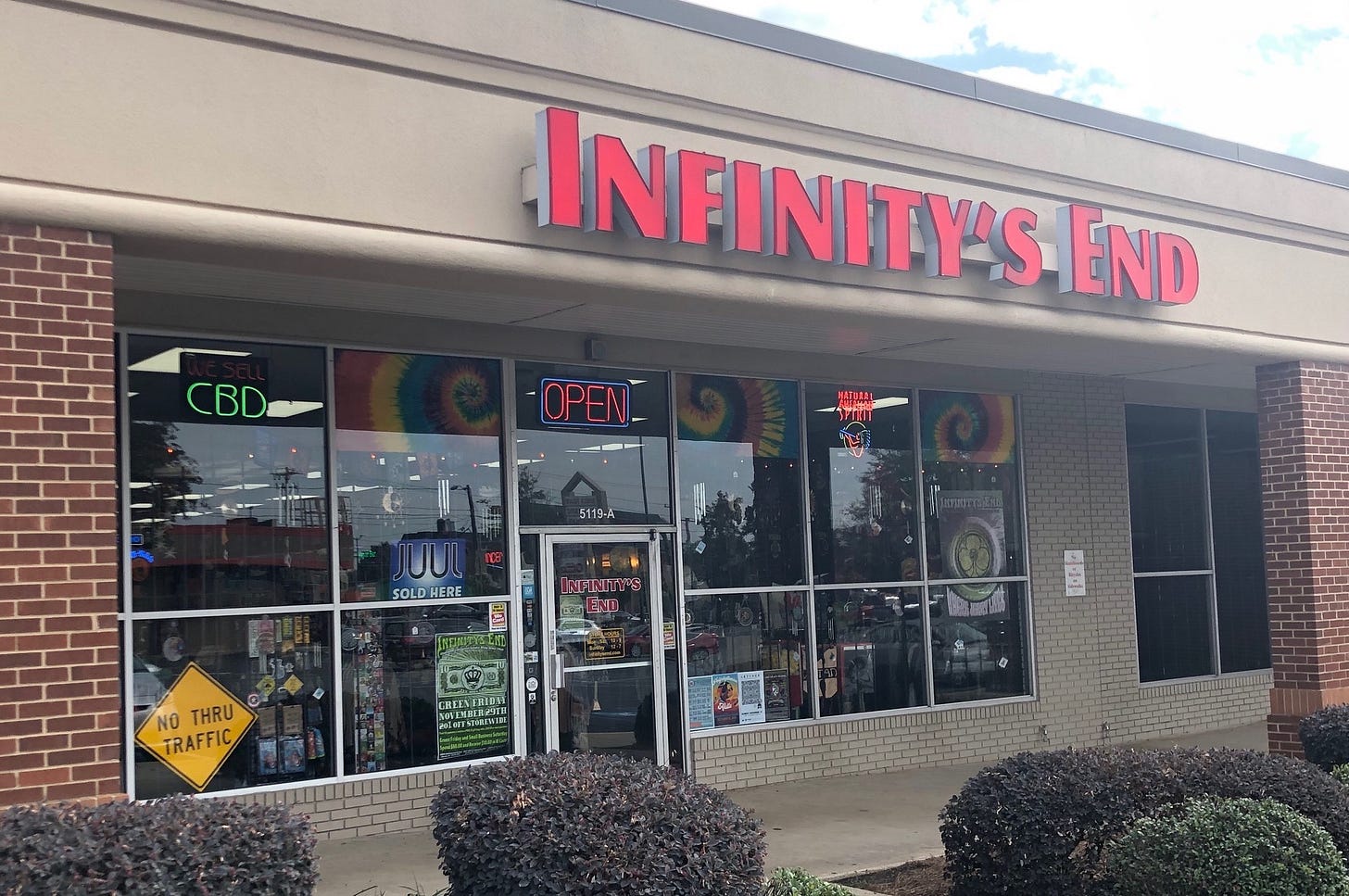 by David Griffith
Infinity's End has never sought to compete with large corporations. It was always content to cater to the Charlotte community with a hipster style and a focus on high-quality products.
But the coronavirus hit the local smoke shop hard. It initially tried to offer curbside pickup but was forced to furlough employees and fully close down for seven weeks starting March 17. Infinity's End, which has three stores all located in Charlotte, was founded in 1969 and sells tobacco, vape, CBD and hemp products, in addition to T-shirts, skateboards, tapestries and disc golf frisbees.
It resumed curbside pickup May 3 and fully reopened May 9, when North Carolina entered Phase 1.
Since reopening, sales have bounced back to where they were before the pandemic, trending slightly upward in May before recently leveling off. Frank Pietras, president of Infinity's End, initially feared customers might have migrated to other stores. But that concern wound up being unfounded.
Even still, seven weeks with no revenue took a toll, especially as the business was still required to pay its bills.
"Our bank account drained down very quickly," Pietras said.
Fortunately, Infinity's End acquired a loan from the Paycheck Protection Program, a government stimulus launched in April to support small businesses.
Pietras said the company retained most of its employees, losing only a couple to other jobs. All employees have masks on in-store, and customers are requested to wear one. It also installed Plexiglas barriers at checkout stations.
Marijuana question ahead: A large question facing many tobacco and vape shops right now is if they plan to transition into cannabis sales as marijuana legalization is gaining more traction across the country. Pietras said Infinity's End has no intention in engaging in this market. The stores do sell bongs, bowls and other products, which Pietras says are intended for hemp and CBD. [Updated 7/15/20 to clarify use of bongs.]
"It's not going to be easy to break into that business for relatively small businesses like ours," said Pietras, citing investments made by larger companies in preparation for legalization. There is also the possibility the state of North Carolina controls and taxes the sales much as it does with alcohol under the Alcoholic Beverage Control Commission.
In the more near future, Infinity's End will simply look to maintain its retail sales as North Carolina waits to resume its reopening process.
---
Need to sign up for this e-newsletter? We offer free and paid subscription plans:
The Charlotte Ledger is an e-newsletter and website publishing timely, informative, and interesting local business-y news and analysis Mondays, Wednesdays, Fridays and Saturdays, except holidays and as noted. We strive for fairness and accuracy and will correct all known errors. The content reflects the independent editorial judgment of The Charlotte Ledger. Any advertising, paid marketing, or sponsored content will be clearly labeled.
Got a news tip? Think we missed something? Drop us a line at editor@cltledger.com and let us know.
Like what we are doing? Feel free to forward this along and to tell a friend.
Searchable archives available at https://charlotteledger.substack.com/archive.
On Facebook, Instagram, Twitter and now LinkedIn.
Need an "Essential Charlotte Ledger" T-shirt? Order here.
Sponsorship information: email editor@cltledger.com.
Executive editor: Tony Mecia; Managing editor: Cristina Bolling; Contributing editor: Tim Whitmire, CXN Advisory; Reporting intern: David Griffith