Today is Saturday, March 14, 2020. You're reading The Charlotte Ledger, an e-newsletter with local business-y news and insights for Charlotte, N.C.
Need to subscribe? Paying subscribers receive full access to every article and help build better original, local news in Charlotte. Details here.
---
Elderly residents are high-risk, but one finds peace in hymn group and reading; 'We've been through tough times before'
by David Griffith
Toward the end of a frantic week, Edith Patton wasn't worried.
The 85-year-old resident of Plantation Estates in Matthews was in high spirits, as she chatted about her favorite things to do — and how life has changed as news of the coronavirus spread.
"One of the advantages of long life for many of us is we've been through tough times before," said Patton, a retired church administrator.
The most recent struggle: Plantation Estates was hit hard by severe weather in early February, including tornados, which knocked out power in the area for days.
Across the Charlotte region this week, news connected to the spread of the coronavirus moved quickly and in ways that were unanticipated as recently as a week ago. And nowhere are the stakes higher than inside retirement communities such as Plantation Estates.
Many of the first cases of coronavirus in the U.S. were linked to elder-care facilities in Seattle. Health officials have said that among those who contract the coronavirus, the elderly are among those most at risk of severe illness or death. Other high-risk groups include people with heart disease, diabetes or a weakened immune system.
No panic: While the rest of the Charlotte area seemed busy cleaning out grocery store shelves and texting each other with the latest closings and cancellations, some residents at Plantation Estates seemed to take the news in stride.
One of the larger retirement communities in the area, Plantation Estates consists of independent living, assisted living and skilled nursing. The development, brick buildings with stately white columns, is about 30 years old. Its website lists amenities now common at the growing number of retirement communities in the Charlotte region: a swimming pool, art and music classes, walking trails, a fitness center. It's owned by Acts Retirement-Life Communities, which also owns Park Pointe Village in Rock Hill.
Staying in the loop: The Plantation Estates administration, Patton said, performed admirably during this week's spread of the coronavirus. The staff worked hard to keep the residents aware of what was going on through daily updates, which include breaking news and the response of the team there.
"They're trying to keep us informed about the various policies of being together or not being together," said Patton. "No large groups, but small groups are allowed in large areas."
Game nights cancelled: New administrative restrictions include a limit on how large of a group can assemble. The usual nightly games and activities Patton was used to were cancelled for the time being, so she found other ways to entertain herself.
"Reading and learning is still important to me," she said. "Learning is a lifelong activity." She also listens to music and walks the complex, though she is no longer allowed to venture outside.
Medically, Plantation Estates is proceeding with extreme caution. Staff are checked every day for signs of illness, and all travel is reported and monitored. Security questions all visitors carefully, making sure people can't just slip into the gated community. The doctors and nurses on staff are all reporting to work as normal.
"All of the important things that you would expect to have will go right on," Patton said.
Small groups are still allowed to meet, which has allowed Patton to still see her friends and run a hymn group a few times a month. The group is casual, utilizing books and supplies from the facilities there. The participants choose the songs.
"We sing what the singers really want to sing," she said. One of her lifelong interests has been how history is reflected in the songwriting of hymns, and she loves being able to pursue her passion even now.
She has not noticed widespread concern about the coronavirus among her peers, though they are staying informed and aware of what is going on. "I think most of us are calmly entering this period."
"It really hasn't sunk in how it's going to change our lives for a while," she said, "so I'm not really depressed about it, but wary."
Overall, she feels safe in the hands of the team at Plantation Estates. The coronavirus may spread, but she trusts them to do everything they can to keep her informed and safe. She knows the risks posed to her, and is ready to face them as she has so many other challenges in her life. "It's a fact of life," she said. "I have to be 85."
David Griffith is studying journalism at Queens University of Charlotte.
---
---
Panel of doctors offers advice: anxiety, travel, avoiding misinformation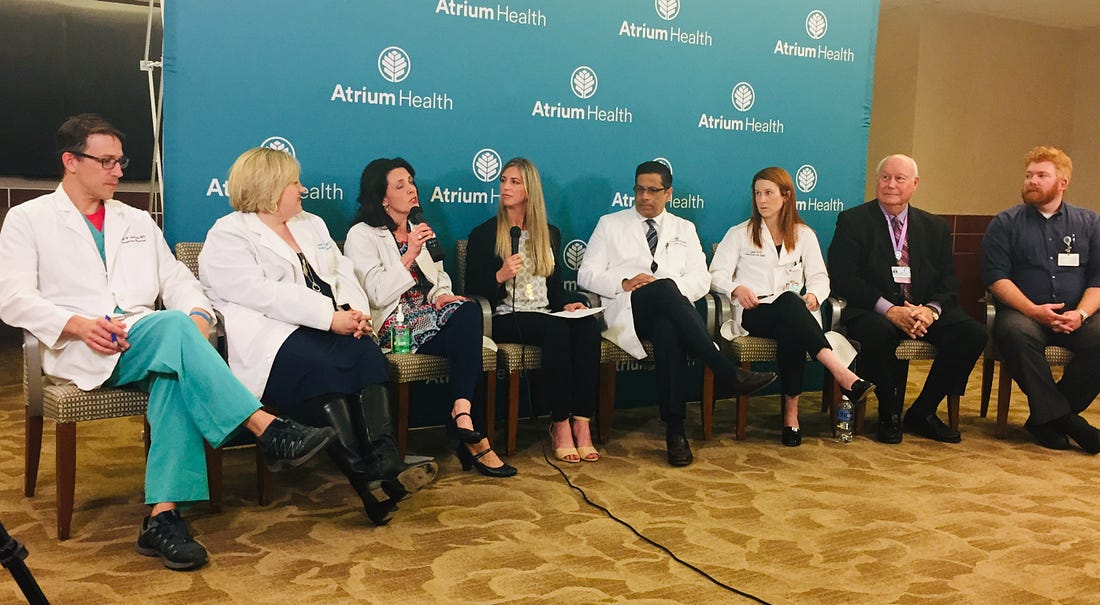 At a panel discussion on Friday at Atrium Health's Carolinas Medical Center, doctors shared tips and insights.
Some highlights:
Risk factors
"The vast majority of people do not get very sick from coronavirus: 80% of people have a mild illness that requires no medical care. What's important is to understand what puts you at risk for getting sicker and when you want to access the health system. If you're older than 60 years old, you have heart disease, diabetes, asthma, COPD [pulmonary disease], cancer, immunosuppression — these put you at higher risk for getting sick.
"If you have these risk factors, it is important to know what your healthcare options are. We've pushed out some information about how to get access to virtual care visits. There are hotlines that have been set up by the county and by the state if you have questions about whether you should seek medical care." — Dr. David Callaway, chief, division of operational and disaster medicine
Reliable information
"If you get on the internet, which we all tend to do, I would encourage people to go to the reliable sources. The most reliable is the Center for Disease Control, the CDC website. This site has information for everyone: mothers, pregnant women, elderly, kids. It tells you exactly what you should do, what you should look out for, how to stay healthy at home and when to try access the medical system…" — Callaway
Staying connected
"I'm a combat veteran, and I'm used to working in crisis. What we have found in these environments is that social isolation is actually a terrible idea. What you need to survive is social cohesion. That's different than social distancing. …
"There's a lot of fear going on. This is an unprecedented pandemic. With this fear, the way that you stay healthy and strong is through your community and strong relationships with your family. I encourage people to use your social media to connect to family or reach out to your support network. Talk to people. …
"This is scary. If you get on the news or the internet, the amount of rumors that are out there, it sounds like the zombie apocalypse is coming, OK? It is not to downplay the seriousness of the situation, but it's rather to say there's a difference between distancing and isolation. I encourage people not to go into isolation but to really connect with their families." — Callaway
Travel
"I have advised patients not to travel if it is not absolutely necessary. Certainly there are hot pockets internationally that have the virus, and you want to avoid that. But the reality is we don't know exactly where the virus is. It only takes one carrier. I encourage patients and family members to rethink travel." — Dr. Carmen Teague, specialty medical director, internal medicine
Avoiding anxiety
"Anxiety in general is a natural response to stay healthy. However, when it is taken to extremes, it can definitely interfere with day-to-day functions.
"On a mass scale, hysteria and panic also interfere with what all we do day-to-day and causes more problems. Take this panic very seriously, but try to reduce panic at the same time. Listen to folks who are knowledgeable about what this is and what this is not. We all carry these things around 24/7, getting these constant news updates. I would caution everybody to start putting those down and really start communicating with people who are actually in your home, instead of being constantly on those news sites.
"I'm not saying that we should stick our heads in the sand, either. We should also make sure at least once a day that we're getting the most up-to-date information but that we're not constantly checking. That can increase our anxiety levels." — Dr. William Wright, addiction services
Taking time to reflect
"It really is time to pause and take a deep breath. While we get so caught up in what's going on and the cycles of information and disinformation surrounding us, take a moment and pause. Take a deep breath.
"With the deep breath — in through our noses, out through our mouths — we might also attach to that maybe a prayer: a prayer that might be about 'help me improve health, elevate hope, advance healing for all.' If we can take those moments and do that deliberate, meditative breath work, I think that will help everything from our blood pressure to our heart rates to our immune systems. It is reconnecting to what it means to be a whole person. Because that's who we are." — Chaplain David Carl, executive director, pastoral services
The full panel discussion is available on Atrium's Facebook page.
---
Today's supporting sponsor is TechnikOne:
---
Top local non-coronavirus news of the week
---
Original Ledger articles this week
---
Need to sign up for this e-newsletter? Here you go:
Got a news tip? Think we missed something? Drop me a line at editor@cltledger.com and let me know.
Like what we are doing? Feel free to forward this along and to tell a friend.
Searchable archives available at https://charlotteledger.substack.com/archive.
On Twitter: @cltledger
Sponsorship information: email editor@cltledger.com
The Charlotte Ledger is an e-newsletter and web site publishing timely, informative, and interesting local business news and analysis Mondays, Wednesdays, Fridays and Saturdays, except holidays and as noted. We strive for fairness and accuracy and will correct all known errors. The content reflects the independent editorial judgment of The Charlotte Ledger. Any advertising, paid marketing, or sponsored content will be clearly labeled.
The Charlotte Ledger is published by Tony Mecia, an award-winning former Charlotte Observer business reporter and editor. He lives in Charlotte with his wife and three children.