Inside Charlotte's surge of Hispanic Covid cases
Plus: Judge tells CMPD to lay off peaceful protestors; Confederate statues toppled at State Capitol; Apple temporarily closes SouthPark and Northlake stores again
Editor's note: You're reading The Charlotte Ledger, an e-newsletter with local business-y news and insights for Charlotte, N.C.
This post was emailed to subscribers on Saturday, June 20, 2020.
The Ledger offers free and paid subscription plans. Sign up here:
---
LEDGER IN-DEPTH
Charlotte's economically and socially vulnerable Latino community bears the brunt of Covid-19 cases; nighttime cough so bad 'we feel like we're going to drown'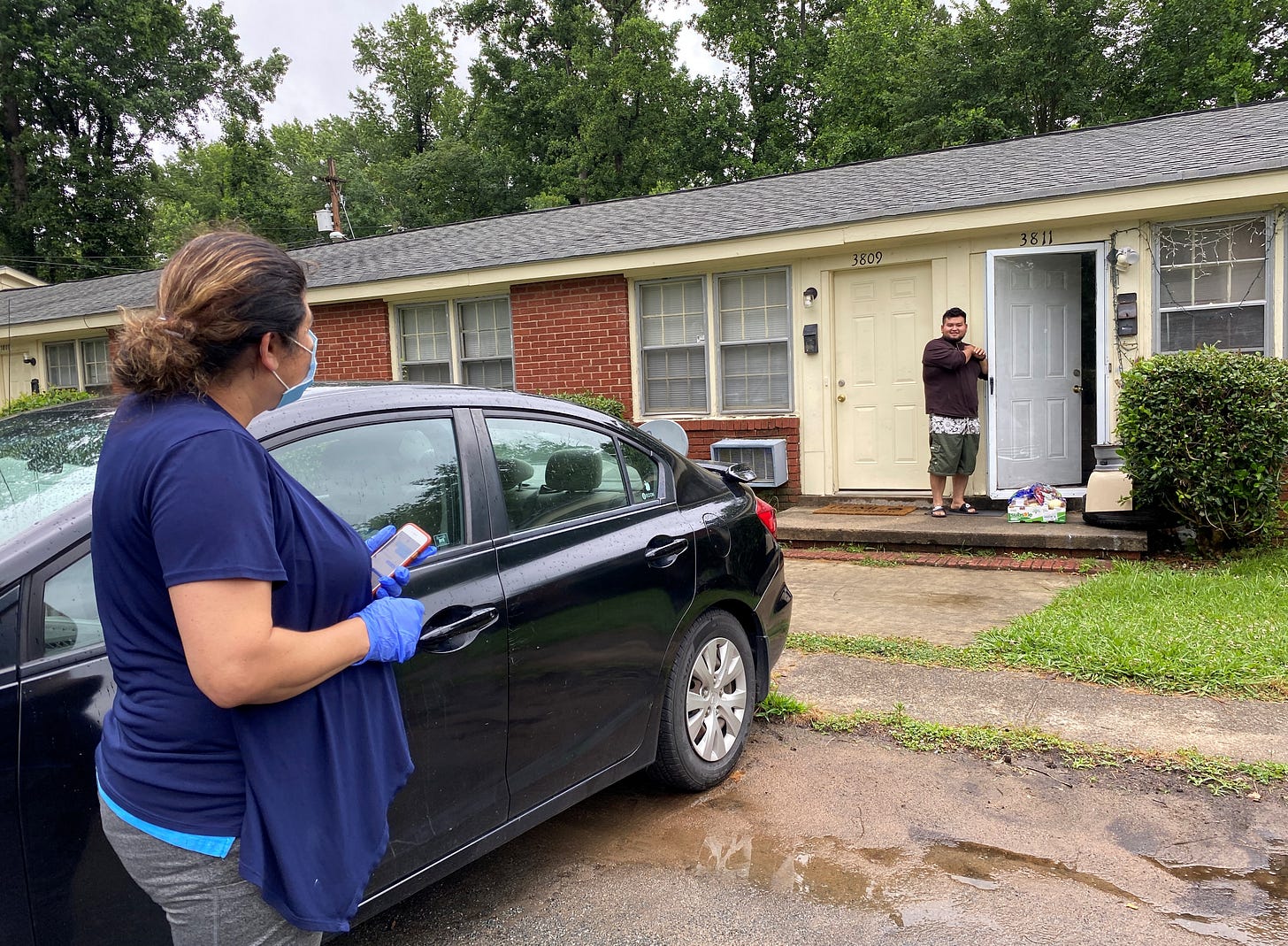 Monica Del Cid, a leader in Charlotte's Guatemalan community, leaves a box of groceries on the stoop of a construction worker who is sick with Covid-19. Del Cid spends several days each week doing pickups from local food pantries and parceling food out to more than a dozen Latino families she knows who are battling the virus.
by Cristina Bolling
It smells like bleach on the concrete stoop of the east Charlotte apartment where Monica Del Cid drops a heavy box loaded with groceries. She then dashes quickly back 10 paces and dials her phone, her rubber gloves and face mask still on.
"Hello? I'm here with the food," she says into the phone in Spanish. "I hope you're feeling better. God bless you."
A woman named Silvia emerges from the apartment with dark circles under her eyes. She is sick with Covid-19, and so are four other adults who live in the apartment with her: her parents, an uncle and a friend. Three children who live there haven't shown symptoms.
Silvia's family is part of one of the most startling statistics in Mecklenburg County's Covid-19 pandemic: Hispanics make up just 14% of the county's population but a whopping 38% of its confirmed Covid-19 cases, county data shows.
Statewide, the numbers are less conclusive because not all counties report ethnicity data. But of those that do report, the data shows Latinos making up 45% of Covid cases, while they comprise 9.6% of the population.
Government officials and community leaders say they've been trying to address the disparity with increased testing in neighborhoods with large numbers of Latino residents and are partnering with community groups to raise awareness. But so far, those efforts don't appear to be stopping the spread.
In interviews this week with more than a dozen people on Charlotte's east side, home to many Latino neighborhoods and businesses, residents painted for The Ledger a picture of what seems like a perfect storm of a pandemic crisis: economic instability, cultural and language barriers, less access to medical care and a higher rate of communal living.
Some people interviewed asked that The Ledger not print their last names because they fear deportation or worry employers will punish them for speaking publicly about the virus.
Local leaders say there are several reasons why the coronavirus is hitting the Latino community harder than others:
Many Latinos work in high-density jobs deemed essential like construction and manufacturing, where social distancing is difficult and the virus is easily spread among workers.
Many work hourly jobs with no paid sick leave, so they shrug off early symptoms as a cold or flu to keep working and earning money.
Often, multiple families or multiple generations are living together in Latino immigrant homes, and the virus spreads within homes.
A Covid lifeline: Standing on her stoop, Silvia quickly smiles and waves at Del Cid, then picks up the box of groceries and carries it inside. Del Cid climbs back into her gray Nissan Altima. She has three more deliveries to make today to families with coronavirus, stretching into the dinner hour.
Del Cid's trunk and half of her backseat are loaded with value-packs of chicken breasts, fruits, vegetables, milk, bread, chips, cakes and cereals. She divvies up the goods according to how many people live in each house. Silvia's family gets the most because it is the biggest.
For more than a dozen Latino families on Charlotte's east side, Del Cid is a lifeline. On this day, she spent several hours in massive car queues in front of three Charlotte churches to collect free groceries while her 18-month-old son, Donald, fiddled with toys or snoozed in the backseat.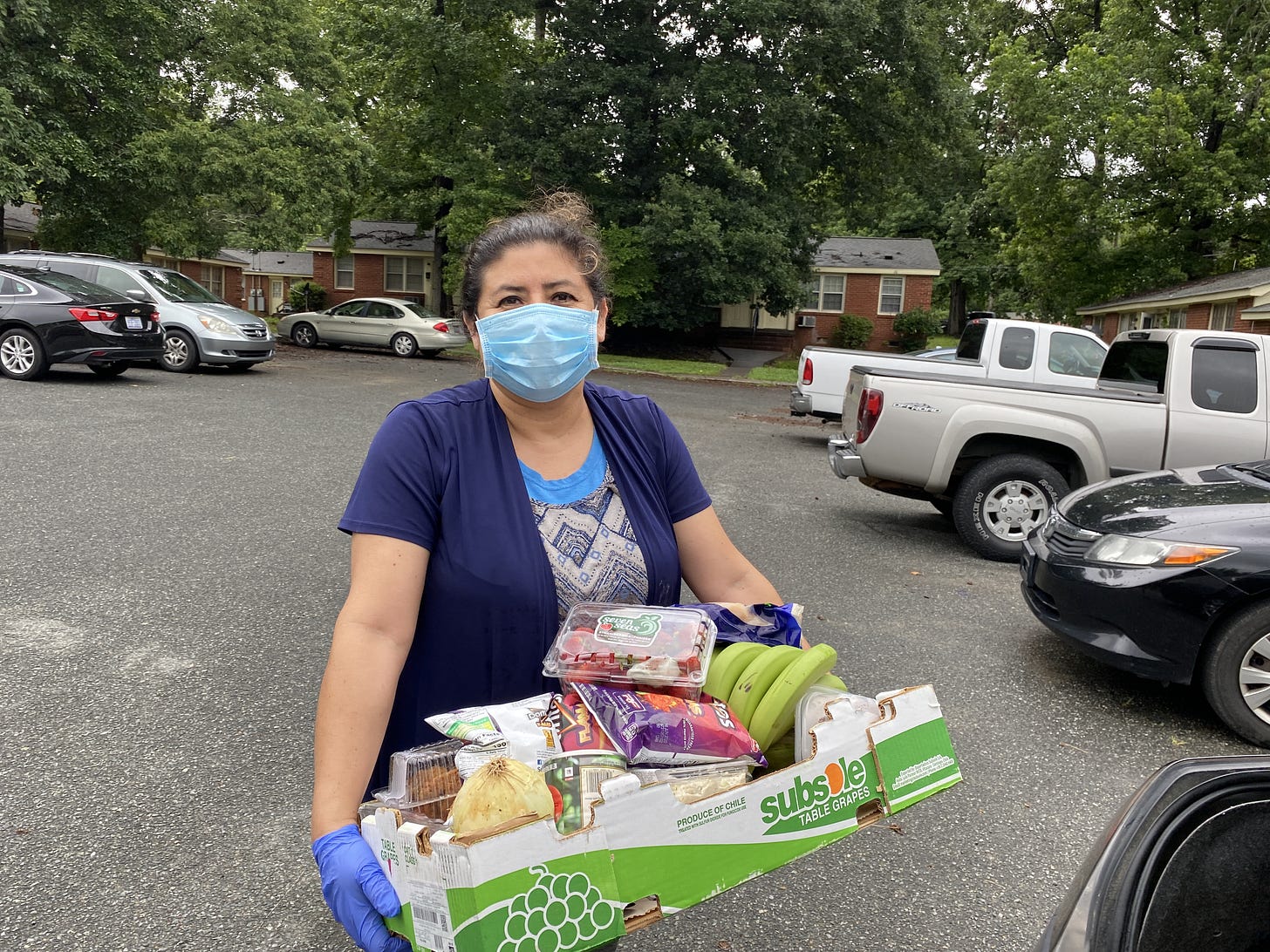 Monica Del Cid has been a longtime leader in Charlotte's Guatemalan community, and she works long hours these days delivering food to Latino families suffering from Covid-19 and those in economic need. "I can't watch this happen and not do anything," she said. "God has blessed me with a desire to help."
Del Cid has been known for years as a leader in Charlotte's Guatemalan community, but her outreach has expanded during the Covid-19 pandemic. She spends several days each week driving groceries around to families she learns of who are in need, or handing out hot meals in neighborhoods with other community volunteers.
Normally, she'd be working alongside her husband at the auto repair shop they own off North Graham Street, northeast of uptown, and taking care of her two kids. Now, her mom is helping with the kids and her husband is having to shoulder more of the load at work.  
"My husband gets mad at me, he says, 'Monica, you're doing too much.' But God has lit this fire within me to help," she said. "He has blessed me with this calling."
Out sick with no paycheck: Most of the families with coronavirus that Del Cid feeds are in a financial crisis because their jobs don't pay them unless they show up. Many are behind on June's rent, and even if they had money and energy to go to the grocery, they know they shouldn't be out in public.
Silvia works as a cashier at a bakery, and she stopped going to work in the first week of June, as soon as the first family member started showing symptoms. Her family needed her income, but she worried that she carried the virus and would infect her coworkers or customers.
She started feeling sick two Mondays ago, and the following Friday she waited three hours in line at a mobile testing site for a test. It came back positive.
She and her four family members have suffered from fever, body aches, sore noses and throats and extreme weakness. But the worst part comes at night, when the cough comes on strong. "We feel like we're going to drown," she said.
Fearing the hospital: They try to soothe the symptoms with natural medicinal treatments from their native Guatemala, like warm lemon water with aspirin. They'll do anything to be able to just recover at home, she said.
"Many people say, 'Don't go to the hospital, you'll die there,'" she said in a phone call the day after Del Cid delivered her groceries.
One of the family's biggest struggles of Covid-19 has been caring for Silvia's two nieces and a nephew, ages 8, 9 and 10. The kids don't show any symptoms but are tired of being cooped up in the house. Sometimes all the adults are confined to their beds. No one is drawing a paycheck, and they're struggling to figure out how they'll pay next month's rent. Having a big box of healthy food delivered each week is a blessing, Silvia said.
"Without Monica, I'm not sure how we would eat," she said.  
'I wasn't at all surprised': José Hernandez-Paris, executive director of the Latin American Coalition, said he knew there was a problem early in the pandemic. While driving around the city and delivering food to day laborer sites, he saw road and building construction going on as usual. Large numbers of Latinos were still working together in close proximity, with no masks or other visible precautions.
"I said, 'I think we might be behind the ball, because I think more folks are infected by this than we realize. We need to start thinking besides the prevention strategy, how are they going to go through this virus?'" he said. "Then the numbers started coming out, slowly rising. I wasn't at all surprised."
The Latin American Coalition created a Covid-19 helpline, which has taken about 800 calls in the last month and a half, he said. Some callers want help finding a testing site, but other have more complicated issues, Hernandez-Paris said.
Recently, for example, a factory worker called saying that three people who work alongside her have tested positive for coronavirus but continue to go to work and refuse to wear masks. The woman has sent her kids to stay at a friend's house in case she's carrying the virus but wanted to know to whom she could report the situation.
Hernandez-Paris said he's struggling to determine how to handle those calls, because he said it's unclear to him which agency is responsible for enforcing Covid-19 guidelines.
"Is it OSHA (Occupational Safety and Health Administration)? The federal government has been absent in all of that. They've left it up to local enforcement," he said. "Who should be responsible for this? OSHA? The mayor? The county? Who should we talk to?"
Inequities revealed: Federico Rios, who works for the city of Charlotte as its assistant director of the office of equity, mobility and immigrant integration, said what's happening in Charlotte's Latino community "is the great reveal of a lot of the structural inequities that continue to plague this community."
Undocumented immigrants didn't receive stimulus checks or unemployment, Rios said, which meant they lacked the financial cushion legal residents received. And some immigrants fear getting medical help because they worry that will deny them the chance to obtain permanent residency in the future because of the new "public charge" restriction that identifies immigrants likely to use government assistance, he said.
"It feels like a perfect storm," Rios said. "They can't just stop working. There's no unemployment for them. … Having shut down construction sites, you could have stemmed the tide. But eventually they would have opened back up and it would have happened sooner or later."
Individuals and organizations have stepped in to try to help immigrants in need.
Immigrants-rights group Comunidad Colectiva raised $117,000 from Foundation for the Carolinas, the United Way and individual and church donations for an "immigrant solidarity fund" to give financial help to undocumented families.
Some 47 families have already received $1,200 checks, and another batch of 25 checks are being mailed out next couple of weeks, said Stefania Arteaga, community organizer for Comunidad Colectiva.
"It's a drop in the bucket," Arteaga said.
'I hope people start to obey': Del Cid's third drop of the day is at the home of a construction worker named José, who became sick with Covid-19 earlier this month. He's fairly certain he got the virus at his job site in Ballantyne, where others have also tested positive.
"Our bosses have told us to social distance, and we're complying with that, trying to stay 6 to 10 feet apart. But what happens is, we're doing things like hauling away trash together, and we spread it," he said.
When he started showing symptoms, his boss made an appointment for testing and took him there, he said.
His first symptoms were an intense thirst, followed by neck pain, chest discomfort and then fever and a severe nighttime cough. As he tried to sleep, he'd feel like he was choking, he said.
José considers himself lucky, given the circumstances. He is getting his full pay while he's home sick, and he won't be allowed back at work until a test proves he's negative for the virus.
José lives alone, and the loneliness has him longing to get back on the job site. Friends and family have been checking in on him by phone. Food from Del Cid helps so he doesn't have to go to the store.
Parties continuing: He said he worries too many Latinos aren't taking the virus seriously and are continuing to socialize and not wearing masks.
"People are still having parties and getting together," he said. "They don't obey what the authorities say. That's a big problem. But then they get sick and they realize, 'Yes, this is real.'"
"Sometimes we Hispanics are people who don't understand these things when people tell us, but then when it starts to get serious, we start to understand," he said. "I hope people start to obey."
At food pantry, visible need: While Del Cid sees the pandemic's toll on the Latino community from a micro-view, Pastor Julio Flores at the Iglesia Adventista del Septimo Dia Central de Charlotte, a Seventh Day Adventist Church on East W.T. Harris Boulevard, is witnessing it on a macro level.
Flores' church is a Second Harvest Food Bank site all year long, and serves a largely Hispanic clientele. During normal times, volunteers hand out around 1,000 loads of groceries a month to local residents. But since the pandemic started in March, they've been giving out about 1,000 cartloads of groceries a week — around 500 a day, every Tuesday and Wednesday.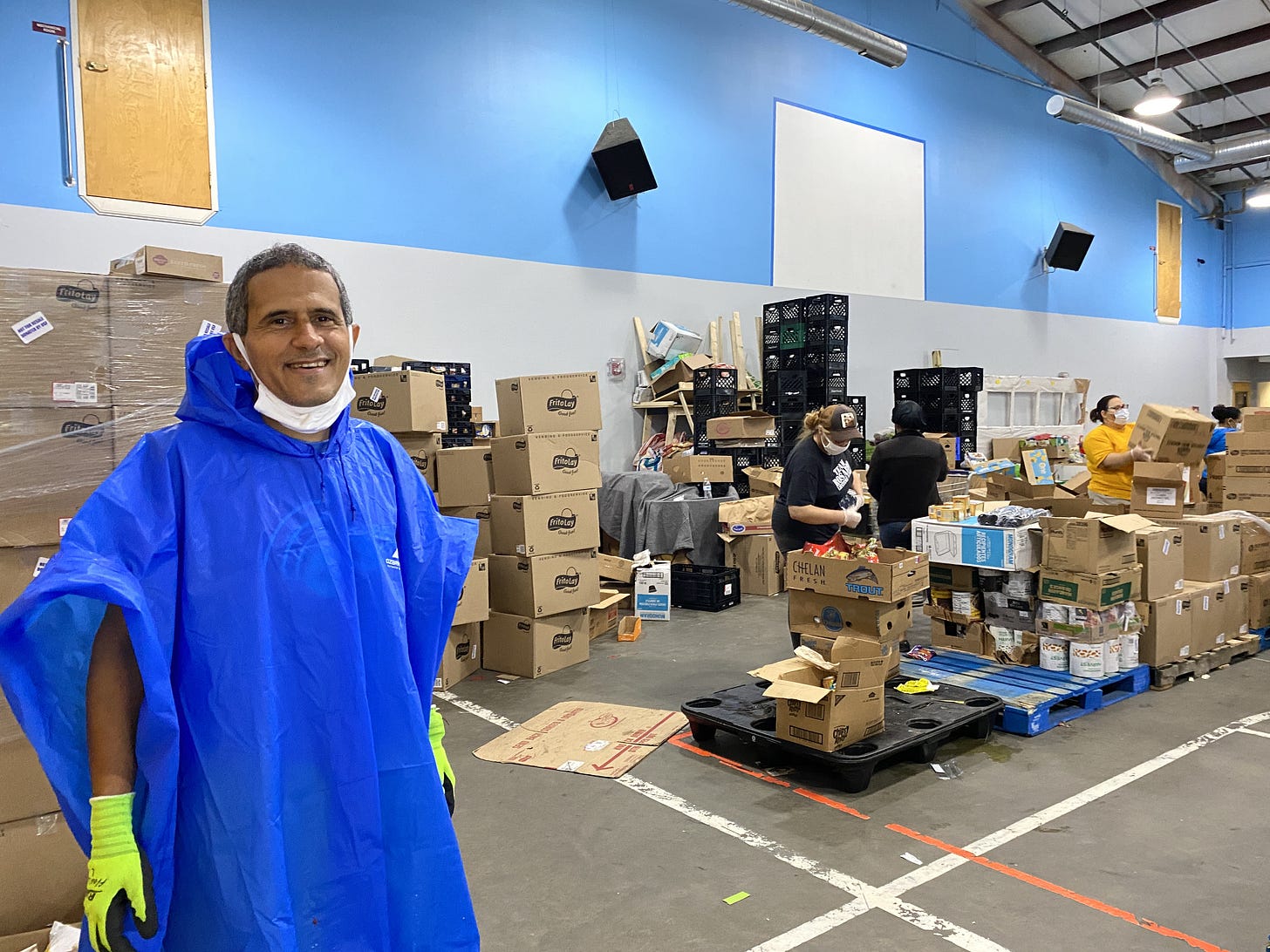 Julio Flores, shown here, is pastor of an Hispanic Seventh Day Adventist Church in east Charlotte that is home to a Second Harvest Food Bank distribution center. Before March, the site would serve about 1,000 families a month, but since March, they've seen the numbers grow to about 1,000 families a week.
On a recent Tuesday afternoon, more than 500 cars lined the right lane of East W.T. Harris waiting to snake through the church parking lot. Spanish-speaking church volunteers pushed carts filled with groceries through the warehouse-looking food pantry, then loaded the food into trunks and wished the drivers a good day.
"We have found people in such serious need. They depend on this to be able to eat," Flores said. "And the need has grown. People have been out of work for many weeks."
Above his face mask, Flores' eyes welled up when he recounted in Spanish a story that a volunteer had recently told him. She had wheeled a full shopping cart out to a car, and overheard an exchange between a mother and a daughter that moved her to tears.
"The little girl asked her mom innocently, when she saw all the food that we were putting in her car, she asked, 'Mami, today are we going to be able to eat real food?'"
Reach managing editor Cristina Bolling: cristina@cltledger.com
---
Today's supporting sponsors are Soni Brendle…

… and CXN Advisory, a Charlotte-based firm that provides coaching, goal-setting and strategic advisory services for leaders of early-stage and high-growth organizations. Subscribe to CXN's Set The Boat newsletter for regular leadership insights.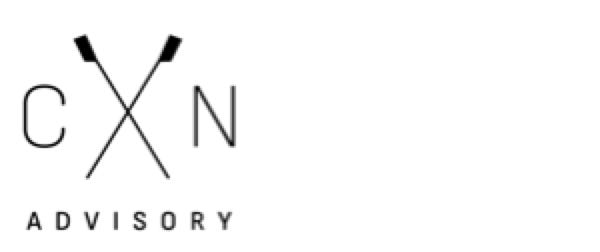 ---
This week's original Ledger articles
It's the weekend. Why not catch up on what you might have missed this week in The Ledger?
We also told you about all the other big business and local news of the week, as usual.
We're producing thoughtful, responsible articles about the city you live in — minus the clickbait and relentless pop-up video ads. If you want access to everything we produce at the moment it is available, consider a paid subscription. It helps build better, smarter original local news for Charlotte.
Father's Day: Tomorrow is Father's Day. How about a gift subscription? The $99/year plan comes with two email addresses (the second one collected by email after sign-up). A gift for Dad, and you or someone else can share in it, too:
---
In brief:
Police and protestors: A Superior Court judge on Friday ordered Charlotte Mecklenburg Police not to use force against peaceful protestors, in response to a lawsuit from civil rights groups and activist groups including the NAACP, the ACLU and Charlotte Uprising. Lawyers for protestors said they were "violently attacked" in a June 2 incident when CMPD fired tear gas. A review by the State Bureau of Investigation released Friday found that protestors that night had two options for escape and were not blocked by officers, but they would have had to pass through smoke. A CMPD deputy chief said, "We wish the events on the night of the 2nd went differently." (WFAE)

Apple reclosings: Apple said it is temporarily closing stores again at Charlotte's SouthPark Mall and Northlake Mall because of "current Covid-19 conditions." State health officials have said recently that North Carolina's numbers are heading the wrong direction. The company is also temporarily closing six stores in Florida, two in Arizona and one in South Carolina. (USA Today)

State Capitol statues toppled: Protestors in Raleigh tore down two statues on a Confederate monument at the State Capitol on Friday night. "Both statues were dragged in the street and eventually tied to light fixtures and pulled up to mimic hangings." (WRAL)
---
Need to sign up for this e-newsletter? Here you go:
Got a news tip? Think we missed something? Drop us a line at editor@cltledger.com and let us know.
Like what we are doing? Feel free to forward this along and to tell a friend.
Archives available at https://charlotteledger.substack.com/archive.
On Twitter: @cltledger
Sponsorship information: email editor@cltledger.com.
The Charlotte Ledger is an e-newsletter and web site publishing timely, informative, and interesting local business news and analysis Mondays, Wednesdays, Fridays and Saturdays, except holidays and as noted. We strive for fairness and accuracy and will correct all known errors. The content reflects the independent editorial judgment of The Charlotte Ledger. Any advertising, paid marketing, or sponsored content will be clearly labeled.
Executive editor: Tony Mecia; Managing editor: Cristina Bolling; Contributing editor: Tim Whitmire; Reporting intern: David Griffith