Is Wells' CEO ready to rumble with Maxine Waters?
Plus: Local hiring cools off; MetLife disavows Siskey; Photo of hipster angers hipster
The Charlotte Ledger
Fresh and real Charlotte business news that makes you smarter. Delivered to your inbox for free three days a week.
Need to subscribe? Sign up here.
Good morning! Today is Monday, March 11, 2019. Here are today's big stories in Charlotte-area business news:
Capitol Hill smackdown?
In the hot seat: Wells Fargo CEO Tim Sloan will be the lone witness at a House Financial Services Committee meeting on Tuesday that focuses on his bank's recent and well-documented string of scandals. The hearing, titled "Holding Megabanks Accountable: An Examination of Wells Fargo's Pattern of Consumer Abuses," starts at 10 a.m.
What to look for: With Democrats newly in control of the House, and Rep. Maxine Waters leading the committee, ritual CEO floggings are likely to come back in vogue. But if history is any guide, it will be a one-sided affair, with Sloan enduring the wrath of legislators and sounding notes of contrition. The New York Times over the weekend provided a helpful roadmap for committee members, in an article suggesting that the bank's aggressive sales culture hasn't changed all that much.
For Sloan, look for him to emphasize the changes Wells has put in place and to repeat a variation of this line, which he wrote in the Charlotte Observer in January: "I'll be the first to admit that Wells Fargo has had issues in the past — issues we greatly regret and are working hard to resolve."
Bulletproof CEO? Although some Democrats are calling for Sloan to quit, Bloomberg last month explained why that's unlikely:
Recruiters and investors say the pool of plausible successors is shallow, the job description daunting and the price tag steep. The obvious internal contenders have, like Sloan, worked at the lender for more than a decade, a period of various misconduct. Finding an external candidate groomed to run the fourth-largest U.S. bank probably means poaching from just a few peers. Paying enough to pry such an executive from a more stable situation risks a firestorm with the same critics calling for Sloan's head.
Financial entanglements: Just because committee members might rail on big banks doesn't mean they avoid big banks. Check out this piece from some genius writer in the Washington Post:
Fifteen members, or about 1 in 4, report owning bank stocks. In addition, 17 members list some form of financial relationship with JPMorgan Chase and 13 with Bank of America. Notably, seven Democrats and seven Republicans list financial ties to Wells Fargo, which Waters in 2017 called on regulators to shut down. Waters and her husband have a mortgage with Wells Fargo, her filings show.
San Francisco-based Wells Fargo is Charlotte's second-largest employer, with about 25,500 workers in the city.
The beating, er, hearing will be webcast starting at 10 a.m. Tuesday here.
---
Solving the employment riddle
The big question coming out of Friday's national employment numbers is: Are we seeing a slowdown in hiring? The economy added just 20,000 jobs nationwide in February. Is that just a blip in the numbers, or is the economy cooling? Economists disagree, and forecasts are always perilous.
Local hiring up, but not as fast: You'll see a similar trend, though, if you look at job growth in the Charlotte area. Employers in the metro area added about 26,000 jobs last year, for a total of nearly 1.3 million, according to the Bureau of Labor Statistics. But that's a slower pace than in prior years: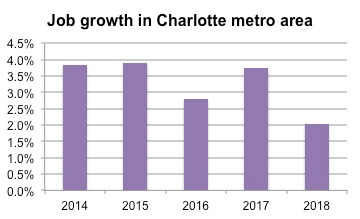 New state numbers released Monday morning show North Carolina's unemployment rate ticked up a notch to 3.9 percent in January, as the state added 7,000 jobs. South Carolina held steady at 3.2 percent and added nearly 6,000 jobs.
Still, it's a good time to be looking for work, as some of these folks at CPCC's job fair were last week:
If you talk to a few recruiters, the theme that emerges is that they are having a tough time filling certain positions:
Scott Kincaid, an engineer at BHC — which sells fire-protection products and has about 150 workers near UNC Charlotte — was looking to hire for specialty engineering jobs: "It can be a little challenging."

Brandon Jones, assistant manager of Southeastern Freight Lines, based outside Columbia, S.C., was looking to hire drivers of 18-wheelers: "That's where we struggle."

Jeff Fields, a recruiter for site-preparation company Morgan Corp., based in Duncan, S.C.: "There's definitely more jobs available than there are people."

---
MetLife: Don't blame us for Siskey scheme
Yes, Rick Siskey worked out of MetLife's Sharon Road offices. And yes, Rick Siskey was an independent contractor for MetLife. But no, MetLife is not responsible for the $4.5 million in investors' losses, lawyers argued last week at a court hearing in Winston-Salem. From the Charlotte Business Journal:
Austin Hemmings, the lawyer for the plaintiffs in each case, argued MetLife continued to associate with Siskey, working with him in the offices at 2521 Sharon Road that Siskey's Sharon Road Properties owned. MetLife did make Siskey an independent contractor rather than a direct employee, Hemmings told [the judge]. But it did that to protect itself against any liability for Siskey and did not tell clients its brokers referred to him for investments that Siskey was not employed by MetLife.

Charles Raynal, representing MetLife and its subsidiary MSI Financial Services Inc., maintained that while the insurance and brokerage company had a relationship with Siskey over many years, it was not involved in his Ponzi schemes. "These were not investments offered by Metropolitan Life, they were offered by Siskey on his own or by entities he created."
---
Emergency, emergency:
Atrium Health is planning to build a new emergency department in fast-growing northwest Charlotte, near the intersection of Brookshire Boulevard (N.C. 16) and Mount Holly-Huntersville Road. The 12,500-square-foot space will have six emergency-department rooms (including a trauma room), a three-bay triage area and two observations beds, according to Atrium's filings with state regulators. An Atrium spokeswoman declined to elaborate on Friday and said all the necessary information was in the filings. (First reported by the Observer.)
---
Carolinas & Beyond
Boeing is under renewed scrutiny after one of its new Boeing 737 MAX 8 planes crashed in Ethiopia on Sunday, killing all 157 aboard. It's the second fatal crash for that aircraft in the last five months. China and Indonesia grounded the planes. In the U.S., Southwest, American and United have 737 MAX 8's in their fleets. Boeing shares were down more than 10 percent in Monday morning trading.

Tesla founder Elon Musk faces a deadline today to tell a federal court why he shouldn't be sanctioned for tweets he sent last month regarding Tesla's production rate. The Securities and Exchange Commission says Musk's tweets violate terms of a settlement that required Musk, among other things, to have his tweets reviewed before publication by a "Twitter sitter."
Loves me some internet: "Hipster whines at tech mag for using his pic to imply hipsters look the same, discovers pic was of an entirely different hipster"
---
Taking stock: A TREE grows in Ballantyne
Unless you are a day trader, checking your stocks daily is unhealthy. So how about weekly? Every Monday, we round up local stocks of note. Here's how they fared last week (through Friday's close), and year to date:
It was a tough week for most local stocks, but on the year, LendingTree has been on a tear! Up almost 30 percent in 2019. Motley Fool explained last month that LendingTree stock shot up big in January after a rough 2018, and it has mostly held steady since:
An undeniable factor in LendingTree's January stock spike was a general shift in investors' attitudes. The major market indexes posted their best starts to a year in decades, after all, and the force of that trend ensured rallies for many of the stocks that had been hit hard by the fourth-quarter's market decline. LendingTree entered the month having lost 35% in 2018, which established low expectations that might easily turn higher with improving investor attitudes.
---
Got a news tip? Think we missed something? Drop me a line at editor@cltledger.com and let me know.
Like what we are doing? Feel free to forward this along and to tell a friend.
On Twitter at @CltLedger.
The Charlotte Ledger is an e-newsletter and web site publishing timely, informative, and interesting local business news three days a week, except holidays and as noted. We strive for fairness and accuracy and will correct all known errors. The content reflects the independent editorial judgment of The Charlotte Ledger. Any advertising, paid marketing, or sponsored content will be clearly labeled.
The Charlotte Ledger is published by Tony Mecia, an award-winning former Charlotte Observer business reporter and editor. He lives in Charlotte with his wife and three children.