Isolated during Covid-19, she lost the will to live
Plus: Charlotte company returns PPP loan; Poll says N.C. residents reluctant to leave home (despite what you see); Virtual notaries approved; Early start for CMS?
Today is Monday, May 4, 2020. You're reading The Charlotte Ledger, an e-newsletter with local business-y news and insights for Charlotte, N.C.
If you like what you see, please forward to a friend.
Need to subscribe? Sign up for free here (charlotteledger.substack.com). A paid subscription, starting at $9/month, gives you access to all articles and helps build smarter original, local news in Charlotte. Details here.
---
For seniors, the risk of contracting Covid-19 is very real. But so is the problem of devastating isolation.

For weeks, we've been surrounded by coverage of the havoc caused by Covid-19: the deaths, the hospitalizations, the economic catastrophe that's been unfolding around us. In the meantime, major healthcare crises are unfolding, too — ones that are happening quietly, with little public attention, but with very real effects on lives of people across Charlotte. Today, The Ledger is launching an occasional series of articles exploring the hidden healthcare fallout from the pandemic.
By Cristina Bolling
When the announcement came down that visitors would no longer be allowed in the Rock Hill assisted living facility where Fannie Mae Faile lived, her sons Dean and Garry knew she was in trouble.
Fannie Mae, known as "Tillie," was struggling with worsening dementia. Although she'd be fine at times and loved outings with her sons, some days the fog would descend. Only the comforting presence of family could calm her down.
So when Covid-19 hit and visitors were banned from her assisted living, there was no one around who had just the right touch to redirect her attention and settle her nerves.
She became more lethargic and less active. About four weeks into the quarantine, Faile became so weak she was transferred to Piedmont Medical Center in Rock Hill. She died on April 19 at the age of 84.
"I really think her will to live was kind of taken away by no fault of anyone," Dean Faile said by phone last week. "My mom somewhat died of isolation."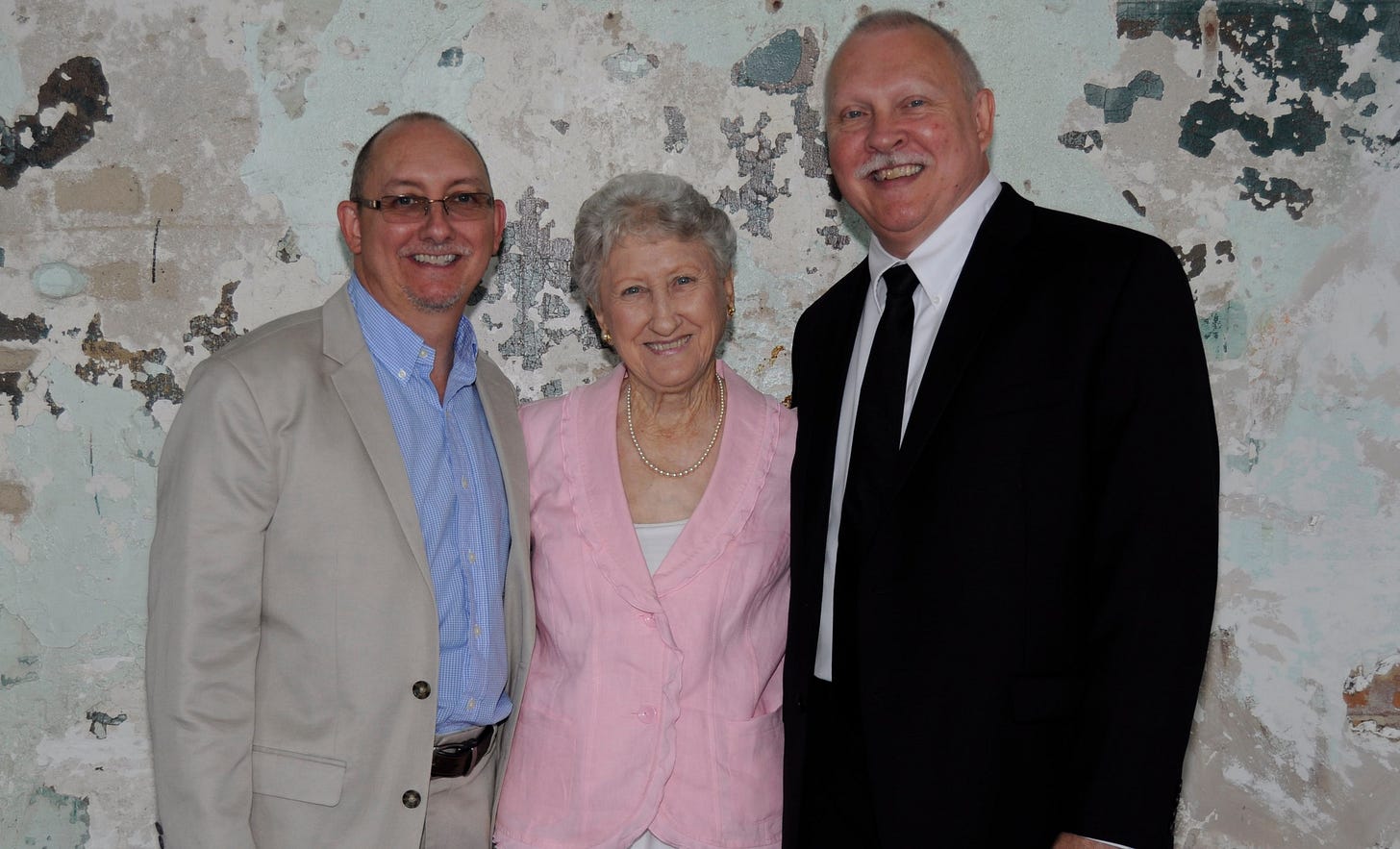 Tillie Faile (center), shown here with sons Dean (left) and Garry, died April 19 after weeks without being able to see her sons because of coronavirus quarantine. She had suffered from dementia, and having to be in a residential facility without in-person contact from family, she "somewhat died of isolation," Dean Faile said.
The risks: For seniors, isolating themselves from the general population is critical to staying safe from the deadly Covid-19 virus, which affects older people at an alarming rate. Some 87% of those who have died of coronavirus in North Carolina were 65 or older, and more than half of the state's coronavirus deaths stem from elder-care facilities, according to state data.
But that isolation also leads to catastrophic health risks, because staying connected to loved ones and support systems is critical to both physical and mental wellbeing, experts say. Without enough social contact, risks grow for things like cognitive decline, depression and heart disease.
Of North Carolina seniors, 27% live alone, and 55% have two or more chronic health conditions.
"The isolation is coming to seniors in so many different, unique ways," said Allison Costanzo, executive director of the N.C. Coalition on Aging.
Among them:
Confinement: Patients in residential care facilities are largely forced to stay in their rooms in order to prevent or curb the spread of Covid-19. But without a change of scenery or much human contact, they're at risk for suffering from depression and intense loneliness.

Decreased social services: Many social service providers for seniors, like Meals on Wheels or senior daycare centers, are operating on less-frequent schedules, if at all. Volunteers who normally visit seniors on a schedule to provide companionship are no longer making those visits because of Covid-19.

Elder abuse: Social isolation is a big risk factor for elder abuse, and seniors are more prone to being abused by family members or caregivers who are also isolated and stressed-out.

Self-neglect: Without contact from others or their normal routine, seniors are at a risk for self-neglect — not taking medications, eating properly, maintaining a sleep schedule or keeping up with house maintenance.

Scammers: Seniors are already more likely to fall victim to scammers, and being isolated only heightens that risk. There have been reports of scammers trying to sell fake Covid-19 test kits and asking seniors for their social security numbers under the guise of needing it to send a stimulus check.
The N.C. Coalition on Aging has recommended that the N.C. General Assembly provide support and funding for things like more protective gear for nursing homes, an increase in the investigation of elder abuse and iPads and other tech devices to help nursing homes connect residents with family who can't visit.
Costanzo said she's been heartened to see churches, agencies and individual volunteers stepping up to try to keep seniors connected.
Huge obstacle for nursing homes: For long-term care facilities, the challenge almost seems impossible: Be hyper stringent about maintaining quarantine to prevent the spread of illness, while keeping residents emotionally healthy.
At Pineville Rehabilitation & Living Center, staff have had to get creative to try to keep residents' minds sharp and keep them connected with their families.
Activities director Julie Carter throws "virtual birthday parties" for residents, decorating their rooms with balloons, streamers and tablecloths and letting residents celebrate with cake during either an iPad visit with family, or sometimes, a visit at the window.
She also travels from room to room daily, guiding residents in special activities like planting seeds in pots of soil and coloring signs Carter sends to their loved ones.
Administrator John Ficker negotiated with their cable provider to get 20 more channels in the cable package, including ones featuring old movies the residents would enjoy. Roughly two-thirds of Pineville's 80 residents are there long-term; the other third is there for just 20 to 30 days of rehab.
For some families, workarounds: Ruby Douglas' mom, 95-year-old Virginia Ford, has lived at Pineville Rehabilitation & Living Center for almost 7 years.
Before the quarantine, Douglas made sure that either she or her sister visited every day. When the doors closed to visitors "I thought I was going to worry myself to death," Douglas said.
But Carter and the other staff have lessened her worry.
"I'll call mama on the telephone, and they'll put her on. I'll say, 'Sing, mama,' and she'll sing hymns like 'On the Cross' or 'Amazing Grace.'"
Carter arranged a family singalong recently, with Douglas and her sister at Ford's window, her brother on an iPad, and Ford in her room.
It's not the same as being an arms length away, but for now, it's all they have.
"I called her a little while ago and I said I'd be at the window tomorrow or Saturday," Douglas said on a recent weekday afternoon. "And then I told her, 'We're going to have lot of hugs to make up for all this.'"
'No way to explain' : Dean Faile and his family are grieving the loss of Tillie, an avid gardener and sports fan who kept copious stats during her sons' basketball games while they were growing up and loved playing on the floor with her grandchildren.
Tillie Faile grew up on a farm, and while dementia ran in her family, healthy bodies that lasted well into old age did, too. Dean Faile, who is president of the Lancaster County Chamber of Commerce, said before Covid-19, he expected that his mom could live another five years.
It had only been one year since she moved out of her home on a 1-acre lot in Rock Hill, where she had lived alone for years and mowed her own grass. Her dementia was progressing steadily, but with the exception of a course of radiation treatments she'd just finished for a skin tumor, she was healthy.
"The assisted living facility was doing all the possible right things they could do. But when you have a mother that's having some dementia issues, there's no way you can explain why one day your two sons can come see you anytime," he said, "and now they can't come see you at all."
Reach managing editor Cristina Bolling at cristina@cltledger.com.
---
Share this post with a friend:
---
N.C. lawmakers make changes: virtual notaries, car registration, small-business loans. Earlier start for CMS?
The General Assembly passed a pair of bills on Saturday for coronavirus relief, and Gov. Roy Cooper is expected to sign them. The provisions include:
Schools to start 2 weeks early? The language of the bill seems to direct all school districts in the state to start the first day of classes on Aug. 17. Charlotte-Mecklenburg Schools' calendar had called for an Aug. 31 opening to avoid conflicts with the Republican National Convention, scheduled for the week of Aug. 24. A school board member told The Ledger over the weekend that CMS is reviewing the bill.
Virtual notaries: Notaries may conduct "emergency video notarization" by verifying identities and observing legal signatures by videoconferencing. Until now, notarizing legal documents has had to be done in person. The provision expires on July 31. There's a similar provision for witnessing legal signatures.
Driver's license/registration extension: Driver's licenses and vehicle registrations that expire between March 1 and July 31 are automatically extended by five months.
Delayed tax deadline: Tax filings may be delayed until July 15 without penalty.
Masks OK'd: Masks may be worn in public "for the purpose of ensuring the physical health or safety of the wearer or others." A century ago, North Carolina and other states banned wearing masks to combat the Ku Klux Klan, with a few exceptions like Halloween and theatrical productions.
Marriage licenses: Allows register of deeds to issue marriage licenses via audio/video communications.
Legal immunity: Limits the legal liability of essential businesses from lawsuits claiming Covid-related injuries or death on behalf of customers or employees.
Small-business loans. Allocates $125M to the Golden Leaf Foundation to offer emergency small-business loans of up to $50,000 at interest rates of up to 4% for a term of 5 ½ years. Priority will be for businesses with 100 or fewer employees.
You can read the full text of the ratified bills here: House bill (mostly budgeting), Senate bill (mostly operations of state programs).
---
Today's supporting sponsor is T.R. Lawing Realty:

---
Charlotte company returns PPP loan
A Charlotte company with 300 workers and $63M in annual sales has elected to return its Paycheck Protection Program loan, part of a wave of public companies returning the money as small businesses complain they have been shut out of the program.
Ballantyne Strong, a diversified holding company — which despite its name is headquartered in SouthPark — said in a securities filing that it is returning the money "out of an abundance of caution" in light of changing regulations. It had received a $3.2M loan through University Bank, a community bank in Michigan.
A second Charlotte company, cbdMD, said it received a $1.5M loan from Truist Bank. It has not indicated that it is returning the money. It has 182 employees and $24M in annual revenue and is headquartered off Arrowood Road in southwest Charlotte. The company sells CBD products and uses celebrity endorsers including former Panthers receiver Steve Smith Sr., former Panthers running back Jonathan Stewart and pro golfer Bubba Watson. The company's co-CEO, Martin Sumichrast, made $504,000 in total compensation in 2019, according to securities documents.
Feeling the heat: The PPP loans have had a turbulent roll-out in the last month, with the strong demand from small businesses overwhelming the ability of banks to process the requests smoothly. Many businesses are still waiting to hear if their loan requests are approved, and some have gotten steamed that larger companies have taken money through the program. Companies including Shake Shack and Ruth's Chris Steak House elected to return their loans after feeling the heat.
The loans carry 1% interest and can be forgiven if companies hit certain benchmarks, such as keeping workers employed.
According to securities filings, other North Carolina public companies receiving PPP loans include:
Air T, a Denver, N.C., transportation company, which received $8.2M from Minnesota Bank & Trust.

Culp, a High Point textile company, which received $7.6M from Pinnacle Financial Partners. The company's CEO earned $1.1M in compensation in 2019, according to securities documents.

TransEnterix, an RTP medical supply company, which received $2.8M from City National Bank of Florida. The company paid its CEO $2.2M in 2019, according to securities documents.

Novan, an RTP pharmaceutical company, which received $956,000 from PNC Bank. The company's CEO earned $1.5M in compensation in 2018, the most recent year available, according to securities documents.

Innovate Biopharmaceuticals, a Raleigh pharmaceutical company, which received $220,000 from Central Bank.
---
Poll: N.C. residents reluctant to head out
North Carolina residents remain wary of resuming normal activity too quickly, according to a Meredith College poll.
Question: "If the state were to reopen tomorrow, which of the following would you do, or think about doing? Check all that apply."
The results: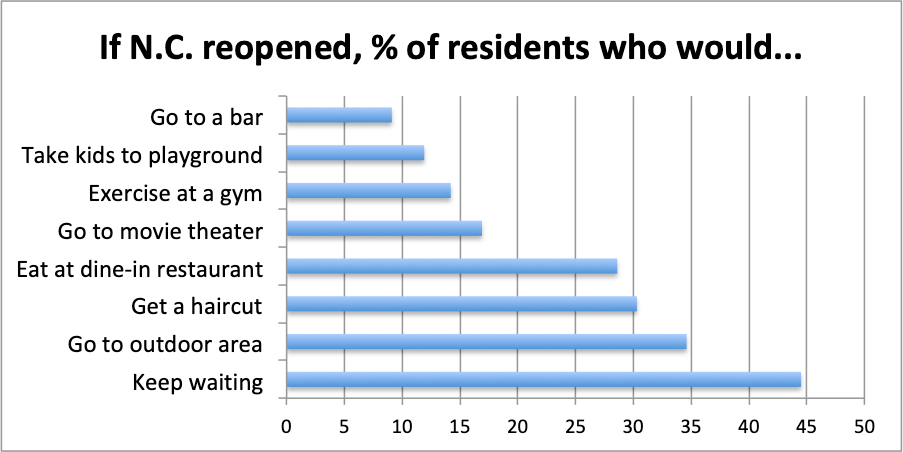 It's an online poll of 604 N.C. residents that was conducted April 27-28 with a margin of error of 4 percentage points.
---
In brief:
Big week: Gov. Roy Cooper is scheduled to decide this week whether to continue the state's "stay at home" order, which runs through Friday, or to allow the state to move into "Phase 1" — the reopening of retail businesses, so long as they follow social distancing guidelines. A second phase that would allow the reopening of bars and restaurants could follow two or three weeks later. Cooper says he wants to see signs that the state is making progress against the spread of the coronavirus using specific milestones he outlined last month. As The Ledger noted the other day in the Ledger Covid-19 Data Room, the evidence seems open to interpretation: Some of the numbers, such as hospitalizations and new cases, still seem to be trending upward, but not quickly. State officials appear as though they'd like to get started with reopening.

N.C. PPP loans: The Small Business Administration approved 56,512 loans totaling $4.3B for North Carolina businesses through Friday in the second round of applications for the Paycheck Protection Program, an emergency loan program for small businesses, the agency said on Sunday. In the first round of the program, which ran out of money, the SBA approved nearly 40,000 loans totaling $8B in North Carolina.

Park reopening: Great Smoky Mountains National Park will start reopening on Saturday. "Roads and trails will be the first to open, followed two weeks later by campgrounds, picnic pavilions, visitor centers and many secondary roads." (Observer)

Food deals: "Cinco de Mayo deals around Charlotte for 2020" (Charlotte on the Cheap); "25+ CLT Family Meal Deals Under $50" (Scoop Charlotte)

Good read: North Carolina's emergency management director, Mike Sprayberry, is a 65-year-old former Marine who graduated from West Charlotte High and UNC Charlotte " whom colleagues describe as a self-effacing leader with a commanding presence and a natural empathy for the people he's charged with helping." His biggest worry, he says, is "the prospect of a major event – say, a hurricane — coming on top of the pandemic." (Observer)

City budget: City Manager Marcus Jones is scheduled to present Charlotte's proposed 2020-21 budget to the City Council tonight.

J. Crew bankruptcy: J. Crew has filed for bankruptcy protection. It's the first national retailer to do so since the start of the pandemic. The company plans to stay in business. (CNN)

Out and about: The beautiful spring weather brought a lot of people outside their houses this weekend — and with it a lot of social media complaints that people were not heeding the "stay at home" order. There were reports of crowded parks, big apartment parties and shoppers failing to wear masks as recommended. One popular Reddit thread on Saturday entitled "Is today the day social distancing died in Charlotte?" observed: "I feel like everywhere I've gone today the crowds have been back at normal pre-rona levels. Normal amount of people walking around, driving on the roads, heading to the lakes and parks." The state's "stay at home" order runs through Friday and allows leaving home for essential activities including exercise, shopping for certain goods and heading to approved jobs.
---
Best of Charlotte Nextdoor: Postmates beef jerky mystery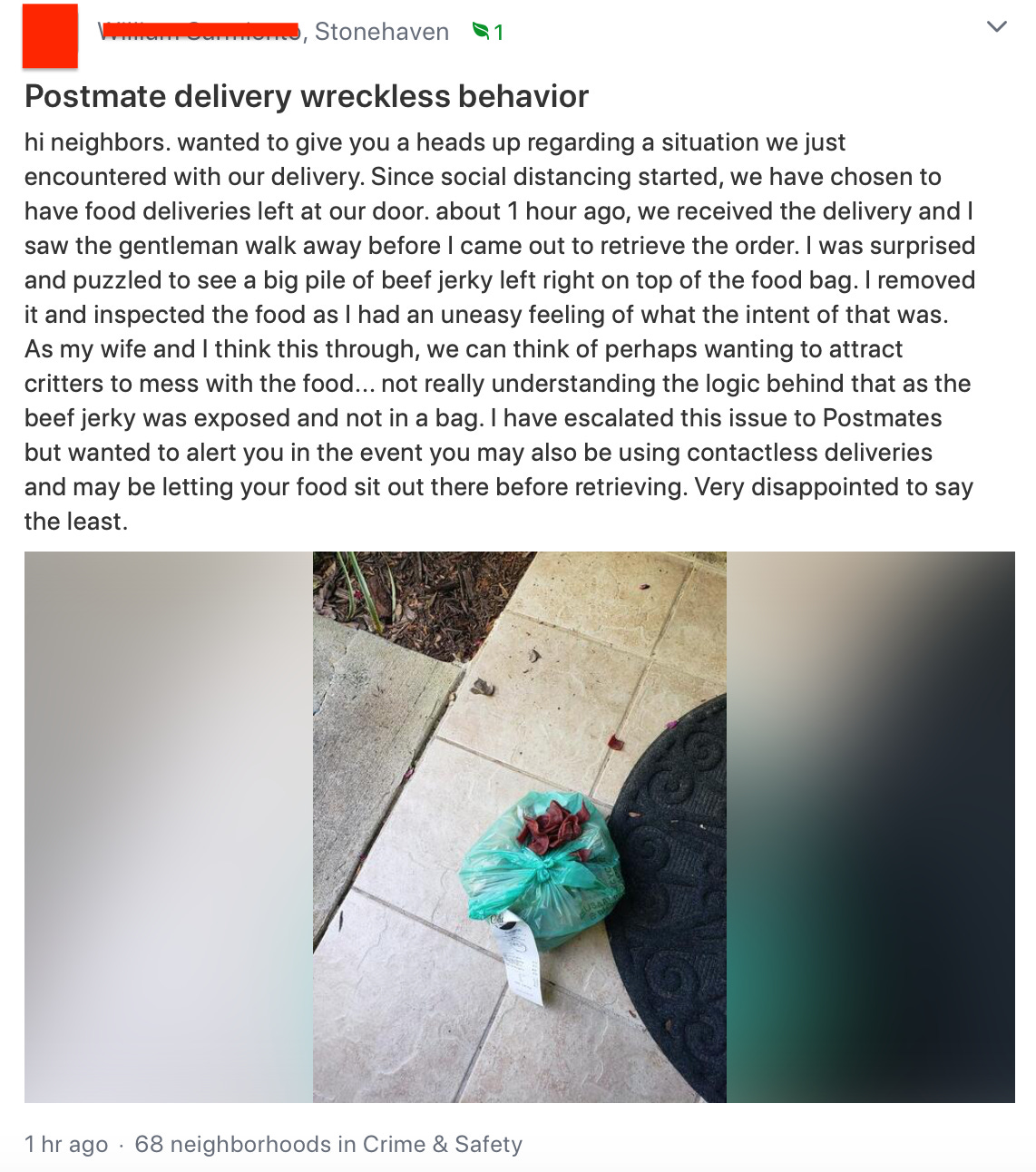 ---
T
aking stock
Unless you are a day trader, checking your stocks daily is unhealthy. So how about weekly? How local stocks of note fared last week (through Friday's close), and year to date: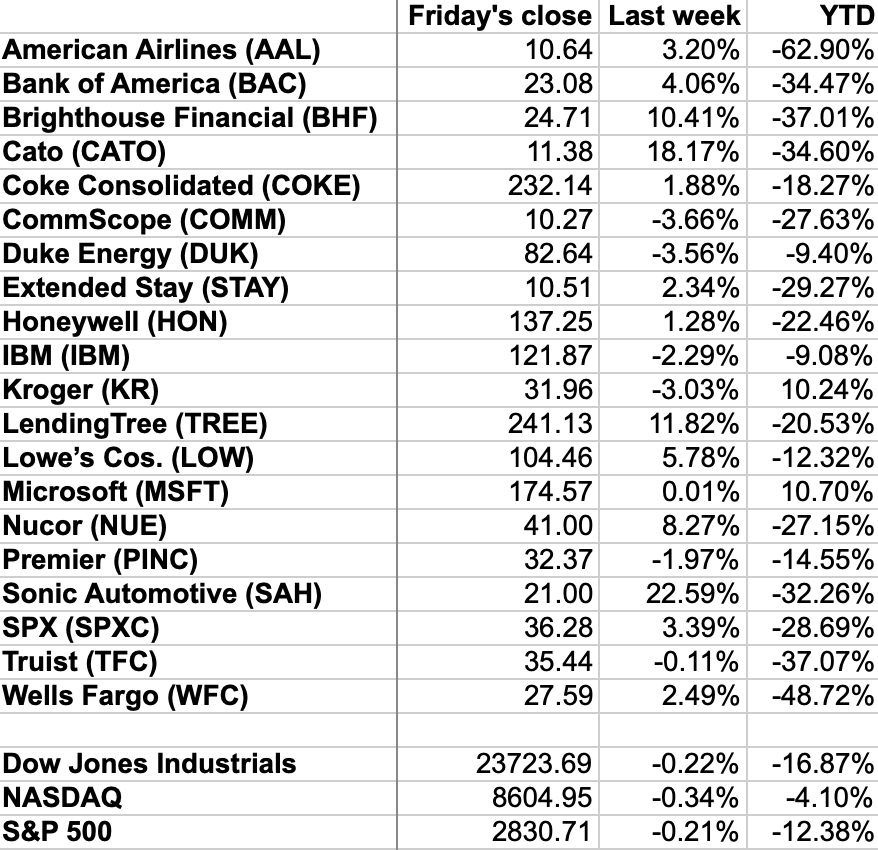 ---
Need to sign up for this e-newsletter? Here you go:
Got a news tip? Think we missed something? Drop us a line at editor@cltledger.com and let us know.
Like what we are doing? Feel free to forward this along and to tell a friend.
Archives available at https://charlotteledger.substack.com/archive.
On Twitter: @cltledger
Sponsorship information: email editor@cltledger.com.
The Charlotte Ledger is an e-newsletter and web site publishing timely, informative, and interesting local business news and analysis Mondays, Wednesdays, Fridays and Saturdays, except holidays and as noted. We strive for fairness and accuracy and will correct all known errors. The content reflects the independent editorial judgment of The Charlotte Ledger. Any advertising, paid marketing, or sponsored content will be clearly labeled.
Executive editor: Tony Mecia; Managing editor: Cristina Bolling; Contributing editor: Tim Whitmire; Reporting intern: David Griffith