Discover more from The Charlotte Ledger
Delivering smart and essential news to Charlotte, one email at a time.
Over 20,000 subscribers
Lives transformed, in photos
Plus: Long hardware line in Matthews; Banks criticized for stimulus loan rollout; City's first 'stay at home' bust; Influencers enlisted in the fight against the coronavirus
Today is Saturday, April 4, 2020. You're reading The Charlotte Ledger, an e-newsletter with local business-y news and insights for Charlotte, N.C.
Need to subscribe? Sign up for free here (charlotteledger.substack.com). A paid subscription, starting at $9/month, gives you access to all articles and helps build smarter original, local news in Charlotte. Details here.
---
Photographer captures the local faces of quarantine; 'It's important to have a record'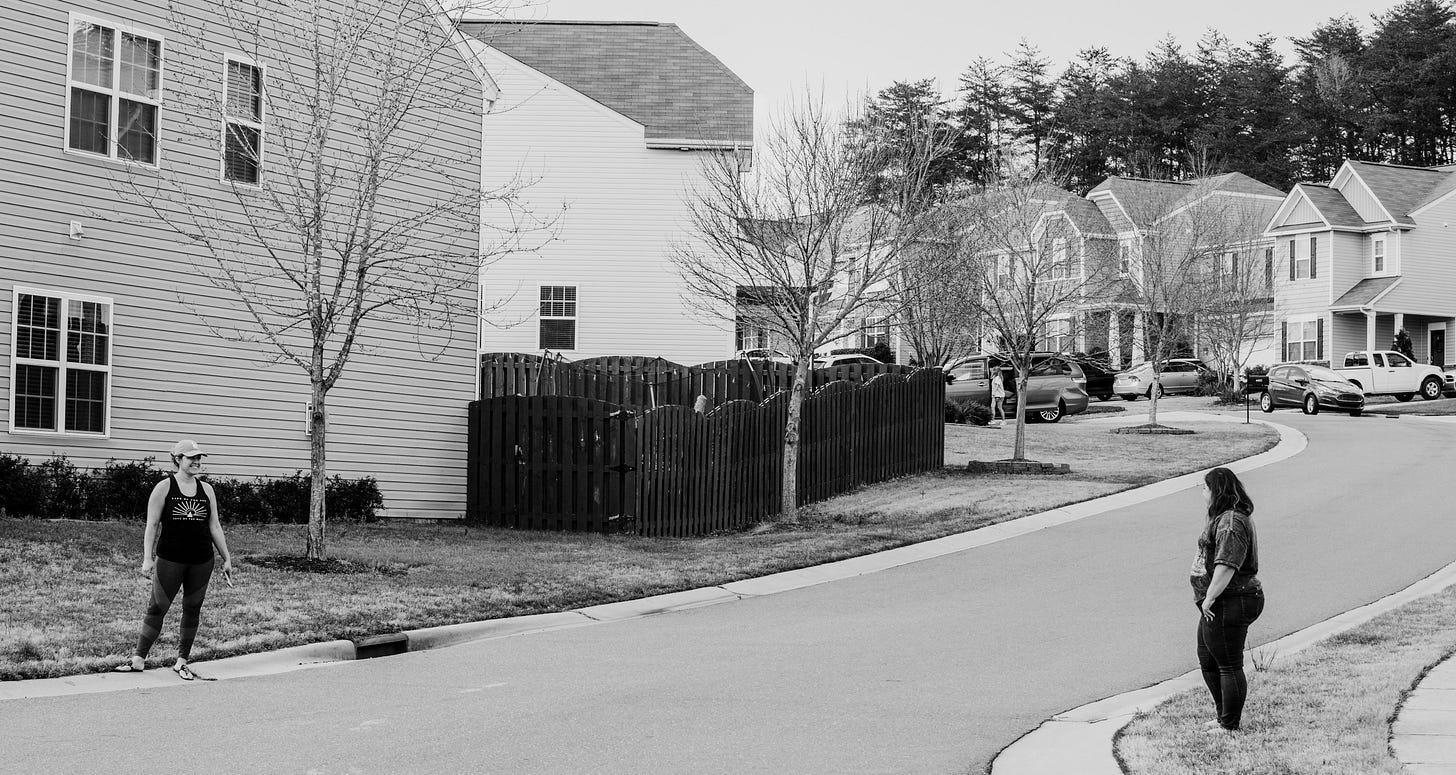 Best friends Janira and Paulina share a moment from a safe distance. Their experiences were captured as part of a photography documentary by Kelly Chalmers Carter. Janira, whose husband is a police officer, said: "During this challenging time, despite the adversity many are facing, it is the generosity and kindness in our community that has stood out for me. This human kindness has given me a great sense of hope for the coming weeks."
When the coronavirus hit the Charlotte region, Kelly Chalmers Carter had an idea. She likes photography. And she's a social-work consultant working on her Ph.D. in sociology.
Why not mix those two interests and show the experiences of people in the Charlotte area through photos?
That's exactly what she did. Carter, a married 43-year-old mother of three from Matthews, asked on social media for volunteers willing to share their stories — and she was swamped with replies. This week, she released images of the first 20 or so on her website and plans to do more. She's inviting other photographers to join her.
She had planned to call the photojournalism product "Covid-19: Experiences in Quarantine" but now is going with "Covid-19: Community Voices."
Different perceptions: The main takeaway, Carter says, is people are experiencing this time in various ways: "The biggest thing that stands out to me is just how differently this is being perceived, depending on who you are and what your position is in society, whether you're a business owner or a working parent. … For one person, this might be a great time of slowing down and figuring out what's going on in your life. For another, it's 'I don't know how I'm going to feed my family this week, and we're in complete panic.'"
More on why she's doing it and what she learned:
On the effect on mental health: "In talking to people and getting their experiences, more or less it will result in prolonged trauma that will be affecting people long-term. Because we are so focused on the immediate physical safety needs, the mental health aspect is going unchecked. You can't mount a response that quickly. I worry about senior citizens, people who have depression or other mental health issues or who are more isolated."
On the effect on women: "I know a lot of working moms especially who are having to take on another full-time job, in terms of educating their children. Even in families where their partners are also working, a lot of times it seems to be falling upon the mothers to be doing double duty. … They're having to finish their full-time job and then spend hours longer with their children, sometimes learning some complex concepts. They're feeling pretty panicked. There's an awful lot of anxiety."
On photographers who are documenting this time: "A lot of people are capturing different things going on under their own roof or with their families that don't ordinarily happen. This gives them a platform to do that so people can experience what this is like from all different angles, not just family, but also business owners and other populations this has affected."
On the importance of the project: "It's really important to document history and the little things in our lives. There are community members doing amazing things for each other. That should be recorded. And also the impacts of what this looked like for just your typical, average family, to business owners, to vulnerable populations. It's important to have a record of that."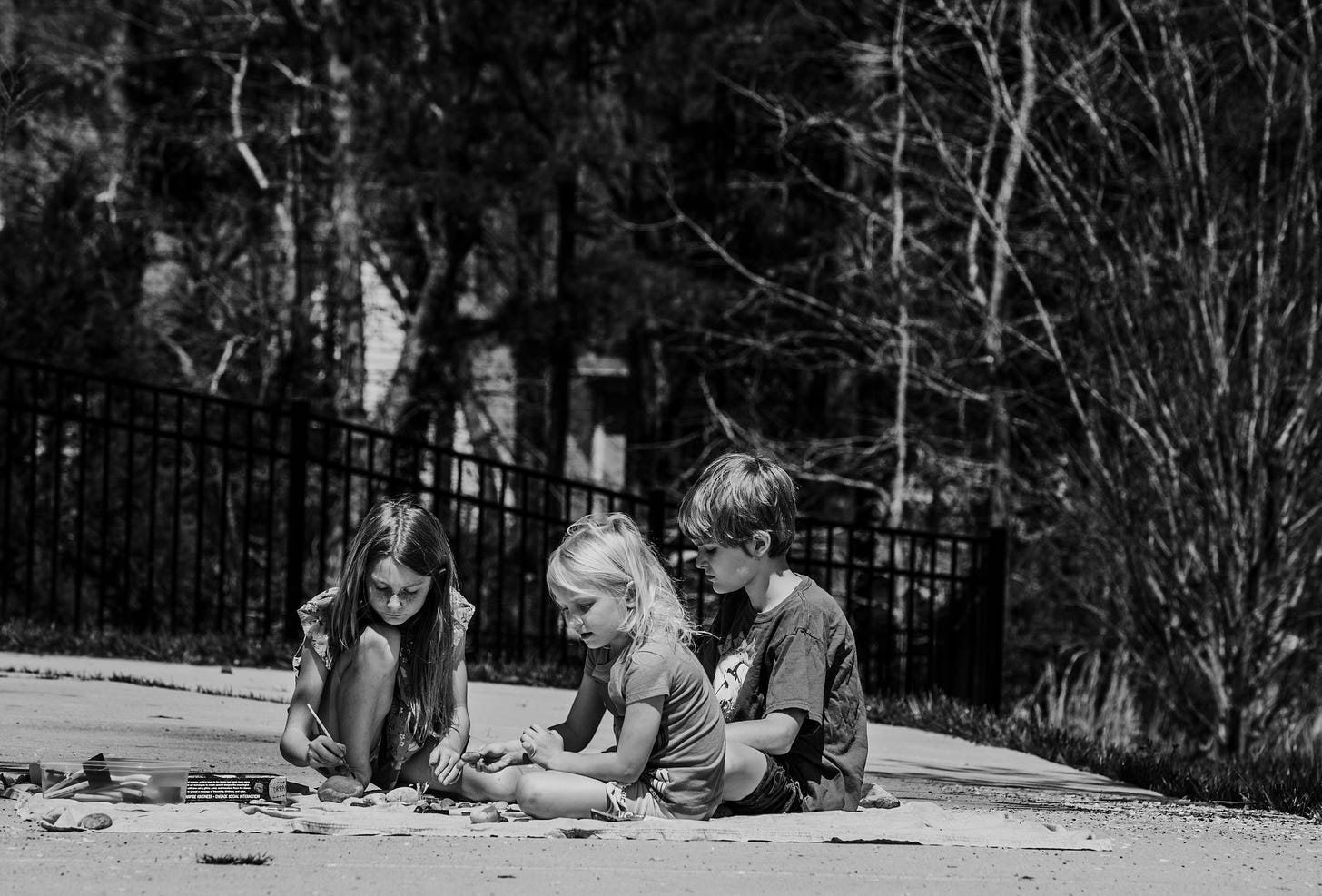 The three children of a woman named Leslie, who told Carter: "There is a yin and yang to the quarantine experience. We feel the connectedness and uninterrupted time together, while mourning our friendships and supportive connection to others." (Photos by
Kelly Chalmers Carter, used with permission.)
For additional photos and stories that are part of the project: Click here.
For information on the project, including info for photographers who want to join: Click here. Photographers have partnered with Greater Charlotte Rise, a local nonprofit that supports Covid-19 relief.
---
Not Charlotte's first field hospital
Following the news that local hospital systems want the county and state to build a field hospital at UNC Charlotte, The Ledger asked Tom Cole — the history librarian with Charlotte-Mecklenburg Library — if Charlotte has ever had field hospitals before.
He replied that Charlotte had temporary hospitals during the Civil War:
It was a "wayside hospital." It took soldiers who had received initial treatment in the field and cared for them while they convalesced, even boarding them in private homes when bed space was scarce. 
He attached an image of the May 20, 1896, edition of the Observer, which included the remembrances of a woman who volunteered at a temporary hospital some 30 years before:
To go back to those days of sorrow and trial brings both pain and pleasure. … Those times were so full of events of deep and stirring interest of agony of mind and body, that we have all striven to forget them, and to resurrect them now is like lifting a veil from a ghastly horror. …

The first Hospital in Charlotte was established by the ladies, in a large building used as the wash-house for the Military Institute. … Every day two members of the Hospital Association went there with supplies of all necessary articles, and gave their time and strength to nursing and caring for our men. …

The Medical Commissary here had then plenty of supplies, and needed no help from the women, who turned their attention to aiding the soldiers in other ways. …

Near the close of the war, when the tide of battle surged into North Carolina, … many wounded from Averasboro and Bentonville were brought to Charlotte. … The large store now occupied by E. M. Andrews and an old storehouse on the opposite side of Trade street called the "Old Red House" were hastily prepared for hospitals, and again the women bravely took up the duty that came to hand and did everything that could be done for these poor fellows.
Cole says that the "Military Institute" stood where the Dowd Y is today.
---
Today's supporting sponsor is Industrial Handling Solutions: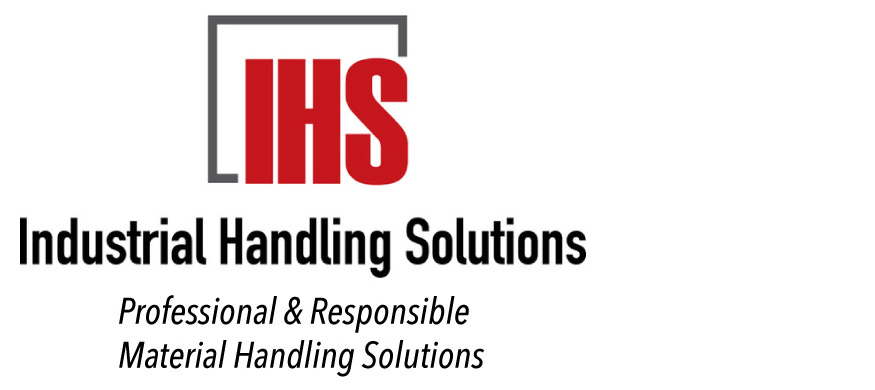 ---
Like The Ledger? Tell a friend:
---
Picking up chicks in Matthews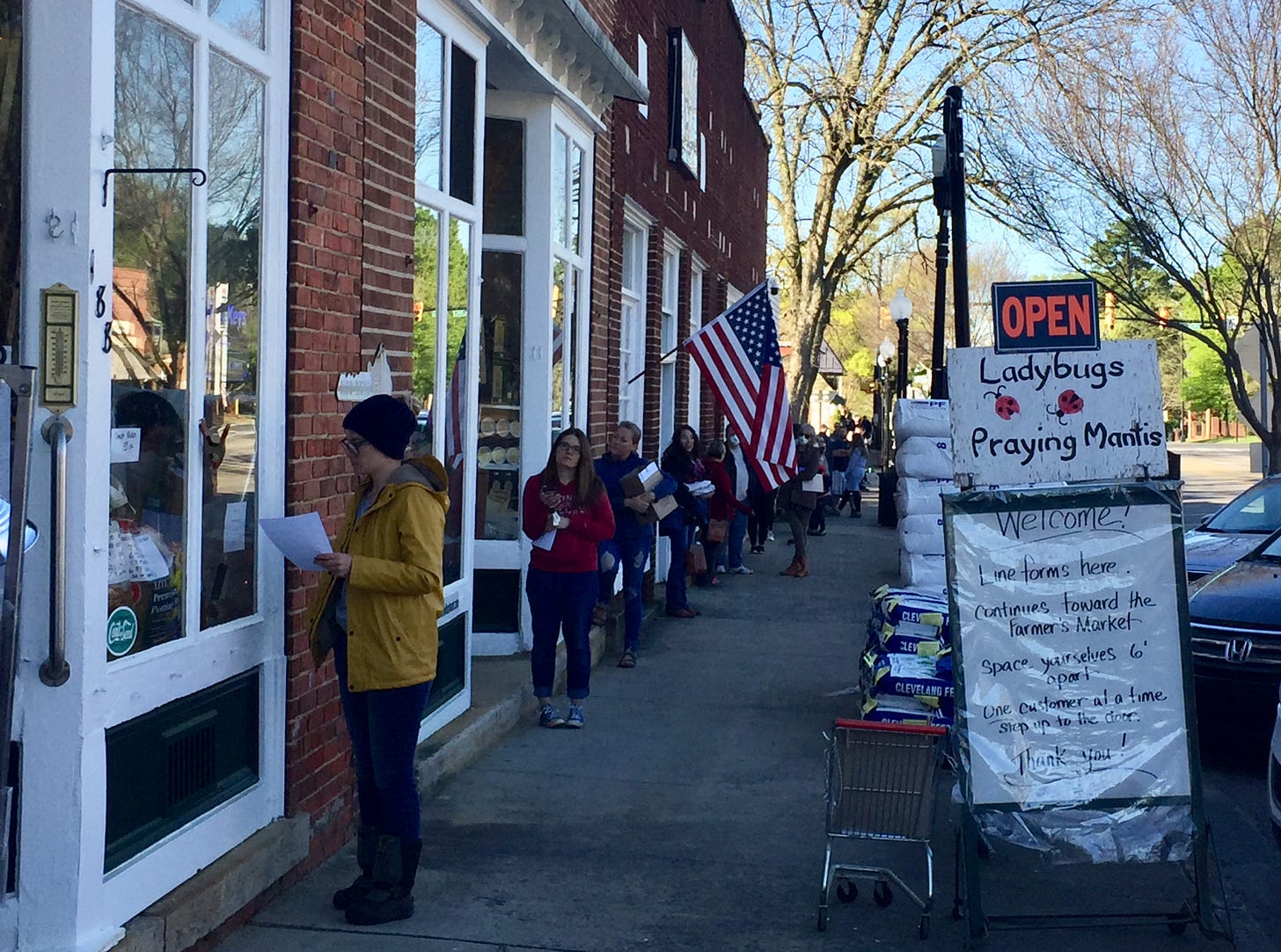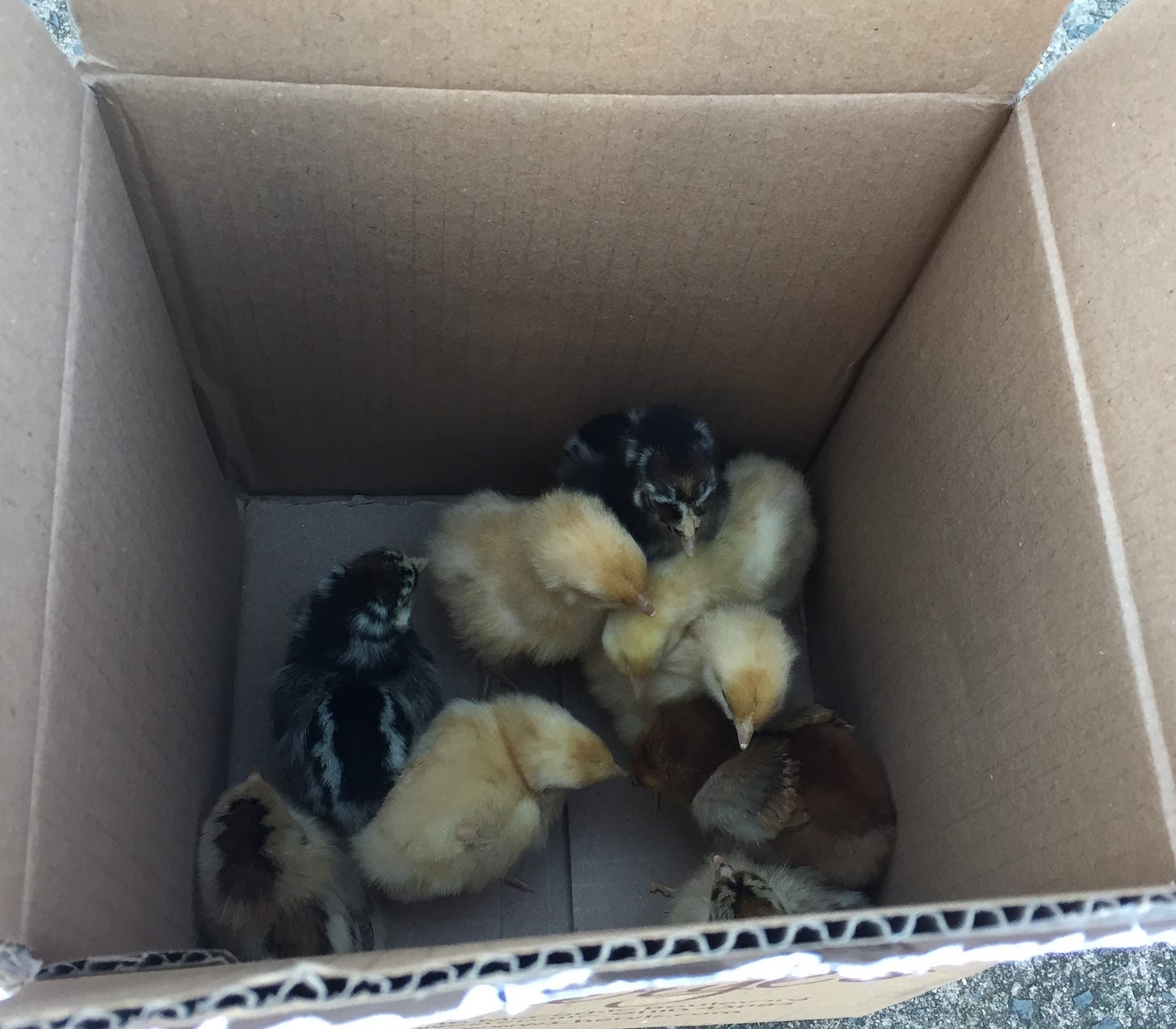 More than 150 people lined up in downtown Matthews on Friday morning for a chance to get part of the first shipment of chicks at
Renfro Hardware
. Veterans said they had never seen such interest and attributed it to a desire to get back to basics — along with people having more time on their hands: "I think more people are realizing important things, like how to have chickens and how to grow food," said
Sal Howard
, who lives near Elizabeth Lane Elementary School in Matthews. Stacy Dugan, who lives near the corner of Rea and Colony roads in south Charlotte, said her kids adore them: "They are very much part of our family."
---
County enlists influencers in battle against coronavirus
Related Ledger article: "Hiring an influencer is more complicated than you think" (March 4)
---
In brief:
---
Loves me some internet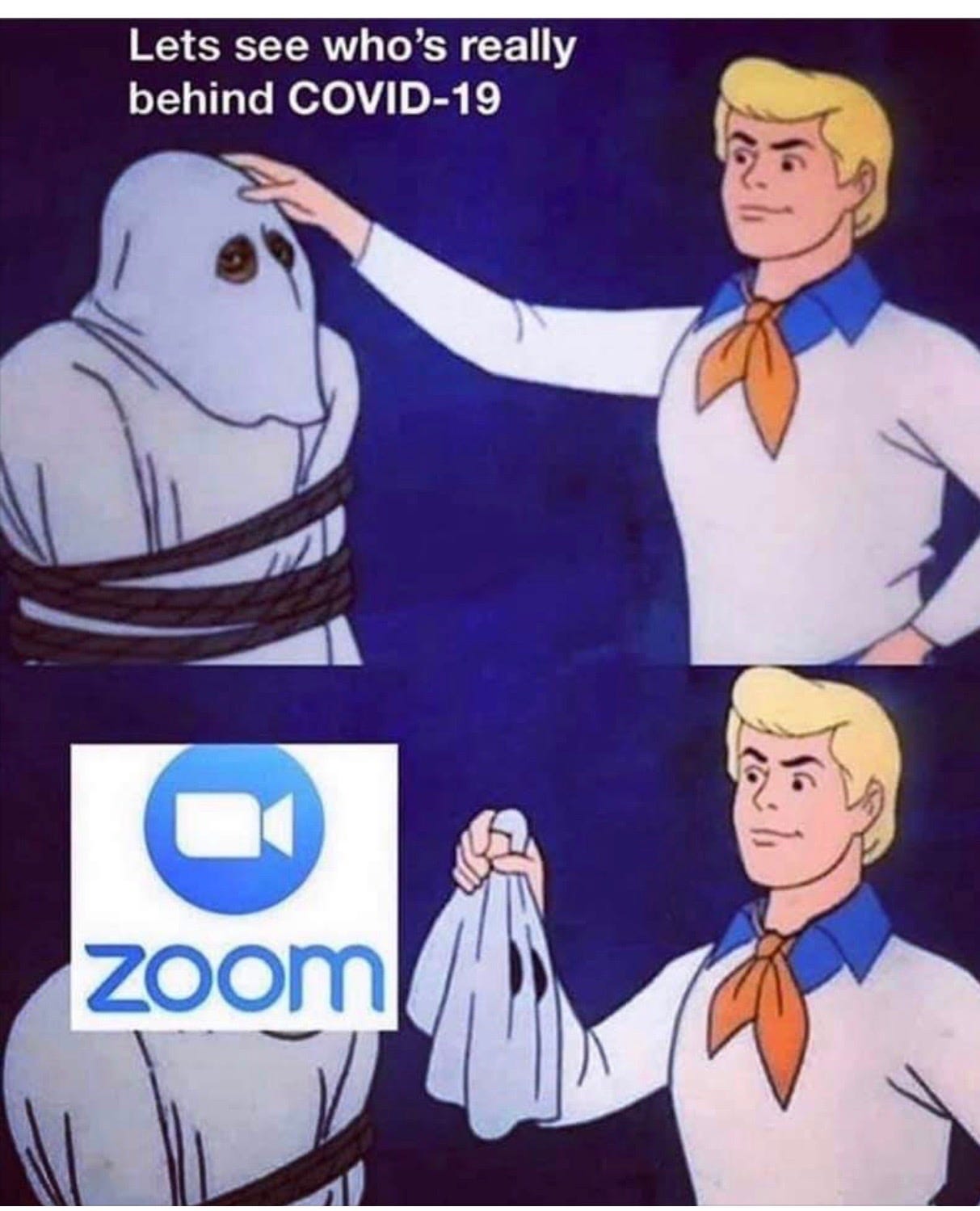 ---
Are you essential? Prove it with Ledger gear
Whether the county acknowledges it or not, you're essential … so why not let everybody know it with a new Charlotte Ledger "Essential" T-shirt?
Just in time for spring, these stylish, 100% cotton tees boldly proclaim that you matter — and the typeface can be easily read from a socially distant six feet away.
Now available in cuts for men and women. They're $15, and for every purchase, The Ledger will donate to the Covid-19 Essential Needs Fund, which helps supply masks and face shields to healthcare workers, provides lodging for patients' families and caregivers and supports technology for remote healthcare visits during the coronavirus pandemic. It is managed by Charlotte-based Atrium Health Foundation.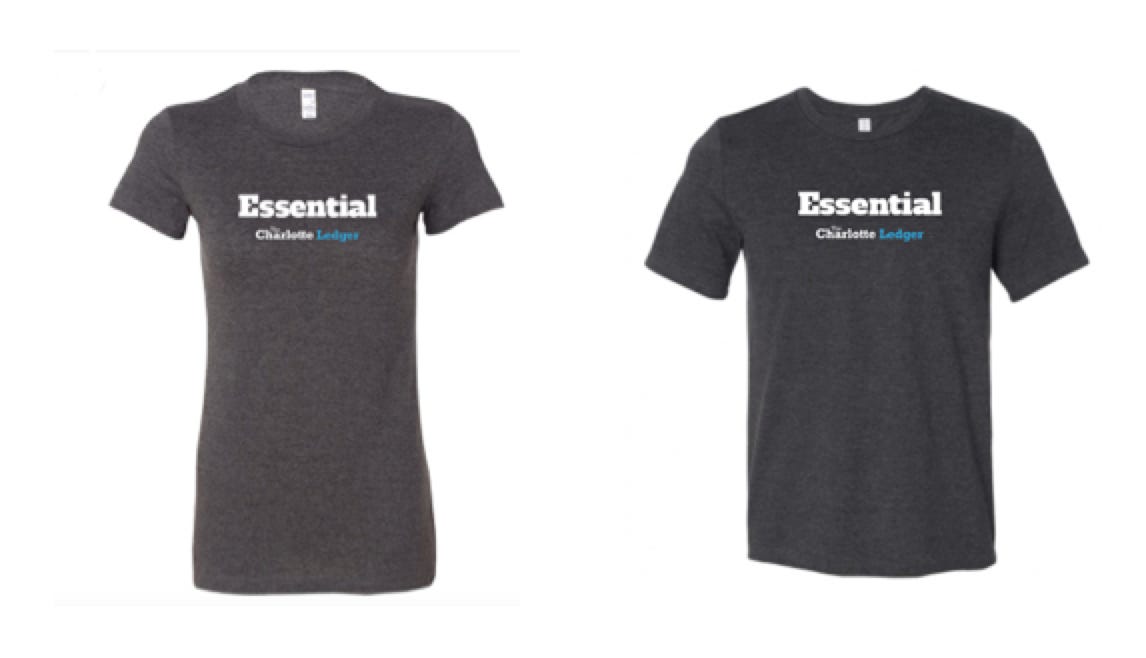 For free shipping, use the promo code CLTL20
For the dog in your life: In addition, Mecklenburg's "stay at home" order deems pet care as an essential service — so make sure your canine lets everyone in the neighborhood know who's the top dog with a Charlotte Ledger "Doggone Essential" bandana ($13):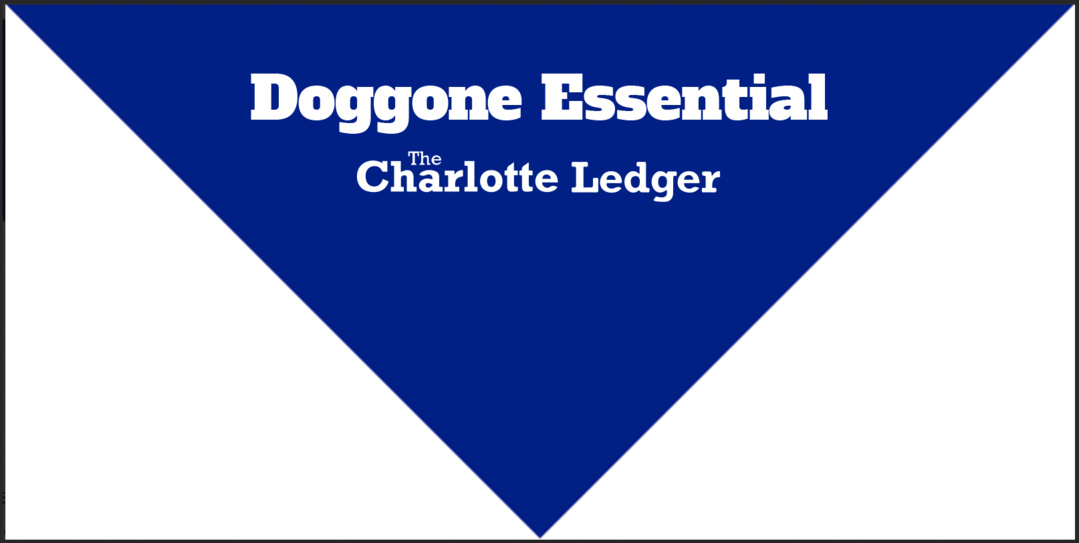 Enjoy.
---
Need to sign up for this e-newsletter? Here you go:
Got a news tip? Think we missed something? Drop me a line at editor@cltledger.com and let me know.
Like what we are doing? Feel free to forward this along and to tell a friend.
Archives available at https://charlotteledger.substack.com/archive.
On Twitter: @cltledger
Sponsorship information: email editor@cltledger.com.
The Charlotte Ledger is an e-newsletter and web site publishing timely, informative, and interesting local business news and analysis Mondays, Wednesdays, Fridays and Saturdays, except holidays and as noted. We strive for fairness and accuracy and will correct all known errors. The content reflects the independent editorial judgment of The Charlotte Ledger. Any advertising, paid marketing, or sponsored content will be clearly labeled.
Editor: Tony Mecia; Contributing editor: Tim Whitmire