Matthews is becoming the South End of the suburbs
Plus: Ex-Wells CEO out as top lawyer; Parents ponder south Charlotte school boundaries; Hot new retail development with premium lollipops at Harrah's Cherokee Casino
Good morning! Today is Wednesday, February 12, 2020. Need to subscribe? Sign up for free here (charlotteledger.substack.com). Send to a friend.
---
How a sleepy downtown became a Gen X hotspot: New apartments, urban park and plans for light rail, second brewery … and a rooftop patio
By Michelle Crouch
Drive through the town of Matthews on Independence Boulevard, and it's easy to assume that this southeast Mecklenburg suburb is just another bedroom community of big box stores and chain restaurants.
But if you venture off the highway and into Matthews' historic downtown, you might be surprised at what you'll find: Trendy, locally owned restaurants and shops in once-vacant buildings. An independent craft brewery that's often standing-room-only, even on weeknights. A growing number of in-town apartments, an urban park and sidewalks bustling with people.
And more is coming: The Ledger has learned that a developer is transforming a former warehouse in the downtown area into a chic space with 28,000 s.f. of restaurants, offices and shops. Once completed later this year, the warehouse at 215 N. Ames St. will house Matthews' second brewery and — if the right tenant emerges — its first rooftop patio.
'Hip' vibe: The changes are prompting people to describe downtown Matthews in ways that would have been unimaginable 10 years ago:
"Matthews is hip," said Caroline Grossman of south Charlotte, who was bar-hopping downtown with a group of (middle-aged) friends on a recent Saturday evening. "It has this cool urban vibe like South End, but it's not all people who are in their 20s."

And Dilek Cucuzza of Pineville, who met friends for coffee in town last week, said Matthews reminds her of the small towns in Turkey where she's from. "It has a European flair," she said.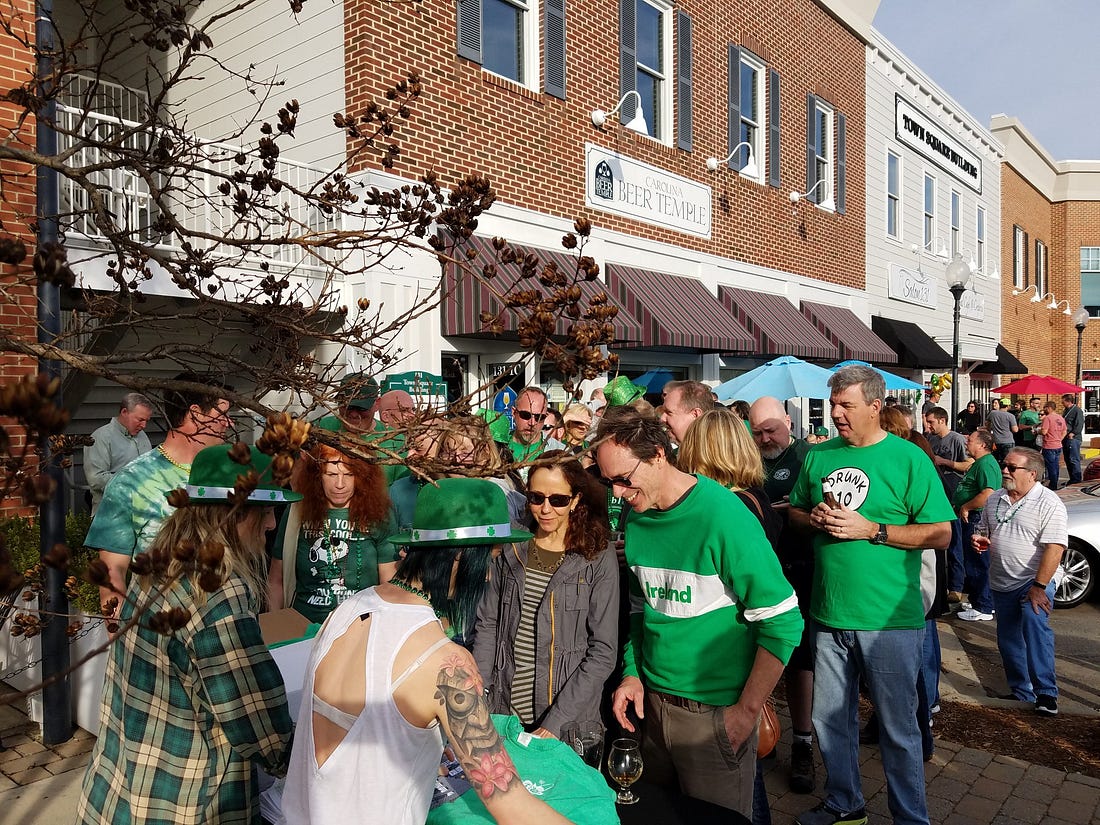 Bar crawl, suburbs style: Last year's Matthews Shamrock Crawl drew revelers to downtown, where there were drink specials at 15 locations. Matthews, population 33,000, created public-private partnerships that have spurred redevelopment of old buildings and attracted shops, restaurants and bars. (Photo courtesy of Historic Downtown Matthews Shamrock Crawl)
People want to walk places. In some ways, the transformation of Matthews from sleepy suburb to vibrant community hub isn't surprising. It follows a nationwide movement to reinvigorate suburban areas by creating town centers where people can shop, dine and mingle close to where they live. Americans these days want to walk more and depend less on cars.
That's why you see mixed-use projects going up even in the most far-flung Charlotte suburbs, from Waverly off Providence Road near Union County, to the planned River District on the city's western fringes.
Matthews didn't have to create a walkable district from scratch. It already had several blocks of picturesque storefronts and historic buildings centered around Renfrow Hardware, a 120-year-old downtown landmark known for its old-time atmosphere and its sale of live chickens (among other supplies).
Creating a 'cool' urban vibe. In the early 2000s, the town's leaders kick-started the area's revitalization with a public-private partnership to build a new town hall/library and spaces for businesses near the town's historic core, said Planning Director Jay Camp. Then they focused on filling in gaps, creating pedestrian connections and expanding the commercial area north on Trade Street, creating a new downtown district with its own catchy name: NorthEnd.
More recently, Matthews has brought in many of the same types of establishments and elements that give urban neighborhoods like South End and NoDa their urban vibe. For example:
Adaptive re-use: This is development lingo for the trend of breathing life into old buildings by repurposing them for something else, and Matthews has plenty of it. The warehouse on Ames Street, for example, was originally home to a sheet metal manufacturer. Now, possible tenants include a café/bakery, a hair salon, a yoga studio and a wine bar, said real estate broker Jim Whiteside, who is marketing the space for developer The Pamaka Group. The design includes a rooftop patio, "but it depends on the restaurant tenant," Whiteside said. "We're hoping they will see value in serving drinks and having additional space on the rooftop."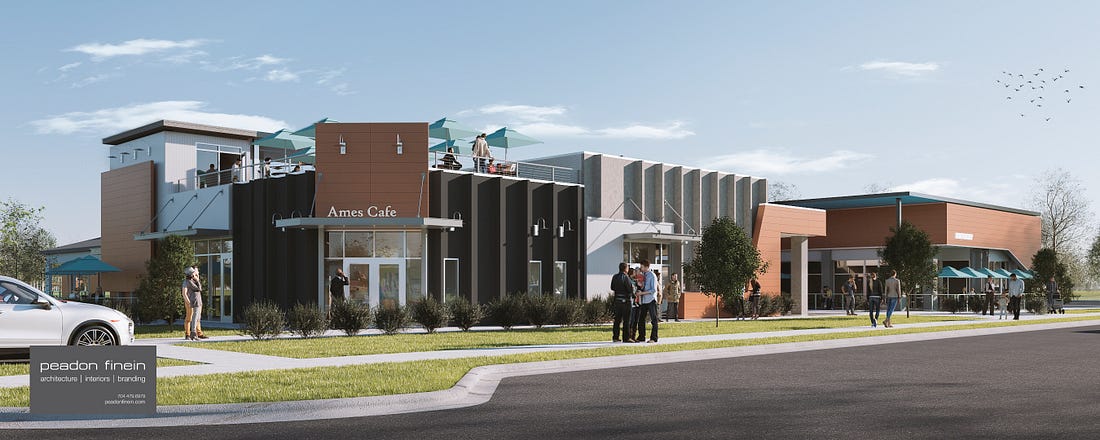 And now a rooftop bar? A rendering of the proposed redeveloped warehouse on Ames Street.
Lively food and drink scene: Most of the bars, restaurants and shops in Matthews are locally owned or small regional chains. Recent additions include an Irish pub (Grace O'Malley's), a cocktail lounge (Stumptown Station), and Black Chicken Market, an urban market with sandwiches, cheese and charcuterie that's an expansion of Black Chicken Wine Cellar. The downtown merchant group, Red Brick Partnership, brings businesses together for events like First Thursdays and themed bar crawls.

Craft beer breweries & bars: Seaboard Taproom & Wine Bar (213 N. Trade St.) has 24 in-house beers on tap, a large selection of wine and a five-barrel brewhouse out back. Then there's Carolina Beer Temple (26 taps in its new location at 195 N. Trade St.), and Jekyll & Hyde Taphouse and Grill (50 on tap). For the town's second brewery, Whiteside said he is talking to two prospects: a nano brewery and a larger one that "you would know the name of."

Game bar: Bars that offer games for adults are trending, and Matthews will get its first one later this year, said Rob Jacik, co-chair of Red Brick Partnership. Called 6 Grogs, it's slated to open in the old Carolina Beer Temple location on Matthews Station Street.

Downtown apartments: Until a few years ago, residential was the biggest missing piece downtown. But BrookeChase Properties has recently built two apartment complexes: Matthews Lofts in the NorthEnd district, and Town 324, a complex of 24 one-bedroom units next to town hall. Town 324 is just coming online, and Matthews Lofts has had a wait list since it opened, said developer Garry Smith.

Urban park and pedestrian connections: Stumptown Park, near the intersection of Trade and John streets, is the site of popular Matthews festivals including Food Truck Fridays and Matthews Alive. The town's master plan calls for the expansion of Stumptown into a larger civic space, Camp said, and for more pedestrian connections to nearby neighborhoods.

Light rail stop: Preliminary plans for the proposed Lynx Silver Line call for the light-rail line to run from uptown to the campus of Novant Health's Matthews Medical Center on Matthews Township Parkway. However, Novant officials have expressed concerns about the line bisecting its campus, Camp said, so the town is asking if the route can be tweaked to include a station on west Matthews Street in the heart of downtown.
Michelle Crouch is a freelance writer and a regular contributor to The Ledger.
---
Ex-Wells CEO is out as top bank lawyer; replaced by Wachovia alum in Charlotte
Former interim Wells Fargo CEO Allen Parker stepped down last week from his day-to-day duties as the bank's general counsel, a Wells spokesman said in response to an inquiry from The Ledger. The bank previously announced he was leaving March 31. The statement:
As previously announced, Allen Parker is leaving the company to pursue other business opportunities, effective March 31, 2020. As part of this transition, effective February 7, Allen stepped down from his day-to-day responsibilities and Doug Edwards is serving as acting General Counsel and a member of the Operating Committee until a new General Counsel starts with the Company. Allen is still a member of the Legal Department and will be available to assist the company through March.
Allen is based in San Francisco. He led Wells as interim CEO for six months last year before the bank named Charles Scharf to the top job in October. Edwards is based in Charlotte.
Bloomberg Law reported in November that Edwards, former deputy general counsel at Wachovia, is thought to be the leading candidate to replace Parker as general counsel on a permanent basis:
The potential ascendance of Edwards reflects the growing importance of the bank's Charlotte office, a legacy of Wells Fargo's $15.1 billion purchase of Wachovia during the financial crisis in December 2008. … The bulk of Wells Fargo's law department, which has between 300 and 400 lawyers, is also concentrated in San Francisco, New York, Minneapolis, and Des Moines.

Charlotte is now home to most of Wells Fargo's deputy general counsel.
Reorganization: The bank also announced a series of organizational changes on Tuesday designed to "provide leaders with clear authority, accountability, and responsibility."
New CEOs like to leave their mark. Expect more changes ahead.
---
Today's supporting sponsors are The McIntosh Law Firm/Carolina Revaluation Services…
… and Cardinal Real Estate Partners:
---
What would new Ballantyne High mean for boundaries?
The news this week that the school board would like to build a new high school in Ballantyne has some parents wondering what that might mean for school boundaries.
As we noted yesterday, the plan to build a new high school near Johnston Road at I-485 could face an uphill climb. The school board says it doesn't have the money, and the parcel it wants seems to be unavailable. Oh, and even if planets aligned, money flowed and design work started this morning, the earliest such a school would open would be 2024.
Red dot: The Ledger took a copy of the school district's assignment map and placed a big red dot where the new Ballantyne high school would be (if money and land availability were not obstacles):
You can see that it would certainly affect the boundaries of Ardrey Kell and South Meck, and probably of Myers Park and Providence, too. Maybe others.
Swath of south Charlotte affected: In other words, just about all of south Charlotte has a stake in the location of this high school. That's because redrawing boundaries affects the schools, and school zones affect property values. If you have younger kids and think this won't affect you, keep in mind that CMS likes to keep elementary and middle school boundaries aligned with high school zones as much as possible — so those could change, too.
This happens whenever CMS adds schools, although south Charlotte has a reputation for being especially, shall we say, involved and vocal about school changes.
Word on the street: Scuttlebutt among local real-estate types is that the Catholic Diocese of Charlotte, which owns the land CMS wants, has another buyer lined up for the entire parcel. But the process is said to be moving slowly because of approvals needed from the highest levels of the Catholic Church.
County reaction: CMS wants the county to provide more money to fulfill the promises made when voters approved $922M in school bonds in 2017. In response…
County Manager Dena Diorio said in a statement to the Ledger: "We will look at CMS' needs and weigh them with the many other needs across the County and ultimately, the Board will decide what's funded."

County commissioner Susan Harden said on Twitter: "I look forward to working with the School Board to move forward on our S. Clt high school location. There is a win/win here."

Commissioner Vilma Leake, though, was unimpressed, telling the school board: "I'm sick and tired ... of being promised of what you said you were going to do and then change your mind. … We want to trust you. You asked for money and the county provided. … The county has given you more money than any county commissioners in the state. Here we go again."
Learn more: On Monday, the school board wrote a letter to the county requesting more money for schools. You can read the full letter on the Ledger's website. (The Observer first reported the existence of the letter on Monday.)
---
Cherokee casino to add upscale restaurants, lollipops
Harrah's Cherokee Casino, three hours west of Charlotte, looks to be adding some big-name restaurants and retailers to its entertainment complex in the mountains.
According to a flyer being circulated by real-estate company JLL, the complex is adding 233,000 s.f. of "retail, dining and entertainment" in a development to be called The Shops at Harrah's Cherokee. Restaurants that have already signed on include Ruth's Chris Steak House, Asheville brewery Wicked Weed, Brio and Sugar Factory, the flyer says.
It would be the first North Carolina location for Sugar Factory, a restaurant and confectioner known for its "couture pops," which are lollipops endorsed by Kim Kardashian and other celebrities that sell for up to $26. Those had better be some tasty lollipops.
The flyer says the complex should break ground by September and be completed by the second quarter of 2022. The casino is also hoping to open the state's first (legal) sports gambling operation in the next few weeks.
---
In brief
Ally adds space in Ally building: Ally Financial is adding to its space in the under-construction Ally Charlotte Center, developer Crescent Communities said Tuesday. The 26-story building, at 601 S. Tryon St., includes 725,000 s.f. of office plus ground-level retail. Crescent and Ally will both have space in the building, Crescent said.

Black pole mystery investigated: Black utility poles sprouting up around town are likely for 5G networks, the next generation of wireless communications. The poles are "about two stories tall — a single black metal pole with a black box on top." The main companies deploying 5G in Charlotte are Verizon and AT&T, a Charlotte transportation official said. (WFAE)

Restaurant franchise bankruptcy: Matthews-based SD Holdings, which owns 73 Sonic Drive-Ins, 14 MOD Pizzas and three Fuzzy's Taco Shop restaurants, has filed for bankruptcy protection. It closed the Fuzzy's Taco locations last week but intends to keep the other restaurants open. (Biz Journal)

Optimist Park apartments: A developer has filed for a rezoning to build apartments next to Optimist Hall, according to city records. Jefferson Apartment Group says it would like to rezone the 5-acre parcel on Wadsworth Place, across the light rail tracks from the food court and office complex, "to allow the development of a multi-family residential community," records show.

New HQ details: Glatfelter, the Pennsylvania engineered products company moving to Charlotte, said its corporate HQ will be in the Capitol Towers building in SouthPark. The move will start this summer and will eventually total 50-60 positions, starting with senior executive team and key managers.

Chicken power: Same-store sales at Popeyes surged an amazing 34% in the 4Q, powered by the release of the chain's new chicken sandwich. (Forbes)
---
Cheap getaways from CLT
Next weekend: Charlotte to Newark, $60 round-trip on American (nonstop), Feb. 21-24.

Next weekend: Charlotte to Philadelphia, $40 round-trip on Frontier (nonstop), Feb. 21-23.

Charlotte to Fort Lauderdale, $62 round-trip on American (nonstop), various dates in February-March.

Charlotte to Orlando, $120 round-trip on Frontier (nonstop), Feb. 29-March 3.
Source: Google Flights. Fares retrieved Wednesday morning. They might have changed by the time you read this.
---
Programming note: Ledger editor Tony Mecia appears as a guest on 90.7 WFAE at 6:40 a.m. and 8:40 a.m. on Thursdays for a discussion of the week's local business news in the station's "BizWorthy" segment. Audio and transcripts are also available online.
---
Need to sign up for this e-newsletter? Here you go:
Got a news tip? Think we missed something? Drop me a line at editor@cltledger.com and let me know.
Like what we are doing? Feel free to forward this along and to tell a friend.
Searchable archives available at https://charlotteledger.substack.com/archive.
On Twitter: @cltledger
Sponsorship information: email editor@cltledger.com.
The Charlotte Ledger is an e-newsletter and web site publishing timely, informative, and interesting local business news and analysis Mondays, Wednesdays, and Fridays, except holidays and as noted. We strive for fairness and accuracy and will correct all known errors. The content reflects the independent editorial judgment of The Charlotte Ledger. Any advertising, paid marketing, or sponsored content will be clearly labeled.
The Charlotte Ledger is published by Tony Mecia, an award-winning former Charlotte Observer business reporter and editor. He lives in Charlotte with his wife and three children.