Nature Museum plans hit buzzsaw of Myers Park opposition
Plus: The Truist era dawns as execs buy Charlotte houses; Vivace negotiating for changes in Midtown; Tickets this morning for Garth — or is that Montgomery Gentry?
Good morning! Today is Friday, December 6, 2019.
Need to subscribe? Sign up for free here (charlotteledger.substack.com).
Like what you see? Forward to a friend or share on social media.
---
County will 'press pause' on museum expansion after residents object; worries of 'Festival in the Park every day'
County officials are putting plans to expand the Nature Museum on hold temporarily, after getting an earful this week from a roomful of Myers Park neighbors concerned about the size of the project.
In July, the county and Discovery Place, which runs the museum next to Freedom Park, announced that the site would close in 2020 to allow construction of a new building. But as details have been shared with neighbors, some residents have grown concerned about the effects of an expansion that would double the museum's size to 26,000 s.f. and add parking. That would require cutting down trees behind at least eight homes on Sterling Road by the museum's entrance. Houses on that section of Sterling are valued at between $750,000 and $2M.
Raucous night at the museum: At a lively meeting Wednesday night at the museum — which is now called "Discovery Place Nature" — officials from the county and Discovery Place attempted to allay the neighborhood's concerns. But some of the 80 or so residents scoffed and laughed at some of the answers provided by a county parks official and said their worries about increased traffic and cutting down trees had been ignored as plans progressed.
"If you asked somebody in Ballantyne would they like to come to Myers Park and be able to have Disneyland and a destination venue here, [they'd say] that would be great. They never asked us on the street at all," neighbor Jenny Lou Wright told county officials. "This is a residential street in a residential neighborhood. You're building a structure that you do not have the infrastructure for."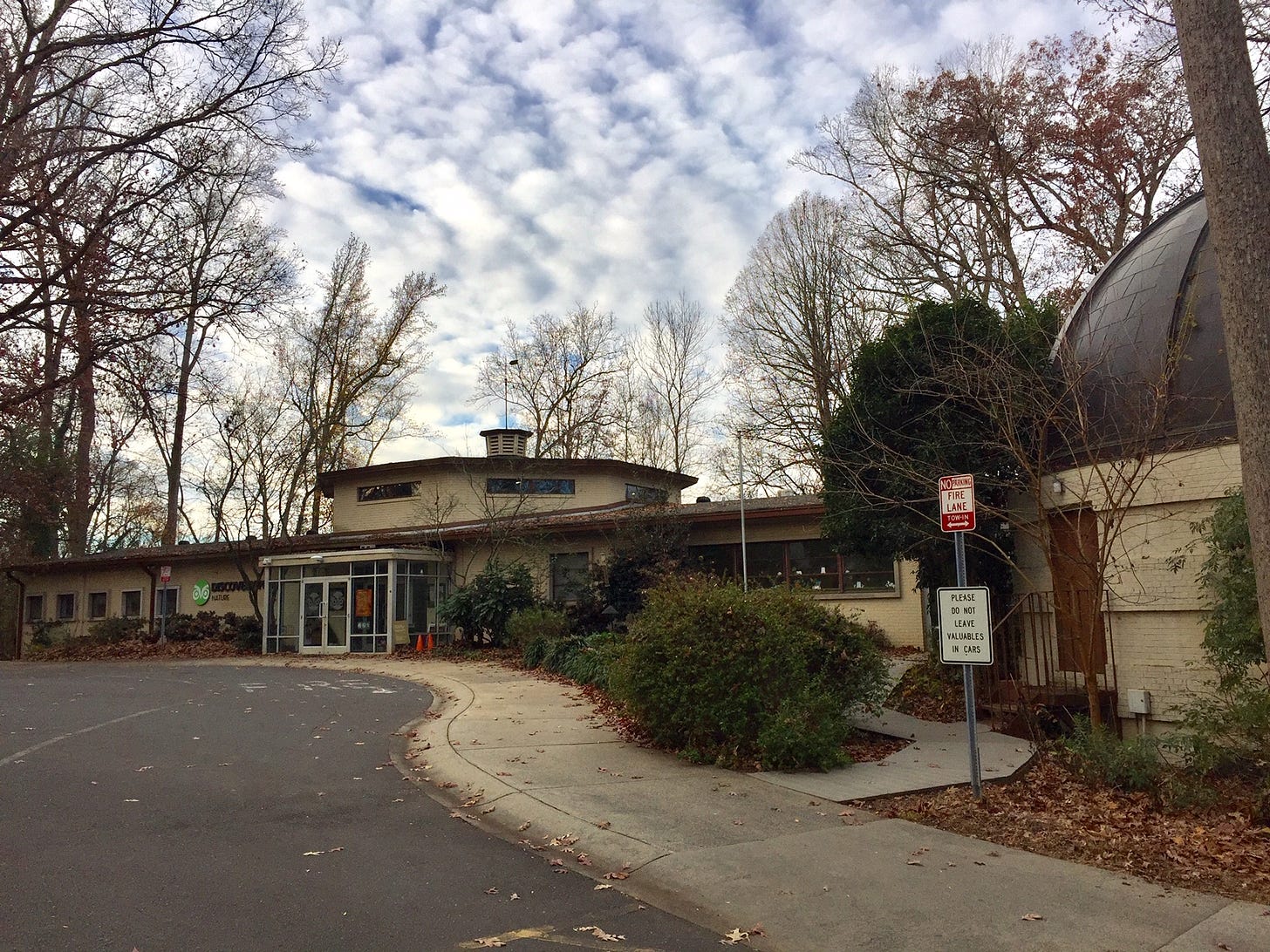 The Nature Museum in Myers Park, built in 1951, is scheduled to undergo a $35M expansion. Construction was supposed to start next year, but the county will delay the process until it can resolve neighbor concerns.
Other comments:
Another resident said building a bigger museum would be like "trying to pack 10 pounds of potatoes in a five-pound sack."

Somebody else said he worried that more events at the site would lead to visitors parking on narrow neighborhood streets, "like Festival in the Park every day," with emergency vehicles unable to get through.

Several residents at the meeting suggested the county and Discovery Place shift the museum entrance to nearby Princeton Avenue, or move the entire project somewhere else, like to Park Road Park.
Earlier in the week, the Myers Park Homeowners Association sent a notice to residents that said: "Benefits of a new and modern museum are numerous, but so are the potential negative impacts," such as more traffic, "increased noise, light, and auto pollution" and "elimination of a large area of the tree canopy, and thus reduction of wildlife habitat and the natural aesthetic of the Freedom Park area."
More visitors: County official said at the meeting that the number of annual visitors to the museum is expected to double, to 160,000. Existing plans call for adding 26 parking spaces, for a total of 87, but they would have to be reconfigured from the existing lot because of buffer requirements. Plans call for the museum's driveway to remain in its existing location off Sterling, but the museum's new entrance would face Freedom Park to attract more park visitors.
The planned expansion of Discovery Place Nature by Freedom Park is causing concern from some Myers Park residents, who worry that changes to the parking lot (red arrow) will result in a loss of trees behind their backyards on Sterling Road. Many would prefer a new entrance from Princeton Avenue (along the bottom), while others don't want more people and traffic at a facility twice as big as the existing structure.
After nearly two hours of deep skepticism from neighbors, County Manager Dena Diorio apologized to the crowd "for the fact that you have not been heard" and pledged to "fix it."
"We're going to press pause and try to work through these issues before we move forward," she told residents.
Balancing act: The county and Discovery Place are trying to balance the region's need for a modern nature museum with the concerns of nearby homeowners, who don't especially like the thought of more cars and people being drawn to their residential neighborhood. The existing museum was built in 1951, about the same time as nearby homes, officials said. The expansion is estimated to cost about $35M, with nearly half coming from the county and the rest from private funds. It is expected to open in 2022.
'Anomaly': It's an unusual situation, Diorio told the Ledger in an interview, because the county parks have a strong record of working with nearby residents, who tend to support the county's goals. She said she's confident the two sides can reach a satisfactory resolution.
"Normally, around 95% of the time, everybody is really excited because we are building a park or renovating a park," she said "To me, this is an anomaly where we have a project where we have neighbors that at this point are not supportive of what we are trying to do."
---
Truist time: Charlotte gains new bank HQ; Execs move to Charlotte; New update on Truliant lawsuit
The BB&T-SunTrust merger is expected to close today, giving Charlotte another bank headquarters. Truist, which will be the nation's sixth-largest bank, will move into uptown's Hearst Tower. The bank expects to employ about 2,000 in Charlotte.
A few updates:
Truist execs buying Charlotte houses
Besides the bragging rights of another bank HQ, there are also tangible benefits to Charlotte — like the wave of bank workers moving here. Property records show BB&T CEO Kelly King and his wife bought a $1.2M, 2,800 s.f. condo near Myers Park Country Club [corrected from earlier version, 12/6/19, 9:40am]. But what about everybody else?
For some color, the Ledger turned to John Ogburn, a real estate agent with Cottingham Chalk. He tells us:
We've seen more buyers coming from BB&T and Winston-Salem than from SunTrust. The first wave of buyers began looking this summer with the first closings taking place over the last couple months. Cottingham Chalk has had around a dozen buyers so far with more trickling in. Our competitors seem to have similar activity.

A popular price point has been the $800K to low $1M range, but we've seen up to $2- $3M. Most so far seem to prefer closer-in neighborhoods — such as Myers Park, Eastover and Foxcroft — but some are looking in south Charlotte and the Matthews area as well. I've heard of one who is buying a smaller condo to have a crash pad before moving their family.

The first wave of buyers seem anxious to get housing secured before more employees start getting their packages finalized. These buyers will likely compete for the same houses. We expect it will be a slow process, likely over the next few years.
Pat Riley, CEO of Allen Tate, tells the Ledger his company has seen an increase in corporate relocations over the years:
Location, price and school report cards are dictating where corporation relocation clients are settling. Proximity to work is the motivator for choice of area, followed closely by price point.
Truliant lawsuit continues
You'll recall that in June, Truliant Federal Credit Union sued BB&T and SunTrust for trademark infringement, claiming that the name "Truist" sounds too much like "Truliant." The case is ongoing, though it gets little attention.
After almost six months, Truist filed its response this week. There's not much in it, other than the admission that the merging banks did know that Truliant existed: "Defendants admit that they had actual knowledge of the existence of Truliant Federal Credit Union before they chose and revealed the name Truist."
This is probably not a major issue — it will likely be settled with little fanfare at some point — but it is mildly interesting to see two financial institutions arguing over such a name. The next court date is in January in Durham.
---
Will Folwell try to torpedo Atrium's med school plans?
Fresh off his objection to Police Chief Kerr Putney's retirement/non-retirement plan, State Treasurer Dale Folwell is taking aim at another Charlotte target: the proposed combination of Atrium Health and Wake Forest Baptist Health. The two healthcare companies are working on a deal that would bring a medical school to Charlotte.
According to Business North Carolina, Folwell — who is from Winston-Salem — criticized the potential partnership Tuesday at the Local Government Commission meeting in Raleigh. And he hinted that he plans to take it on:
All hospital combinations that reduce health care competition are "bad for North Carolina," Folwell said. He added that "the situation in Winston-Salem is a very serious situation. There will be more to come out about this." He declined to expand on his comments.

The matter emerged after the LGC staff noted that Atrium is expected to seek approval for $600 million bonds at the group's January meeting. All state-backed debt issues require approval by the LGC, which has a nine-member board that is chaired by the state treasurer.
Forsyth fears: Some in Winston-Salem have been wringing hands that a link-up with Atrium will result in Charlotte vacuuming up Winston-Salem's prized healthcare company, much as we have done to their banks. (We're letting them keep their their tobacco companies.)
Atrium said in a statement that it is committed to rural healthcare and that combining with Wake would yield benefits for patients.
---
Loves me some internet: That's not Garth
Bank of America Stadium's Twitter account hypes the sale of Garth Brooks tickets … with a .gif of Eddie Montgomery of the country duo Montgomery Gentry:
The account later deleted the tweet and replaced it with information on how to buy tickets.
(Thanks to the Ledger reader who highlighted this — I didn't get his name before the tweet was deleted.)
---
In brief
---
Food and booze news
A weekly wrap-up of the week's eating and drinking developments:
Lease expiration means changes for Vivace
Look for some changes to come in some form to Vivace at the Metropolitan in the next few months.
Owner Kevin Jennings of Raleigh-based Urban Food Group tells the Ledger that the restaurant's lease is up in mid-March and he's been talking with landlord Bayer Properties to find a way to stay in the location — maybe by downsizing, or at least by reaching an agreement that allows him to redo the floors, repaint and change out some of the equipment.
The main problem with Vivace, he says, is that at 8,300 s.f., it's too big — way bigger than most restaurants. The trend in restaurants now is to go small. But it wasn't like than in 2006 when he committed to go there, he says.
"We got greedy back in '06 when the money was flowing like the river and the restaurants were totally packed," he says. Then the recession hit in 2009, right as the restaurant opened. "You only get one chance to be the hip new restaurant on the block. That came and went for us."
Jennings says Vivace "has not performed particularly well, really ever." He says he's looked at alternatives — such as sharing space with a furniture showroom or a brewery — but that Bayer seems disinclined to move that direction. "Maybe they have other plans for the space that we are unaware of," he says. "I don't expect the restaurant to close, but that remains a possibility."
Overall, he says he's optimistic about the food scene in Charlotte: "The palate in the past has been more a Midwest palate, a steak and potatoes kind of thing. It's starting to come around. You're starting to see more restaurants that you would run across in Atlanta or D.C. It's going to take time."
Urban Food Group also owns Bar Marcel in SouthPark and Civetta in Ballantyne.
In brief:
New ALE bust: Agents visited Sycamore Brewing on Thursday to investigate a tip that the place was selling beer with a label that included depictions of reindeers having sex. On cans of Christmas Cookie Winter Ale, agents found "little red and white cartoon reindeers resembling something out of an '80s Atari video game — except they're in various (very) compromising sexual positions." The brewery will probably be fined up to $1,000 for selling beer with a label that's not approved. (Agenda/Queen City Nerve, with photos of offending reindeer)

No more Wolfgang Puck: WP Kitchen + Bar is closing by the end of the year at Phillips Place. (Charlotte magazine)

Paying to sit: NoDa restaurants Haberdish and Crepe Cellar have started charging for reservations. A guaranteed dinner time will cost $3 a seat Friday-Sunday and $2 a seat Tuesday-Thursday. The restaurants' co-owner says "paid reservations are common in other cities." (Biz Journal)
---
Need to sign up for this e-newsletter? Here you go:
Got a news tip? Think we missed something? Drop me a line at editor@cltledger.com and let me know.
Like what we are doing? Feel free to forward this along and to tell a friend.
Searchable archives available at https://charlotteledger.substack.com/archive.
On Twitter: @cltledger
The Charlotte Ledger is an e-newsletter and web site publishing timely, informative, and interesting local business news and analysis Mondays, Wednesdays, and Fridays, except holidays and as noted. We strive for fairness and accuracy and will correct all known errors. The content reflects the independent editorial judgment of The Charlotte Ledger. Any advertising, paid marketing, or sponsored content will be clearly labeled.
The Charlotte Ledger is published by Tony Mecia, an award-winning former Charlotte Observer business reporter and editor. He lives in Charlotte with his wife and three children.