New BofA Tower has no assigned desks
Plus: Developer's study says 1,000 apartments won't make Ballantyne traffic worse; Charlotte gains new corporate HQ; Councilman says 65 townhomes will make Indian Trail too much like South End
Good morning! Today is Monday, February 10, 2020.
Need to subscribe? Sign up for free here (charlotteledger.substack.com). Like what you see? Forward to a friend.
---
Bank of America taps into growing trend toward flexible workspaces; Evolving workforce values more collaboration, less 'corporate hierarchy,' experts say
Visitors to the new Bank of America Tower at Legacy Union uptown are noting that the bank's offices there have what seems to be a distinct feature: they have no assigned desks.
It's a modern office design that seems more like a Starbucks or WeWork space than a traditional layout with rows of cubicles. The BofA offices feature common areas, quiet zones and workstations with computer equipment at sit/stand desks, as well as areas for conferences and private phone calls.
Spokesman Mark Pipitone says the bank in recent years has been moving toward contemporary office designs that encourage collaboration and flexibility: "These designs include open floor plans with lots of windows and sunlight, and a flexible layout that will allow our teammates to work where and how they prefer. … They're able to move to different workstations to collaborate with team members as needed instead of being restricted to an assigned desk."
Evolving work habits: Traditionalists might recoil at the idea. But the bank and office experts say such layouts are more in tune with how people actually work these days. The designs reflect how office employees work in different ways throughout the day — if they're even working in the office at all.
For instance, workers might prefer to work on a laptop while sitting on a couch, hold a meeting in comfortable chairs in a common area or take a phone call in private space away from the prying ears of eavesdropping coworkers. Not assigning everybody a desk also allows companies to use less space per worker, which saves on real estate costs.
Bank of America's new offices at Legacy Union at South Tryon and Stonewall streets uptown have no assigned seats for workers, part of a trend toward modern office design that encourages collaboration and flexibility. (Images courtesy of Bank of America.)
The old rule of thumb used to be companies could fit three or four workers in 1,000 s.f. Now, modern office designs allows firms to put more like four to six workers per 1,000 s.f., says Barry Fabyan, managing director of the local office of JLL, a real estate services firm.
He says it's also part of a movement toward creating workplaces that are attractive to the younger generation. Workers in their 20s and 30s are accustomed to studying in lounges and conference rooms and aren't fans of offices that reek of "corporate hierarchy."
"Everyone is considering it, because if you're not a cool tech company, you want to be," Fabyan says.
If it's not there yet, this trend could be heading your way: About half of companies in a recent global survey said they plan to increase their use of flexible office space in the next three years. It predicted that "offering a balance of dedicated offices, meeting spaces and small co-working areas will prove increasingly popular."
Other local examples of modern offices include:
Duke Energy's new Innovation Center at Optimist Hall, between NoDa and uptown, has "a lot of areas where employees can grab their computer and sit in shared spaces," a spokesman says. The 400 workers there have assigned desks, but the space was designed to accommodate "dynamic seating" in the future.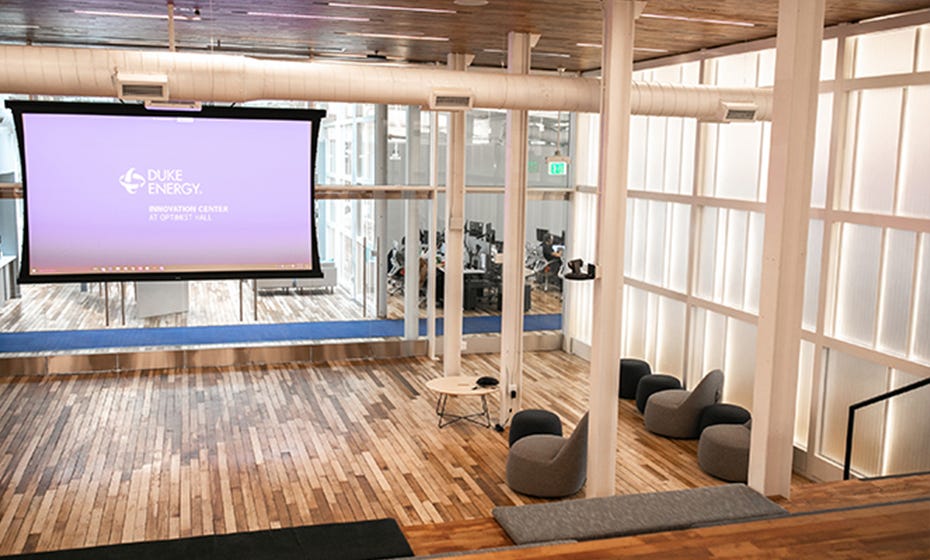 Duke Energy's new offices at Optimist Hall include "plenty of open areas and drop-in rooms for teams to collaborate," according to the company publication Illumination. "The space is flexible — couches and chairs are expected to be moved around. Even the furniture in conference rooms is on wheels so it can be re-configured for discussions, demos or focus groups."
The 300 workers at the uptown offices of Passport, a software company, have assigned sit/stand desks, and there are plenty of couches and comfortable seating areas for casual meetings, a spokeswoman says. It also has custom-made wooden tables with barstools. In addition, Passport has a handful of "focus rooms" for private phone calls and one-on-one meetings, and a new floor opening next month will include private phone booths.
At the uptown Charlotte offices of Passport, a software company, workers have assigned desks, but they also have plenty of comfortable seating areas where they can collaborate, a spokeswoman says. (Photo courtesy of Passport)
Bank of America's new offices also include a "work cafe" on each floor — "an enhanced break room with ample seating and appliances." Many floors also have what the bank calls a "fun zone," where employees can "relax and refresh which can include some games."
The 33-story Bank of America Tower opened last year, and the bank and other tenants are slowly moving in as the interiors are finished. The bank is expected to take about 2/3 of the floors. Other tenants will include law firm Parker Poe and consulting company KPMG.
Communication needed: For employees accustomed to the traditional office set-ups, the new arrangements can take some getting used to. Some of the issues that pop up include concerns over personal storage space, finding coworkers for impromptu meetings and integrating new workers into a team.
Companies breaking from the old approach need to ensure their office designs are appropriate for the way they work, says Bryan Berthold, managing director of the workplace strategy and change management division of Cushman & Wakefield, a real estate services company. Even then, companies need to develop guidelines and clearly articulate them.
"You have to have good processes in place for the workflow of your group," he says. "You can't just throw people into these new environments and think it's going to be another day at the office."
---
Huge Ballantyne development might have minimal effect on traffic, developer says
The massive new mixed-use complex proposed for the heart of Ballantyne would actually improve traffic at some of the area's intersections, the developer told a couple hundred residents at a community meeting on Saturday.
Northwood Office is seeking a rezoning for 454 acres that is now home to much of the Ballantyne Corporate Park, the Ballantyne hotel and the golf course. It plans to build 1,000 apartments and 300,000 s.f. of retail in the first phase of a project it is calling Ballantyne Reimagined.
Some residents at a town-hall meeting with government officials on Saturday said they worry about the effects on traffic and schools. Plans to widen roads, add light rail and build new schools are years away, while the Ballantyne Reimagined rezoning is scheduled for a vote in April, and work could start by September.
Northwood president John Barton said a 1,300-page traffic study shows that 75% of nearby intersections would have either the same amount of traffic congestion or less traffic congestion with the development compared with leaving the land as it is now.
"We have spent hours and hours and hours talking about all the important aspects of this traffic component and making sure we get it right," he said. He said Northwood has "17,000 people here every day at Ballantyne Corporate Park. We have to make sure they can get in and out of the office park efficiently."
It might sound counterintuitive that adding 1,000 apartments and new restaurants and shops could improve traffic. But city planners told The Ledger that's possible because with new developments, they can require developers to add right-turn lanes to intersections and take other measures that improve traffic flow.
Northwood is also proposing to add a series of connector streets that would keep some traffic off nearby roads such as Ballantyne Commons Parkway and Johnston Road. According to city records, one of the streets is proposed to be named "Curran Drive." Ned Curran is the former CEO of The Bissell Cos., the original developer of Ballantyne.
Northwood Office says "Curran Drive" is a placeholder name that was included in jest. [[Added 2/10/20, 1:32 p.m., to include Northwood comment]]
---
Today's supporting sponsors are The McIntosh Law Firm/Carolina Revaluation Services and T.R. Lawing Realty:
---
Charlotte's Oscar connection
The Oscar for live-action short film last night went to "The Neighbors' Window" — and one of the producers of the film is a Charlotte native.
Elizabeth Martin, who is married to writer-director Marshall Curry, is listed as the film's executive producer. She's a West Charlotte High grad and the daughter of Joe and Joan Martin, two well-known supporters of the arts and education whose name is on the uptown children's library ImagineOn (full name: "ImagineOn: The Joe & Joan Martin Center"). Joe Martin was a longtime Bank of America executive who passed away of ALS in 2006. His name is also on the Charlotte-based Joe Martin ALS Foundation.
Martin and Curry took the stage Sunday to accept the award (click for video):
The 20-minute film, available on YouTube, is about a middle-aged couple in New York City who watch the intimate moments of a young couple who moved in across the street. The Los Angeles Times called it "a story about the intersection of voyeurism and empathy."
---
In brief:
---
Taking stock
Unless you are a day trader, checking your stocks daily is unhealthy. So how about weekly? How local stocks of note fared last week (through Friday's close), and year to date:
---
Need to sign up for this e-newsletter? Here you go:
Got a news tip? Think we missed something? Drop me a line at editor@cltledger.com and let me know.
Like what we are doing? Feel free to forward this along and to tell a friend.
Searchable archives available at https://charlotteledger.substack.com/archive.
On Twitter: @cltledger
Sponsorship information: email editor@cltledger.com.
The Charlotte Ledger is an e-newsletter and web site publishing timely, informative, and interesting local business news and analysis Mondays, Wednesdays, and Fridays, except holidays and as noted. We strive for fairness and accuracy and will correct all known errors. The content reflects the independent editorial judgment of The Charlotte Ledger. Any advertising, paid marketing, or sponsored content will be clearly labeled.
The Charlotte Ledger is published by Tony Mecia, an award-winning former Charlotte Observer business reporter and editor. He lives in Charlotte with his wife and three children.