New name for Ovens-Bojangles' Coliseum: 'The BOplex'
Plus: Truist and Truliant in settlement talks; Atrium and Wake sign some kind of agreement; Holiday decorations the first week of November
Good morning! Today is Monday, November 4, 2019.
Need to subscribe? Sign up for free here (charlotteledger.substack.com). Like what you see? Forward to a friend.
---
Social media accounts, news releases start using 'BOplex' nickname; will it catch on?
A marketing agreement signed last year between fried-chicken giant Bojangles' and the Charlotte Regional Visitors Authority has led to a new nickname for Ovens Auditorium and Bojangles' Coliseum: "The BOplex."
In the last few months, the site has started referring to itself as "The BOplex" in social media posts and in news releases. Ovens and the Coliseum are retaining their names, but events at those venues are being marketed under the umbrella of the Bojangles' Entertainment Complex, or "The BOplex" for short.
Use of the term "BOplex" seems to have started in July. But "The BOplex" hasn't quite entered Charlotte's lexicon just yet. Local media have not used the term, and there are no apparent signs with the nickname at the facilities. New names can sometimes take awhile to catch on.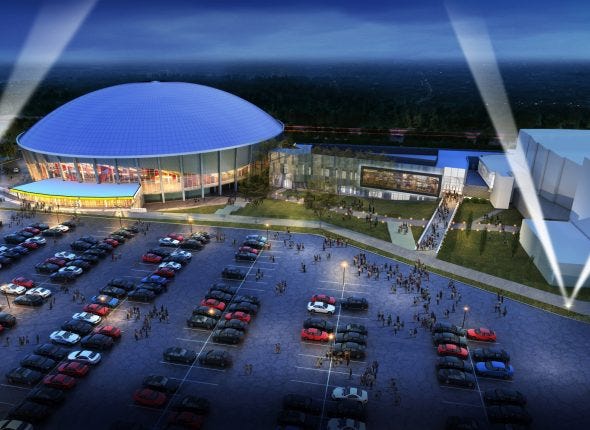 The CRVA is building an interior connection between Ovens Auditorium and Bojangles' Coliseum for the convenience of BOplex patrons.
Ovens and Bojangles' Coliseum aren't just joining under a single name for marketing purposes. They are also establishing a physical connection. Last year, the CRVA, which manages the city-owned sites, broke ground on a $19M connector between the two buildings. It's expected to be finished by early next year, according to a "BOplex construction" update on the facilities' website — boplex.com:
In early 2020, the Bojangles' Entertainment Complex will debut a new connector facility between Bojangles' Coliseum and Ovens Auditorium. The new addition will add 35,000 square feet to the BOplex and include a pedestrian connection for our two venues, space for hospitality, new concession options, additional public restrooms, an artist corridor for performers and new administrative office space.
Marketing agreement: Last year, the city, the CRVA and Bojangles' signed a 10-year naming-rights agreement that called for promoting the facilities through a combined website and social media presence. Bojangles' is paying $240,000 annually starting this year to have its name on the complex and on the Coliseum, with a $10,000 increase each year through the life of the agreement.
The historic BOplex: The Coliseum, built in 1955 on Independence Boulevard near Briar Creek Road, was previously known as Independence Arena and Cricket Arena. Bojangles' bought the rights to put its name on the venue in 2008. Ovens was named in the 1950s for the general manager of Ivey's Department Store, which was a fixture downtown until it closed in 1990.
It's unclear how "The BOplex" will stack up against other unusual venue names. Bojangles' Coliseum is already on some internet lists of the worst sports stadium names in America, alongside Whataburger Field (home to a minor league baseball team in Corpus Christi, Texas) and Talking Stick Resort Arena (home to the Phoenix Suns, named after a Scottsdale Indian casino).
Although use of the term "The BOplex" just started a few months ago, website domain information shows that somebody registered the site boplex.com in October 2016 — which means that somebody has had "The BOplex" on the brain for at least few years.
It's BOplex time: Ovens Auditorium and Bojangles' Coliseum are home to a number of musical, sporting and cultural events, including the Charlotte Checkers, the AMG Heritage Awards and this weekend's production of the Broadway musical Les Misérables.
---
Truist-Truliant truce ahead?
New court filings in the trademark battle between Truist Bank and Truliant Federal Credit Union indicate that the two sides are working to settle the case and avoid a drawn-out and highly entertaining legal fight.
In June, just days after SunTrust and BB&T announced they would name their combined bank Truist, Truliant filed suit, claiming that the new name was too similar and would confuse customers. SunTrust and BB&T are hoping to close the deal in the next few months and create a new HQ in Charlotte's Hearst Tower with about 2,000 jobs.
Truist was to have filed its response to the lawsuit today. But in a filing in federal court in Greensboro on Friday, Truist said it's seeking an extension:
Defendants submit that good cause for the requested extension exists because counsel for the parties have engaged and continue to engage in discussions to determine whether this matter can be resolved.
---
Best of Nextdoor: SouthPark candy outlaws

---
Article links Mark Cuban, CBD, ex-Panthers, 'catfluencers'
Here's a weird read: A website owned by billionaire Mark Cuban investigates a Charlotte company called cbdMD, a small publicly traded firm "that markets cannabinoid oils, lotions, bath bombs, tinctures and even pet treats."
The company has enlisted celebrity endorsers such as golfer Bubba Watson and former Panthers Steve Smith Sr. and Jonathan Stewart. It has also hired "catfluencers" that have a combined 10 million Instagram followers, the article says.
The article is heavy on insinuation and links the company's co-CEOs to Siskey Capital and to a company that streams pay-per-view porn.
You'll have to read it for yourself. Just passing it along.
---
It's Christmastime in Charlotte
---
In brief:
Atrium, Wake Forest sign med-school agreement: Atrium Health has executed an agreement with Wake Forest Baptist Medical Center that would bring a medical school to Charlotte, the two companies said last week in regulatory documents. They didn't release details but said it was "one more step in a series of milestones that will eventually enhance the patient-centered research and innovation taking place in the Triad and bring a state-of-the-art medical school to Charlotte." (Winston-Salem Journal)

Election Day tomorrow: A vote on increasing the sales tax is the highest-profile choice facing voters tomorrow, but there are also school board and municipal elections. Polls are open from 6:30 a.m. to 7:30 p.m.

Remembering Frank Dowd Jr.: Longtime Charlotte business and civic leader Frank Dowd Jr. passed away Friday at the age of 92. He served as president and chairman of Charlotte Pipe & Foundry and served in leadership positions at the YMCA of Greater Charlotte, Lance, NationsBank, Charlotte Country Day and Myers Park Baptist Church. (Legacy.com)

Transit rezoning: The City Council is expected to vote Tuesday on a proposal to rezone about 1,800 acres along the light-rail line. City planners say the move would encourage development near transit stops that's more appropriate than existing zoning. (City of Charlotte)

Luxury apartments: The first residents of 346-unit Novel Atherton at South End's Atherton Mill moved in over the weekend, developer Crescent Communities said Monday morning. The complex features a cafe, coworking space, "gaming tables, library, and craft cocktail bar."

Charlotte Talks business: Tomorrow's "Charlotte Talks" on WFAE 90.7 will feature a discussion of local business news. Panelists are the Ledger's Tony Mecia, Charlotte Agenda's Katie Peralta, the Charlotte Business Journal's Ashley Fahey and the Observer's Danielle Chemtob — so basically an all-star ensemble. The show runs from 9-10 a.m. and will also be available online.
---
Taking stock
Unless you are a day trader, checking your stocks daily is unhealthy. So how about weekly? How local stocks of note fared last week (through Friday's close), and year to date:
Stocks hit all-time highs
From CNN:
Stocks rallied sharply Friday, and the S&P 500 and the Nasdaq Composite both closed at a fresh all-time high.

"Solid October jobs data shows the engine of the US economy is humming along despite elevated global uncertainty, a good sign for future growth as improving hiring conditions fuel consumer spending and confidence," said Ryan Detrick, Senior Market Strategist for LPL Financial.

All three indexes ended the week in the green. For the S&P it was the fourth straight week of gains, while it was the fifth for the Nasdaq.
---
Need to sign up for this e-newsletter? Here you go:
Got a news tip? Think we missed something? Drop me a line at editor@cltledger.com and let me know.
Like what we are doing? Feel free to forward this along and to tell a friend.
Archives available at https://charlotteledger.substack.com/archive.
On Twitter: @cltledger
The Charlotte Ledger is an e-newsletter and web site publishing timely, informative, and interesting local business news and analysis Mondays, Wednesdays, and Fridays, except holidays and as noted. We strive for fairness and accuracy and will correct all known errors. The content reflects the independent editorial judgment of The Charlotte Ledger. Any advertising, paid marketing, or sponsored content will be clearly labeled.
The Charlotte Ledger is published by Tony Mecia, an award-winning former Charlotte Observer business reporter and editor. He lives in Charlotte with his wife and three children.