'NoDa' imitators have a long way to go
Plus: Equifax settlement could be worth $125 to you; Fifth Third closes first NoDa bank on July 30th; Legislators bestow brewery rights to dogs
Good morning! Today is Friday, July 26, 2019.
Need to subscribe? Sign up for free here (charlotteledger.substack.com).
Like what you see? Forward to a friend or share on social media.
---
No-go on 'LoSo'? Recently invented neighborhood names are failing to take off
In the last few years, as Charlotte has grown, it has experienced an explosion of newly created, marketing-ready names for existing areas of town.
Today's new crop of names includes "LoSo," (Lower South End) "MoRA" (Monroe Road area) and "FreeMoreWest" (Freedom at Morehead area on the westside). There's even a guy out in Gaston County opening a dog bar in an area he calls "NoBel," or north Belmont.
But if you talk to people who actually hang out in those places, it's clear that those names are slow to catch on — despite the best efforts of developers, neighborhood associations and some media outlets to pump up the trendy-sounding names.
The Ledger went to those places this week and asked the first 10 people we could find: "What's this area of Charlotte called?" It's an unscientific survey. But the results suggest that few people actually know the names that powers-that-be are giving to these places.
History lesson: It's a new take on a practice that goes back decades. "South End," "NoDa" and even "uptown" weren't the original names of those areas but were added later and caught on over a period of years.
Sam Spencer, chairman of the Charlotte-Mecklenburg Planning Commission, said in an interview that there's variety in the new names, which have different origins.
"I do think not all of the alphabet-soup names are the same," he says.
For instance, he says he's good with "MoRA," which is short for the Monroe Road area, because that was produced from the grassroots by neighborhood leaders. (They say that correctly pronounced, "MoRA" rhymes with "Laura.")
But Spencer sounds less impressed with "LoSo," which is short for "Lower South End" and is a name commonly given to the area south of Clanton Road between South Boulevard and Tryon Street.
"LoSo seems like a name that's come from above," he says. "LoSo goes through a lot of cycles where there's something really important that happens south of Clanton Road. Then people remember the LoSo name. Then people get mad about it. And nobody changes their opinion, because the LoSo name is completely unstoppable at this point."
Linguistic gentrification? He says that in some cases, the new names could be a manifestation of gentrification, in which outsiders are trying to impose names on existing communities: "If you look at some neighborhoods that are traditionally communities of color — something like Brookhill, on the border between South End and what is being called LoSo — I think there's definitely a legitimate concern to be had about whether or not you are just basically completely stepping on a pre-existing identity of a neighborhood or the identity of folks who live there."
Whether the new names are clever or corny, they seem to be unknown to many of the people in the area:
FreeMoreWest
Interviews conducted near: Freedom Drive at Morehead Street, by Pinky's Westside Grill
People interviewed included: Dunkin' Donuts customers, Rhino Market customers drinking coffee
Q: What's this area of Charlotte called?
"Good question" (3)

Wesley Heights (2)

FreeMoreWest

"The westside"

"I have no idea."

"It's edging on West Charlotte."

"Extended Third Ward, Wesley Heights kinda."
Verdict: Strong sentiment for Wesley Heights, but most people don't know.
NoDa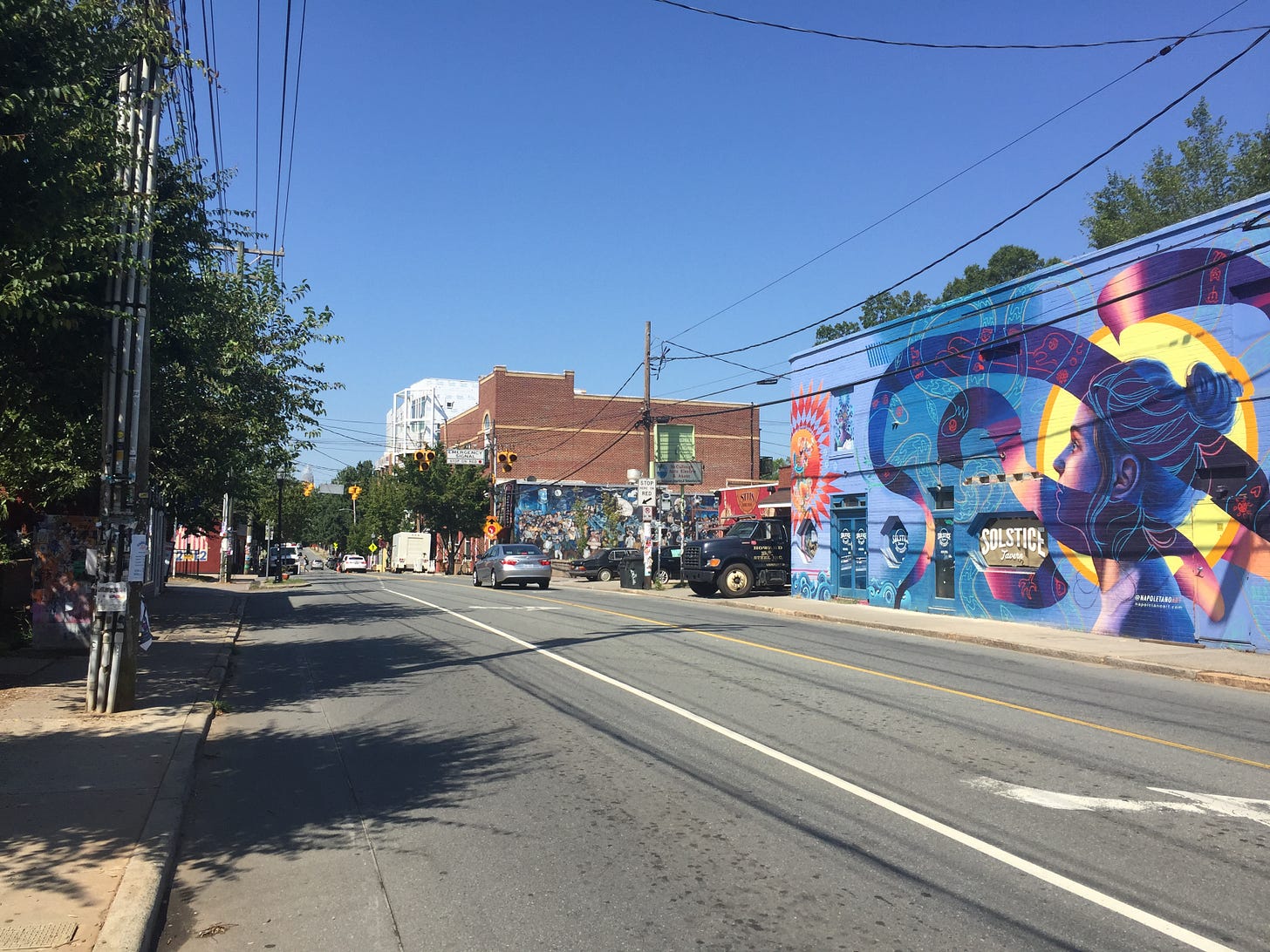 Interviews conducted near: 36th Street at North Davidson Street
People interviewed included: Young women with yoga mats, construction workers, delivery drivers, bartender
Q: What's this area of Charlotte called?
Verdict: Everybody knows this as NoDa. Noteworthy: all 10 pronounced it as "NO-duh," rhyming with "coda." Nobody pronounced it "NO-dah."
LoSo
Interviews conducted near: Olde Mecklenburg Brewery, the area's spiritual center
People interviewed included: OMB lunch customers and day-drinkers
Q: What's this area of Charlotte called?
"South End" (3)

"South of South End."

"Kinda near South End. This is the brewery area."

"It's not really called anything. Where all the breweries are."

"It's not North Davidson. [checks phone] It's near SouthPark."

"Near Sedgefield."

"I have no idea."

"Southside"
Verdict: Nobody called it LoSo. The name seems stoppable after all.
MoRA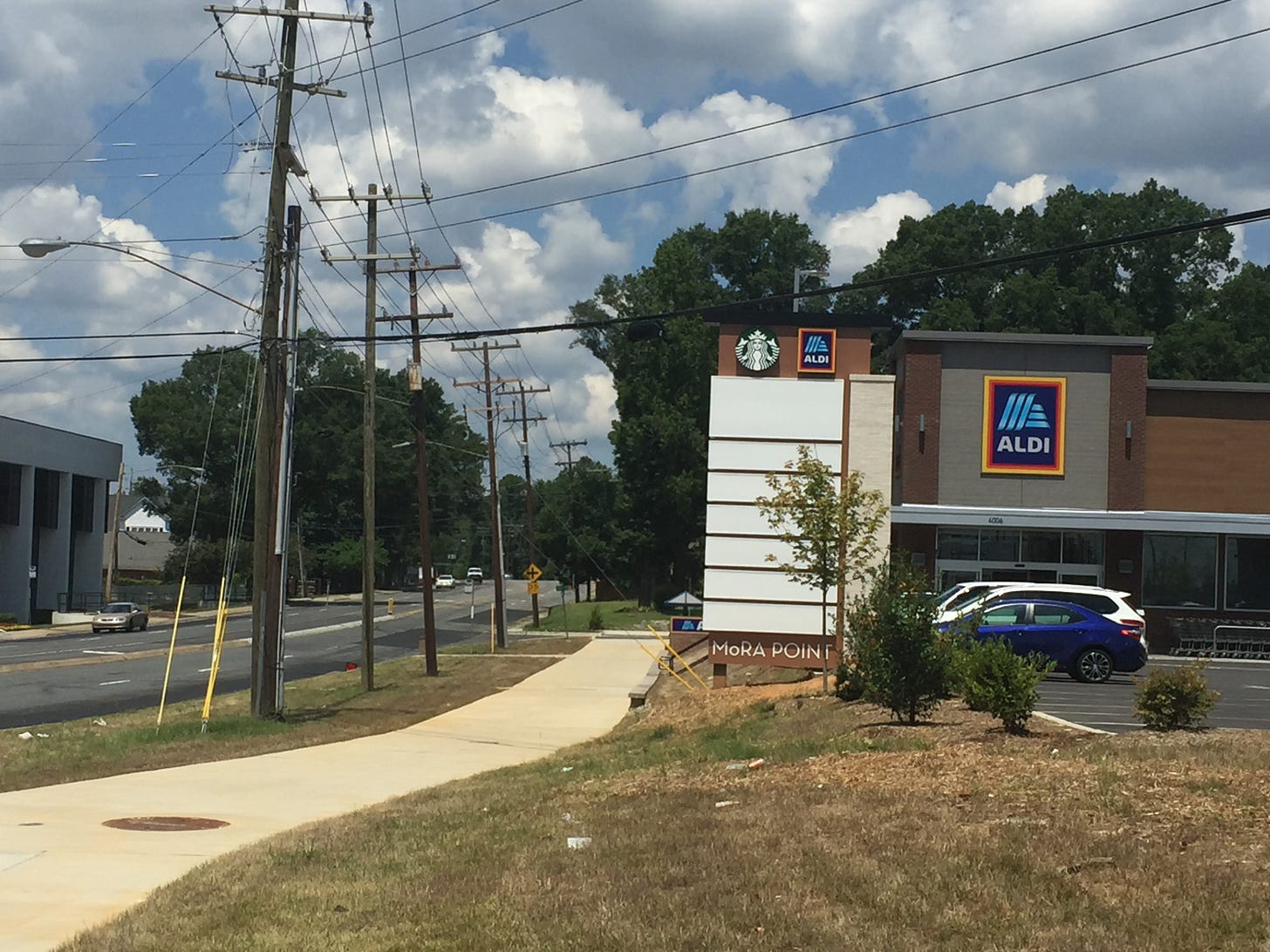 Interviews conducted near: MoRA Point shopping center at Monroe and Idlewild roads
People interviewed included: Aldi shoppers
Q: What's this area of Charlotte called?
"Eastside. It's coming up."

"Eastside. The best side!"

"The east"

"Southside: Idlewild and Monroe"

"I'm not sure."

"Don't know"

"East Charlotte"

"MoRA, Monroe Road area"

"It's pretty close to downtown, I guess."

"Monroe and Idlewild"
Verdict: Even though people were being interviewed at a development called "MoRA Point," only one came up with "MoRA."
---
Not a scam: You could be eligible for $125 in Equifax settlement
Earlier this week, the credit-reporting agency Equifax agreed to a $700M settlement regarding a 2017 data breach — one of the largest in history.
It affected nearly 150 million people, or 56% of the U.S. population, CNBC reports. If you're one of those people, you could be eligible for free credit reporting or a $125 check or prepaid card.
To see if your information was compromised — and if you could be in for a payday as a result — go to this website and enter your last name and last six digits of your Social Security number. If you qualify, you can submit a claim online. It takes about a minute. You should do this.
If you think it's a little sketchy to follow the advice of a 4-month-old e-newsletter to give a website part of your Social Security number, you can read about this settlement and follow the links from more established places such as the Federal Trade Commission, CBS News, CNN and NBC.
You can thank the Ledger when that check shows up.
---
Something closes in NoDa
Fifth Third Bank is closing its branch at 31st and North Davidson streets in the NoDa neighborhood.
Why? Bank spokeswoman Alexandra Pfadt told the Ledger that the "physical site wasn't conducive to service customers in that area." The location wasn't walkable for many customers, and parking restrictions imposed by the landlord made it tough, too, she said. "NoDa is great, but we weren't in the right space for it." She said the bank is consolidating operations into the uptown branch, at 201 N. Tryon St. The branch opened in 2009.
Fifth Third announced plans this month to add 20 branches in Charlotte in the next two years, part of an aggressive expansion into the Southeast. Four are scheduled to open by the end of 2019, including sites in Ballantyne, Stonewall Station uptown and in South End.
The NoDa location's final day is Tuesday.
---
In brief
Political theater: Wednesday's hearing on Capitol Hill on the SunTrust-BB&T merger was mostly a dud. The deal is expected to close this fall, with the new company, Truist Bank, planning to move into uptown's Hearst Tower. "Lawmakers questioning the companies' chief executives showed little interest in slowing the deal," American Banker reported.

City squeezes American Airlines: The Charlotte City Council this week agreed to postpone approval of an American cargo and catering lease over concerns that American's catering contractors — LSG Sky Chefs and HMSHost — pay their workers too little, the Observer reported. "We as a city shouldn't economically benefit from the agreement at the expense of workers who are making less than $9 an hour," council member Dimple Ajmera said.

Another uptown tower: Carolina Development Group is planning a 32-story residential tower near 10th and Graham streets, just inside I-277, the Biz Journal (paywall) and Observer reported. The rezoning request filed with the city calls for up to 320 multifamily units and 5,000 s.f. of commercial space.
---
Food and booze news
A weekly wrap-up of the week's eating and drinking developments
---
Got a news tip? Think we missed something? Drop me a line at editor@cltledger.com and let me know.
Like what we are doing? Feel free to forward this along and to tell a friend.
The Charlotte Ledger is an e-newsletter and web site publishing timely, informative, and interesting local business news and analysis Mondays, Wednesdays, and Fridays, except holidays and as noted. We strive for fairness and accuracy and will correct all known errors. The content reflects the independent editorial judgment of The Charlotte Ledger. Any advertising, paid marketing, or sponsored content will be clearly labeled.
The Charlotte Ledger is published by Tony Mecia, an award-winning former Charlotte Observer business reporter and editor. He lives in Charlotte with his wife and three children.