Discover more from The Charlotte Ledger
Delivering smart and essential news to Charlotte, one email at a time.
Over 19,000 subscribers
OMG: Influencers grapple with new ad-disclosure rules
Plus: N.C. might have money for you; Podcast recounts dramatic Eric Rudolph capture; 2 designs for new bridge over I-277
Good morning! Today is Monday, November 25, 2019.
Need to subscribe? Sign up for free here (charlotteledger.substack.com). Like what you see? Forward to a friend.
Note: The next Ledger will be Monday, Dec. 2. Happy Thanksgiving.
Endorsers are supposed to disclose payments and freebies but sometimes fall short; Charlotte businesses 'dying' to get into Facebook moms groups
When you see a glowing social-media post about a Charlotte restaurant or boutique, is it an honest opinion? Or a paid ad?
These days, it can be hard to know.
This month, the Federal Trade Commission set out new guidelines for people who take money and freebies to hype products on the internet, with the goal of helping consumers identify posts paid for by companies. But people in Charlotte who make money from companies for blogging and posting on social media — often known as "influencers" — say the FTC guidelines can be ambiguous and that not everybody seems to abide by them.
Everything moving online: As Americans live more of their lives online, advertisers are eager to follow. The average American spent 1 hour 14 minutes a day on social media in 2018, a 20% increase over 2015, according to data from an e-marketing firm. That's double the amount of time spent on household activities such as housework, making meals and caring for household members.
The rules, designed to prevent deceptive advertising, say that people who post endorsements must clearly disclose when they have received financial compensation or free products. The disclosures must be "hard to miss" and use "simple and clear language," the FTC says. They can't be buried in hashtags or use vague words like "thanks."
Rebecca Plaisance, 48, founded MomCLT, a "hyperlocal influencer firm," to connect businesses and local moms. She has a database of more than 600 moms who are open to being compensated by companies or receiving free stuff in exchange for reviews. Clients include Atrium Health, Dish It Out and 2U Laundry.
Plaisance says her mom-fluencers share recommendations in Facebook discussion groups where Charlotte moms congregate, such as Moms Helping Moms (8,300 members), South Charlotte Moms (1,000) and Midwood Mommies (700). "Businesses are dying to get into these moms groups," Plaisance says.
Companies seeking 'authenticity': When Plaisance enlists the moms in a social media campaign, she says she tells them about the disclosure rules, which specify that the posts must clearly say they are sponsored or an ad at the beginning of the post. She even provides disclosure language that the moms can include, she says. But companies don't always appreciate it when the posts follow the law: "Clients don't necessarily love it when the moms put their disclosures in there because it takes away from the authenticity of the post, which is what they really want," she says.
Plaisance says that in Charlotte, she sees a lot of posts that don't follow the rules. That could be because FTC guidelines are unclear or because local influencers don't know about them or think federal authorities will target only people with big national followings. In the last few years, the FTC has reached settlements with Sony, Lord & Taylor and Warner Bros. related to influencer marketing campaigns. In 2017, it sent warning letters to 90 celebrities, endorsers and companies.
Difficult to know: "I don't think most influencers or media companies do a good job with disclosure," Plaisance says. "It's very difficult to know when something is sponsored and when it isn't." She admits she forgets to add the disclosures from time to time.
When Charlotte food and travel blogger Chrissie Nelson Rotko, 32, is paid by a company or receives a free meal for her blog, Off the Eaten Path, she says she makes sure to note that relationship prominently at the top of the blog post — just as the FTC wants. Local clients that have paid her or provided free meals include Maggiano's Little Italy, Haberdish and Miro Spanish Grille.
She teaches classes on making money from blogging and includes FTC disclosures as part of her curriculum.
"The goal is they want you to disclose the relationship so people consuming the content have that ability to know there is a relationship there," she says. But with so many people entering the field, some don't know the rules exist: "There are people who don't know it, don't educate themselves about it and aren't aware of it."

She says restaurants sometimes don't know the disclosure rules and prefer that her posts not mention that she was paid or ate for free: "I've had restaurants when I posted an ad or said they gave me free food message me and ask me why I did that. A lot of restaurants or brands don't know it's something influencers and bloggers have to do."
Example: 'Exclusive' media gathering at Great Wolf Lodge leads to Facebook publicity
This month, the Ledger received an invitation for an "immersive media weekend trip" at the Great Wolf Lodge that included time in the water park, meal vouchers for the weekend, a "media/blogger-only breakfast" and complimentary activity passes for MagiQuest and miniature golf. It asks that "all media attendees share their experience editorially and via social media channels." Here's the invite: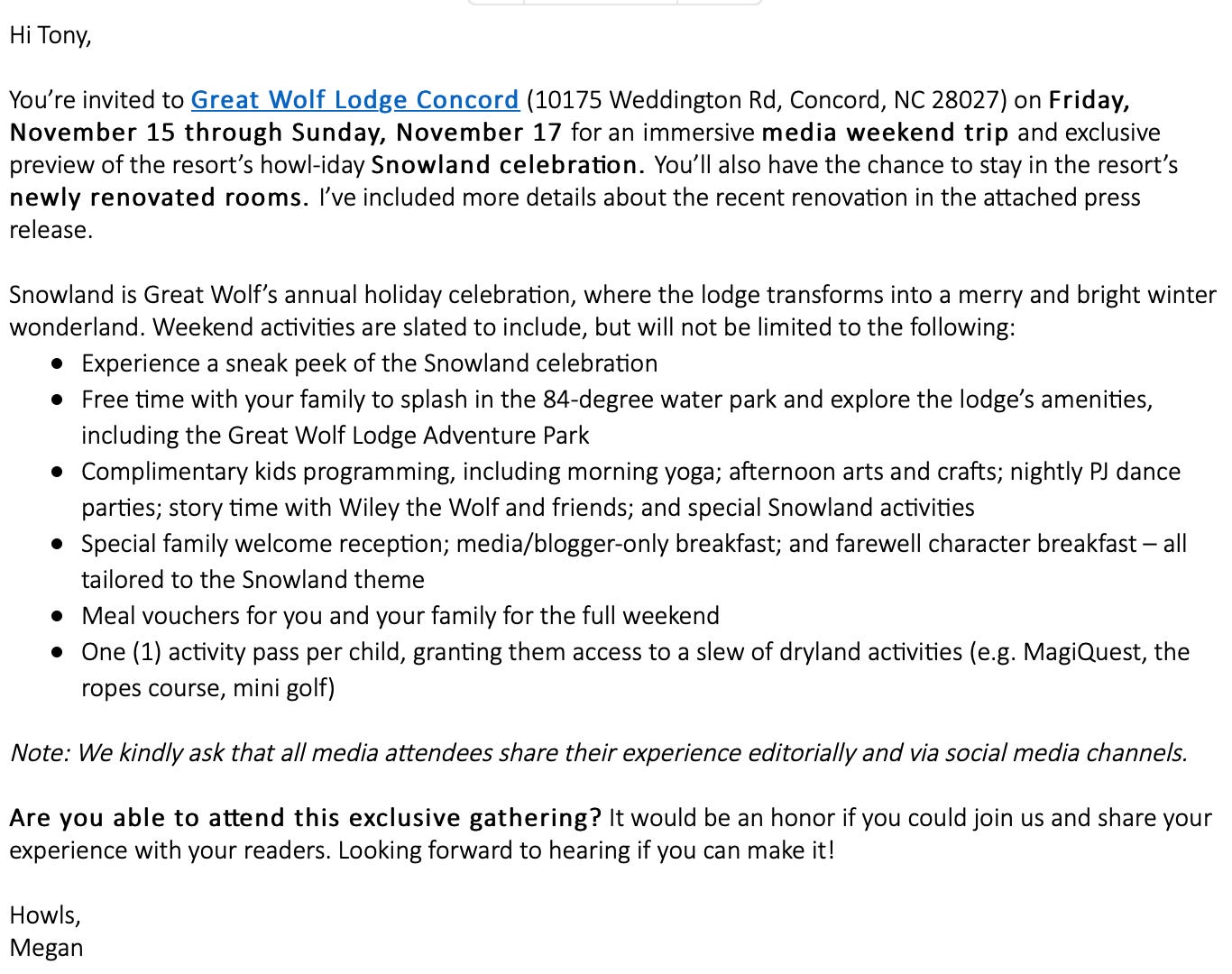 The Ledger hit its quota of attending events with screaming young children years ago and did not attend, but some bloggers wrote about the weekend and shared it on social media. FTC advertising guidelines say disclosures for accepting free goodies and compensation should be at the top of a social media post, above where people need to click to read more. This post from Kidding Around Greenville, SC includes the line "Thanks to Great Wolf Lodge for hosting us!" at the bottom of the post.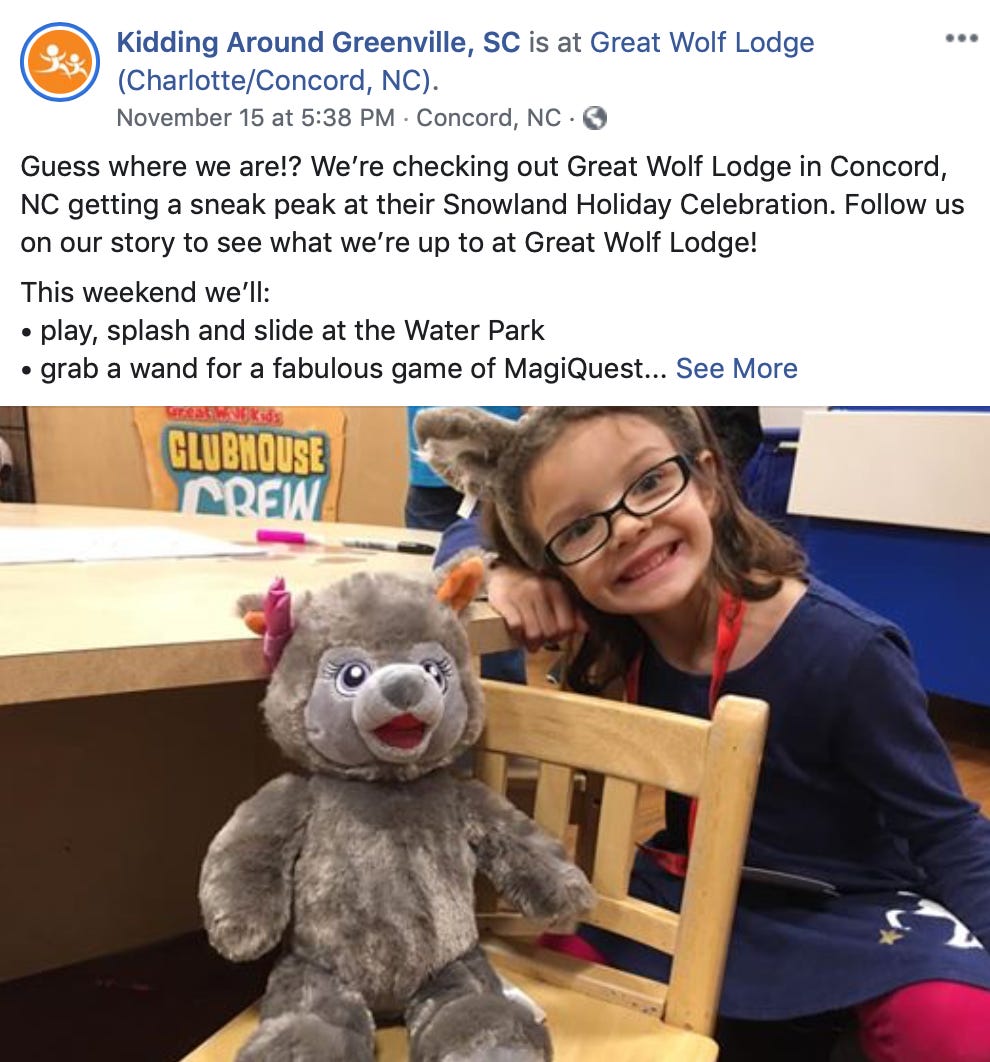 ---
Search for your unclaimed money
You might want to take a moment and check out the NCCash website that's run by the state treasurer's office. It has nearly $800M in unclaimed property — money from old bank accounts, utility deposits, stocks and the like where the company has lost track of the consumer who is owed the money.
The state treasurer returned almost $54M to consumers last year.
The website is here. If you find your name, you can claim your money.
---
This week in podcasting
If you're looking for some entertaining podcasts to add to your queue over Thanksgiving, you could do a lot worse than to check out these two with North Carolina connections:
Away Message, Season 3, Episode 8, "The Rookie." Host Jeremy Markovich of Our State magazine travels to Boston to catch up with Jeff Postell, who at age 21 was in his first year as a police officer in the N.C. town of Murphy in 2003 when he stumbled across a vagrant at 3:30 a.m. at the Save-A-Lot grocery store. Postell describes the moment he realized the man was fugitive Eric Rudolph: "I went on the FBI's website and I pulled up his FBI wanted poster. … 'Brown hair,' check. 'Blue eyes,' check. 'Receding hairline,' check. 'Detached earlobes.' Hmm, check. 'Scar on the chin.' I sat back in my chair, and I looked across the hall, and he was sitting, still handcuffed, with his hands behind his back, and his head was leaned back in the chair, and he was staring at the ceiling. And the scar on his chin was staring right smack dab at me … That's when I started saying, 'Um, we may have something here.'"

The Peter Attia Drive, "Ric Elias: Earning the Gift of Life," Nov. 10. Ric Elias, CEO of Red Ventures, goes into detail on what went through his head on the day in 2009 when he was aboard the "Miracle on the Hudson" flight from LaGuardia to Charlotte: "There's a massive explosion — BAM! — like a pipe bomb … For the next couple minutes, all you could hear was the engine struggling. … I knew in that moment, 100% with certainty, that we were going to die. I looked at the flight attendant's eyes and it was no longer annoyance. It was complete terror. … You have 90 seconds to basically say goodbye to your life. … I had seen enough documentaries to know that planes don't land in water. They break into a million pieces. … I thought I had years, and now it's all over. … I really had a ton of regret about the things I did not get to: experiences, people I needed to ask for forgiveness from, people I wanted to say again, 'I love you,' people I wanted to hug one more time."
---
In brief: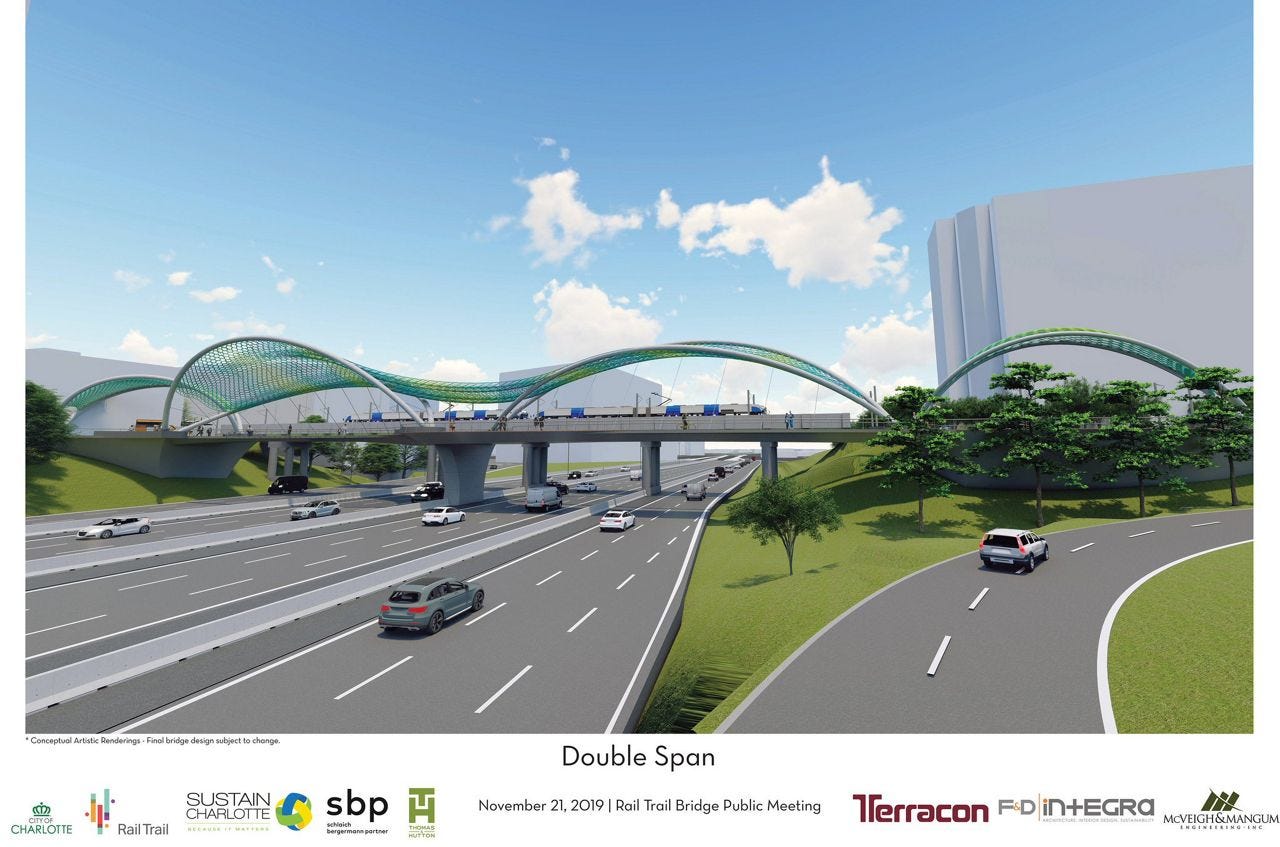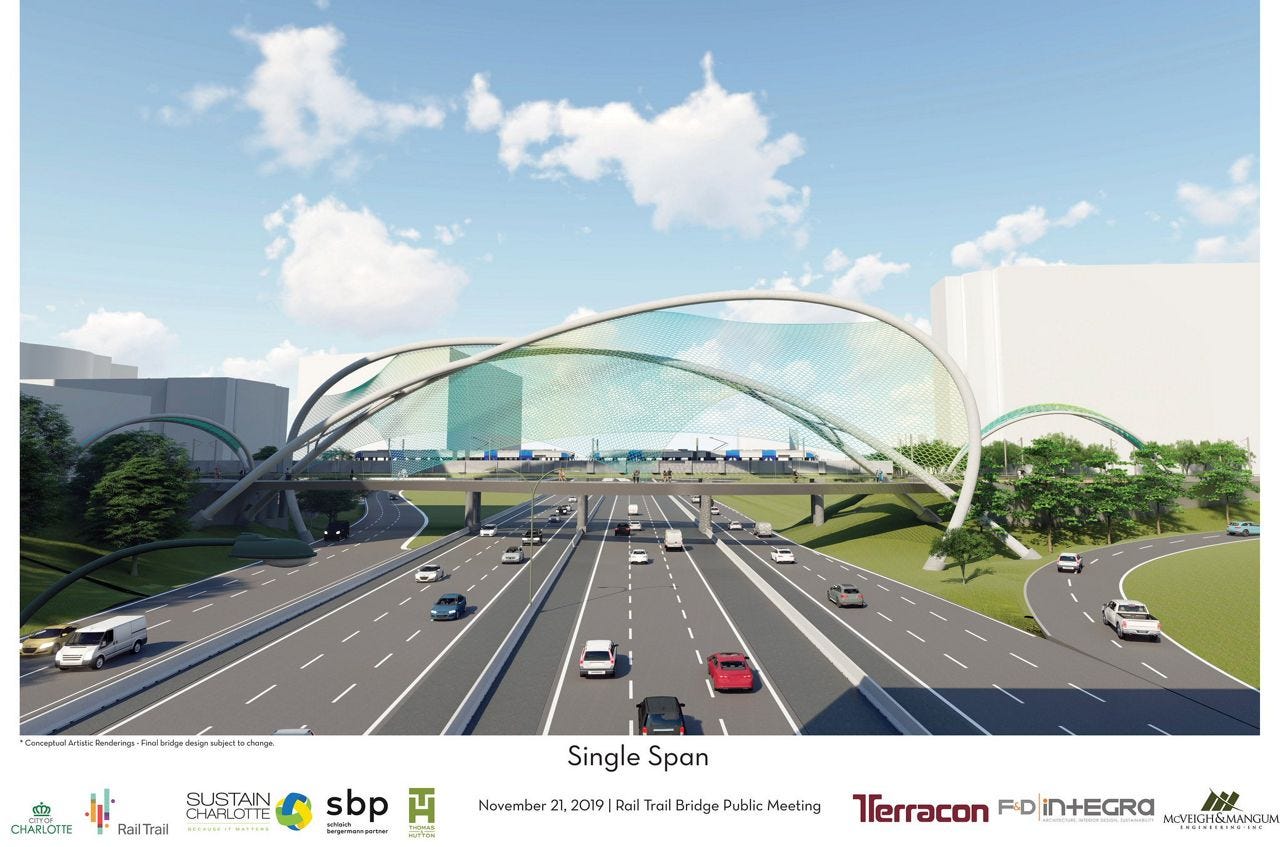 ---
Taking stock
Unless you are a day trader, checking your stocks daily is unhealthy. So how about weekly? How local stocks of note fared last week (through Friday's close), and year to date: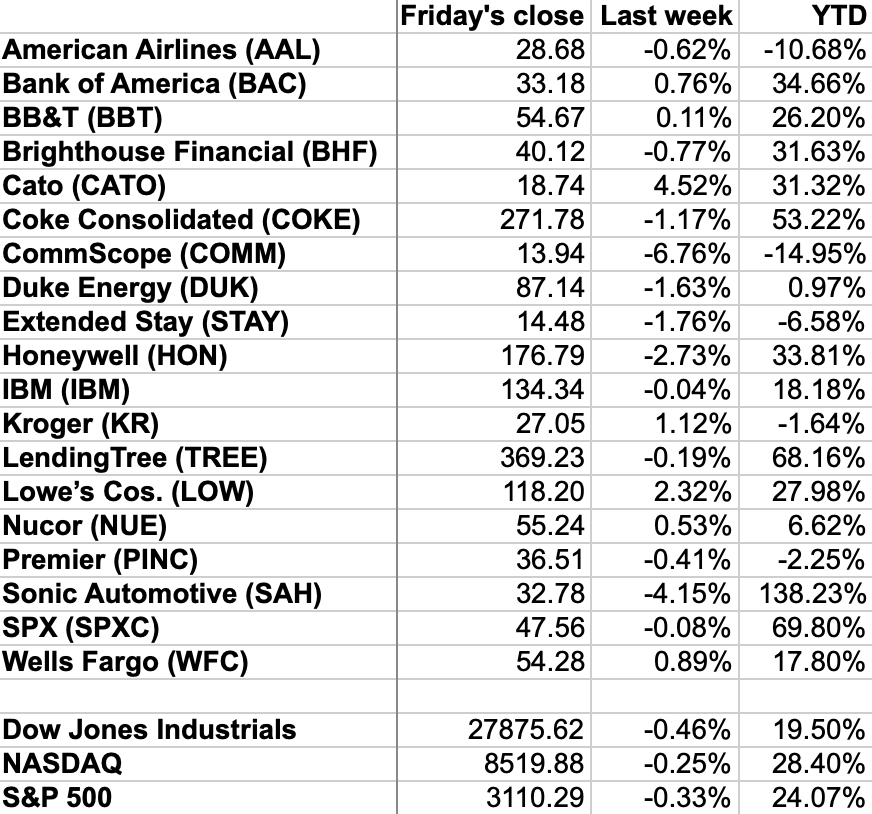 ---
Need to sign up for this e-newsletter? Here you go:
Got a news tip? Think we missed something? Drop me a line at editor@cltledger.com and let me know.
Like what we are doing? Feel free to forward this along and to tell a friend.
Archives available at https://charlotteledger.substack.com/archive.
On Twitter: @cltledger
The Charlotte Ledger is an e-newsletter and web site publishing timely, informative, and interesting local business news and analysis Mondays, Wednesdays, and Fridays, except holidays and as noted. We strive for fairness and accuracy and will correct all known errors. The content reflects the independent editorial judgment of The Charlotte Ledger. Any advertising, paid marketing, or sponsored content will be clearly labeled.
The Charlotte Ledger is published by Tony Mecia, an award-winning former Charlotte Observer business reporter and editor. He lives in Charlotte with his wife and three children.