Parenting survival guide: CMS spring break edition
Need to sign up for The Charlotte Ledger? You can do it for free here:
---
With online classes on hiatus, here are 10 ways to keep your kids busy and engaged around the house
by Michelle Crouch
We were supposed to be in Paris right now, taking our three kids on their first trip to Europe during CMS spring break. Maybe you were planning a trip to Disney World, to the beach or somewhere else incredibly cool.
Instead, we're all on our fifth week stuck at home. Except now, without schoolwork, the kids really have nothing to do. That's especially a challenge if you're a working parent trying to find ways to keep the kids busy while you're on a conference call or working on a project.
As someone who always works at home — including through the summer with kids underfoot — I've picked up a few tricks to keep the kids busy when I'm on deadline. I also talked to a few local experts and other parents about what's working for them.
Here are some ideas to help save your sanity through spring break and beyond:
1. Maintain a routine that includes 'quiet' time
"Children do best when they have schedules and they know the expectations," says Terri James, a psychologist who is part of the Purposeful Parenting team at Charlotte-based Southeast Psych. 
James recommends creating a rough daily schedule that you post where kids can see it. You don't need to plan every minute, but it will be easier for your kids if they wake up and eat meals at roughly the same time every day, she says.
If your kids no longer nap, consider including a one- to two-hour designated "quiet time" every day when your children are expected to entertain themselves in their rooms without screens — and without bothering you. To keep them busy, offer puzzles, coloring books, sticker books, and building sets like Legos, MagnaTiles or Zoobs — these are all great toys for keeping kids independently entertained.
2. Create a record of this time
Encourage your kids to keep a daily journal or write a short essay about how coronavirus has affected their lives so far. Younger kids can draw a picture, or you can make a video of them talking about it.
This is an unprecedented event that will be included in history books, and having a record of their own experiences will be interesting for your kids to look back on one day.
3. Make them earn their screen time
I give my own kids a daily checklist that includes enrichment activities and chores. On a recent day, for example, my 11-year-old son had to make his bed, read for an hour, write a letter to his grandparents, walk the dog and build a marble run before he could have any screen time.  On other days, his checklist asked him to organize his football cards, pick up sticks in the yard or watch specific a Ted talks or educational YouTube video.   
I like using checklists because it allows me to set expectations without having to constantly hound my kids — and because I'm super Type A. The kids don't have to do everything on their list, but they can't have "mindless" screen time until they do.
4. Keep them moving
Physical activity is key to boost moods and fight boredom, James says. Start the day by taking a walk, going for a bike ride or do an online workout class together. For younger kids, make it fun by injecting some silliness: try a GoNoodle dance video, set up a backyard obstacle course, have a crazy dance party or play balloon volleyball. (The MommyPoppins site has a ton of ideas.)
5. Send them on scavenger hunts
Hide stuffed animals around the yard, bury objects in sand or Play-Doh, or hide Lego bricks around the house. You can also send your kids searching for things that are specific colors, shapes or that start with different letters.
It takes a little planning, but these kinds of hunts can keep kids busy for a while. If you need ideas, Good Housekeeping has links to 22 different types of hunts, so you can send your kids searching for everything from sight words to types of leaves.
6. Give them a challenge
"Challenges" are another way to keep your children busy while you get things done. Last week, I challenged my son to build a tower from toothpicks and cut-up apple pieces. (You could also use marshmallows, but I didn't have any!)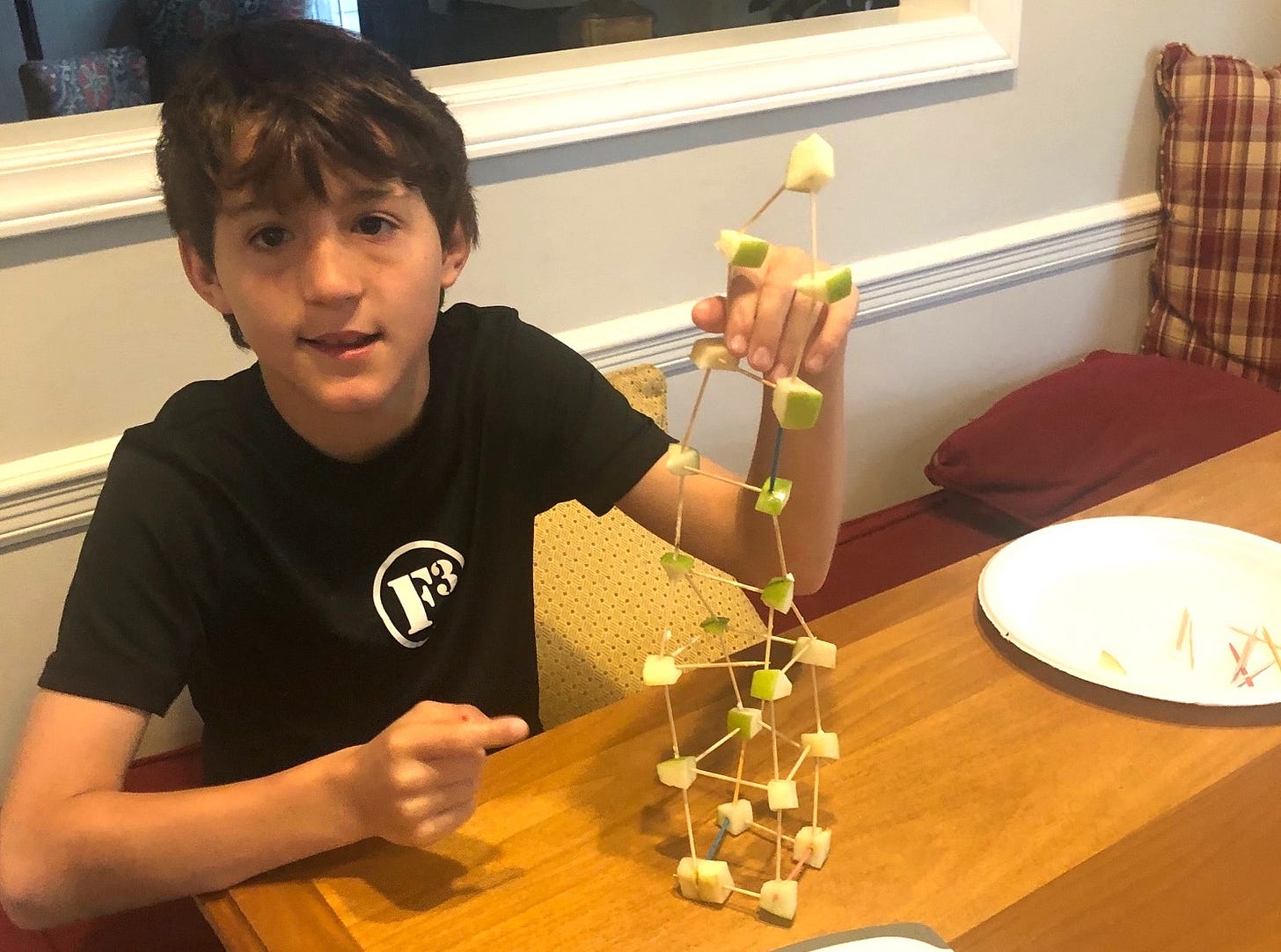 The author's son, 11-year-old Ben Smolowitz, constructed a structurally dubious tower out of toothpicks and cut-up apple pieces.
Other ideas: challenge your kids to build a fort, to make specific Play-Doh creations or to make a movie on their tablet.  Legos are one of the best tools for challenges.  (Ideas for Lego challenges here: fundlearningforkids.com.) Charlotte mom Anna Davis is posting a Lego challenge each day of spring break for her kids and their friends. On Monday, it was "A funny thing happened at the playground." Kids submit photos of their creations,  and then Davis will post them on Facebook for everyone to see.
If you have older kids, you can challenge them to build a Rube Goldberg machine. (I had my kids do this one summer and loved what they came up with.)
7. Create a behavior system
If you're up to your eyeballs with your kids not listening to you, make like a teacher and put a behavior system in place, whether it's a sticker chart or a jar of gems.
SouthPark mom Carrie Paynter created a color chart modeled after the one her daughter has in kindergarten. "Just like at school, she starts on purple and moves up or down based on her behavior," Paynter says. "If she stays on purple, she can have treats with lunch and dinner."  
Becca Kucera, another Charlotte mom, wrote household tasks on slips of paper and stuffed them in a jar. Anytime her two kids bicker or complain about being bored, she makes them draw a slip from the jar and complete the chore. "If this quarantine continues, my house will be the cleanest it has been since the kids were born," Kucera says.
8. Make the most of screen time
If there were ever a time to loosen screen-time limits, it's now, says local parenting expert Michelle Icard, author of Middle School Makeover. "Technology is your friend in this situation," she says. "A few weeks of extra screen time isn't going to derail your children long-term."
The key is to try to make sure the content is age-appropriate and (mostly) high-quality. Commonsensemedia.org has helpful reviews of TV shows, movies, apps and games based on their appropriateness for children.  
Last week, I got frustrated with the low-quality shows my teenage daughter was watching, so I had her make a list of Oscar-winning movies available on Netflix, and she's going to work her way through the list. She has also enjoyed listening to Ted talks from this list of TED talks recommended by students for students.
Also, don't forget about audiobooks — it's screen time that's good for your child! The Charlotte-Mecklenburg Library offers virtual storytime videos and Family Storytime Live on Facebook. You can also check out celebrities reading books aloud on this YouTube channel.
9. Work on life skills
Think of this time as "an opportunity to teach important things that you're always too busy to teach: cooking, laundry, sewing a button, how to change a tire," Icard says. "Teaching any kind of life skill is a good way to keep their brains active."
Lots of parents are inviting their kids to make dinner and clean with them, but don't be afraid to think outside the box. Do you want to teach your kids how to tie a sailor's knot? Is there a magic trick you could teach? In previous summers, my kids learned to shuffle cards the right way, the words to the Preamble of the Constitution and how to type using Dance Mat Typing.
Remember, you don't always have to be the one doing the teaching. Ask your kids what they want to learn (a specific dance move? how to French braid?), and help them find a YouTube video to teach them.
10. Take advantage of extra time to connect
Even if you're working from 9 to 5, try to bookend your day by doing something fun with your kids in the morning and evening. Watch a classic movie, snuggle up and read, have a picnic in the family room or learn to play a new board game together.
"We almost never get extra time to slow down and spend time with our kids," Icard says. "Don't forget to take some time and enjoy it."
Michelle Crouch is a freelance writer and a regular contributor to The Ledger.
Feel free to share this article with a friend:
---
The Charlotte Ledger is an e-newsletter and web site publishing timely, informative, and interesting local business news and analysis Mondays, Wednesdays, Fridays and Saturdays, except holidays and as noted. We strive for fairness and accuracy and will correct all known errors. The content reflects the independent editorial judgment of The Charlotte Ledger. Any advertising, paid marketing, or sponsored content will be clearly labeled.
Need to sign up for this e-newsletter? Here you go:
Got a news tip? Think we missed something? Drop us a line at editor@cltledger.com and let us know.
Archives available at https://charlotteledger.substack.com/archive.
On Twitter: @cltledger
Sponsorship information: email editor@cltledger.com.
Executive editor: Tony Mecia; Managing editor: Cristina Bolling; Contributing editor: Tim Whitmire; Reporting intern: David Griffith