Ready to order: Charlotte diners slowly return to restaurants
Plus: Beacon's LoSo Station up for sale; More reports of CMS 'Zoom bombing'; Charlotte nonprofits could improve on executive pay, study says; UNCC delays in-person classes; N.C. recovery stalls
Good morning! Today is Monday, August 24, 2020. You're reading The Charlotte Ledger, an e-newsletter with local business-y news and insights for Charlotte, N.C.
Need to subscribe? Sign up for free here (charlotteledger.substack.com). A paid subscription, starting at $9/month, gives you access to all articles and helps build smarter original, local news in Charlotte. Details here.
---
Today's title sponsor is Count on Me CLT. To help save lives, jobs and businesses, please wear a mask, wait 6 feet apart and wash your hands often. Visit CountOnMeCLT.com for more information.

---
Uptick in demand for tables in last month, data shows; Still 45% below last year but 'more people are coming out'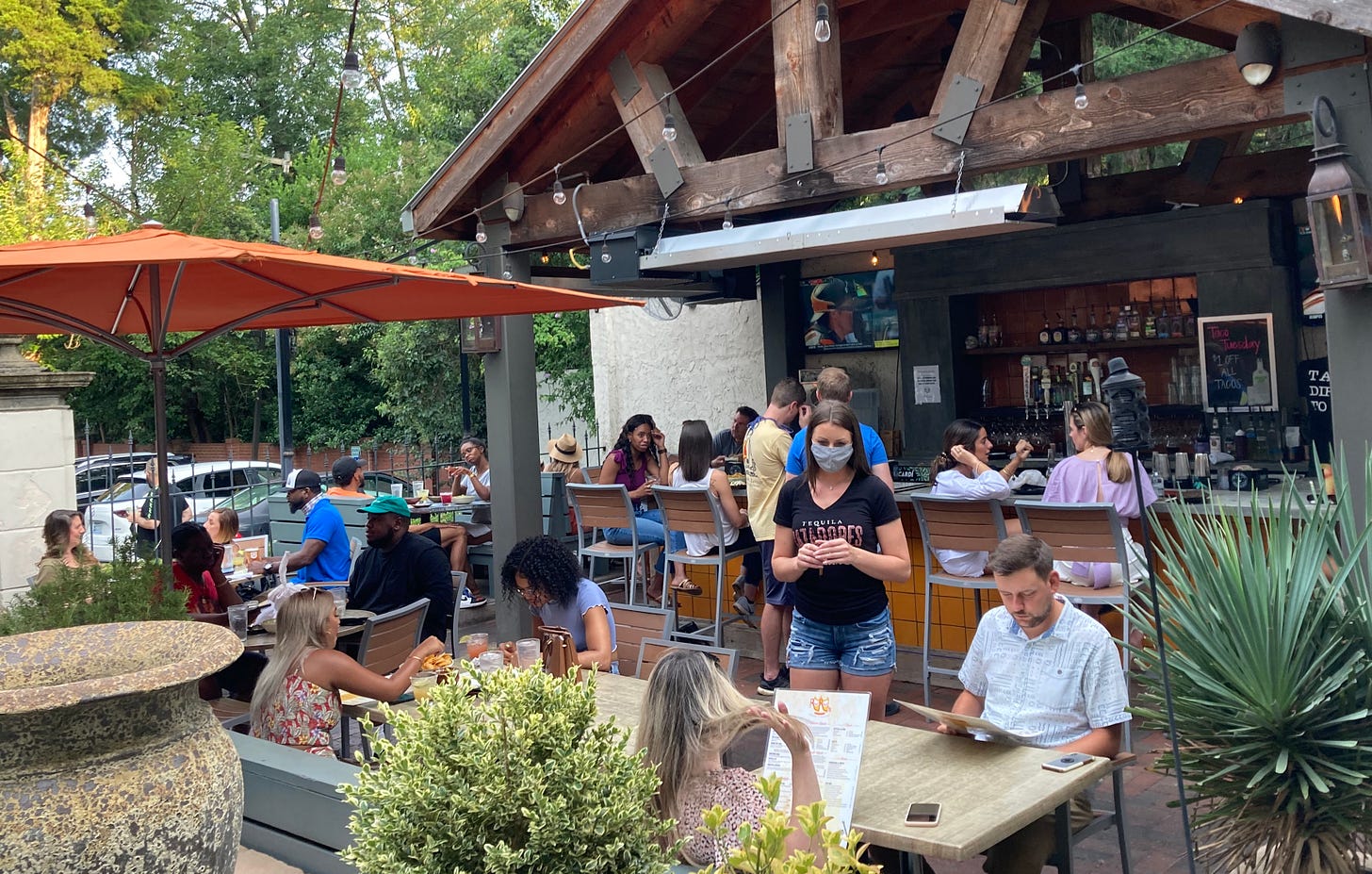 Crowds aren't just for Taco Tuesday: There is regularly a wait for dinner at RuRu's Tacos + Tequila in Eastover, which has an outdoor patio.
by Tony Mecia
You're more likely to encounter a wait for a table at Charlotte restaurants than earlier in the summer, with more residents appearing comfortable dining out as the pandemic drags on.
While the number of Charlotte diners is still well below where it was a year ago, the figures have improved significantly since restaurants were first allowed to reopen in May — and they've shot up in the last three weeks, according to a Ledger analysis of publicly available data from OpenTable.
In the last week, the number of sit-down diners in Charlotte was down 45% compared with a year ago. Yes, OK, that's bad — and devastating for restaurants. But it's a marked improvement from being down more than 60% year-over-year, as it was for most of July. On Friday, Charlotte restaurants were down 29%, according to the data — the best performance since mid-March.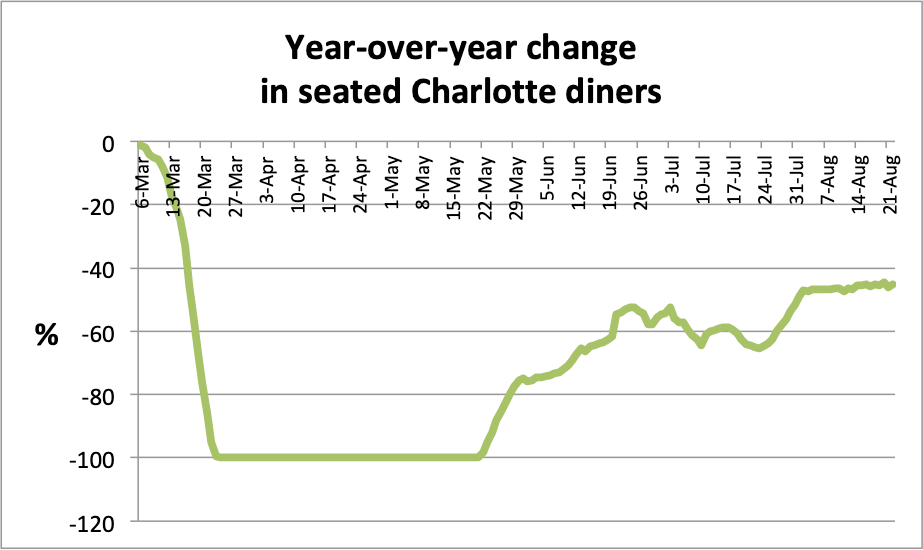 GLASSES HALF FULL: The number of people eating at Charlotte dine-in restaurants was down about 45% last week compared with a year earlier, according to figures from seating-software provider OpenTable. That's better than the 60% drop in June and July. (Source: Ledger analysis of
OpenTable data
, 7-day trailing averages)
Tired of cooking: There are probably a number of reasons for the recent increase, including a return to school that has ended summer vacations, improving Covid numbers and people simply growing tired of cooking at home after five months.
Some of Charlotte's best-known restaurants now often have waits to get a table — especially those with outdoor seating. Restaurants are supposed to be operating at 50% capacity and spacing tables far enough apart to be safe, so they fill up with fewer diners than in the past.
"I definitely think we are seeing it trend upwards, on the weekends for sure," says Pam House, director of operations for Yafo Kitchen, Mama Ricotta's and Paco's Tacos & Tequila, owned by FS Food Group. "It seems like more people are coming out."
She said Mama Ricotta's and Paco's Tacos routinely fill up their dining rooms Thursday to Sunday, and even counter-service restaurant Yafo had a line to the door at its SouthPark location last week for the first time since March.
House thinks even more people will head to restaurants later this month as parents attempt to juggle work and supervising their kids' virtual learning. "If you're doing school at home as a parent and you're working from home, are you going to cook at home? I wouldn't think so. You probably don't have enough hours in the day."
In addition to on-premise dining, about half of the company's business is to-go orders.
Restaurant dining rooms in Charlotte were closed between March 17 and May 22, and the results were severe: The Charlotte region lost 40% of its leisure and hospitality jobs in the second quarter, the biggest drop of any sector. A number of well-known restaurants have permanently closed, including Carpe Diem and Upstream.
The OpenTable data show that dining in Charlotte started declining March 7, the same week as North Carolina announced its first two confirmed coronavirus cases. By March 12, declines in sit-down dining were in the 30% range, as universities closed and pro sports teams cancelled their seasons.
When it comes to returning to sit-down restaurants, Charlotte is one of the top cities in the country, the data shows. The OpenTable numbers aren't just from reservations but also include figures from seating software many restaurants use.
In the last week, Charlotte ranked No. 8 among about 45 U.S. cities in the percentage of diners who had returned to restaurants, according to The Ledger's analysis. Cincinnati is faring the best, down 29% over a year ago. The U.S. average is 50%. The cities with the steepest drops are Honolulu, San Francisco and New York, which are each down between 84% and 89%. They have tougher rules on restaurants and are also suffering from lack of tourism.
Increasing the capacity at restaurants could be part of Gov. Roy Cooper's move into Phase 3 of the reopening, which could happen as early as Sept. 11.
---
Local nonprofit pay lacks incentives, study says
It's a good bet that those who lead nonprofits aren't in it just for the money. But how organizations pay their leaders can play a crucial role in their success — and many Charlotte nonprofits could be doing a better job of it.
That's the takeaway from a new study this month that examined the executive-pay practices of 155 Mecklenburg County nonprofits.
The study — by Next Stage, a consulting company that works with nonprofits to improve their effectiveness — found that although the private sector routinely includes financial incentives for executives to meet goals, the nonprofit sector in Charlotte largely does not. It found:
Fewer than 40% of local nonprofits surveyed offer a pay-for-performance or bonus structure to their CEOs.

Nearly 30% of local nonprofits surveyed lack a formal assessment process for the CEO that is tied to annual compensation.
"Relatively little thought is put into how we are attracting talent into the sector," said Josh Jacobson, Next Stage's managing director. "We are operating very differently in the nonprofit sector than in the for-profit sector, yet we need talent. What folks are facing right now in the social-good space are the biggest issues — how do we serve low income people during Covid? How we are fighting for racial justice in in our community, and for the community health needs that impact everybody?"
Nonprofits, of course, tend to have less money than private companies. And they're led by volunteer boards, who tend to lack expertise on pay and often defer to CEOs on sensitive issues. But there's still room for improvement, Jacobson says.
The study also examined median pay by size and sector. It doesn't include names and pay of individual nonprofits, so if you want to see which nonprofit executives in Charlotte are the highest-paid, you'll have to look elsewhere. (Executive pay for nonprofits is publicly available on IRS 990 forms, which you can search for yourself using a free site called GuideStar — though the data usually lags by a few years.)
Local nonprofit leaders in the "arts, culture and humanities" sector had the highest median pay, at $143,370 — which could be because there are relatively few of them, and they tend to be larger organizations. The sector with the lowest-paid CEOs was "environment and animals" ($87,284):

The full report is available on Next Stage's website. —TM
---
Today's supporting sponsors are T.R. Lawing Realty…

… and Carroll Financial, one of the Charlotte region's oldest and largest independent financial planning and investment management firms:

---
Real estate shakeup? Beacon's LoSo Station listed for sale
LoSo Station, a planned mixed-use development by Beacon Partners near the Scaleybark light rail station, is apparently up for sale.
Land broker JLL has a listing that says it's selling 6.63 acres that's an …
incredible high-density development opportunity along Charlotte's sought-after South End corridor in the heart of the LoSo District. Ideally situated and entitled for mixed-use development today, the property allows a buyer an exclusive opportunity for a large tract directly on the Scaleybark Light Rail Stop that is simply unheard-of in today's market.
Beacon was supposed to start building the office/retail site this summer. A rendering earlier this year showed it would include a 15-story office tower.
JLL also has another listing for the "LoSo Station Hotel Site," a "rare +/- .63-acre parcel within the dense mixed-use LoSo Station development."
Separately, Crescent Communities is developing an adjacent parking deck and apartment building, which are under construction.
The Business Journal reported in January (subscriber-only) that Beacon had closed on 7.6 acres on two parcels in December at a purchase price of $14.5M. It was planning 1 million s.f. of office and retail on the site, double the size of its initial plans. Scuttlebutt among local real estate types is that Vanguard Group was primed to take a bunch of the office space but backed away in March when the pandemic hit.
Beacon was not immediately able to answer questions about the status of the project on Sunday night. The Twitter account CLT Development, run by Clayton Sealey, first reported the property listing on Sunday.
What it means: More details are likely to emerge on this in the next few days, but it looks like one of the first big public real-estate changes of plans since the pandemic started. There are real questions about the future of office and retail markets, which appear less attractive today than they did at the first of the year. It's also possible Beacon senses the land is worth more than it paid and prefers to cash out and move on to other projects. —TM
---
More on those obscene CMS Zoom bombings
We told you Friday about some examples of outsiders entering CMS classes on Zoom, and in some cases cursing teachers and showing pornography.
Now, we have a few more examples and some additional information.
After our report, WSOC produced a story on the topic Friday night that disclosed several incidents at Crestdale Middle School. And CMS chief technology officer Derek Root was asked about it at a news conference on Friday. He said CMS does not track the number of "Zoom bombings" but that he was aware of "a number of incidents":
Across the nation, we've seen this happening. What it really boils down to is securing the meeting in a meaningful way and making sure that it's private.
In addition, in response to The Ledger's article, parents shared other examples on social media:
"[My daughter] said she saw a video of an Ardrey Kell kid on a Zoom vaping and when the teacher told him to stop, he proceeded to curse at the teacher and then say, 'What are you going to do about it?'"

"We experienced the bombing in my son's class this week. They take a name of a child in the class and get let in. Many racial comments and slurs were posted."

"My son's class was hacked, and the guy put disgusting comments in the chat. He also had his video on, but with a mask on it's impossible to identify anyone. … I also heard several other stories similar to this. One kid came on and berated the teacher with cuss words so she just ended the class."
It sounds as though there might be some easy fixes to cut out at least some unauthorized people from entering Zoom classes.
But it raises a larger issue — how are teachers supposed to discipline disruptive students virtually? Send them a link to an online chat with the principal? —TM
---
Parents, how are you holding up? Ledger hosts 'ask an expert' chat Wednesday with a psychiatrist
The Ledger will host an online chat on Wednesday at 1 p.m. with Dr. Sashalee Stewart, psychiatrist and lead clinician at the new Women's Center at Novant Health's SouthPark Medical Plaza.
She'll take your questions about how parents can take care of their mental health during the pandemic, particularly with challenges relating to juggling online schooling with work and family life. She can give advice about establishing routines, practicing self-care, using technology to your advantage and tuning out social media, among other topics.  
Look for an email from The Ledger at 1 p.m. Wednesday, which will have a link to the online discussion. It will last about 30-45 minutes and will be available to read afterward. —CB
---
In brief:
UNCC delays in-person start: UNC Charlotte will delay the start of in-person classes until Oct. 1, the university announced Sunday. UNCC will open on Sept. 7, as scheduled, but only for online classes. The delay will allow more time for Mecklenburg County's coronavirus cases to stabilize, UNCC Chancellor Sharon Gaber said in an online message. Students will now move into dorms Sept. 26-29.

Recovery stalled? North Carolina's recovery from the depths of the pandemic hit a setback in July, with the state's unemployment rate increasing to 8.5%, up from 7.5% in June, according to numbers released Friday by the Labor Department. It was one of only 9 states to have an increase in the unemployment rate.

Protest arrests: Police made several arrests at protests in the uptown area over the weekend. Footage from Queen City Nerve showed protestors on Saturday night gathering at North Italia restaurant in the Railyard in South End, where diners were eating dinner, and shouting "No RNC in CLT!" (WBTV)

Bar confusion: Owners of bars that are run as private clubs are perplexed and upset after visits in recent days by Alcohol Law Enforcement claiming they need to shut down. For five months, some local bars have been selling beer and wine to go, while other bars with kitchens have reopened dining rooms. But something changed last week that's a mystery even to local authorities. David McCoy, executive officer of Mecklenburg County ABC Board Law Enforcement Division, said county agents are following guidance from the state. "We are about as confused in this as you are," McCoy told The Charlotte Observer. (Observer)

ECU moves online: East Carolina University officials announced Sunday they will move classes online after multiple Covid-19 clusters in the first two weeks of classes. Undergraduate classes are suspended Monday and Tuesday and will move online Wednesday. (News & Observer)

Historic awards: The Charlotte Museum of History announced its 2020 Charlotte Preservation Awards last week, which recognize efforts to preserve historical buildings in the Charlotte area. Winners include sites near the airport and in Fourth Ward, Mooresville, Wilmore, South End, Wesley Heights and Huntersville. Details here.

New lease for Mr. K's: Mr. K's, the ice cream and hamburger joint on a prime stretch of South Boulevard real estate in South End, has signed a new lease through the end of 2026, according to documents filed with the register of deeds. It's been there since 1967. It signed the new lease agreement with its landlord in March, documents say.
---
Taking stock
Unless you are a day trader, checking your stocks daily is unhealthy. So how about weekly? How local stocks of note fared last week (through Friday's close), and year to date: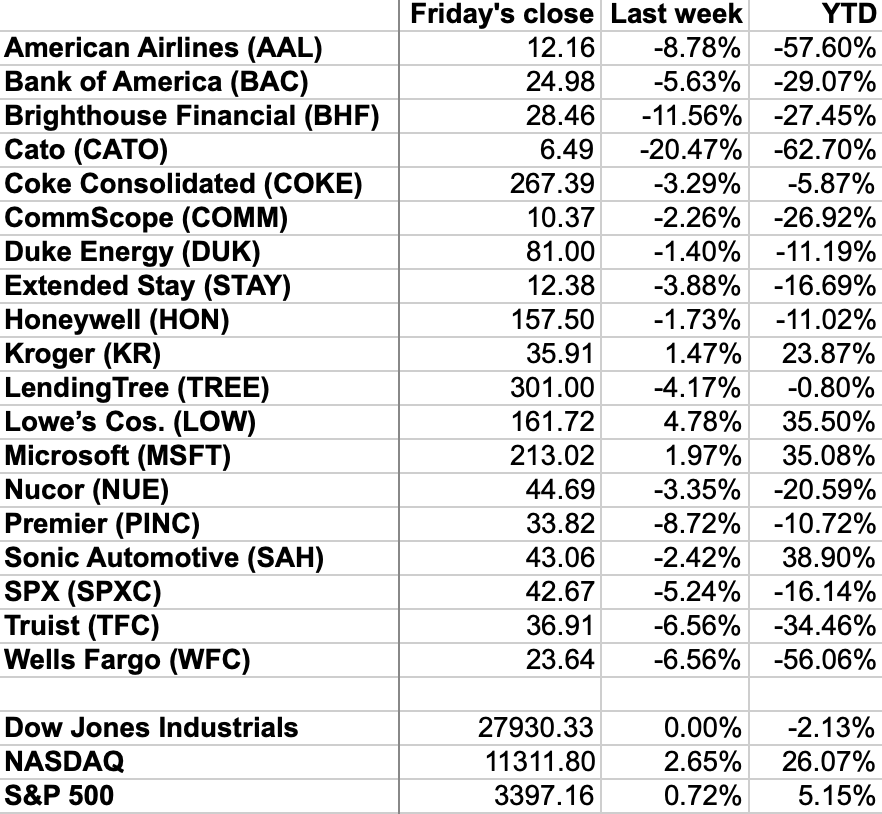 ---
Need to sign up for this e-newsletter? We offer free and paid subscription plans:
The Charlotte Ledger is an e-newsletter and web site publishing timely, informative, and interesting local business news and analysis Mondays, Wednesdays, Fridays and Saturdays, except holidays and as noted. We strive for fairness and accuracy and will correct all known errors. The content reflects the independent editorial judgment of The Charlotte Ledger. Any advertising, paid marketing, or sponsored content will be clearly labeled.
Got a news tip? Think we missed something? Drop us a line at editor@cltledger.com and let us know.
Like what we are doing? Feel free to forward this along and to tell a friend.
Executive editor: Tony Mecia; Managing editor: Cristina Bolling; Contributing editor: Tim Whitmire; Reporting intern: David Griffith