Selling in a time of social distance
Trade shows, travel and steak dinners replaced with Zoom marathons in solitary home offices; 'I hate it.'
This article was published in The Charlotte Ledger e-newsletter on June 12, 2020. Find out more and sign up for free here.
For salespeople, social distancing means finding new ways to connect with clients. But the process can be frustrating.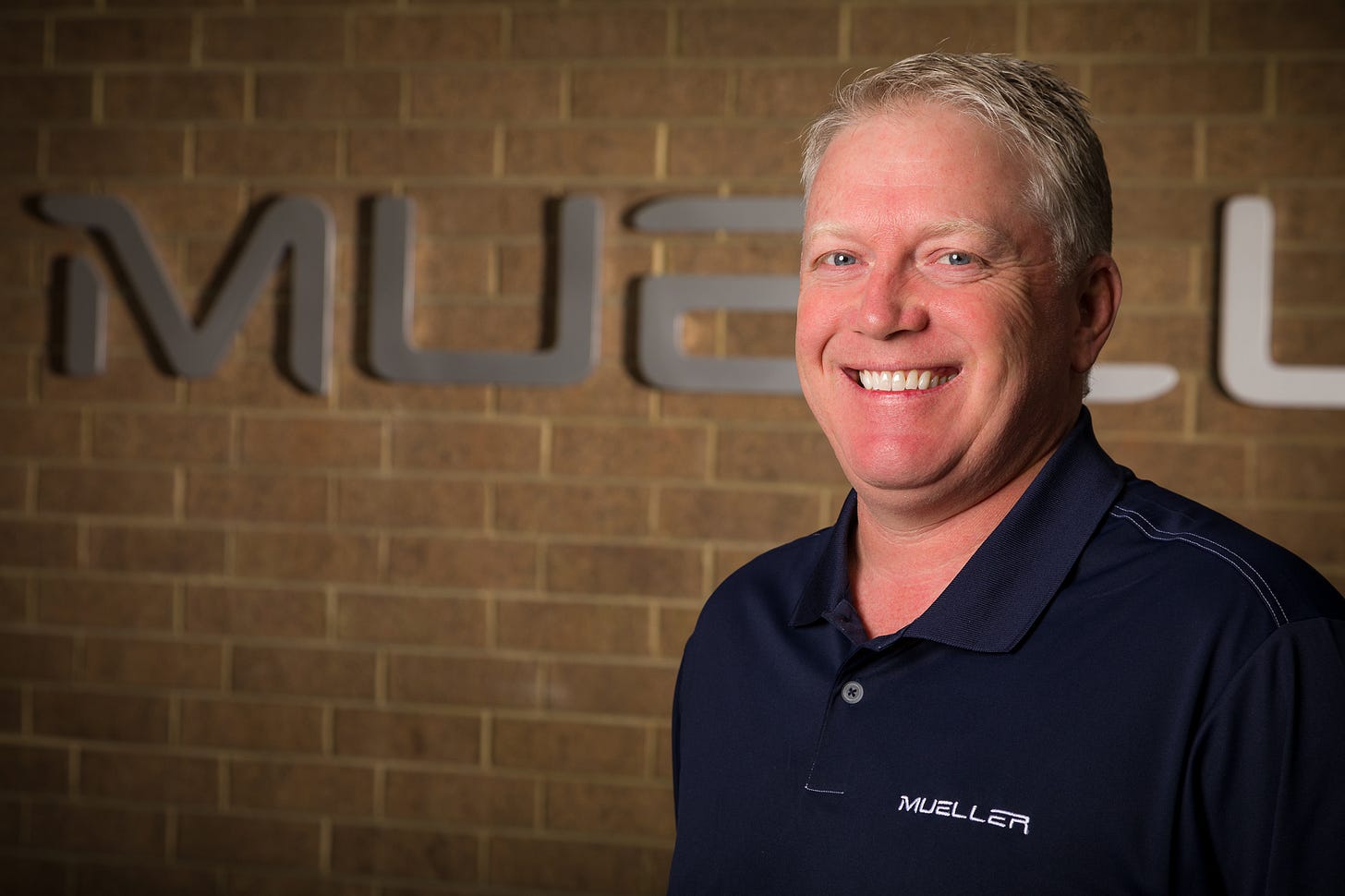 Brad Brackman looks like he's in the board room of Mueller Custom Cut during Zoom meetings, but he's actually in his Matthews home office in front of a virtual backdrop. Brackman spent the last 28 years on the road as a salesman, but has had to switch from in-person meetings to virtual ones because of Covid-19.
By Cristina Bolling
For the last 28 years, Brad Brackman's life as a salesman has been about conference room meetings and factory tours, lunch dates, golf outings, hotels and airports.
Now, he's parked in his Matthews home office for five or six hours of Zoom meetings a day, using screens instead of handshakes to stoke the fires with existing clients and land new ones for his company, Mueller Innovative Custom Cut Solutions.
"I hate it," he says.
The social distancing that's resulted from Covid-19 has had a dramatic effect on the world of in-person sales, eliminating much of the human interaction salespeople traditionally depend on to keep customers loyal and score new ones.
Gone, at least for now, are the trade show meet-ups, the sporting event box seats, office visits and steak dinners. And industry experts say there's no telling when — or if — the sales world will ever return to what it was before.
Charlotte is a popular city with salespeople who travel weekly for work because of its large airport with direct flights, two interstates and low cost of living.
Brackman, a regional salesman whose territory includes both Carolinas, Virginia and faraway cities like Dallas and St. Louis, says he'd board a plane to a trade show today, if there was one to go to. Or have a meeting on a factory floor, if he was allowed to. Right now, he can't do either.
His job is to sell die-cut materials used in manufacturing for products ranging from iPhones to helicopters. Much of that involves going to production floors to see how goods are made, and offering solutions for making manufacturing more efficient or products better.
"I haven't even opened my mind to the potential that this is what sales is gonna be in the future," he said in a Zoom interview this week, sitting in front of a virtual backdrop showing an empty conference room that his company's marketing manager has mandated all salespeople to use.
"I have not allowed myself to even consider that as a possibility."
Changed for good?: Experts say there's a very big possibility that the sales world Brackman left behind with his last in-person customer meeting in February will never return.
"The longer Covid-19 is going to be in place, the more it will shape behavior," said Claudio Carpano, president of Management inSites, a management consulting firm that helps foreign companies do business in the U.S. He's also honorary consul of Italy to North Carolina and associate professor emeritus of management for UNC Charlotte.
Companies had to take a crash course in communicating remotely. Carpano says people on both sides of the sales equation have gotten good at using Skype and other technologies that were under-used before the pandemic.
Melissa Ratliff, Management inSites marketing VP, says she's giving her consulting clients this advice: "I'm telling them, 'Best case, this only lasts a couple of months, and then this goes back to normal. But there's mid-range and worst case (scenarios), and you need to be comfortable with what to do at each one. If you really want to go to back to trade shows, you need to have your Plan B and you need to not be resisting Plan B or Plan C, because as we've seen it can change at any given moment.'"
Goodbye trade shows?: Trade shows came to a halt this spring, and although some are planning a return, the pause has forced some companies to rethink their marketing budgets and decide to put on their own "virtual summits" instead, Ratliff says.
"I feel like a lot of companies were already very grumbly about (trade shows) anyway. There was a perception that you needed to attend, but people weren't writing orders like they used to," Ratliff says.
Billy Lipari, marketing manager for Mueller, says his company may never go back to another trade show. Instead, they're investing the $50,000 or $100,000 they spend annually on shows on a service that provides leads on potential new clients.
Fortnite instead of show tickets: With no opportunity to wine and dine in-person, salespeople are rethinking how to connect with clients. If both salesperson and client like video games or board games, they might meet up online at night to play Fortnite or an online board game, Ratliffe says.
"You can let loose, and that would be the same thing as going to a bar after work and having a beer," she said.
Brackman says he's given Zoom happy hours a try, but it's just not the same as sitting across a table.
"My strength is building relationships, and I'm not getting to do that," he said.
The new sales mentality: Chris Arline, director of client engagement at business-training company Dale Carnegie in Charlotte, says the basic principles of sales haven't changed, even though the delivery method looks a lot different.
"When there's a relationship there, a lot of this stuff you don't have to be concerned about. If there's not a relationship, there's going to be a problem," Arline said.
A good salesperson will use the pandemic as a time to connect more with clients as people, he said.
"This is a massive shared experience we're all going through. This could be a place to grow the relationship if we take the time and listen. If relationships are really there, when it's time to do business, we'll have the opportunity to vie for them," Arline said. "You have to be active even if someone can't cut a check today."
At Mueller, Lipari has had to help his longtime salesmen like Brackman craft LinkedIn profiles, hone their use of Zoom and learn the importance of responding to emails within an hour.
"Maybe before it was acceptable to get back to someone within a day, or later in the day," Lipari said. "But if someone calls you for a quote or a bid, you may have already lost that (job) if you don't get back to them" right away.
Reach managing editor Cristina Bolling: cristina@cltledger.com.
Need to sign up for this e-newsletter? Here you go:
Got a news tip? Think we missed something? Drop us a line at editor@cltledger.com and let us know.
Like what we are doing? Feel free to forward this along and to tell a friend.
Archives available at https://charlotteledger.substack.com/archive.
On Twitter: @cltledger
Sponsorship information: email editor@cltledger.com.
The Charlotte Ledger is an e-newsletter and web site publishing timely, informative, and interesting local business news and analysis Mondays, Wednesdays, Fridays and Saturdays, except holidays and as noted. We strive for fairness and accuracy and will correct all known errors. The content reflects the independent editorial judgment of The Charlotte Ledger. Any advertising, paid marketing, or sponsored content will be clearly labeled.
Executive editor: Tony Mecia; Managing editor: Cristina Bolling; Contributing editor: Tim Whitmire; Reporting intern: David Griffith