Silent on Sam, UNC chairman eyes a full term
Board of Governors chairman Randy Ramsey is praised as a 'common-sense' leader. But he won't answer questions about the monument controversy or his educational background.
Today is Friday, May 8, 2020, and we're coming to you with a LEDGER SPECIAL REPORT.
If you like what you see, please forward to a friend.
Need to subscribe? Sign up for free here (charlotteledger.substack.com). A paid subscription, starting at $9/month, gives you access to all articles and helps build better original, local news in Charlotte. Details here.
---
Editor's note: Charlotte freelance journalist Pam Kelley has been working on this profile of UNC Board of Governors chairman Randy Ramsey since last month. The Ledger planned to publish it next week. Elements of the profile regarding Ramsey's educational background began circulating on Twitter on Friday, and The Ledger is bringing this article to you now.
By Pam Kelley
In North Carolina, Randy Ramsey is no household name, but the Beaufort businessman holds one of the most powerful appointed positions in the state. He's chairman of the UNC Board of Governors, which oversees policy for the state's 16 public universities.
He got the chairmanship in October, elected by colleagues to finish the term of his predecessor, Harry Smith, who unexpectedly resigned.
Weeks later, in November, the university system made a bizarre agreement with the Sons of Confederate Veterans that gave the neo-Confederate group Silent Sam, UNC Chapel Hill's embattled Confederate statue, along with $2.5 million for its upkeep and display.
The deal was both controversial and short-lived. In February, following a legal challenge, a judge voided it, sending Silent Sam back to university custody.
This month, the UNC Board of Governors selects new officers. Chairman Ramsey has announced his plans to run for a full two-year term.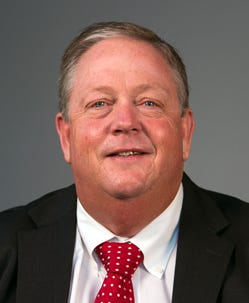 Recently, I reached out to Ramsey. I wanted to know more about him and the secretive Silent Sam deal. The public still doesn't know who came up with the ill-fated plan. We also don't how much the endeavor cost the university system. A conservative estimate would be $150,000. Add fees for an outside lawyer the university system hired and the total could top $250,000.
Credentials: I also wanted to ask about his education credentials. Until the end of April, his biography on the UNC Board of Governors website said he had a degree in marine propulsion from Carteret Community College. That would be an associate degree, which requires two years of work. However, Carteret Community College says he graduated in 1981 with a diploma in marine diesel mechanics, a one-year program.
Spoiler alert: He didn't give me an interview. But here's what I've learned about the man who has captained the UNC Board of Governors through recent months of controversy:
Ramsey, who makes custom sports fishing boats, built his Beaufort business without attending a four-year college. No rule requires board members to have college degrees, and he's not the first without one. But he's the first board chairman in the university system's 48-year history without at least a bachelor's degree.
High marks at N.C. State
Ramsey's entree into university governance began with his love of N.C. State Wolfpack basketball. He served on the board of the university's Wolfpack Club and became a generous athletics donor. He and his wife, Tiffany, made one donation that N.C. State described in 2016 as "the single largest athletics endowment gift in Wolfpack Club history." 
Ramsey, 57, also served eight years on N.C. State's Board of Trustees. Jack Cozort, a lobbyist and former N.C. Court of Appeals judge, served with him. Cozort recalls that when Ramsey joined the board, "people thought he would just be interested in athletics." Far from it, Cozort says. "He was one of the most conscientious members I think we've ever had."
The N.C. General Assembly appoints Board of Governors members. Ramsey came on in 2018. Since becoming chairman, he has won praise as a calming leader trying to bring together a group that's been hampered by infighting and controversy. "There's a sense of relief that he's measured and has a lot of common sense," says David Rice, executive director of Higher Ed Works, a nonpartisan nonprofit that promotes N.C. public higher education.
In middle of monument controversy
Ramsey was leading the board on the day before Thanksgiving, when five members of its governance committee approved the ill-fated Silent Sam deal via a closed-session telephone meeting.
The statue, a 1913 monument to UNC alumni who served the Confederacy, had been an albatross for the university system. Though it had been in storage since activists toppled it in 2018, the state's 2015 monument protection law forbade mothballing it. Some university system board members wanted it restored. The UNC community, however, was adamant that it not return.  
The deal attempted to appease both sides — display Silent Sam, but not on campus.
To accomplish that, UNC system officials coordinated with the Sons of Confederate Veterans, or SCV, as the group planned to sue the university system. The SCV lawsuit was filed immediately after the governance committee's vote. A university system attorney then filed an answer and a judge signed a consent agreement. The entire filing process took six minutes, according to time stamps on the documents.
The SCV's lawsuit claimed that Silent Sam was SCV property, and the group wanted it back. The argument relied on a shaky legal premise that said once activists toppled the statue, ownership had reverted to the United Daughters of the Confederacy, a group that had raised money to erect the statue in 1913. The lawsuit said that the Daughters of the Confederacy had transferred ownership to the Sons of Confederate Veterans.
What most angered critics was the decision to pay the neo-Confederate group $2.5 million. Faculty asked why the university would give what amounted to reparations to a group whose website argues that the South fought the Civil War to preserve "liberty and freedom." (The South fought to keep the right to enslave African Americans.)
Critics also condemned the UNC board's secrecy. The Daily Tar Heel, UNC's student newspaper, sued the university system for violating the N.C. Open Meetings Law.
The Daily Tar Heel's student journalists began investigating in earnest. They reported that the nonprofit SCV had operated an illegal political action committee that gave money to Republican candidates.
They also revealed a stunning email that Sons of Confederate Veterans Commander Kevin Stone sent to members. In it, Stone boasted that the group could use the $2.5 million to buy a new site for Silent Sam and build a new headquarters for its organization. "What we have accomplished is something I never dreamed we could accomplish in a thousand years and all at the expense of the University itself," he wrote. "This is a major strategic victory."
Revelations continued. In December, five board members, including Charlotte's Anna Spangler Nelson, published a newspaper op-ed meant to explain the reasoning behind the Silent Sam deal. They said the university system, in addition to paying the $2.5 million settlement, had given the Sons of Confederate Veterans $74,999 to keep the group from displaying Confederate flags on UNC campuses. (Nelson declined to be interviewed.)
But the Sons of Confederate Veterans attorney told The Daily Tar Heel that the money actually was provided so the SCV could buy the statue from the Daughters of the Confederacy, which had claimed ownership. That allowed the SCV to argue it had legal standing to sue the university system. Basically, the university system paid a neo-Confederate group so it could sue the university system.
It didn't take long before the agreement blew up. Critics, including prominent alumni, filed briefs questioning its legality. And in February, Orange County Superior Court Judge Allen Baddour, who'd approved the original deal, sided with critics and voided it.
After I telephoned Ramsey to request an interview, a UNC system spokesman, Josh Ellis, returned my call. I explained that I wanted to ask Ramsey about his educational credentials and the Silent Sam deal. In an email, Ellis referred me to a video of the February Board of Governors meeting. During the chairman's report, at about the 53-minute mark, Ramsey addresses Judge Baddour's decision to void the deal:
In late November, the board took action with respect to Silent Sam, with court approval. We hoped that our actions would allow the university to focus on the core responsibilities while keeping Chapel Hill safe.

Last week, the court overturned the settlement and dismissed the lawsuit. While I'm very disappointed that happened, we are getting the university's money back and we will secure the monument away from campus and we will deal with it in due course.

In the meantime, we have a presidential search under way, and several chancellor searches, as you've heard. We have tuition and fee matters to address and we need to focus on the many promising opportunities before us in advance and development of our universities. That's where we need to focus our time, not on the monument at this point.
'No discrepancy': Also in the May 1 email, Ellis wrote this: "Regarding your questions about Chair Ramsey's bio, there is no discrepancy. He graduated with honors (1981) from Carteret Community College after studying Marine Diesel Mechanics."
When I re-checked Ramsey's bio on the Board of Governors website, that's what it said.  
But I had a screen shot from April 29: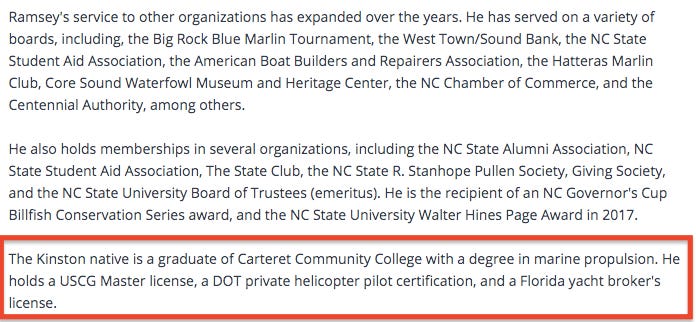 Ramsey's bio had been changed, the mention of a degree deleted. I emailed the screenshot to Ellis and asked if he wanted to comment further. I haven't heard back from him or Ramsey.
Hugh Stevens, the lawyer representing The Daily Tar Heel in its open meetings lawsuit against the university system, had planned to start taking depositions in March. Then the Covid-19 pandemic upended life. The lawsuit is on hold.
Journalists have also filed numerous public records requests. But the university system has been "as silent as Silent Sam," says Stevens, who represents several N.C. newsrooms. "They're acting as though the coronavirus, among other things, is doing away with the need for public accountability." He predicts the university system will soon face another lawsuit for failing to provide those public records.
"The real question is who put this deal together," Stevens says. "There have been requests made since December that haven't been responded to. I don't understand their strategy. Maybe they think if they delay, delay, delay, people will lose interest. But that won't happen, at least as far as The Daily Tar Heel goes."
Pam Kelley, a Charlotte journalist, has covered higher education for The Charlotte Observer. She's author of Money Rock: A Family's Story of Cocaine, Race, and Ambition in the New South. 
---
Need to sign up for this e-newsletter? Here you go:
Got a news tip? Think we missed something? Drop us a line at editor@cltledger.com and let us know.
Like what we are doing? Feel free to forward this along and to tell a friend.
Archives available at https://charlotteledger.substack.com/archive.
On Twitter: @cltledger
Sponsorship information: email editor@cltledger.com.
The Charlotte Ledger is an e-newsletter and web site publishing timely, informative, and interesting local business news and analysis Mondays, Wednesdays, Fridays and Saturdays, except holidays and as noted. We strive for fairness and accuracy and will correct all known errors. The content reflects the independent editorial judgment of The Charlotte Ledger. Any advertising, paid marketing, or sponsored content will be clearly labeled.
Executive editor: Tony Mecia; Managing editor: Cristina Bolling; Contributing editor: Tim Whitmire; Reporting intern: David Griffith