South Charlotte neighborhood opposes greenway connection
Plus: Decision scheduled tonight on city's first car-free development; New state Covid data helps you identify hotspots; First Citizens buys New York bank; BofA's Cathy Bessant sheds a tear
You're reading The Charlotte Ledger, an e-newsletter with smart and original business-y news and insights for Charlotte, N.C. We have free and paid subscription plans. You can sign up here:
---
Today's Ledger is sponsored by Providence Day School. Providence Day School exists to inspire in its students a passion for learning, a commitment to personal integrity, and a sense of social responsibility. Virtual admissions open houses are Oct. 29 and Nov. 8.
---
'No greenway on Green Rea!' residents say; In rare opposition, neighborhood near Carmel Country Club worries about traffic, parking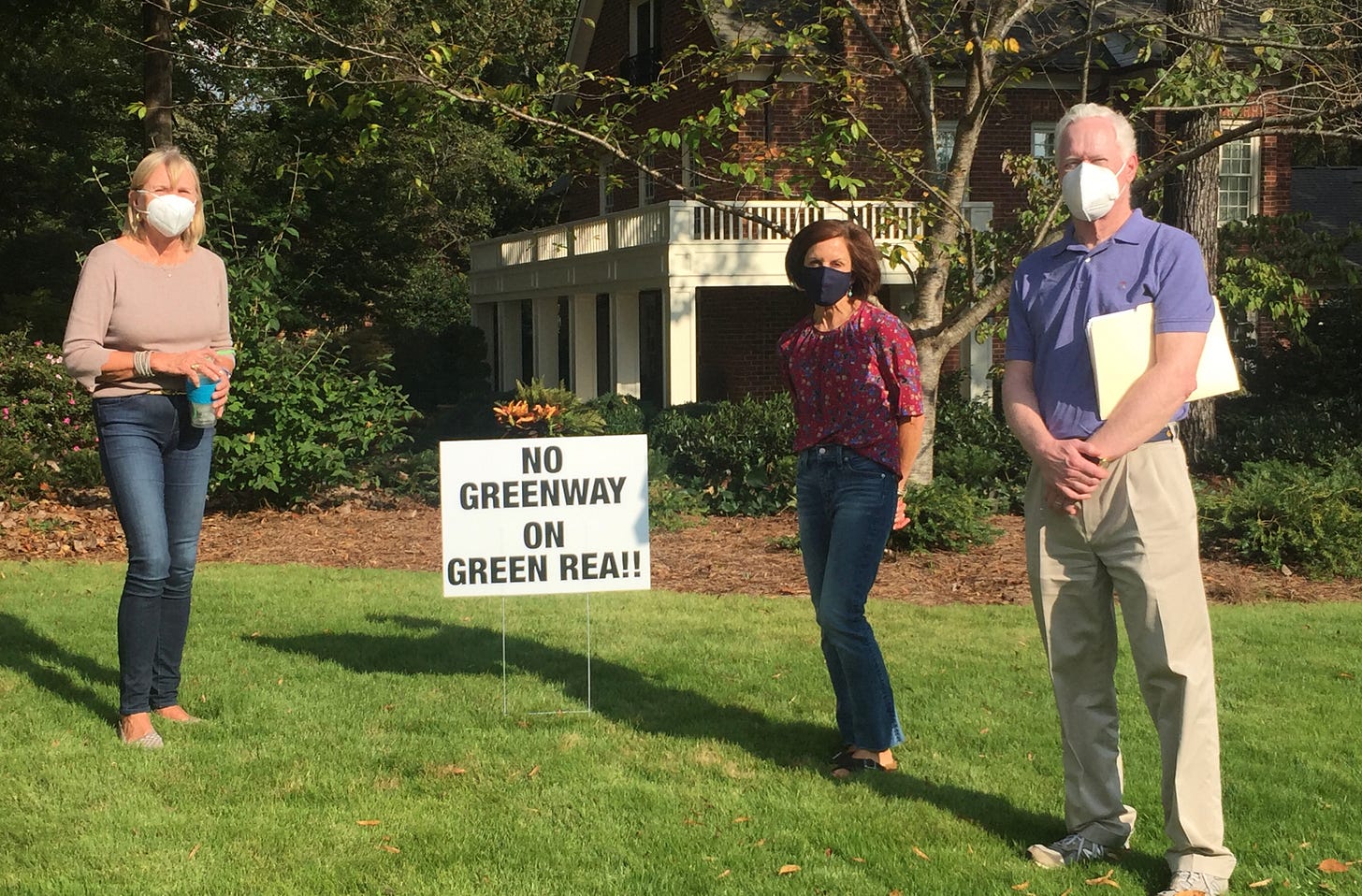 Helen Verkamp (left) and Ingrid and John Amols are among more than 100 residents in a south Charlotte neighborhood who worry that a connection to the county's greenway network will cause headaches. They signed a petition last month that says that county greenway planners "seem completely oblivious to current conditions in the neighborhood."
by Kerry Hall Singe
Charlotte residents are constantly clamoring for more greenways, and Mecklenburg County is moving quickly to build them to give people better nearby options for walking the dog or going for a run.
But residents in one south Charlotte neighborhood are taking the rare step of opposing a proposed greenway entrance. They say linking their neighborhood to the county's greenway network will boost car traffic, create an unmanageable parking problem and put pedestrians at risk.
The owners of nearly every occupied house in the neighborhood along Green Rea Road, off Carmel Road near Pineville-Matthews Road, signed a petition last month opposing a pedestrian greenway access point. The petition lists the nearby Charlotte Country Day School middle school campus and Carmel Country Club as opponents, too.
"We're already under pressure because of the traffic," said Ingrid Amols, who lives in the neighborhood. "Why add to something already under pressure and put us over the edge?"
At issue is part of a 1.7-mile extension of the McAlpine Creek Greenway, between McAlpine Park on Monroe Road and an existing greenway network to the south, in the Ballantyne area. Planners usually like to try to link greenways to nearby neighborhoods, and this proposed greenway connection is near the southern end of Green Rea Road, by the middle school. The Green Rea Road neighborhood contains more than 100 single-family homes, many of them on the Carmel Country Club golf course, that are valued in the range of $600,000 to more than $2M.
The Green Rea Road area neighborhood is off of Carmel Road in south Charlotte, just north of N.C. 51. Residents oppose a connection to an extension of the greenway.
Greenways are the most requested facility from the county's park and recreation department, says Bert Lynn, the director of capital planning with the Mecklenburg County Park and Recreation Department. The more common concern, he says, is from communities worried they won't be connected to greenways.
"The reaction we have received to date is unfortunate and for most greenway trail projects, uncommon," Lynn said.
According to the county's website, there are 52 miles of developed greenway trails in Mecklenburg County. The county plans to build another 30 miles by the end of 2023. Demand for greenways and parks has increased during the pandemic, the county says, as people flock outside to exercise.
See the Mecklenburg County Greenway Master Plan here.
The county is in the planning and design stage for the Green Rea Road entrance. No site work has occurred. The project is funded by an N.C. Department of Transportation grant, and because NCDOT projects are currently on hold, the construction schedule is unknown.
Area resident John Amols said he first heard about the county's plans for a greenway entrance from a Country Day school employee about a year and a half ago. Amols said he reached out to the county and was told there would be public hearings. Recently, residents heard rumors that the county and Country Day were in negotiations regarding an easement for land needed for the project, and they increased their organizing efforts.
"This doesn't make sense," Amols said. "They say this is for the neighborhood, but the neighborhood doesn't want it." He said owners of 122 of the area's 125 occupied homes signed the petition.
'Conundrum': Commissioner Susan Harden, who represents the area, told The Ledger that the county is making an offer to the school regarding an easement. As for the neighbors' opposition, she said she understands their concerns about future parking problems.
"We have a conundrum here," she said.
Charlotte Country Day has been communicating with the county for more than two years about the project, which it opposes, the school said.
According to a statement from David Mancos, the school's chief financial officer, and addressed to the middle school parents on the CCDS website: "We are aware of and truly understand our neighbors' concerns and opposition to the current proposed greenway route. Keeping our campuses safe and secure is also our priority."
A delicate balance: On a recent afternoon, five neighbors showed the The Ledger the site of the proposed neighborhood entrance.
Standing amid yard signs saying "NO GREENWAY ON GREEN REA!!", residents said they understand the value that greenways bring to a community.
They say their opposition to the entrance is based primarily on the traffic congestion and parking problems they feel will certainly come. They say their neighborhood already deals with regular traffic jams because of the school. Green Rea Road is the only road in and out of the neighborhood, and one parked car effectively turns the street into a one-lane road. The neighborhood lacks sidewalks.
They described a symbiotic relationship between neighbors and the schools regarding traffic. Each spring, the school sends flowers to nearby residents with notes handwritten by students thanking them for being good neighbors.
The county says the entrance is for the neighborhood and others in the immediate area who can walk or cycle to the greenway. There are no plans, and no space, to provide dedicated parking. But residents think people will drive into their neighborhood to park because there wouldn't be other greenway access nearby.
The county has told residents it would put up "No Parking" signs and offenders would be towed. But residents say that's not nearly enough to deter what they estimate could be hundreds of people wanting to use the greenway. They worry emergency vehicles won't be able to get to them. They point to online reviews about parking problems at other greenways as proof, notably the Four Mile Creek Greenway access point near the Trader Joe's in Piper Glen, where they say they've read Yelp reviewers sharing tips for parking on neighboring residential streets.
"There are appropriate and logical places to put (greenway entrance points), and this one doesn't seem to be one," says Randy Green, who grew up in the neighborhood and has been a homeowner for more than 20 years.
Next steps: Harden said next steps will depend on what happens with negotiations between the school and county. She says she loves the greenway and that most residents she speaks to want greenway access, which she says boosts property values.
However, she says she understands the neighbors' concerns.
"We want connectivity and we want greenways, but we want them to make sense in the context of our neighborhoods," Harden said.
Kerry Hall Singe is an award-winning former Charlotte Observer business reporter. In addition to writing for various publications, she helps her clients, many of which are real estate firms, tell their stories and manage content across multiple media platforms.
---
Today's supporting sponsors are T.R. Lawing Realty…
… and Count on Me CLT. To help save lives, jobs and businesses, please wear a mask, wait 6 feet apart and wash your hands often. Visit CountOnMeCLT.com for more information.
---
Where are the Covid hotspots? State releases new data
North Carolina last week unveiled some new data that helps people understand where the spread of Covid seems to be the worst.
One of the highlights is a map of all N.C. counties with the rates of per-capita confirmed Covid cases in the last 7 or 14 days.
The idea is that the map lets people see where the hottest hotspots are.
"Local leaders can use this data to help consider if additional local actions are needed to slow the spread of Covid-19 in their communities," health and human services secretary Dr. Mandy Cohen said.
For instance, here's the map as of Sunday night, which shows confirmed cases per 100,000 residents in the last 14 days:
So you can see, for instance, that Mecklenburg — with 201 cases per 100,000 residents in the last two weeks — isn't doing as well as Cabarrus or Iredell. But our numbers are lower than those in Gaston, Lincoln and Cleveland counties, which have more than twice as many confirmed cases per capita.
And you can see that many of the counties with the highest number of recent Covid cases per capita are in Eastern North Carolina.
It's an interesting snapshot. Statewide, the number of new daily Covid cases has increased in the last few weeks. So have hospitalizations. Cohen and Gov. Roy Cooper have said they are watching the data to see if additional restrictions on businesses are warranted. They're expected to decide this week whether to maintain the current rules or make changes.
If you care to geek out on the data, you can find it on the state's Covid dashboard. —TM
---
Vote expected tonight on Charlotte's first car-free development
The city of Charlotte's planning staff and zoning committee are recommending in favor of a controversial development designed as the city's first car-free development.
The rezoning is scheduled to be voted on by the City Council tonight.
The plan by Grubb Properties calls for 104 affordable apartments in Seversville, northwest of uptown. The development would require residents to sign leases confirming that they don't own cars — and if they're lying, they could be evicted, Grubb has said.
But some nearby residents oppose the plan, saying the neighborhood isn't ready for car-free living. Neighbors predict that residents would find a way to have cars, which they would then park on residential streets.
Grubb Properties CEO Clay Grubb told The Ledger in June: "The No. 1 enemy to affordable housing in urban markets is the car." Building parking, he said, forces developers to raise rents. The development would also have refrigerated storage lockers for food delivery as well as areas for bike storage.
More info: The Ledger wrote about the issue in detail in June (🔒). And Ely Portillo of the UNC Charlotte Urban Institute wrote a review of Grubb's book — "Creating the Urban Dream: Tackling the Affordable Housing Crisis with Compassion" — for us in July. —TM
---
In brief:
---
Taking stock
Unless you are a day trader, checking your stocks daily is unhealthy. So how about weekly? How local stocks of note fared last week (through Friday's close), and year to date:
---
Need to sign up for this e-newsletter? We offer free and paid subscription plans:
The Charlotte Ledger is an e-newsletter and website publishing timely, informative, and interesting local business-y news and analysis Mondays, Wednesdays, Fridays and Saturdays, except holidays and as noted. We strive for fairness and accuracy and will correct all known errors. The content reflects the independent editorial judgment of The Charlotte Ledger. Any advertising, paid marketing, or sponsored content will be clearly labeled.
Got a news tip? Think we missed something? Drop us a line at editor@cltledger.com and let us know.
Like what we are doing? Feel free to forward this along and to tell a friend.
On Facebook, LinkedIn, Instagram, Twitter.
Need an "Essential Charlotte Ledger" T-shirt? Order here.
Sponsorship information: email editor@cltledger.com.
Executive editor: Tony Mecia; Managing editor: Cristina Bolling; Contributing editor: Tim Whitmire, CXN Advisory; Reporting intern: David Griffith