Discover more from The Charlotte Ledger
Delivering smart and essential news to Charlotte, one email at a time.
Over 20,000 subscribers
South Charlotte parents raise concerns on CMS boundary reshuffle
CMS is proposing new student assignment lines for Myers Park, Ardrey Kell and South Meck zones
This article originally appeared in the Nov. 21, 2022, edition of The Charlotte Ledger email newsletter. Sign up today for smart, relevant Charlotte news delivered straight to your inbox (more info here):
---
At a series of meetings, parents ask about CMS transparency, fate of high school juniors — and why no talk of Providence High?
More than 100 parents packed into the media center at Carmel Middle School last week to hear about school boundary possibilities from Charlotte-Mecklenburg Schools officials. (Photos by Cristina Bolling/The Charlotte Ledger)
by Cristina Bolling
With less than three months to go before Charlotte-Mecklenburg Schools finalizes new south Charlotte high school boundaries in anticipation of the opening of a new high school in 2024, it's no surprise that tensions are running high among parents.
District planning director Claire Schuch and other CMS administrators have been meeting with parent groups at various schools in recent weeks to get feedback and answer questions as the district draws new variations of draft maps that shift the boundaries of Ardrey Kell, Myers Park and South Mecklenburg high schools to make way for the new high school.
But despite the public meetings, the process has been moving in somewhat of a clandestine fashion in recent months, with CMS getting input on proposed maps from a work group of parent representatives, but asking them to keep the details of what they're considering out of the public view.
That changed a bit late last week, when the district's planning department posted a series of draft maps on a slideshow that they say will be replaced with three fresh versions in the next week or two. Those versions finally give a sense of what the district has been thinking as they go about the process of drawing new lines.
Last week, the Ledger attended four meetings CMS officials held regarding boundaries at Ardrey Kell High School, Providence High School, Carmel Middle School and Jay M. Robinson Middle School. Some were friendly gatherings. Others were tense and explosive at times.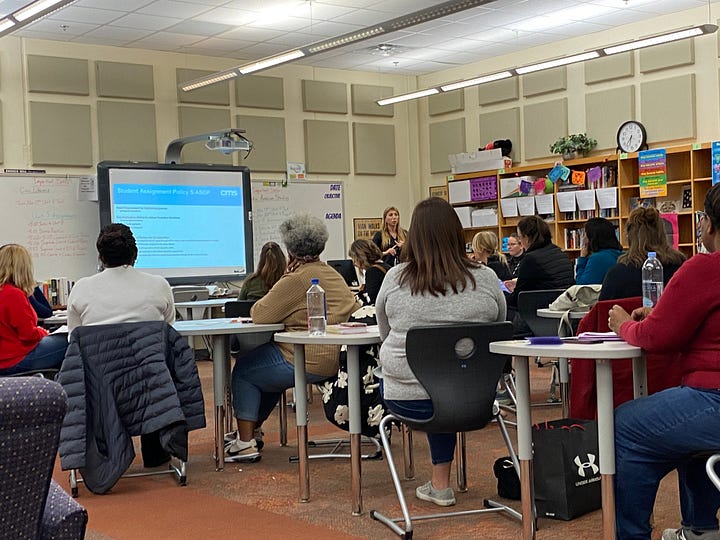 Parents attending meetings last week at (left to right) Ardrey Kell High and J.M. Robinson Middle.
Several themes emerged, including these three:
◼️ Secrecy = distrust. A far bigger-than-normal crowd of about 60 people showed up for the Ardrey Kell PTSO meeting Monday night when they were told Schuch would be there with proposed maps. The room got tense, though, when Schuch flipped so quickly through the presentation slides that showed draft maps that it was impossible to make sense of the boundaries.
Schuch and CMS Chief Operating Officer Brian Schultz told the group that the maps weren't ready to be released publicly because they hadn't gotten enough feedback on them internally, but that new iterations would be coming within a couple of weeks.
One parent said during the meeting that she was "very upset with myself" for not seeking a seat on the parent workgroup because now she feels in the dark on what's going on with the process.
"Please allow our [parent work group] to be able to share enough with the community to be able to give feedback. We can't give feedback if we don't have any information," she told Schuch and Schultz.
One Ardrey Kell administrator told Schultz and Schuch that not showing maps "kills that spirit of transparency. It kills the trust."
Schultz and Schuch responded that new maps would be coming soon and that they weren't displaying the previous maps because some had been deemed unworkable for various reasons.
◼️ What about Providence High School? The most explosive meeting of the four The Ledger attended was a Friday morning gathering at Carmel Middle School, where about 100 parents packed the school media center. Several parents voiced strong questions about why Providence High School doesn't seem likely to have its boundaries affected by the changes.
Part of Carmel feeds into Myers Park and seems likely to have some students rerouted to South Meck or the new high school. The parents on Friday morning said they wanted to know why Providence, which in some cases sits geographically closer to their homes than South Meck or the new high school, isn't being considered for changes.
Schuch told the group that it's unlikely Providence will have its boundaries disrupted because the school is at enrollment capacity and it wasn't listed on the 2017 bond that is paying for the new high school.
Some parents were unsatisfied with that answer.
"The fact that Providence is not even on (the slides showing the schools up for new boundaries) makes us feel that we can all be here, but it's maybe just a show. 'Here — we're listening to you, but then we'll do whatever we want,'" said one parent. She continued: "If you listened to us, Providence would be on this board as an option. … The fact it's not there makes us feel that we are wasting our time in a way, because the decision would be made without even considering what we really want."
◼️ Worries about juniors: A common refrain in all four meetings was worry for current high school freshmen who will be juniors when they're moved to the new high school.
Junior year is considered one of the most important academic years in high school, because it's the final full year before students submit college applications and it's often the year when students take their most rigorous classes.
CMS typically allows high school seniors whose high school boundaries move due to the opening of a new school to stay at their original school for their final year, but freshmen, sophomores and juniors are required to attend the new school.
Some parents at the Carmel meeting said they worried their kids' futures could be at stake if they were forced to move schools in their junior year.
"When you have a high schooler in CMS, you have to plan out four years of classes. If you go from one administration and organization to another, kids are not going to able to get the classes they need in order to get into the colleges that they're now getting into," one parent said.
District administrators have said they understand the concerns but that a shortage of bus drivers would make it hard to accommodate allowing students from the same neighborhood to attend two different high schools for two years.
The school district released drafts of possible assignment maps on its website last week.
➡️ Feedback form: At all of the meetings, Schuch emphasized that she wants to hear what's on parents' minds and she invited people to complete a feedback form to have their voices heard —CB
Related Ledger articles: 
---
Sign up for The Charlotte Ledger e-newsletter to stay in the loop about relevant local news:
---
➡️ Learn more about The Charlotte Ledger
The Charlotte Ledger is a locally owned media company that delivers smart and essential news through e-newsletters and on a website. We strive for fairness and accuracy and will correct all known errors. The content reflects the independent editorial judgment of The Charlotte Ledger. Any advertising, paid marketing, or sponsored content will be clearly labeled.
Like what we are doing? Feel free to forward this along and to tell a friend.
Social media: On Facebook, Instagram, Twitter and LinkedIn.
Sponsorship information/customer service: email support@cltledger.com.
Executive editor: Tony Mecia; Managing editor: Cristina Bolling; Staff writer: Lindsey Banks; Contributing editor: Tim Whitmire, CXN Advisory; Contributing photographer/videographer: Kevin Young, The 5 and 2 Project