South Charlotte 'wedge' leads CMS enrollment drop (free version)
Plus: Hot new development area near uptown; New details on airport lounges; CMS changes name of Vance High to Julius L. Chambers High; Home sales stay strong; WinterFest at Carowinds?
Good morning! Today is Wednesday, October 14, 2020. You're reading The Charlotte Ledger, an e-newsletter with local business-y news and insights for Charlotte, N.C.
Editor's note: This is a shorter, free version of The Charlotte Ledger sent to people on our free sign-up list. The complete version for paying subscribers went out 15 minutes ago. It had some good stuff in it — an analysis of new school-by-school CMS enrollment numbers (with info on every school), a closer look at a development hotspot near uptown and some news at the airport.
If you'd like the full Wednesday and Friday editions, we're running a special: Sample the paid version for free for two weeks. You enter payment info and experience the good life as a paid Ledger subscriber. If you cancel within 14 days, there's no charge. Subscriptions are $9/month or $99/year. We think you'll like it.
---
Biggest CMS dips were in elementary schools in affluent areas, new enrollment figures show; 'I didn't even hesitate' to pull kindergartener, mom says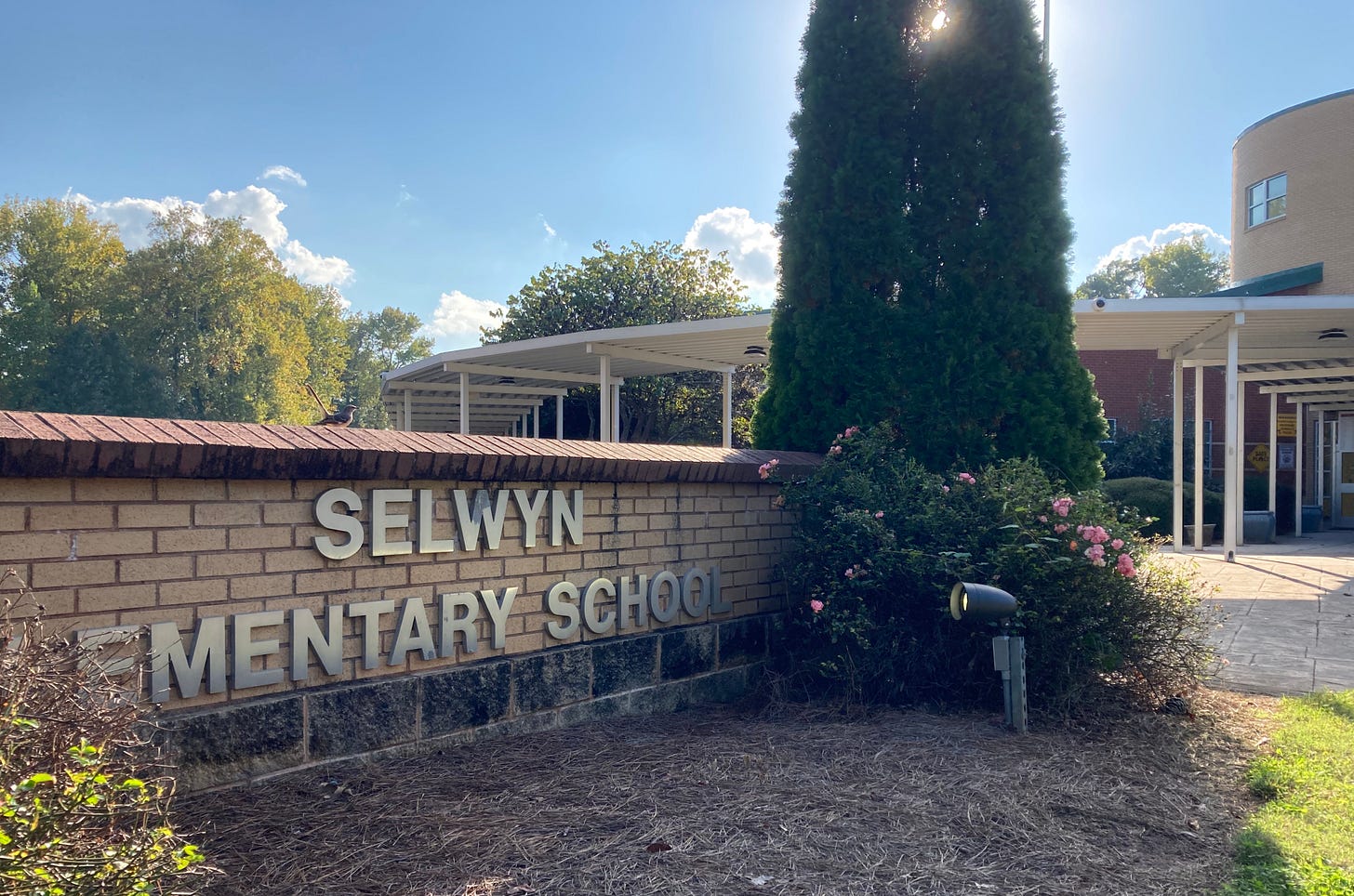 Selwyn Elementary had one of the biggest drops in the district, according to a Ledger analysis of enrollment data. Some CMS families opted out of virtual learning in favor of private schools or homeschooling.
by Cristina Bolling
It's been known for months that Charlotte-Mecklenburg Schools' enrollment dropped this year across the district, as some families shifted to private schools or homeschooling during the pandemic.
But it wasn't until Tuesday that a picture emerged of where exactly those drops were most pronounced — in the county's more affluent southern "wedge."
CMS on Tuesday released a school-by-school breakdown of enrollment for the 2020-2021 school year, and some schools saw dramatic drops, according to Ledger number crunching.
Overall, CMS dropped from 146,887 students to 140,073 — a loss of 4.6%. It's the biggest yearly drop on record.
Here are the schools with the top drops in students:
---
Hot development zone 🔥: Charlotte's 'Freight District'
It can be tough to get too excited about rehabbing old warehouses, but it definitely seems as though some development excitement is building in an area off Freedom Drive in west Charlotte.
It even has a name that's gaining traction — the "Freight District." It might not be as catchy of a name as everybody's favorite, "LoSo," but these are warehouses and industrial buildings we're talking about.
---
Amex, American lounges are open again at CLT
Good news for frequent fliers seeking refuge from the noise and bad lighting of Charlotte airport concourses: the luxury lounges are once again open for business.
This week, American Express reopened its swanky Amex Centurion Lounge in Charlotte Douglas International Airport, which had just debuted in February and hadn't yet lost its new-lounge smell when it closed due to Covid.
---
In brief
New high school name: The school board voted 8-0 on Tuesday night to rename Vance High School. It will be called Julius L. Chambers High after the Charlotte lawyer and civil rights leader. (Ann Doss Helms on Twitter)

New medical building: Novant Health opened a seven-story cardiovascular and cancer outpatient facility in midtown Charlotte this week. The Novant Health Claudia W. and John M. Belk Heart & Vascular Institute and Agnes B. and Edward I. Weisiger Cancer Institute combines outpatient cardiac and cancer specialists, treatment services and support programs. It opened Monday at the corner of 4th Street and Queens Road.

Campaign swing: Democratic vice presidential candidate Sen. Kamala Harris will be in Charlotte on Thursday. She'll also visit Asheville. No other details have been released. (WCNC)

Still a seller's market: The Charlotte residential real estate market is still going strong. Data for September showed that closings in Mecklenburg County were up 10%, pending sales were up 17% and new listings were up 4% compared with a year earlier. The median sales price was up 12% to nearly $306,000. Canopy MLS President John Kindbom said: "The brisk pace of sales we're experiencing means that buyers will see increased competition from other buyers, price increases in some highly desirable neighborhoods along with multiple offer situations." (Canopy Realtor Association)

Affordable housing: Crosland Southeast submitted plans to the city seeking a rezoning for affordable housing in north Charlotte. The site plan calls for up to 156 apartments on an 8.7-acre site at 6230 Statesville Road. A partner at Crosland Southeast said it's planning a mixed-income development but didn't have specifics on the affordable housing element. (Biz Journal)

Local RNC donors:Bank of America was the largest corporate backer of the local Republican National Convention host committee, donating $5.3M to the effort. Duke Energy gave $4M. Other big donors were BB&T ($1M), Nucor ($1M), Pike Electric ($1M), Reynolds American ($850,000), Wells Fargo ($500,000) and Charlotte Pipe and Foundry ($500,000). (Biz Journal)

Carowinds speculation: Is Carowinds considering opening for WinterFest, its annual holiday celebration? Speculation among theme park watchers on the internet says "maybe." The theme park blog Screamscape notes that Carowinds parent Cedar Fair has posted jobs in Charlotte in the last couple weeks in hospitality, admissions, food and beverages and games — which seems early if it's not planning to reopen until March. It also says the park's webcams seem to show "what appears to be Christmas style lights decorating the tops of many park buildings." Carowinds has previously said it plans to be closed for the rest of 2020. But North Carolina recently allowed theme parks to reopen under social distancing guidelines. A Carowinds spokeswoman did not return an email from The Ledger on Tuesday.
---
Programming note: Ledger editor Tony Mecia appears as a guest on 90.7 WFAE at 6:40 a.m. and 8:40 a.m. on Thursdays for a discussion of the week's local business news in the station's "BizWorthy" segment. Audio and transcripts are also available online.
---
Need to sign up for this e-newsletter? We offer free and paid subscription plans:
The Charlotte Ledger is an e-newsletter and website publishing timely, informative, and interesting local business-y news and analysis Mondays, Wednesdays, Fridays and Saturdays, except holidays and as noted. We strive for fairness and accuracy and will correct all known errors. The content reflects the independent editorial judgment of The Charlotte Ledger. Any advertising, paid marketing, or sponsored content will be clearly labeled.
Got a news tip? Think we missed something? Drop us a line at editor@cltledger.com and let us know.
Like what we are doing? Feel free to forward this along and to tell a friend.
Searchable archives available at https://charlotteledger.substack.com/archive.
On Facebook, Instagram, Twitter and now LinkedIn.
Need an "Essential Charlotte Ledger" T-shirt? Order here.
Sponsorship information: email editor@cltledger.com.
Executive editor: Tony Mecia; Managing editor: Cristina Bolling; Contributing editor: Tim Whitmire, CXN Advisory; Reporting intern: David Griffith