Surprise: Charlotte is passing Raleigh in tech jobs
Plus: Walmart laying off nearly 600; Target shoppers feel brunt of computer malfunction; Billionaire Fortnite creator loves Bojangles'
Good morning! Today is Monday, June 17, 2019. Need to subscribe? Sign up for free here (charlotteledger.substack.com).
Tech jobs in Charlotte region surge by 34% in 5 years — faster than in rival cities, new report says
The old view of North Carolina's economy goes something like this: Charlotte has the banks. The Raleigh area has the tech.
Now, though, Charlotte is poised to dominate in both. As Charlotte's economy expands at a rapid clip, new numbers from the Charlotte Regional Business Alliance show that Charlotte is on pace to bypass Raleigh-Durham in the number of tech jobs. It could happen as early as this year and shows how some of the notions about the composition of our economy might be getting outdated.
Charlotte's tech growth has been so rapid that the idea of the region as a big tech hub "hasn't had a chance to catch on in the popular imagination," says Chuck McShane, the Alliance's vice president of business analytics and data.
The growth isn't coming from what's often a common impression of tech, like, say, socially awkward entrepreneurs launching the next Apple or Google from their parents' garages in University City. Rather, it's because the nature of work is changing, and Charlotte's strengths in financial services and corporate headquarters are leading to more demand for people with tech know-how. Meanwhile, local tech companies such as AvidXchange, MapAnything, Red Ventures and LendingTree are growing here alongside national stalwarts IBM and Microsoft.
The Alliance put out a report last week with some figures that sound pretty impressive:
In core tech jobs, the Charlotte region has grown by 34% in the last five years, more than twice as fast as the national average.

Jobs in tech-savvy analytics have shot up 40% in five years, nearly double the national average.

Total tech talent in the region is +30% in the last five years and now totals nearly 118,000 workers.
Maybe you're thinking, well, big percentage increases are easy when you're working off a low base. But the raw numbers of Charlotte tech jobs are eye-opening, too.
In core tech jobs – jobs that develop new technology – figures show Charlotte added 13,000 net positions between 2013 and 2018. That's fewer than Atlanta (+21,000) but more than peer cities including Nashville (+6,000), Tampa (+8,000), Kansas City (+8,000) and, yes, Raleigh-Durham (+9,000).
Core tech jobs, 2018:
Charlotte: 52,897

Raleigh-Durham: 54,711
That's a difference of fewer than 2,000 — so small that Charlotte could overtake Raleigh this year and certainly within a few years if trends continue. Charlotte already leads Raleigh in two other tech areas: tech installation, maintenance and repair; and tech-savvy analytical talent. Raleigh leads in engineering jobs. The numbers come from federal data.
If you look at total tech-related jobs, a looser definition, Charlotte already has moved ahead: 117,694 vs. Raleigh-Durham's 114,691.
Raleigh-Durham is on pace to become North Carolina's #2 tech region. (Source: Charlotte Regional Business Alliance analysis of Bureau of Labor Statistics data via EMSI.)
The N.C. Technology Association says there were more than 12,000 IT jobs posted in the Charlotte region in April – a 55% increase from a year ago and more than the 9,000 or so available in the Raleigh area.
Quote: "We are a huge technology city. There's so much tech talent. We used to get overlooked because of the Triangle, but our data shows Charlotte is really where the most is happening. … People say, 'Oh, Charlotte has the banks.' Well, banks are tech companies these days. They have so much data to keep safe." – Emily Young, membership development manager in the Charlotte office of the N.C. Technology Association, in an interview with the Ledger.
The Alliance's new report comes as Charlotte is working to attract Lowe's global technology hub with an estimated 2,000 jobs. Charlotte is in the running for that project along with Dallas.
---
Photo of the weekend: Target meltdown
So this is what the apocalypse looks like. About 1,800 Target stores nationwide went out of commission for two hours Saturday afternoon because of an "internal technology issue." Here's the scene from Target's Pineville store.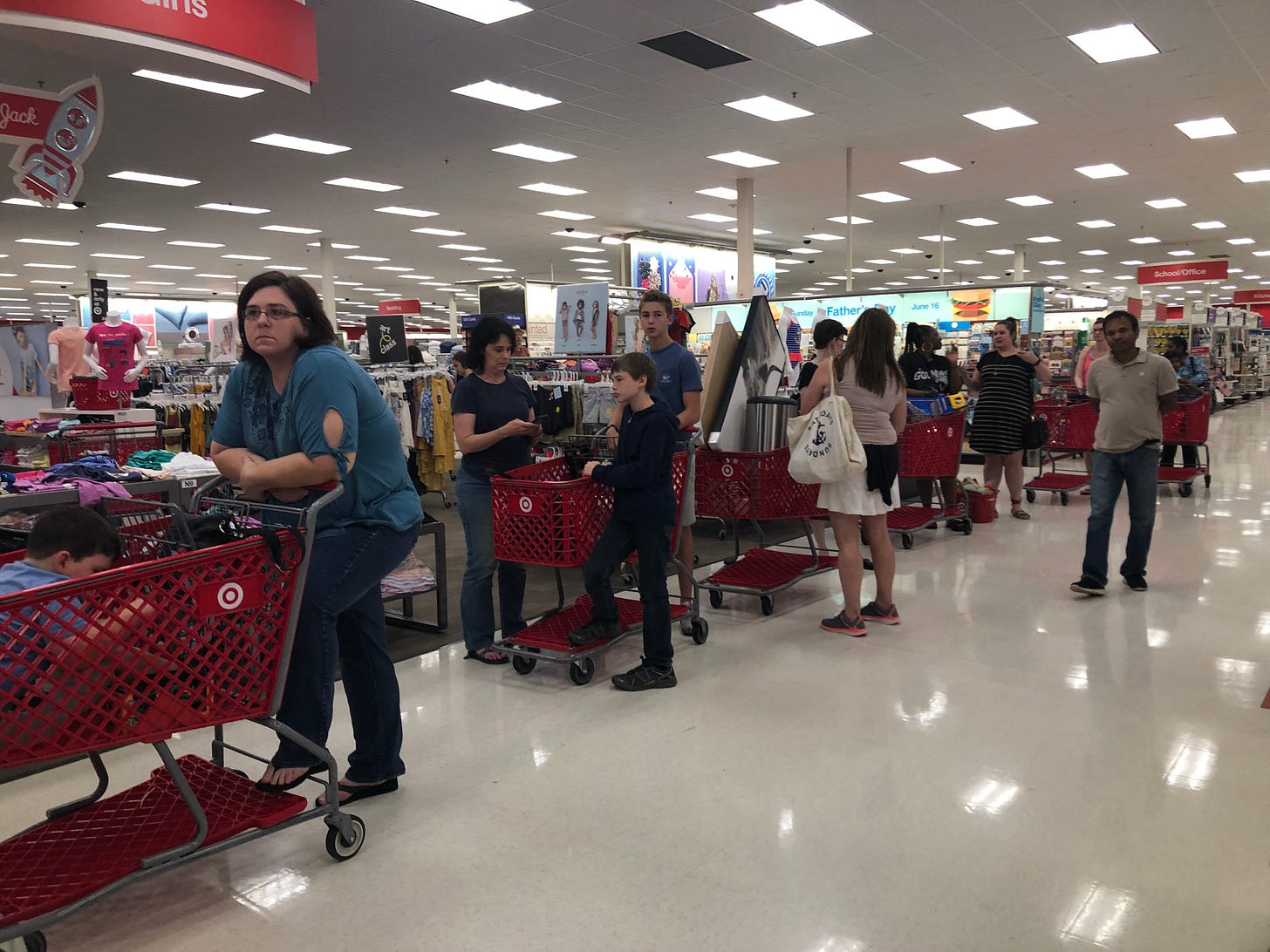 Ledger reader Michelle S. was there with her daughter and reported: "Lines 12 to 15 carts deep. Crying toddlers. Irritated customers who are in disbelief. People are giving up, leaving loaded carts and walking out of the store."
---
Fortnite's biggest winner
The Wall Street Journal over the weekend ran an interesting profile of Tim Sweeney, the founder and CEO of Epic Games. That's the company based in Cary that makes the hit video game "Fortnite".
Sweeney, the paper says, is 48. He's single with no kids. He loves the outdoors, spending big money to preserve 45,000+ acres of North Carolina forest. It goes on (paywall):
His favorite food is Bojangles' fried chicken. ("It strikes the perfect balance between tasty food and time commitment," he said.) He primarily drinks Diet Coke ("but only because it's almost impossible to find Tab nowadays"). His office uniform is a T-shirt and cargo pants.
Oh, also, the WSJ casually drops in, he is personally worth $7B, according to Bloomberg's Billionaires Index.
Dancing all the way to the bank: The CEO of the N.C. company that makes Fortnite is worth $7B.
Sweeney also tells the paper he doesn't much like people using the word "addiction" to describe why their children are spending hours a day grunting into headphones to battle each other on Fortnite:
He dismisses the addiction label, though. "It's unfortunate to characterize having a lot of fun as something more sinister," Mr. Sweeney said. "You could often say the same thing about playing soccer or watching football."
Epic announced a new deal last week that also has nothing to do with soccer or football. It said it is buying Houseparty, a video-chat app.
---
The broke generation
Marketers like to target millennials because they can't afford not to: Consumers aged 23-38 represent one-fourth of the U.S. population. But now, Adweek reports, that view is starting to change. Why? "Because many of them are broke." Read on:
A growing body of evidence [suggests] that millennial consumers, for all their size and savvy, haven't exactly been the boon that many brands expected them to be. …

Millennials—many of them, anyway—are strapped for cash. … Now that millennials are in that labor market as fully vested consumers, a slightly soberer picture is emerging about their buying power. …

Millennials are saddled with very large and unavoidable expenses that reduce their spending power when it comes to the discretionary purchasing that gets marketers so excited.

Expenses like what? Data from Deloitte and other sources points to at least two major factors that are impeding millennial spending power right now: housing and student debt. … Obligatory costs such as healthcare, housing and student loan payments are sucking up the money that millennials would rather be spending on consumable items.

Considering all of these forces at work, Mike Shedlock, who also writes a blog on global economic trends, has cooked up his own name for the millennial age cohort. "The screwed generation—that was the term I came up with," he said. "I believe they are."
---
In brief:
Big Walmart layoffs: Walmart is eliminating nearly 600 finance- and accounting-related jobs in Charlotte starting this fall as it outsources the work to an outside vendor, the Biz Journal reported. The retailer's Charlotte operations are located in an office park off Tyvola Road near the site of the old Charlotte Coliseum.

Affordable housing I: A Charlotte home-buyer earning the area's median income would need to save for 14 years to put a 20% down payment on the area's median-priced house, according to a new study. That's identical to the national average for major cities and better than the 40+ years required in Los Angeles, San Francisco and Honolulu. The report also listed Charlotte as a "boomtown" where increases in home prices greatly outstripped income growth.

Affordable housing II: NRP Properties is planning to build up to 200 apartments on the east side of I-77 north of Arrowood Road. The units would have rents aimed at tenants who earn on average 60% of the area's median income, according to plans filed with the city. The proposal faces a City Council zoning hearing tonight.

Affordable housing III: QCityMetro is out this morning with a deep dive on the roots of Charlotte's affordable housing shortage. Worth a read (here).

Bubble signs: The Carolina Panthers have asked the city to change the zoning on its practice fields uptown to allow a big sign. The sign would be no more than 1,250 sq. ft. — or roughly 40' x 30'. The Panthers also seek permission for six signs on building walls of the team's indoor practice facility that's under construction. It's an inflatable dome that has become known as "the bubble."
---
Taking stock
Unless you are a day trader, checking your stocks daily is unhealthy. So how about weekly? How local stocks of note fared last week (through Friday's close), and year to date:
Investor focus: What does the Fed say?
All investor eyes this week will be on the Fed, which is expected to issue a statement on Wednesday about the future of interest rates. Says the AP:
No action on rates is expected, but the futures market indicates that investors are almost certain the Fed will cut rates at its July meeting, so they'll carefully parse a statement from the central bank and comments from [Chairman Jerome] Powell on Wednesday.

Economists Ethan Harris and Aditya Bhave of Bank of America Merrill Lynch wrote in a note to clients that Fed officials probably haven't decided yet whether to cut rates in July and won't try to sway investors one way or another at next week's meeting. They say that Powell will have to "tap dance" during his press conference and expect him to "keep options open with the possibility of a cut in July but not a pre-commitment."
---
Got a news tip? Think we missed something? Drop me a line at editor@cltledger.com and let me know.
Like what we are doing? Feel free to forward this along and to tell a friend.
The Charlotte Ledger is an e-newsletter and web site publishing timely, informative, and interesting local business news and analysis Mondays, Wednesdays, and Fridays, except holidays and as noted. We strive for fairness and accuracy and will correct all known errors. The content reflects the independent editorial judgment of The Charlotte Ledger. Any advertising, paid marketing, or sponsored content will be clearly labeled.
The Charlotte Ledger is published by Tony Mecia, an award-winning former Charlotte Observer business reporter and editor. He lives in Charlotte with his wife and three children.