Discover more from The Charlotte Ledger
Delivering smart and essential news to Charlotte, one email at a time.
Over 20,000 subscribers
The latest shortage is live crickets
'Demand is off the charts' as people buy hungry reptiles during pandemic; Buy mealworms as replacement, PetSmart advises
This article was published in The Charlotte Ledger e-newsletter on September 2, 2020. To receive the latest local business-y news and trends straight to your inbox, sign up for free here.
---
Charlotte pet owners come up empty looking for snacks for lizards and iguanas
This won't come as news if you have a bearded dragon or a tree frog in your life, but for the rest of us, here's another pandemic-related oddity: it's hard to buy crickets these days.
The cricket pens are empty at many of the big-box pet stores like PetSmart in Charlotte, and some store associates say even when cricket shipments do come in, many of the crickets show up DOA.
The reason for the scarcity? National pet store chains source their crickets from mega-cricket producers that have seen staffing slumps due to the pandemic, as well as higher demand that started a couple of years ago when domesticated reptiles started surging in popularity.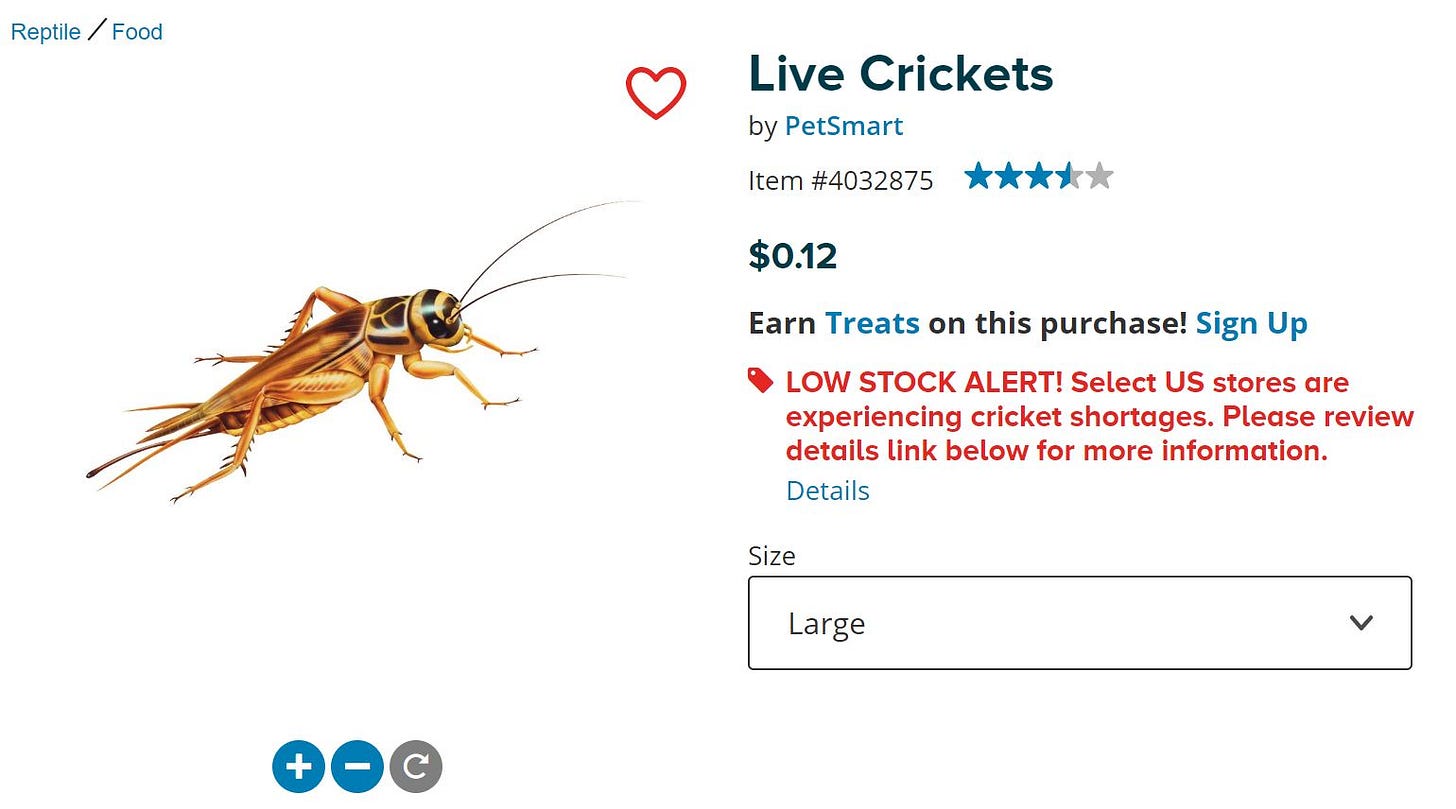 Add to that that people are now buying pets of all kinds — including reptiles — at even higher rates because they're home more. And believe it or not, there was a big run on crickets just like there was a big run on toilet paper when the pandemic struck. After all, who wants to be stuck in quarantine with a hungry monitor lizard?
"The demand is off the charts," said Andy Pettit, sales manager at Timberline Live Pet Foods in Marion, Ill., which supplies major national pet stores with live crickets and other feed animals.
"Historically, we've seen spikes like this seasonally, like if major pet chain X does a 20% off reptiles for a week," he said. "When the pandemic hit there was a run on crickets. We assumed it would come back down to normal," but it's hovering at 30% higher than normal, he said.
Pettit said "DOA rates," or the percentage of crickets arriving at their destination dead, is currently slightly higher than the typical 3-5% range, due to the summer heat and national shipping delays.
Mealworms as substitute: PetSmart officials responded to a request by The Ledger on Tuesday with this statement: "We are currently experiencing a cricket shortage in many of our stores, but we expect to have more crickets available in the next few weeks. In the meantime, we're encouraging our pet parents to have their pets try alternatives we carry in our stores like mealworms, hornworms and wax worms."
For those with hungry reptiles at home, there are places you can find the leaping, chirping insects. The Ledger called around to a few bait shops like Perry's Market in Mint Hill, which said it had crickets aplenty, although crickets sold for fishing are often larger than some small reptiles want to eat.
Cold Blooded & Bizarre, a specialty reptile shop on Central Avenue that also rescues, rehabilitates and rehomes domesticated reptiles, sources its crickets from a local cricket farm and has had no trouble keeping crickets in stock, owners say.
In fact, the scarcity of crickets at other stores has brought CB&B new customers, as desperate reptile owners search for new local places to buy them.
"We get a lot of calls every day of people looking for crickets, which we didn't used to get," said Patrick Kamberos, one of the shop's three owners. — CB
Bonus video: Check out this 15-second video of Kamberos feeding a veiled chameleon a live cricket:
---
Need to sign up for this e-newsletter? We offer free and paid subscription plans:
The Charlotte Ledger is an e-newsletter and web site publishing timely, informative, and interesting local business news and analysis Mondays, Wednesdays, Fridays and Saturdays, except holidays and as noted. We strive for fairness and accuracy and will correct all known errors. The content reflects the independent editorial judgment of The Charlotte Ledger. Any advertising, paid marketing, or sponsored content will be clearly labeled.
Got a news tip? Think we missed something? Drop us a line at editor@cltledger.com and let us know.
Like what we are doing? Feel free to forward this along and to tell a friend.
Searchable archives available at https://charlotteledger.substack.com/archive.
On Twitter: @cltledger.
Need an "Essential Charlotte Ledger" T-shirt? Order here.
Sponsorship information: email editor@cltledger.com.
Executive editor: Tony Mecia; Managing editor: Cristina Bolling; Contributing editor: Tim Whitmire; Reporting intern: David Griffith