Discover more from The Charlotte Ledger
Delivering smart and essential news to Charlotte, one email at a time.
Over 20,000 subscribers
The people of Charlotte are stepping up
Plus: There are an awful lot of restaurant jobs at risk; Amazon to hire 100,000 nationally; Local liquor sales 'brisk,' ABC board says
Today is Tuesday, March 17, 2020. You're reading a SPECIAL BONUS ISSUE of The Charlotte Ledger.
If you like what you see, please forward to a friend.
Need to subscribe? Sign up for free here (charlotteledger.substack.com). A paid subscription, starting at $9/month, gives you access to all articles and helps build smarter original, local news in Charlotte. Details here.
---
Volunteers emerge all over town to help the needy; Pallet of Costco oatmeal in Ballantyne
After a few days of shock and despair at the life-altering spread of the coronavirus, Charlotte now seems to be showing resilience.
OK, sure — stocks are down 30% in the last month. Restaurants and bars and stores are closing. Large group gatherings — first defined as 100 people, then 50 — are now redefined as groups of 10 or more. And it's becoming clear that a lot of people, especially hourly workers, are going to be losing money for weeks. And the effects of this crisis could drag on for months.
Yet around Charlotte, to help those who are feeling the brunt of the shutdown of schools and businesses, there were signs of people stepping forward — people like Heather McAfee.
McAfee, a Ballantyne mom, pulled together a food drive for CMS families — in a day.
After hearing the news of immediate school closures on Saturday afternoon, she rounded up friends in five south Charlotte neighborhoods whose homes could be collection points, got administrators at Community House Middle School to agree to be a distribution spot, and at 2:02 pm Sunday pounded out a message on email and social media: "Immediate food need by 9:30 am tomorrow morning."
Then, the food and cash donations poured in. 
Pallet of granola bars: At 4 p.m. Sunday, McAfee sent her husband, Robert, and two sons to Costco with the $900 people had Venmoed so far. They loaded a pallet with oatmeal, chicken noodle soup, fruit cups and granola bars.
All evening Sunday, friends sent her photos of their front porches and dining room tables filling up with food donations.
On Monday morning, minivans streamed into Community House and unloaded in the school's cafeteria, and volunteers sorted enough nonperishable food to fill 350 grocery bags.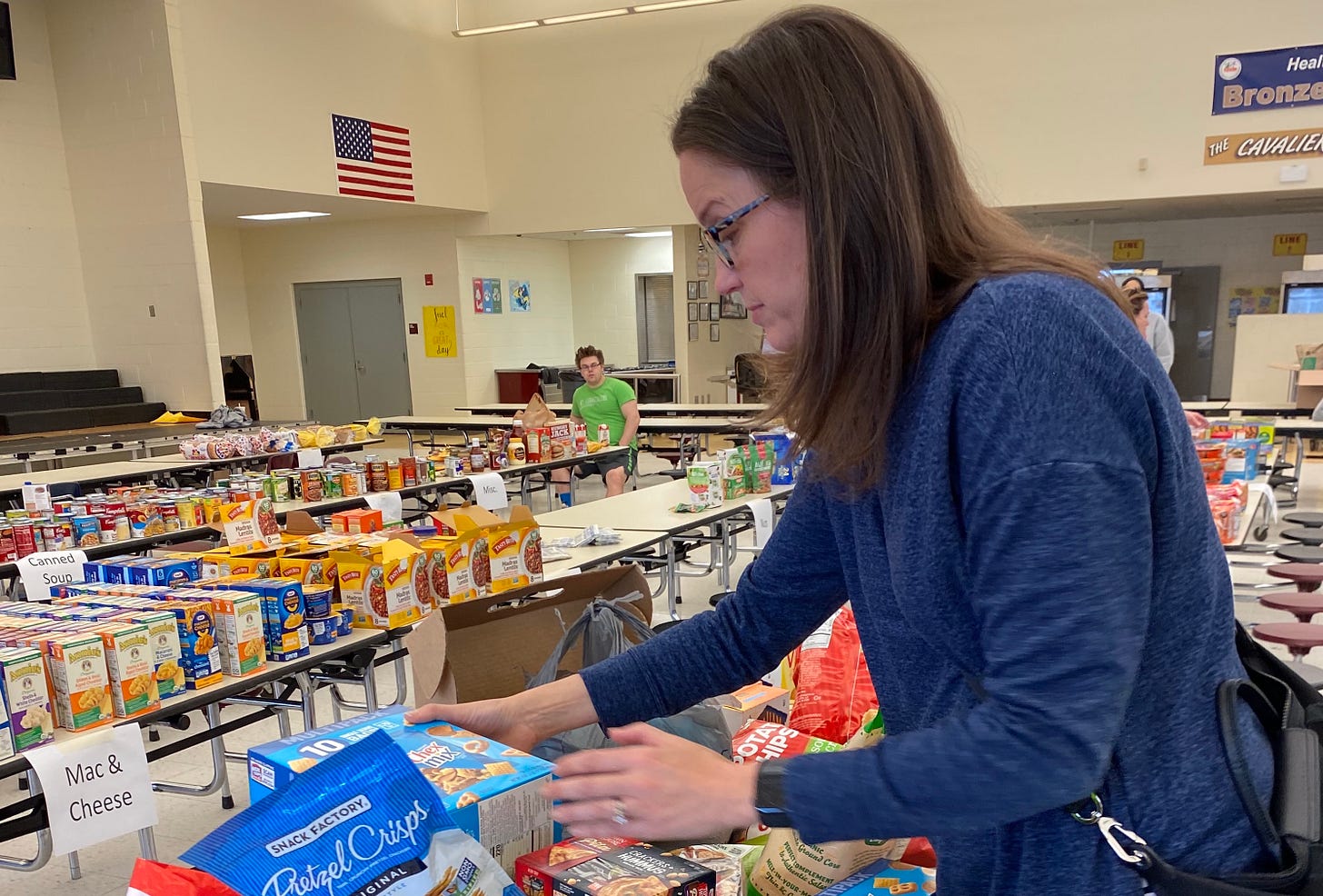 Ballantyne mom Heather McAfee
 organized a one-day food drive that resulted in buying 350 bags of groceries for families in poverty.
Some 100 families, who'd learned about the food drive through Sunday night Connect-Ed robocalls or Facebook posts, came through the doors between 11:30 a.m and 1:30 p.m. Monday. Ballantyne has a reputation of being one of Charlotte's wealthy enclaves. But the truth is there are still needs.
'Mind-blowing': The speed at which the community responded left her speechless: "It's mind-blowing that something like this could happen so fast. … I think we look around and we think that everybody is fine, but are we really taking the time to know our neighbors and find out what they need?"
Other examples emerged Monday, too:
And in the Lake Norman area, The Observer reported:
Ashley Nydish [president of Bags of Hope] said that Bags of Hope put out a call Thursday for donations and volunteers to stuff extended spring break bags, which contain enough meals for a longer time away from school.

"We've been unbelievably blown away by the amount of support and love shared within 72 hours," she said, "from monetary donations to calls asking where we can bring items in."
It's true that we have a lot of problems at the moment, and more will arise — probably some we can't even anticipate. But it's reassuring to see people in times of fear and uncertainty who recognize a need and step forward to help.
How to help
In addition to the examples above, here are a couple resources for pitching in locally:
---
A closer look at those restaurant jobs
Last week, it looked as though most of the economic damage from the coronavirus would be confined to the travel sector. But now, it's looking broader and is seeping into the larger leisure and hospitality sector, as bars and restaurants are closing or scaling back to take-out and delivery only.
Charlotte Agenda had a round-up of 25 restaurant owners talking about the challenges of running their businesses — with some facing declines in sales of up to 80%.
Let's look a little more closely at this sector in the Charlotte region. There are about 147,000 workers in leisure and hospitality in the metro area, or a little under 12% of the total jobs. The category includes accommodation and food services. Not all of those jobs are going to disappear, of course … but a lot of them could, at least temporarily. That's a big deal.
If you're looking for a silver lining, 88% of the region's jobs are not in this sector. Some jobs in other sectors will still be affected, but probably not as drastically as those businesses and positions that are literally customer-facing. Here's the breakdown of jobs in the Charlotte region: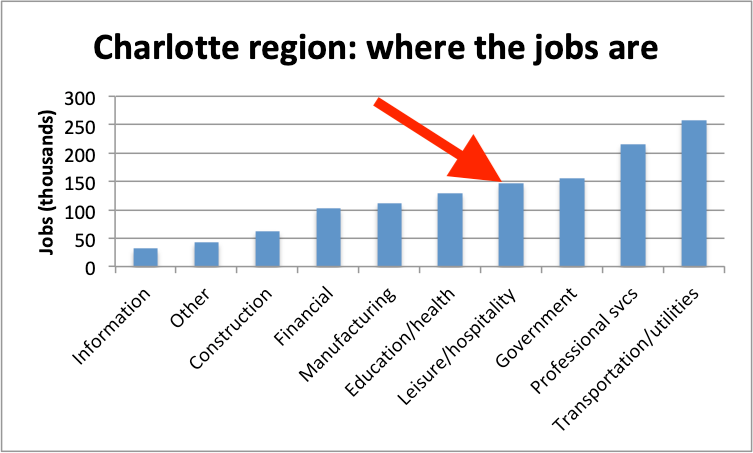 Leisure and hospitality, the sector most devastated by the effects of the coronavirus, is the #4 source of employment in the Charlotte region. Source: December 2019 figures from the Bureau of Labor Statistics.
The airline industry on Monday asked for a $50B bailout from Washington. There are probably a lot of folks in Charlotte who could get behind a bar and restaurant bailout.
---
Support better local information
The Ledger is expanding its local coverage this week because access to reliable information in Charlotte is more crucial than ever. We can help fill this critical void because of the support of our sponsors and our growing list of paid subscribers, who understand the community value of an experienced, trustworthy and independent news source.
You can help in two ways:
Spread the word. Forward this email. Tell people about The Ledger.

Consider a paid subscription. The basic plan is $9/month and gets you access to all of our articles. There's also a more expensive tier for those who want to help at a higher level. We are making most of our coronavirus coverage free to all. Our traditional business-oriented coverage will be in subscriber-only editions Wednesdays and Fridays. Your support helps build better local news in Charlotte. Full details here.
---
Loves me some internet
---
Local coronavirus round-up for last 24 hours:
---
In brief:
---
Programming notes
:
---
Need to sign up for this e-newsletter? Here you go:
Got a news tip? Think we missed something? Drop me a line at editor@cltledger.com and let me know.
Like what we are doing? Feel free to forward this along and to tell a friend.
Archives available at https://charlotteledger.substack.com/archive.
On Twitter: @cltledger
Sponsorship information: email editor@cltledger.com.
The Charlotte Ledger is an e-newsletter and web site publishing timely, informative, and interesting local business news and analysis Mondays, Wednesdays, Fridays and Saturdays, except holidays and as noted. We strive for fairness and accuracy and will correct all known errors. The content reflects the independent editorial judgment of The Charlotte Ledger. Any advertising, paid marketing, or sponsored content will be clearly labeled.
Editor: Tony Mecia; Contributing editor: Tim Whitmire