Discover more from The Charlotte Ledger
Delivering smart and essential news to Charlotte, one email at a time.
Over 20,000 subscribers
The real Quail Hollow drama takes place in 2 mansions
Plus: Charlotte beer festival meltdown; economy keeps adding jobs; is Bird running out of money?
Good morning! Today is Monday, May 6, 2019. Need to subscribe? Sign up here (charlotteledger.substack.com).
Pittenger and Lebda battle it out in the mother of all First-World problems
While golf fans enjoyed the tranquil civility of this weekend's Wells Fargo Championship, a legal clash between two well-known millionaire owners of some of the priciest mansions on the course rages on.
The battle pits real estate investor and former Congressman Robert Pittenger against LendingTree CEO Doug Lebda. The two are next-door neighbors, adjacent to the tee box on Quail Hollow Club's 15th hole. But don't look for them to be borrowing cups of sugar from each other.
According to court documents, the trouble erupted in 2017, not long after Lebda and his second wife started building a massive, 15,000-square-foot house with a five-car garage and swimming pool. The Lebdas have built a stunning house, which appears to be almost complete, and spectators' jaws were dropping over the weekend as they walked by it. The six-bedroom, six-and-a-half bath mansion is valued at $4.1M, according to tax records, but the value will probably rise by a few mil when tax assessors evaluate the completed construction: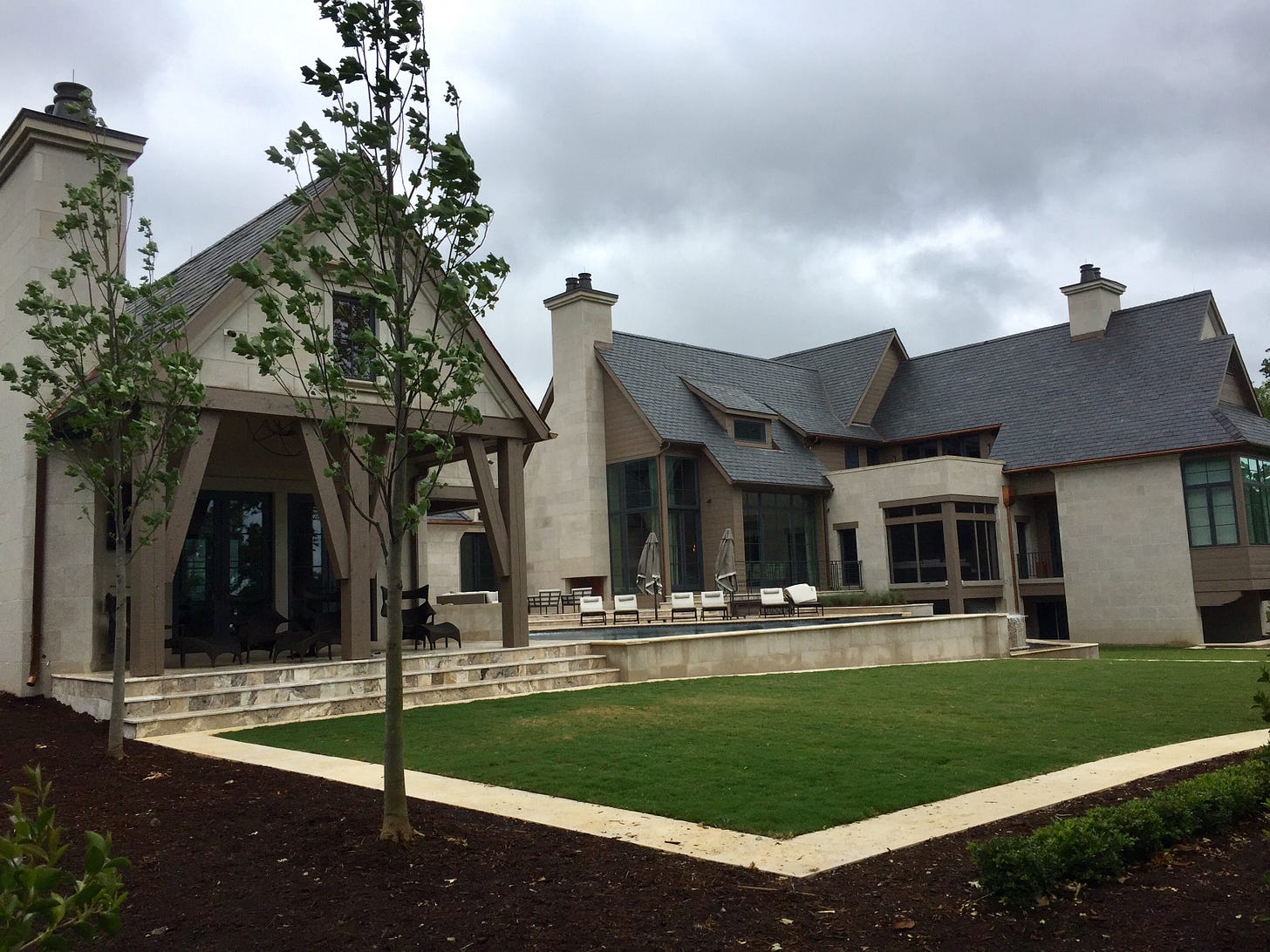 The Lebda estate from the golf course side (above) and from the street (below).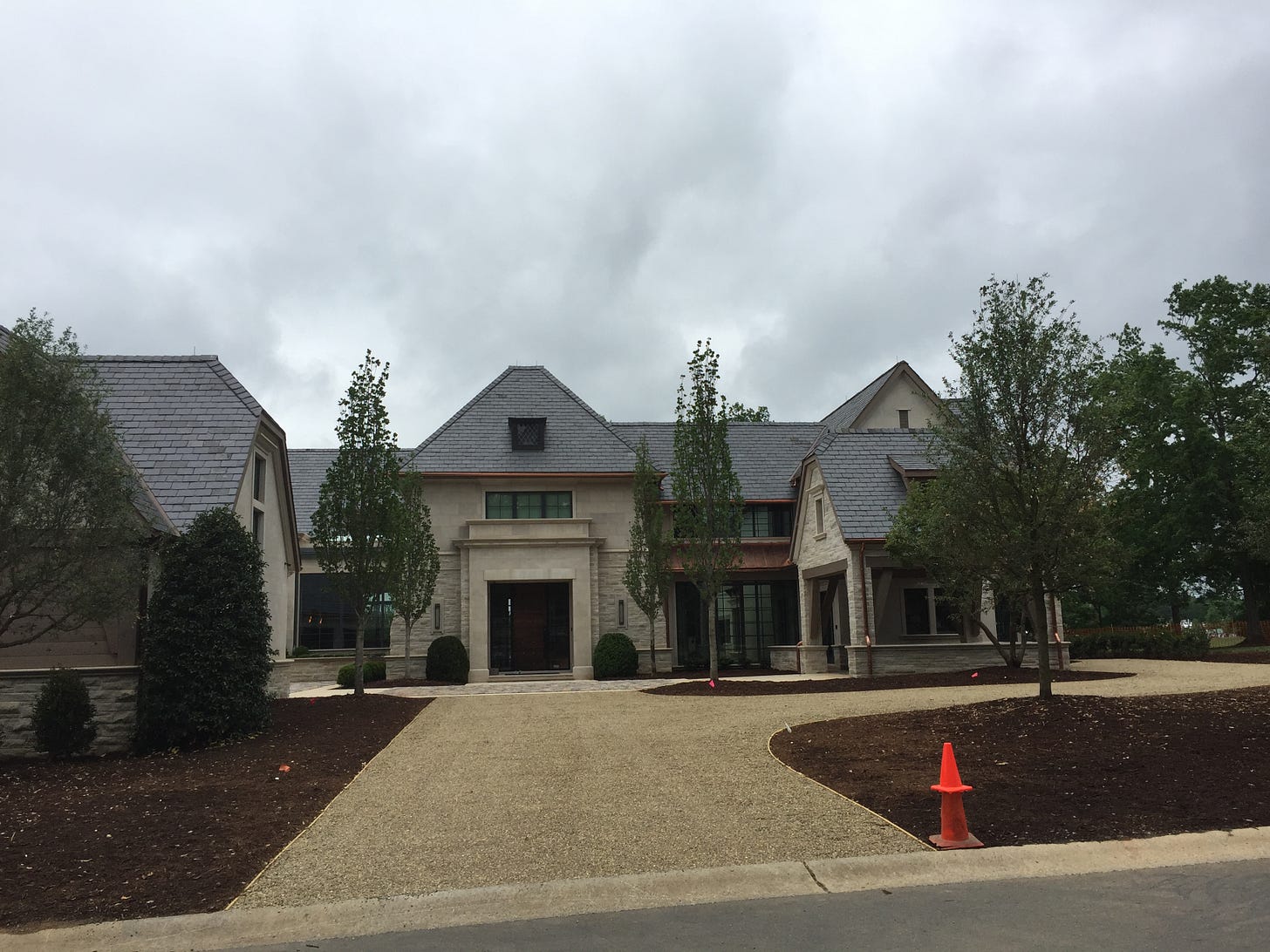 Pittenger, though, complained that construction so close to his property line blocked views from his own mansion — which is also quite nice. According to tax records, it is 10,500 square feet and boasts five bedrooms, six bathrooms, three half-baths, four fireplaces and an elevator. (Interior photos here.) It's value: $5.1M: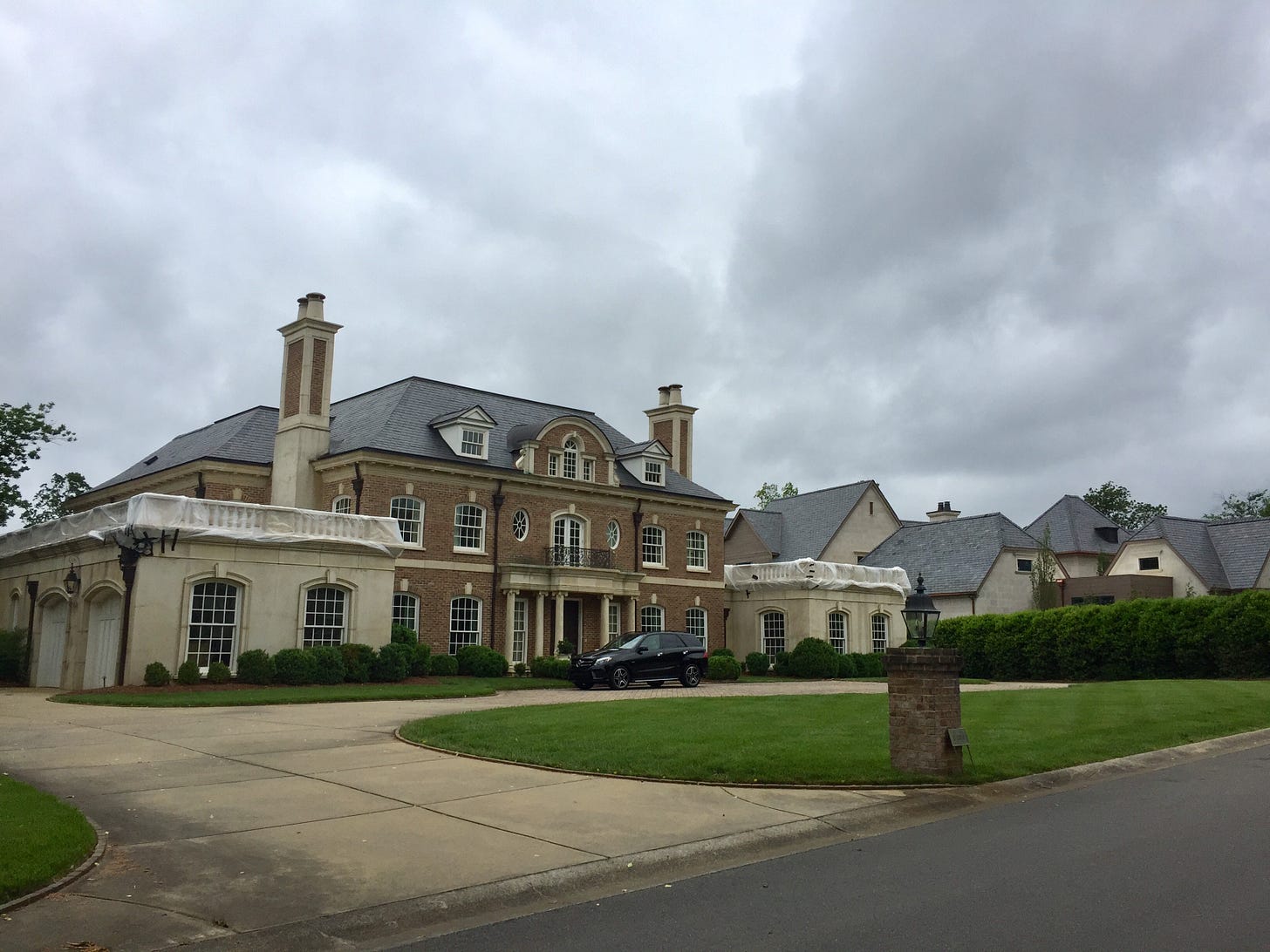 Pittenger estate from the street (above) and golf course (below).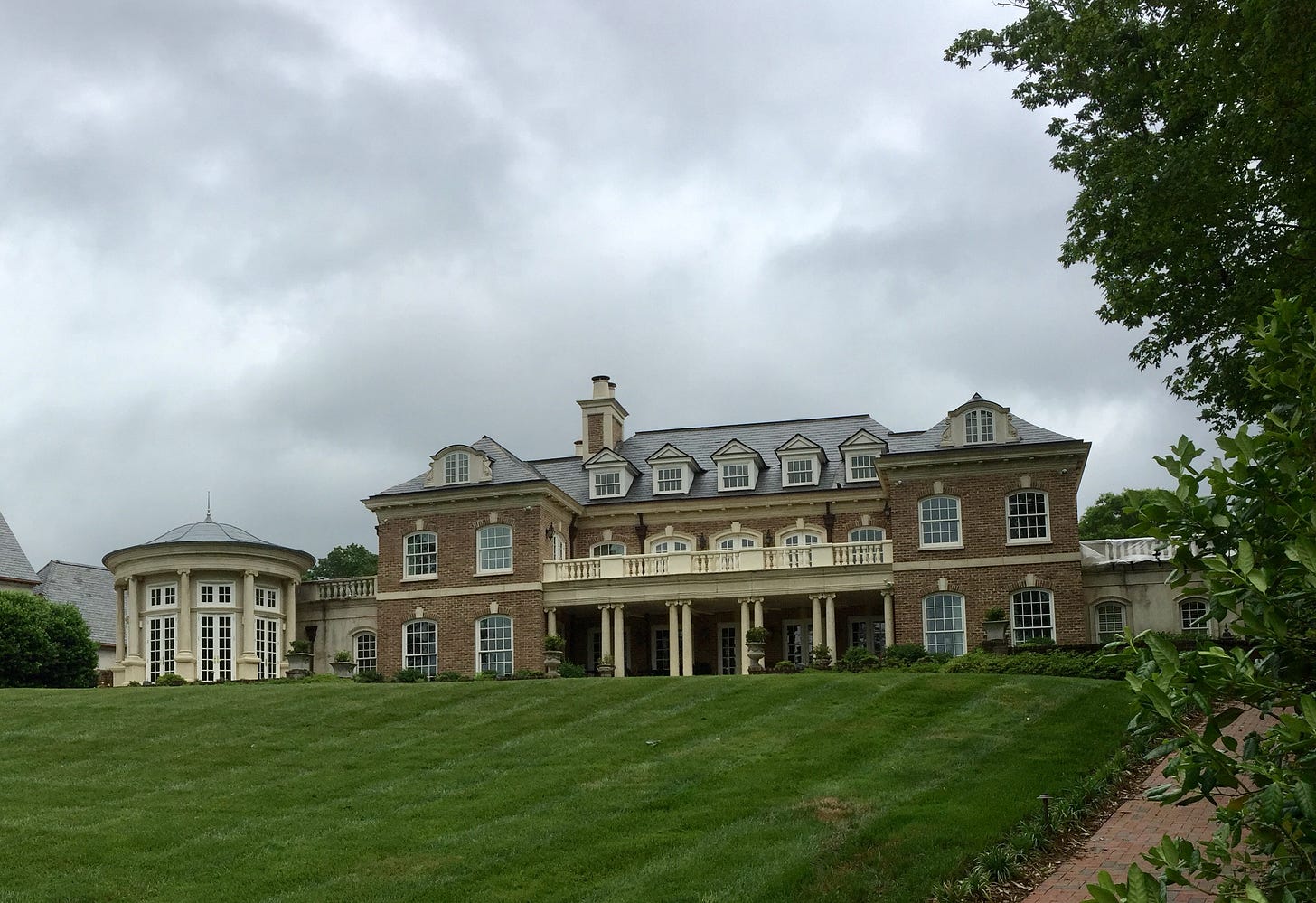 Ordinarily, if you don't like what your neighbor is building, you have to just suck it up. Pittenger, though, says Lebda's construction violates the rules of the Gleneagles homeowners association — rules that place restrictions on garage sizes, height and, critically, setbacks. Lebda's builder, Arcadia Homes, built the house so that one of its walls is a few inches over the 10-foot setback from Pittenger's property line. [Addition to original version:] The homeowners association agreed to the construction plans and to the reduced setback.
Here's the look at the no-man's land, as seen from the golf course: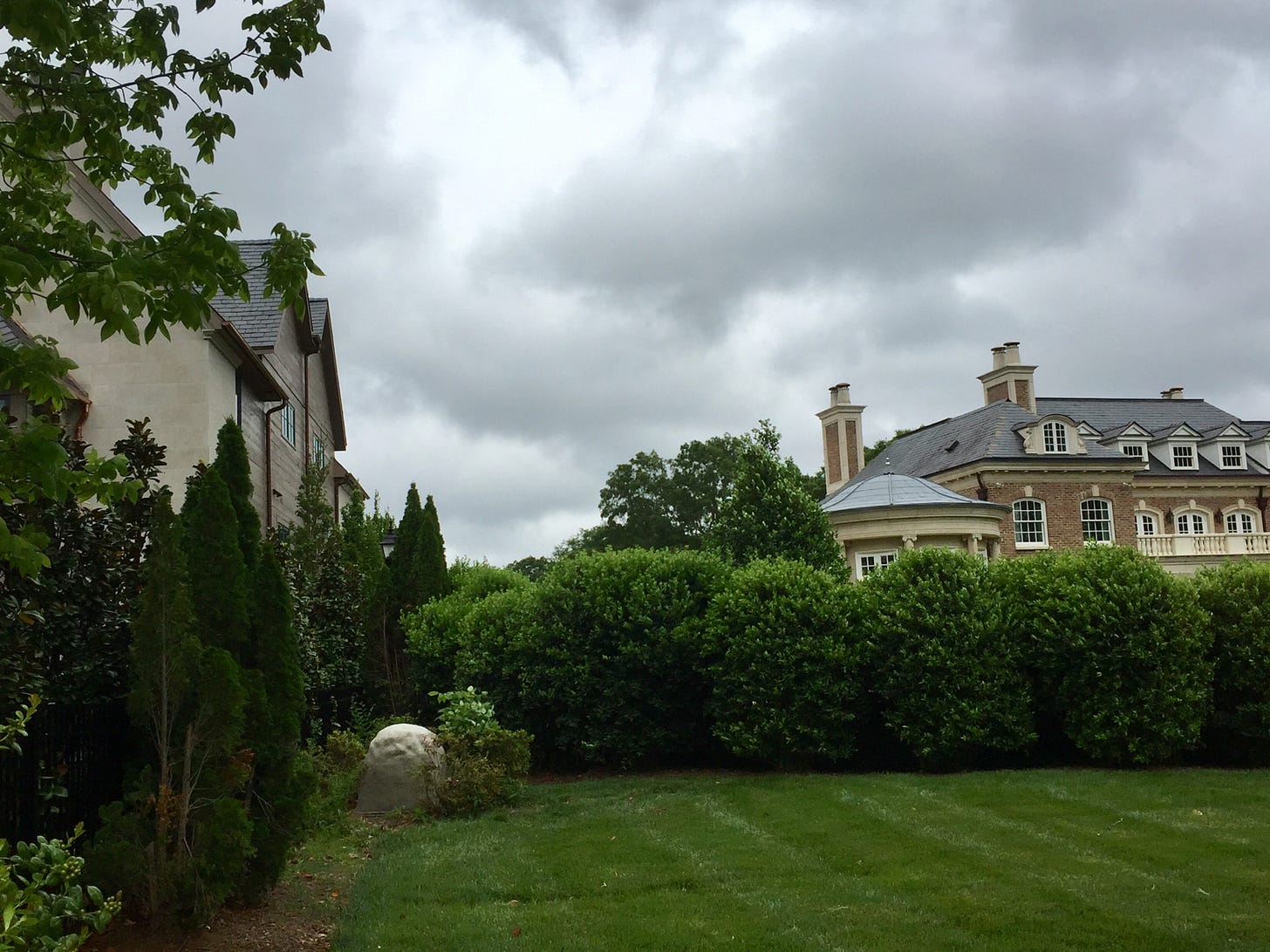 Lebda's new house, left, is a tad too close to Pittenger's, leading to a big Quail Hollow lawsuit between the two millionaires.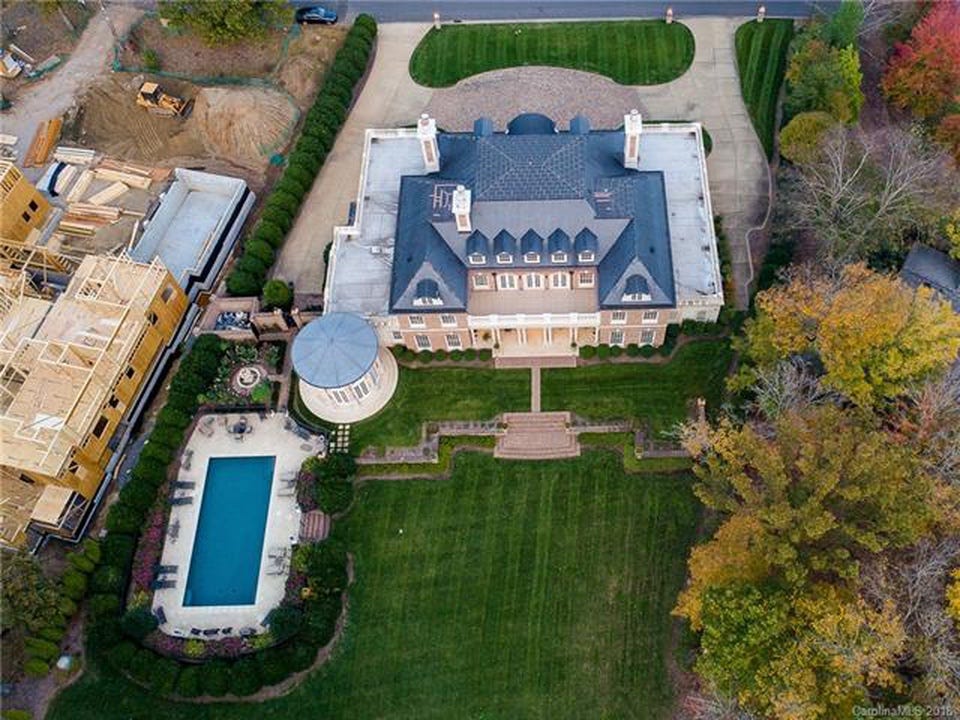 An older photo shows Lebda's house, under construction on left, overlooks Pittenger's swimming pool (photo from
Zillow
).
Pittenger filed suit against Lebda and the homeowners association last June. So far, neither side has backed down. Court documents show lawyers are taking depositions.
The two sides had discussed settling — but couldn't reach an agreement. But now, some of the emails between the lawyers appear in court documents. They reveal sparring over rich-guy topics like five-car garages, tall hedges, custom windows and, naturally, gobs of money.
Content warning: Some of the exchanges grow a little testy:
Dec. 22, 2017, John Buric of the tough-as-nails law firm James McElroy and Diehl (Lebda lawyer) to Kenneth Davies (Pittenger lawyer):
Hello Ken. Good to speak with you today. …

My clients [the Lebdas] are willing to re-frame the elevation overlooking your clients' property and take out the custom windows that are already delivered, and frame for and install transom windows on that elevation, in exchange for a release from your folks, accepting the remaining construction as-is. That is to say, agreeing to the 5 car garage, the bump-out/set-back and the other complaints raised in your letter to my clients.

As I explained, this is a costly change for my folks. …
Dec. 23, 2017, Davies (Pittenger lawyer) to Buric (Lebda lawyer):
John, thank you for the offer, but my clients say "no thanks." They will agree to have the Pittenger property forensically appraised for diminution in Fair Market Value based upon your clients' new construction, with the understanding your clients will compensate them for diminution. In addition, the 40' screening hedge would have to be installed. All covenant violations would be waived on these conditions. The Pittengers reserve the right to sue in the event we cannot come to an agreement.
Feb. 21, 2018, Buric (Lebda lawyer) to Davies (Pittenger lawyer):
Hello Ken. Great to see you yesterday. You asked that I send you an email so you had something to present to Congressman Pittenger. Here is that email.

As you know, I represent Arcadia Homes. They have been a longstanding client of mine. They recognized that the home they are building for Mr. Lebda was improperly staked. The result is that the present footprint of the Lebda residence is not in conformity with the approved plans and the HOA now says there is a violation of the setback. …

Arcadia homes asked me to get involved to mitigate the damages (or potential damages).

One option is for Mr. Lebda to purchase a portion of the Pittenger's property so that the alleged setback violation is cured. … I write to ask if your clients would entertain such a sale.

Would you kindly pass that along to them?

Many thanks.
Same day, seven hours later, Davies (Pittenger lawyer) to Buric (Lebda lawyer):
Hello, John,

It was good to see you as well. Good arguments yesterday. Here is Pittenger's response.

1.     He will convey the necessary property to Lebda to avoid the setback requirement if there is enough room on the Lebda side of the brick wall.

2.     Lebda will pay the sum of $1,750,000.

3.     Lebda install a 40' hedge along the side lot line to screen the Pittenger home and rear yard.

Best regards,

Kenneth T. Davies
Feb. 22, 2018, Buric (Lebda lawyer) to Davies (Pittenger lawyer):
Ken: I assume this response is an early April Fool's joke. Your client is asking to be paid $1,750,000 for 6.67 square feet. This demand translates into $11,428,785,550.00 per acre. That's right, 11 BILLION, FOUR-HUNDRED AND TWENTY-EIGHT MILLION, SEVEN-HUNDRED AND EIGHTY-FIVE THOUSAND, FIVE HUNDRED AND FIFTY DOLLARS for an acre of property in Charlotte, North Carolina. The most expensive land in the WORLD (located in Monaco) only costs $266,990,660.00 USD per acre. Your clients' demand is nearly 43 times the most expensive property in the world.

Between you and me, this looks like a stick-em-up. I don't think anyone on the planet believes the value of the property we are talking about here approaches your clients' monetary demand. I won't use the "extortion" word, although frankly, I can't think of a better description.

Also, I don't think they sell 40 foot tall hedges. …

Thanks Ken.
Feb. 27, 2018: Davies (Pittenger lawyer) to Buric (Lebda lawyer):
John,

As you know, the settlement offer was to release all claims, not simply to put a value on the land to be conveyed. We have discussed the diminution of property value, loss of privacy, and other potential damages from your client's new construction. These are not fanciful conjurings, but real issues for my clients. … Your clients can afford to settle under the terms we outlined. Let's get this resolved.

Ps. The hedge can be shorter than 40' if it will grow to that height within a reasonable time.

Best,

Kenneth T. Davies
Pittenger sued in June. He said the Lebda home is an "offensive annoyance" that violates neighborhood covenants. He estimates his damages at $3.5M.
And you thought troubles with McMansions were exclusive to Myers Park.
---
Top Tweets on Charlotte beer festival fiasco
There are plenty of places in Charlotte to grab a beer. It turns out that a beer festival with 10,000+ people wasn't one of them.
Long security lines and a lack of cups were already plaguing the Untappd Beer Festival at Bank of America Stadium on Saturday night. Then the thunderstorms rolled in, forcing everybody to the concourse. With no beer.
Cell phones were evidently operational, though, as festival-goers took to Twitter to trash the festival organizers. One user called it a "top 10 day in Charlotte social media." Many compared it to the Fyre Festival. The Observer said people "flooded Twitter with so many complaints that the topic was trending across the United States."
A sampling:
People not getting their beer and complaining on Twitter turned into a Charlotte Observer article, followed by a l-o-o-o-o-ng CharlotteFive blow-by-blow, followed by a Charlotte Agenda analysis of what exactly went wrong.
It sounds as though the problems stemmed from a mix of bad planning and poor weather. People who stuck around until after the thunderstorms were able to get some beer — and possibly even enjoyed themselves.
Pro tip: People attending festivals should get what they pay for. But if you're worried about long lines, don't go to places that are crowded, and understand that bad weather can make situations worse.
---
Jobs up, wages to rise
New national numbers out on Friday showed the economy adding 263K jobs in April. The take from Wells Fargo economists:
The economy is not in danger of stalling anytime soon. … With the labor market still tight, we expect to see labor costs pick up a bit in coming quarters. Even such, the trend is likely to remain fairly tame and not pose much threat to inflation.
---
In brief:
---
Taking stock
Unless you are a day trader, checking your stocks daily is unhealthy. So how about weekly? How local stocks of note fared last week (through Friday's close), and year to date: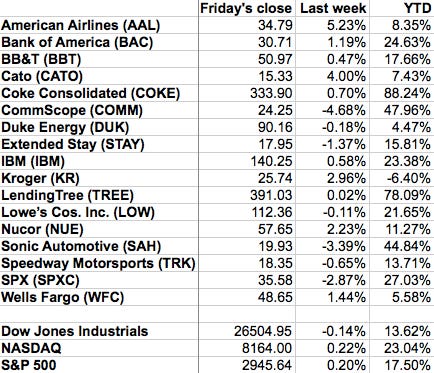 ---
Got a news tip? Think we missed something? Drop me a line at editor@cltledger.comand let me know.
Like what we are doing? Feel free to forward this along and to tell a friend.
The Charlotte Ledger is an e-newsletter and web site publishing timely, informative, and interesting local business news and analysis Mondays, Wednesdays, and Fridays, except holidays and as noted. We strive for fairness and accuracy and will correct all known errors. The content reflects the independent editorial judgment of The Charlotte Ledger. Any advertising, paid marketing, or sponsored content will be clearly labeled.
The Charlotte Ledger is published by Tony Mecia, an award-winning former Charlotte Observer business reporter and editor. He lives in Charlotte with his wife and three children.