The truth about 'unlimited PTO'
Plus: Moynihan touts bank tech but uses old phone; Panthers lobbying money pays off; Does EA Sports know who Greg Olsen is?
Good morning! Today is Wednesday, August 7, 2019. Need to subscribe? Sign up for free here (charlotteledger.substack.com). Send to a friend.
Charlotte-area employers are looking into enhanced PTO, but there are potential downsides
Charlotte has seen a lot of big tech announcements in the last few months. Lowe's is building a 2,000-worker tech hub in South End. AvidXChange is building a second HQ at the Music Factory. LendingTree is moving to South End and expanding.
So if tech is taking over, can some of its popular HR policies be far behind?
In a time of low unemployment, there are plenty of tactics that companies in Charlotte and elsewhere are rolling out to attract tech-savvy millennials, including offering dog-friendly workplaces, providing meaningful work, including meals and fitness options and — maybe this sounds old-fashioned — paying higher salaries.
But one of the most attention-grabbing is a time-off policy known as "unlimited PTO." Paid time off, or PTO, is routinely used by larger companies and combines sick days and vacation days into a bank of time that employees can take for flexible purposes. Unlimited PTO takes that flexibility a step further: Instead of granting you a certain number of days off, time away from the office is limited only by what you can work out with your boss.
Some companies in Charlotte are already doing it:
LendingTree offers what it calls "unlimited vacation days." From its website: "Yes, we are all adults here! … It means we all know that we need to get our work done and keep our bosses happy, even while we take some time off work."

Accounting firm Grant Thornton offers what it calls "flexible time off" to its 375 Charlotte employees. "Our goal was to further enhance our culture of trust, where employees are empowered to manage their own time, allowing them to return to work refreshed, with better ideas and solutions for clients," Lou Ann Hutchison, Grant Thornton's managing director of People & Culture Operations, told the Ledger.

MapAnything, a tech company based in Charlotte that was bought this year by Salesforce, offers unlimited PTO to its 100 workers.
While it might sound like a useful recruiting tool, it's not right for every company. HR managers say there are a few potential pitfalls, including:
Uneven application. Workers taking different numbers of days can lead to resentment.

Pressure on managers. Without a policy to fall back on that limits days off, managers must take more responsibility to counteract the potential for abuse.

Perception vs. reality. People hired with visions of taking lots of vacation might become disillusioned when managers reject some of their requests.

No payout when you leave. Unlike unused vacation days or traditional PTO days, employees who leave typically receive no compensation under an unlimited PTO plan.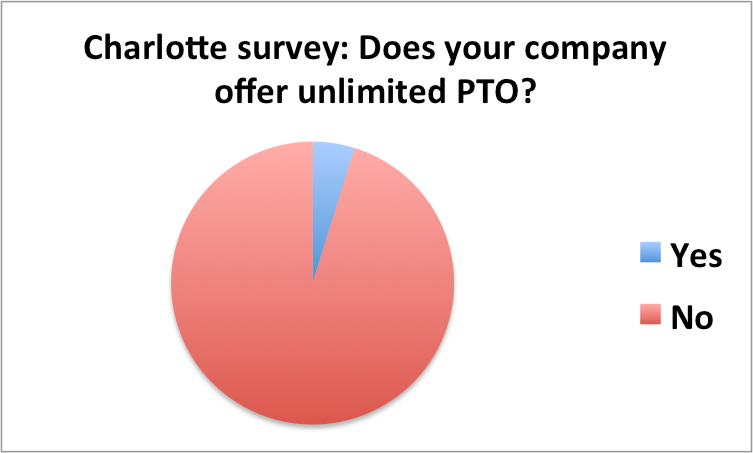 According to a recent survey by The Employers Association, just 5% of local companies surveyed had an unlimited PTO policy — about the same figure as three years ago.
Stephanie Dillon of The Employers Association, which provides HR support to local companies, says she routinely fields questions about unlimited PTO. "There are definitely more people inquiring about it than actually doing it," she says.
Dillon recommends:
Assess your company's values. If your office values face time, such a plan might not be a good fit

Clearly define the process. Who approves days off, and with how much notice?

Consider a trial period to see if it works.

Communicate with employees when rolling out a new plan.
"The company message is, by giving the gift of unlimited PTO, in return, you expect hard work, professionalism and results."
---
Moynihan: BofA is a cutting-edge tech company.
Also Moynihan: I still use a BlackBerry.
If you're looking for evidence that Charlotte's banking scene is transforming into a tech scene, look no further than some recent comments by BofA CEO Brian Moynihan. An article this week in The Financial Brand summarizes some of the themes Moynihan hits in industry speeches.
Toward the top of the list is the Charlotte-based bank's commitment to tech. Moynihan says BofA spends $2.5B to $3B a year on coding.
"We're a technology company, wrapped around a great bank, and that's going to be the future of what we do," Moynihan insists. 
With about 15,000 workers in Charlotte, BofA is one of the largest private employers here. In other highlights, Moynihan also says:
BofA is poised to pull through the next recession better than its peers.

He worries about competition from fintech companies, which often face less regulation than traditional banks.

The bank is doing great with millennials, who open about 40% of the bank's accounts each quarter: "If we were a millennial-only bank, we would be one of the biggest banks in the country."

BofA has "more blockchain patents than anybody else."
And oh, while the rest of the world is on iPhones and Androids, he still carries a BlackBerry. The devices peaked in popularity around 2009 and today make up less than 1 percent of the market for smartphones:
Asked some questions about personal tech, he admitted at one event that he still carries a BlackBerry, and not because of the company's vaunted security measures.

"After 20 years of typing on it, I don't want to learn how to use those non-touch keyboards," Moynihan admitted. Turning to his host, he added, "I'm one of the few people who still carries a BlackBerry, so thanks for embarrassing me."
---
Panthers find bargain in South Carolina lobbying
The good state to our south is showering the Panthers with $115M in tax incentives to build a new HQ near Rock Hill. A new report this week says the Panthers spent just a fraction of that amount on lobbying the South Carolina legislature: $48,500.
According to the Charleston Post and Courier:
Most of the money, about $44,000, went to two Panthers-retained lobbyists: Darrell Campbell, a 19-year lobbying veteran who has represented Duke Energy, beer wholesalers and trade groups, and Robert Smith II.

Among the other miscellaneous expenses listed in the report was $600 for a luncheon for members of the Senate's Democratic Caucus in early May. It came at a time when senators were more divided over the legislation.

Republican Gov. Henry McMaster also received a replica helmet, the report said. It cost $147.40, according to the disclosure filed with the S.C. Ethics Commission.
But did the Panthers overspend?
One of the deal's early critics, state Sen. Dick Harpootlian, D-Columbia, told Palmetto Politics the Panthers wasted their money paying lobbyists. …

"You had the governor's office, the chairman of Senate finance (committee), the president of the Senate and more in their corner," Harpootlian said. "They brought down (head coach) Ron Rivera and (team mascot) Sir Purr. This was pretty well decided some time ago. I don't think they needed to spend a dime."
Let's hope the Panthers can close out some football games this year the way Sir Purr closed out the South Carolina deal.
Olsen explains Madden NFL 2020 glitch
Speaking of the Panthers, tight end Greg Olsen is getting some online attention this week, after people who previewed EA Sports' "Madden NFL 20" video game pointed out that Olsen's avatar in the game looks nothing like the real Olsen: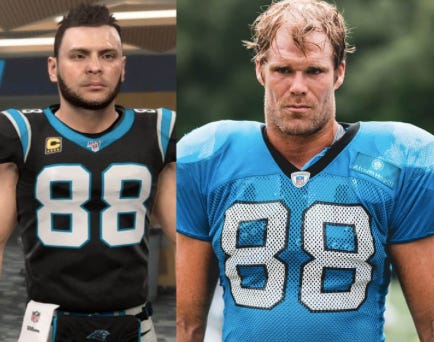 Hey, guy with dark beard, what have you done with our tight end? "Madden NFL 20" Greg Olsen (left) looks nothing like actual Greg Olsen.
"You'd think a player with his stature would actually look like himself in the game," the Sporting News wrote.
At training camp, Olsen said there's a reasonable explanation:
"A couple years ago down at the Pro Bowl they (EA Sports) were doing head scans and I guess I didn't do it. For whatever reason, I was tied up with something else and didn't do it," Olsen told NFL Network. "Since then they never asked me to do it again."

That's pretty apparent.
Panthers go all-in on digital tickets
Say goodbye to paper tickets. In a blow to people with tech phobias, the Panthers this year for the first time are making all tickets digital.
"Starting this season, tickets will only be digital, allowing you to conveniently manage them right from your smartphone!" the Panthers wrote in a letter to PSL holders. Tickets can be managed on the Panthers' mobile app.
The biggest losers: scalpers.
---
In brief
Uptown land sale: A 0.3-acre parcel of land at West Morehead Street and South Cedar Street has sold. Located behind Bank of America Stadium, the land is home to the old Steve's Motorsport building, a garage built in 1950. It is a prime area for redevelopment. The parcel was bought in June by Island Properties of Hilton Head LLC for $275,000, county records show. The buyer could not be reached.

Don't flip off state troopers: In a case out of Albemarle, the N.C. Court of Appeals ruled Tuesday that extending a middle finger to police is reasonable grounds to be pulled over: "A reasonable, objective officer having viewed Defendant's behavior could believe that a crime had been or was in the process of being committed. … his waving and middle finger taken together, aimed at an unknown target, could alert an objective officer to an impending breach of the peace," the court wrote.

Next ABC store: The Mecklenburg County ABC board has hired contractors to build a new ABC store on Monroe Road near Idlewild Road, near the MoRA Point shopping center, according to meeting minutes. The ABC board's 28th store opened last week at 9920 E. Independence Boulevard in Matthews.

Office tower/restaurant complex on Montford: Four Brothers Properties plans a five-story office tower with three restaurants on the old Andrew Blair's site on Montford Drive, near Park Road Shopping Center. "Montford needs an infusion of energy. … I think Montford for a while got a reputation as more of a college kid (scene) and we are now firmly planting our flag: We want to be 25 and up," the developer tells Charlotte Agenda. Construction is set to start by early next year.

Monopoly power: Duke Energy's 2Q earnings beat analysts' estimates on the strength of "investments at electric and gas utilities and commercial renewables," the Charlotte-based utility said Tuesday. Duke loves to tout renewables. But of its three main lines of business, renewables accounted for just 6% of reported profits in the quarter. Gas accounted for 4% and electricity accounted for 90%.

Office/restaurant near NoDa: White Point Partners and FCP announced a mixed-use redevelopment near Optimist Hall, at the old Chadbourn textile mill at North Brevard Street at Jordan Place. It will have 20,000 s.f. of office plus space for a restaurant and retail.

Newspaper merger: Gannett and GateHouse plan to merge and become the nation's largest newspaper company. Gatehouse owns 15 publications in N.C., including The Mecklenburg Times, N.C. Lawyers Weekly, the Gaston Gazette and the Shelby Star. Gannett owns the Asheville Citizen-Times. Cost-cutting ahead. Welp.
---
Off the Clock
Low-key ideas for the weekend
Movies opening in Charlotte this weekend:
Dora and the Lost City of Gold (PG) (83% on Rotten Tomatoes): Live-action adventure with Boots and Diego

The Art of Racing in the Rain (PG) (63%): Philosopher-dog helps race cars

Brian Banks (PG-13) (45%): Football star overcomes obstacles

Ecco (R): Former assassin mounts comeback

Scary Stories to Tell in the Dark (NR): Teens discover scary mansion
Highly rated movies now playing:
The Farewell (99% on Rotten Tomatoes)

Toy Story 4 (G) (97%)

Spider Man: Far From Home (PG-13) (90%)

Once Upon a Time in Hollywood (85%)

Crawl (R) (84%)

Fast & Furious Presents: Hobbs & Shaw (66%)

Yesterday (PG-13) (63%)
Cheap getaways from CLT:
Charlotte to San Jose, Costa Rica, $229 round-trip on Spirit (one-stop), various dates in August-October.

Labor Day weekend: Charlotte to Newark, $68 round-trip on Spirit (nonstop), Aug. 29-Sept. 1.

Charlotte to Los Angeles, $237 round-trip on Frontier (one-stop), Sept. 5-9.

Charlotte to Denver, $120 round-trip on Frontier (nonstop), Sept. 13-16.

Charlotte to Baltimore, $60 round-trip on Spirit (nonstop), Sept. 14-16.

Charlotte to Cincinnati, $158 round-trip on Delta (nonstop), Sept. 27-30.

Charlotte to Reykjavik, Iceland, $469 round-trip on Delta (one-stop), Oct. 13-20.

Charlotte to New Orleans, $152 round-trip on American (nonstop), Dec. 6-9.
Source: Google Flights. Fares retrieved Wednesday morning. They might have changed by the time you read this.
---
Got a news tip? Think we missed something? Drop me a line at editor@cltledger.com and let me know.
Like what we are doing? Feel free to forward this along and to tell a friend.
The Charlotte Ledger is an e-newsletter and web site publishing timely, informative, and interesting local business news and analysis Mondays, Wednesdays, and Fridays, except holidays and as noted. We strive for fairness and accuracy and will correct all known errors. The content reflects the independent editorial judgment of The Charlotte Ledger. Any advertising, paid marketing, or sponsored content will be clearly labeled.
The Charlotte Ledger is published by Tony Mecia, an award-winning former Charlotte Observer business reporter and editor. He lives in Charlotte with his wife and three children.