The unraveling of Tim Newman
Plus: Trump tweets that RNC will pull out of Charlotte; Another night of protests; Rezoning sought next to Suffolk Punch
Editor's note: You're reading The Charlotte Ledger, an e-newsletter with local business-y news and insights for Charlotte, N.C.
This post was sent to paying subscribers on Wednesday, June 3, 2020, but we are making it available to all as an example of the important and original work that we produce.
The Ledger offers free and paid subscription plans. Sign up here:
---
LEDGER IN-DEPTH
For a decade, he was a respected uptown business leader. Today, after a string of arrests, he's in jail charged with threatening to blow up a dam and kill police officers. What happened?

by Tony Mecia
At 12:33 a.m. on April 7, a sheriff's deputy in Georgetown County, an hour north of Charleston, radioed the command post in nearby Moncks Corner with some welcome news. He had the burgundy Ford F-150 in his sights on U.S. 17.
For the previous four days, law enforcement in neighboring Berkeley County had been frantically searching for the pickup truck and its driver, 55-year-old Tim Newman. Their interest in Newman — once one of Charlotte's most influential uptown figures — stemmed from a chilling threat he had recently made at a convenience store. On April 3, a witness told police, Newman said he planned to "drive my truck over or through the g—damned Pinopolis Dam," a hydroelectric station 30 minutes to the north that provides power to South Carolina's Lowcountry. According to a police report, he warned that he "had enough out there in that red truck to do the job." As he left the store, he declared, "You'll hear about it in the Post and Courier tomorrow morning," referring to the Charleston newspaper.
Local law enforcement couldn't immediately find Newman, but they started digging into his background. They learned that at least a half-dozen law enforcement agencies in North and South Carolina wanted to pursue a variety of charges against him, including violating a restraining order, communicating threats and distributing obscenity. Newman's file with state police showed he had once told his probation officer that he would "shoot anyone attempting to put him back in jail right between the eyes."
Concerned that he was armed and carrying explosives, officers elevated the alert status at the dam. They added patrols.
On April 6, Newman drove his truck to the dam's entrance but fled before security could detain him. That night, after officers set up a command post and started tracking the location of Newman's cell phone, the Georgetown deputy pulled over Newman's truck and took him into custody without incident, according to police reports.
Just a decade earlier, Newman had been one of Charlotte's best-connected uptown insiders. In the late 1990s, the former Morehead Scholar with an Ivy League MBA led efforts to attract Major League Baseball to town. Later, he headed the uptown development group Charlotte Center City Partners and then the Charlotte Regional Visitors Authority (CRVA), where he helped the city win the competition to land the NASCAR Hall of Fame.
A Ledger review of court records, police reports and interviews with more than a dozen Newman associates and others connected to his legal cases paint the picture of a man still embittered nearly a decade after being publicly forced from his role as an uptown mover-and-shaker.
Longtime friends and bewildered acquaintances say there seem to be two sides to him. There's the charismatic and loyal friend, always willing to lend a hand, whom they knew from years ago. But they say a different persona has emerged with more frequency these days: an angry, vindictive man who lashes out at perceived betrayals with insulting and vulgar late-night phone calls and texts.
As two sheriff's deputies drove him to jail that night, which Tim Newman did they have in the back seat?
They soon found out. According to the police report, Newman swore at them, pretended to choke himself on his seat belt, threatened to blow up a nearby coal power plant and said he was going to kill them with a knife he had stashed in his shoe: "You're both gonna die before we get to Berkeley County," he told them, according to in-car and body-cam videos.
The deputies stopped the car and searched him again but found no knife. They put him back in the cruiser.
In a final act of defiance, the deputies reported, Newman "threatened to defecate in the vehicle and did so prior to reaching the jail." He's been in jail ever since and faces four felony counts that could lead to years in prison.
In a 10-minute phone conversation with The Ledger from jail on Tuesday, Newman was pleasant and apologized that he couldn't discuss any of the allegations against him. He says he has signed an exclusive agreement to tell his story to a national news outlet. He declined to name the media outlet.
Asked what he would say to people in Charlotte who are watching his legal cases, he rattled off some of the successes during his decade of uptown leadership in the 2000s: attracting Johnson & Wales University, the NASCAR Hall of Fame, two of the biggest conventions in Charlotte's history (the National Rifle Association convention of 2010 and the Democratic National Convention of 2012) and getting the uptown basketball arena built. He said: "All I say to the people of Charlotte is, in my time in Charlotte, the record speaks for itself."
Rising through the ranks of Charlotte's powerful
Newman first made a name for himself in Charlotte in the late 1990s when he was in his mid-30s. He had attended UNC Chapel Hill as a Morehead Scholar, earned an MBA from Columbia and had worked in finance for Morgan Stanley and Wachovia, a predecessor to Wells Fargo.
He started to become well-known locally through his work for the Charlotte Knights. As vice president and later general manager, he spearheaded the efforts to lure a Major League Baseball team to North Carolina and to build an uptown baseball stadium that would move the Knights out of their longtime home in Fort Mill.
Neither of those plans materialized, though the Knights would build an uptown stadium more than a decade later. However, Newman's sharp analytical mind and people skills attracted the attention of uptown business leaders. When Rob Walsh, the president of Charlotte Center City Partners, left for a job in New York in 2002, he recommended Newman as his replacement — and Newman got the post.
Krista Tillman, then-president of BellSouth's N.C. operations, called him the "perfect candidate." Jim Palermo, who served as Hugh McColl's lieutenant at Bank of America, said Newman "understands the value of community consensus, how to build it and how to nurture it," according to newspaper articles at the time. In an interview with the Observer, Newman said he came from "redneck roots," read the Bible every day and took regular advice from McColl and former Wachovia CEO Bud Baker.
In 2004, Newman was tapped to become the first CEO of the CRVA, which would run the Convention Center and city-owned sports and entertainment venues and promote tourism. At the time, it had 205 employees and a $30M annual budget.
His biggest and best-known success came in 2006, when he led the city's efforts to land the NASCAR Hall of Fame. It was viewed by then-Mayor Pat McCrory, the City Council and uptown business leaders as a huge prize destined to draw tourists to Charlotte — and aided with more than $100M in hotel-tax money.
Within a few years, though, questions started to emerge publicly about Newman's leadership. He acknowledged a romantic relationship with a subordinate. Attendance and revenue projections for the Hall of Fame's first year badly missed their marks. A city-commissioned audit found that Newman had allowed outside companies to pay bonuses to CRVA staff, including a $115,000 payment to an employee by organizers of the CIAA basketball tournament.
Then-Mayor Anthony Foxx and other city leaders publicly pressured the CRVA to oust Newman. The organization's board demoted him to a lower-level job and planned to hire a new CEO in his place. Newman, friends say, was humiliated. They say he felt like a scapegoat who had done so much for the city but was then unceremoniously dumped when he became inconvenient.
The final blow to his career with the CRVA came a few months later. In September 2011, a post appeared on Newman's Facebook page. It read: "Hey Mayor Foxx when you create a job call me. ... otherwise go to the place you deserve ... that would be Hell." Newman explained to the media that he didn't write the post — that somebody had stolen his phone, which he had quickly recovered. A CRVA spokeswoman said at the time that "his Facebook page was accessed by someone who posted the negative comment."
The story seemed implausible. Newman resigned from the CRVA five months later.
Signs of trouble
Over the next few years, Newman took a few different jobs around Charlotte and had a minor brush with the law.
He was charged with drunk driving in 2012, but the case was thrown out. He joined a tech firm, Euclid Innovations, as director of business development. In 2017, he joined Levine Properties to lead its asset management. President Daniel Levine told The Ledger he always had a positive relationship with Newman, though they mutually parted ways in about a year, after deciding the job was not a good fit.
Newman founded Adult Spectrum Transitions, which helps adults on the autism spectrum find jobs. Newman's twin sons are autistic. He has served on many boards for organizations serving people with developmental disabilities, including a stint with the Carolinas chapter of Autism Speaks.
Then, more erratic behavior — and more serious legal troubles — began.
In 2018, he was charged with several counts stemming from a relationship with an ex-girlfriend. The Observer reported in October 2018:
Newman climbed under a Charlotte-Mecklenburg police car and called 911 to say he had been hit by the car, according to an arrest warrant.

Firefighters and Medic arrived to help, but Newman said he wasn't hurt and had not been hit, according to the warrant.

That 911 call happened while he was already under investigation for a domestic disturbance at a woman's home, according to records.

Hours later, the woman filed for a protective order against Newman, saying he had banged on her front door at "all hours of the night" and harassed her with voicemails and threatening texts. He also trespassed on her property and damaged items outside, like planters, the garage door and patio furniture, according to the filing.

In the filing, the woman said Newman had a silver revolver and asked for him to surrender it to the sheriff. He told a sheriff's deputy he didn't have any weapons, according to records.

Four days after she filed for the protective order, the woman left her house and drove to a gas station in her neighborhood. Newman followed her, according to an arrest warrant.
At a trial held in the fall of 2019, a judge found Newman not guilty of most of the charges, including stalking and damage to property. He found him guilty of two charges — violating a domestic violence protective order and misusing the 911 system — and sentenced him to 18 months of probation. Mecklenburg County Deputy District Attorney Bruce Lillie declined to comment on the case, citing pending charges. Newman's lawyer in that case, Katie Clary, declined to comment, saying she does not talk to the media.
As part of his sentencing, the judge required Newman to attend substance-abuse and mental-health assessments. According to court records, Newman never showed.
Legal problems and complaints accelerate
While he skipped court-ordered evaluations, a review of his social media posts show he was traveling a lot in the first few months of 2020.
He went to Danville, Va., near where he was born. He headed to UNC basketball games in Chapel Hill, where he ran into Gov. Roy Cooper, a fellow Morehead Scholar: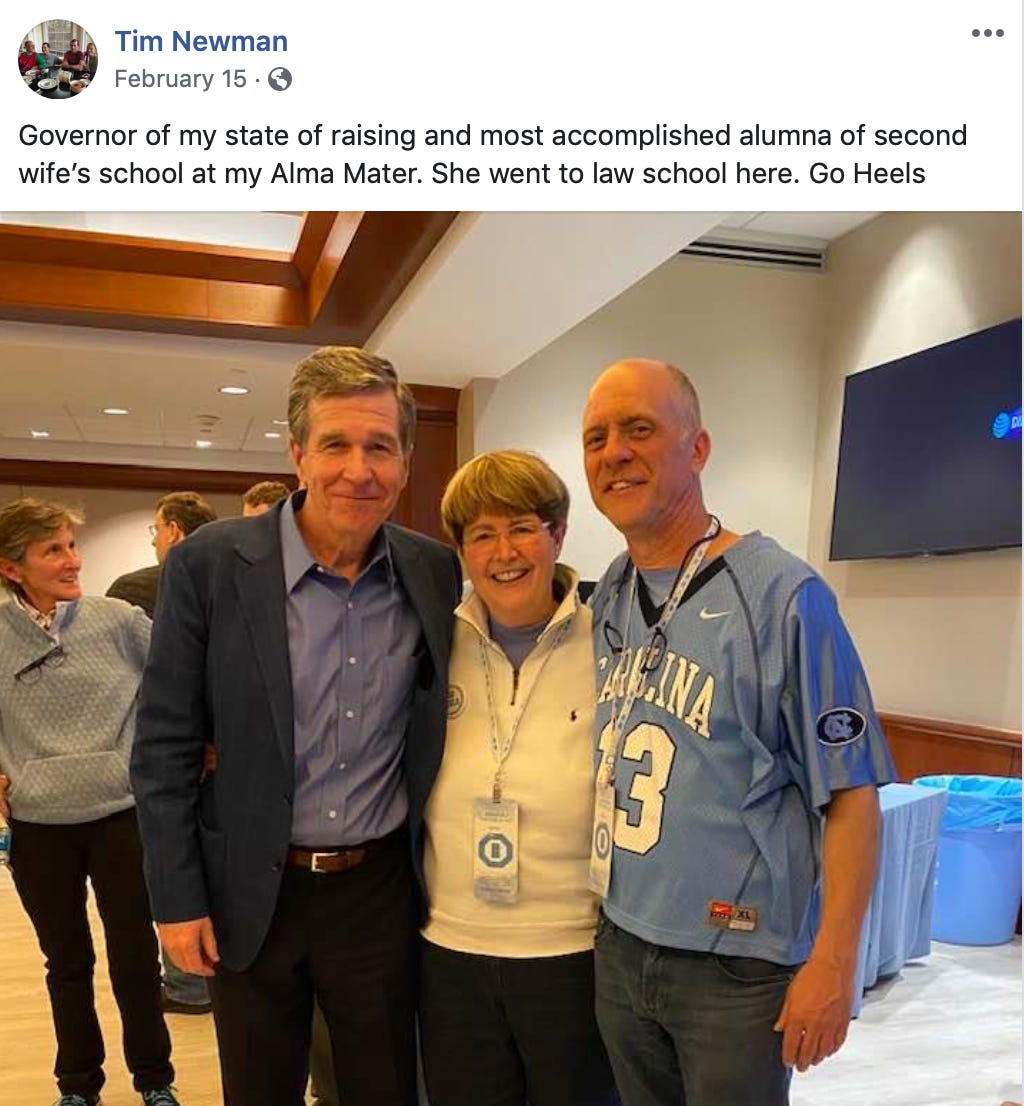 He'd post about stopping by Waffle Houses. He often shared videos or messages that he ended with "To God be the glory."
His anger at his forced departure as a civic leader occasionally bubbled up on social media. In one Facebook post on Jan. 31, the night of the NASCAR Hall of Fame induction ceremony in Charlotte, he revived complaints about his ouster nine years earlier. He blamed The Observer and Foxx and "all those who questioned our vision" and suggested that the city's successes on his watch created "hundreds of millions of dollars" in tax revenue.
He continued:
I lost my job in CLT for taking the bullet for the Hall only to see Foxx and Friends waste three times what the Hall cost on trains to that nobody will use (gold line) but hey who's keeping score?
Foxx did not reply to a request for comment from The Ledger. The CRVA said in a statement: "Mr. Newman has not been employed by the CRVA since February 2012. As a result, it would be inappropriate to comment on his legal or personal circumstances."
Within a few weeks, some of Newman's female acquaintances started reporting to police that he was harassing them. According to court records, incidents included:
On Feb. 3, "harassing behavior," in a report by Charlotte-Mecklenburg Police.

On Feb. 11, "harassing phone calls," reported by UNC Charlotte Police.

On Feb. 12, a "report for harassment" filed by Wake Forest University Police.

On Feb. 13, Newman was told by a South Carolina Law Enforcement Division lieutenant to "cease and desist all contact with the SC Governor, Lt. Governor and their staff members" following a "pattern of inappropriate contact with the Lt. Governor and her staff."
Court documents and police reports of the incidents contain no additional details. Nobody contacted for this article wanted to discuss the specifics of those incidents, either because they are pending legal cases or because they fear aggravating Newman when he gets out of jail.
Former Charlotte Mayor Pro Tem Lynn Wheeler, who has known Newman since his time with the Knights, says she received an inappropriate text from him in that same period, on Feb. 17 at 1:41 a.m. She sent The Ledger a cell-phone screenshot that contained the genitals of a man who was wearing an "Autism Speaks" T-shirt but whose face was not visible.
Newman has an outstanding warrant in Mecklenburg County for disseminating obscenity, but Wheeler says she did not report the image to police.
"It's tragic what has happened to him, and he is the polar opposite of the guy that I have known and was one of my best friends for 20 years," Wheeler said. "It's not the Tim Newman that I knew."
With legal troubles mounting, Newman left for the West Coast. He skipped a meeting with his probation officer on Feb. 18 but left a voicemail at 4:53 a.m. on Feb. 20, saying he was out of state and might not return, court documents say — even though leaving the state required written permission.
Facebook posts show he was in the Lake Tahoe area and stopped by a campaign event held in Reno, Nev., by Democratic presidential contender Amy Klobuchar: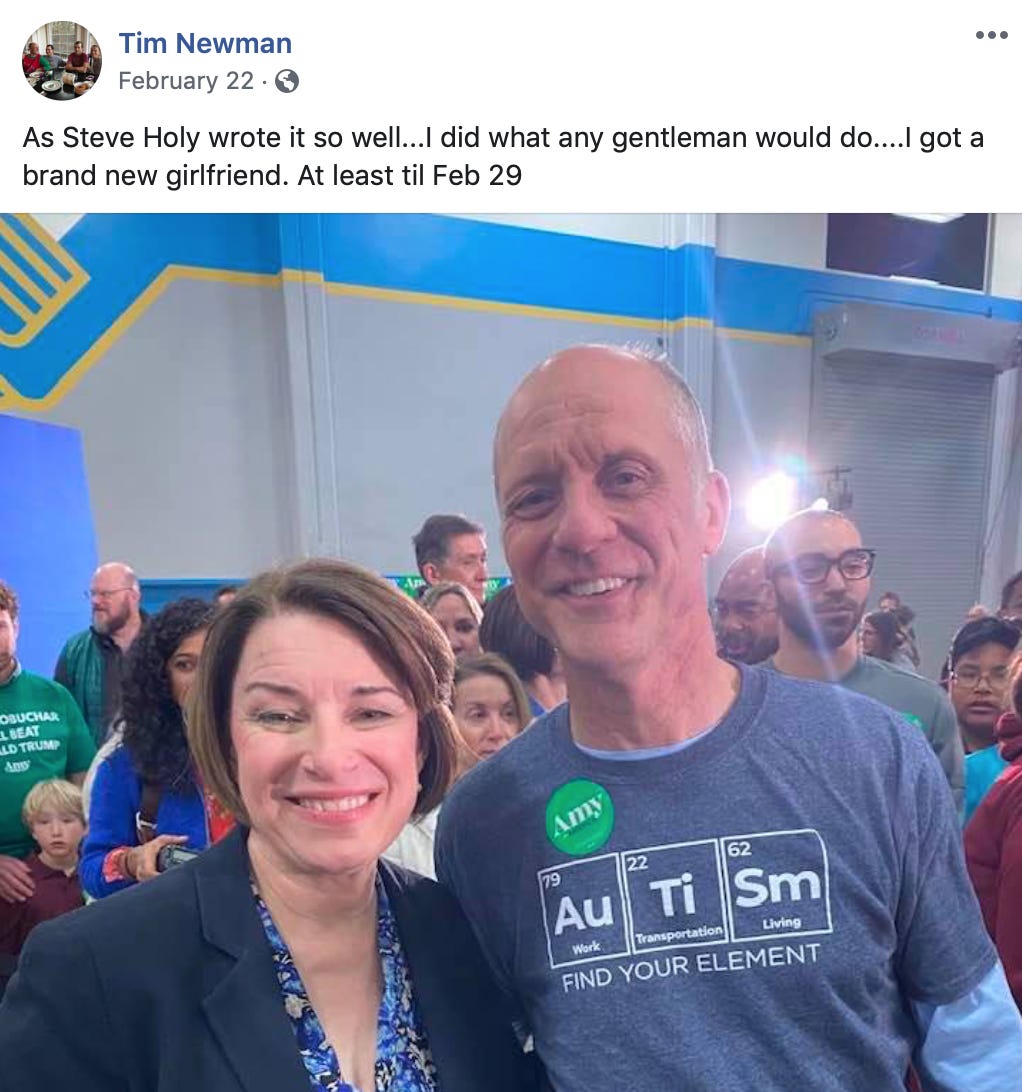 Within a week, though, he was back in South Carolina. On Feb. 27, he was arrested in Columbia on probation violations and spent two weeks there before being transferred to the Mecklenburg jail and ultimately released.
Between March 17 and March 19, despite being warned earlier by law enforcement not to contact the S.C. governor's office, Newman texted Gov. Henry McMaster's chief of staff four times, including twice in the middle of the night, according to court documents. That led to four additional harassment charges, for which he was arrested again on March 26.
But not before slamming McMaster and Lt. Gov. Pamela Evette on Twitter:
Paper trail does him in
At 5:15 a.m. on April 3, just a few days after Newman got out of jail in Columbia, the deputy chief of the law enforcement division for Santee Cooper, the state's electric utility, took a call about a man threatening to blow up the Pinopolis Dam. He and another officer drove to the Spinx convenience store in Summerville, but the unknown man in the burgundy Ford F-150 had already left.
The officer viewed video surveillance footage from the store and saw that the man who had threatened to blow up the dam had stood at the counter, looked through some documents and threw some of them away.
According to the police report, when they looked through the trash, the officers found an invoice for Carolina Panthers season tickets. It was addressed to "Timothy E. Newman."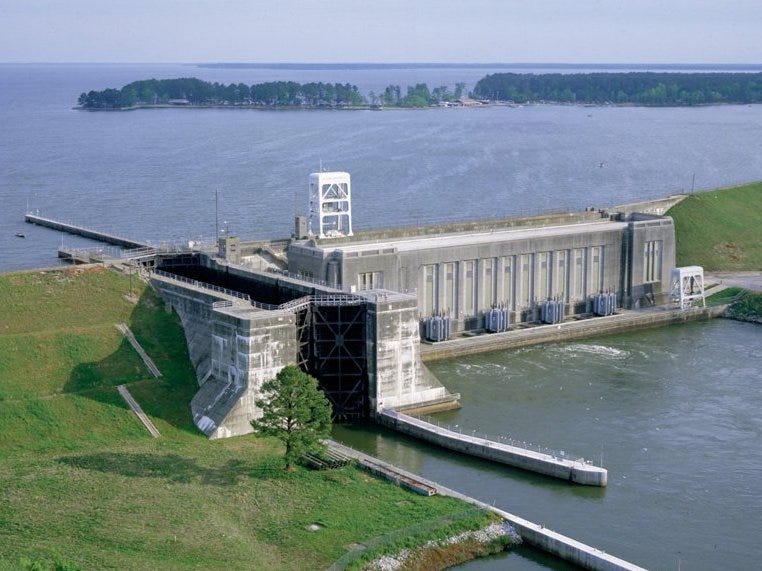 The Pinopolis Dam, also known as the Jefferies Hydroelectric Station. (Photo courtesy of Santee Cooper.)
Four days later, Newman was in custody. He's still being held in the Georgetown County Detention Facility with no bond. He faces four felony counts in South Carolina related to threats to the dam, the nearby coal power plant and the two sheriff's deputies. Mecklenburg police also want him for two felony counts: disseminating obscenity and violating a domestic violence restraining order, as well as a few misdemeanors.
His public defender in Berkeley County, David Schwacke, had no comment on the charges. Newman does not yet have an attorney in Georgetown County, where he is being held, according to the clerk of courts office.
In his phone call with The Ledger on Tuesday, Newman was friendly and even upbeat, despite his circumstances. Since he was talking with the media, he chatted about the media. He asked how the Business Journal's Erik Spanberg is doing and joked that The Ledger should "keep him honest." He remarked that he is familiar with the digital publication Charlotte Agenda and noted that he finds it ironic that The Observer, which he counts as a critic from his CRVA years, now has its offices at the NASCAR Hall of Fame.
He avoided talking about specifics. Asked if people should be worried about him, Newman said no: "God is in charge. Jesus is my boss. The Jesus I serve is not in the midst of some of the things that you are asking about."
Reach Tony Mecia at editor@cltledger.com.
---
Additional materials related to Tim Newman:
---
Need to sign up for this e-newsletter? You can join for free, or sign on as a paying subscriber for full access to everything. Here you go:
---
Share with a friend:
---
In three tweets, Trump announces the RNC is leaving Charlotte. But is it?
The will-it-or-won't-it question over whether the Republican National Convention will go on as planned in Charlotte in August seemed to be answered Tuesday night, as President Donald Trump announced on Twitter that he is moving the convention to another city.
Had long planned to have the Republican National Convention in Charlotte, North Carolina, a place I love. Now, @NC Governor Roy Cooper and his representatives refuse to guarantee that we can have use of the Spectrum Arena - Spend millions of dollars, have everybody arrive, and...

then tell them they will not be able to gain entry. Governor Cooper is still in Shelter-In-Place Mode, and not allowing us to occupy the arena as originally anticipated and promised. Would have showcased beautiful North Carolina to the World, and brought in hundreds of

millions of dollars, and jobs, for the State. Because of @NC Governor, we are now forced to seek another State to host the 2020 Republican National Convention.
Gov. Roy Cooper responded on Twitter less than an hour later:
We have been committed to a safe RNC convention in North Carolina and it's unfortunate they never agreed to scale down and make changes to keep people safe. Protecting public health and safety during this pandemic is a priority.
Hours earlier, Cooper had said that he couldn't guarantee a full convention with 19,000 participants crowded into the Spectrum Center without face masks and social distancing. The convention is planned for Aug. 24-27.
"They have demanded a full 19,000-person crowd at the inside arena in Charlotte. We've continued to say we want to talk with you about a scaled-down convention. but we cannot guarantee you that at the end of August, you can have a full arena," Cooper said Tuesday at a press briefing in Raleigh, according to The Charlotte Observer.
Convention officials earlier Tuesday said they were looking at cities including Orlando, Fla., Las Vegas, Nashville, Tenn., and Jacksonville, Fla.
Trump's proclamation seemed definitive, and the media coverage treated it as such. But it raises some serious questions: Does the president have the final say in moving the convention? And how much money would the RNC need to raise to pull together a huge event in less than three months?
An RNC official told WFAE after Trump's tweets Tuesday night that the business side of the convention could remain in Charlotte, while the "celebration of the president's acceptance" could happen elsewhere. — CB
---
In brief
Uptown protests: Thousands marched peacefully in uptown Charlotte during the day Tuesday, but the scene escalated into violence after nightfall during the fifth day of demonstrations in response to the death of George Floyd, a black man who died while being restrained by a white police officer in Minneapolis. Police closed the uptown transit center due to the protests while media reports showed police firing pepper spray balls to break up crowds and protesters throwing fireworks at officers. Police Tweeted that they had arrested someone with an AR rifle and two 30-round magazines. (WSOC)

From warehouses to mixed-use: Atlanta developer Third & Urban said it would convert "several midcentury warehouses" in Charlotte's Seversville neighborhood into 260,000 s.f. of showroom, office and retail space. It's an $80M project on Gesco Street. (Biz Journal, subscriber-only)

South End rezoning: The owner of a 1.3-acre parcel next to Suffolk Punch in South End along the light rail line is seeking a rezoning, which can be a prelude to development plans. The Durban Group filed Tuesday to have the property at 2833 Griffith St. designated as a Transit-Oriented Development Urban Center (TOD-UC), which is the highest-density transit designation. It allows buildings up to 130 feet tall to be built by right, or up to 300 feet tall if the development meets certain criteria. The single-story brick building on the site is home to an air-conditioning contractor.
---
Two things dads love — dad jokes and clever T-shirts
Hi, I'm Bryan Holladay, president of CLT PR. When I'm not helping clients with their lobbying, public affairs and networking needs, I'm crafting witty jokes, because I see humor as an essential way to connect us to each other. And one way I like to connect with what's happening in Charlotte is by reading The Charlotte Ledger. It has a fresh take on the latest news with a business-y approach that I find essential.
Want a laugh today? Click on the link above. My kids might roll their eyes, but do you know what dads love besides jokes? Comfortable and clever T-shirts. The Charlotte Ledger has you covered there. For just $15 you can treat dad to a Father's Day gift that makes him feel essential and tells everyone he's in the know on smart news in Charlotte.
And that's no joke.
__
If you want to show dad he's essential, order a T-shirt today. Or pick one up for yourself - they're available in unisex and women's cuts. They're just $15, and if you use the check-out code CLTL20, the shipping is free. Proceeds go to the Atrium Health Foundation's Essential Needs Fund, which supports healthcare workers.
Also available — Doggone Essential Charlotte Ledger dog bandanas:
Got a Ledger T-shirt? Send us a photo of yourself wearing it and tell us why the Ledger is your essential source of news. We'll make you famous in a future edition of The Ledger.
---
Programming note: Ledger editor Tony Mecia appears as a guest on 90.7 WFAE at 6:40 a.m. and 8:40 a.m. on Thursdays for a discussion of the week's local business news in the station's "BizWorthy" segment.
---
Need to sign up for this e-newsletter? Here you go:
Got a news tip? Think we missed something? Drop us a line at editor@cltledger.com and let us know.
Like what we are doing? Feel free to forward this along and to tell a friend.
On Twitter: @cltledger
Sponsorship information: email editor@cltledger.com.
The Charlotte Ledger is an e-newsletter and web site publishing timely, informative, and interesting local business news and analysis Mondays, Wednesdays, Fridays and Saturdays, except holidays and as noted. We strive for fairness and accuracy and will correct all known errors. The content reflects the independent editorial judgment of The Charlotte Ledger. Any advertising, paid marketing, or sponsored content will be clearly labeled.
Executive editor: Tony Mecia; Managing editor: Cristina Bolling; Contributing editor: Tim Whitmire; Reporting intern: David Griffith