University City is primed to add jobs, big-time
Plus: Neighborhood seeks historic status; Panthers switch concessionaires; Name a dead rat after your ex and feed it to a hawk at the Raptor Center
Good morning! Today is Friday, February 14, 2020. Don't forget that today is Valentine's Day.
Need to subscribe? Sign up for free here (charlotteledger.substack.com).
Like what you see? Forward to a friend or share on social media.
---
Office projects a-plenty spring up at research parks and along rail line; area 'ripe' for job announcements, officials say
Charlotte's University area, long home to sprawling office parks, is getting reinvigorated with loads of new office construction to accommodate what officials say is renewed interest from employers.
Lots of areas in Charlotte are booming. But the University area has been relatively quiet until recently on the construction of new offices.
Last year, though, developers announced 4 million s.f. of office projects — which would roughly double the existing inventory of office space. Those would help accommodate more jobs on the way.
"We are chasing a lot of jobs up in the University area," assistant city manager Tracy Dodson told The Ledger. "We put a light rail line up there, we already have a lot of jobs up there, and we have the university up there. That area is ripe."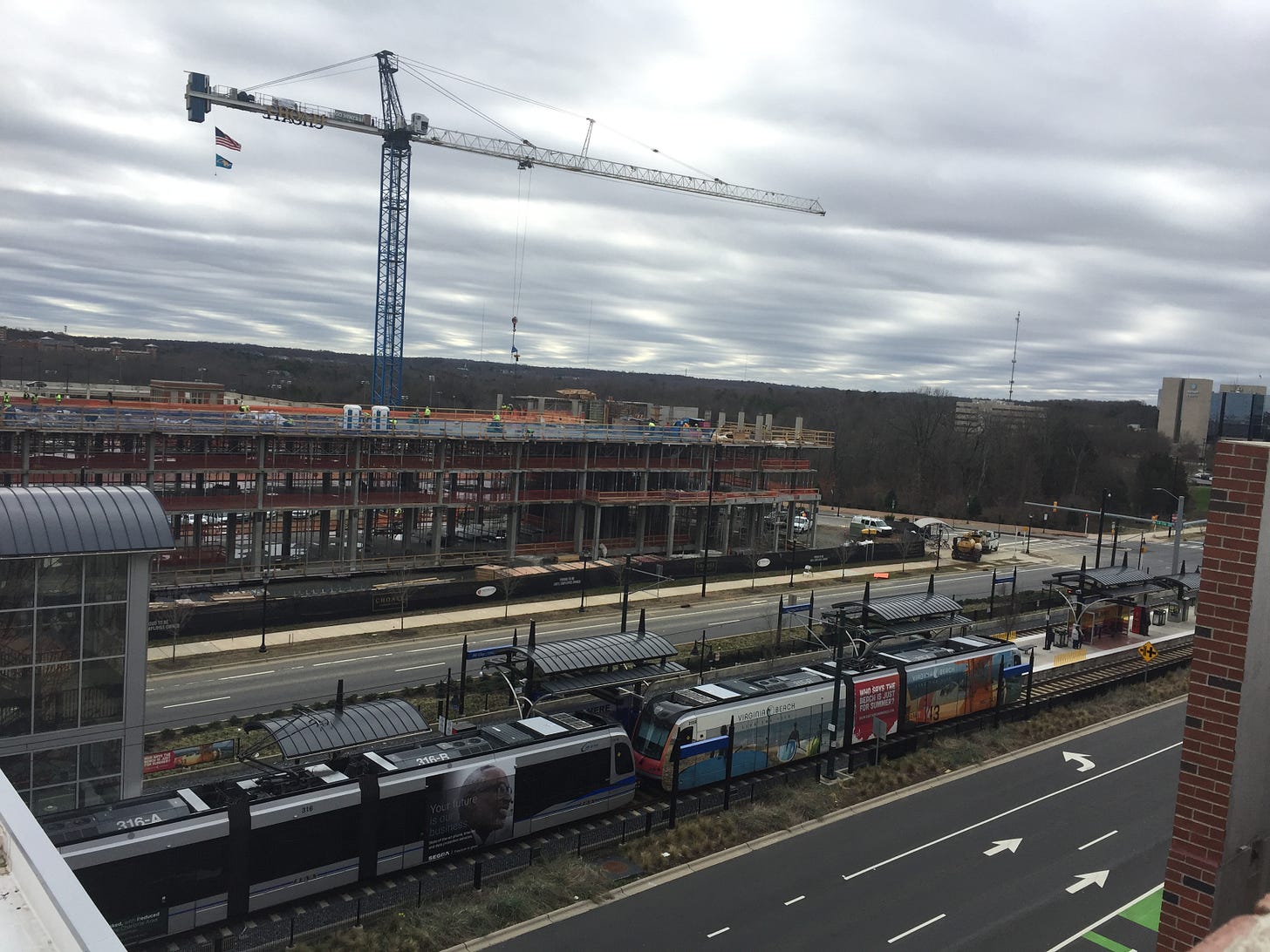 Get ready for cranes: The University area is about to experience a construction boom that includes a number of new office projects. This is the Marriott under construction by UNC Charlotte at the J.W. Clay light rail stop.
The University area seems especially well-positioned to take advantage of the recent Charlotte boomlet of tech jobs. UNC Charlotte awards more computer science degrees than N.C. State.
In the last few months, developers have announced office projects including:
The new owners of Innovation Park, which was originally home to IBM, announced in October that they plan to build up to 1.5 million s.f. of office space to the site, which would nearly double its size.

In October, Crescent Communities announced 158,000 s.f. in four stories of "creative office space" in University Research Park. "We see a void in the marketplace for first generation creative office space in the growing University Research Park area of Charlotte," a Crescent VP said.

In July, the City Council approved a rezoning for Waters Edge, a development by EB Arrow that includes 182,000 s.f. of office near the site of the current Shoppes at University Place.

Last month, Principal Financial Group signed a lease for 106,000 s.f. in a development called Proximity Park. Principal bought Wells Fargo's institutional retirement business last year.
"We are a pretty hot market right now," says Darlene Heater, executive director of University City Partners. She says light rail has "reawakened" the area, which is seeing renewed interest from employers and developers interested in all kinds of projects.
Some of the big employers in the area are quietly growing and adding to the area's employment base, too. Notable names include Electrolux, Duke Energy, Rack Room Shoes, TIAA and a Wells Fargo campus that employs about 14,000 people — more than Wells has uptown. The area seems poised for change.
"We are a suburban market that is trying to transition into an urban market," Heater said.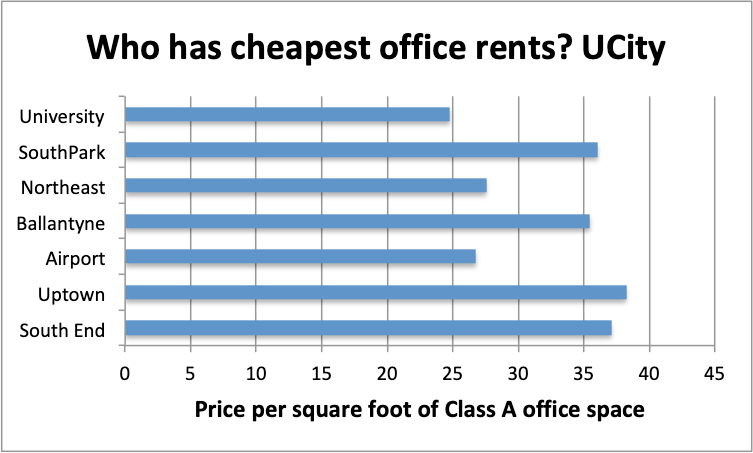 Of the major Charlotte office submarkets, the University area has the least expensive rents, which could help draw companies to the area. (Source: JLL Research Report, 4Q 2019.)
---
Oaklawn Park seeks historic status
Charlotte's Oaklawn Park neighborhood is on the verge of becoming Charlotte's seventh locally recognized historic district.
The association for the neighborhood, which is located north of the Brookshire Freeway near I-77, this week submitted paperwork to the city seeking the designation. It would mean that property owners would need approval before altering the outside appearances of their homes, to make sure that any changes are in line with the neighborhood's character.
Resisting development pressures: The designation would cover about 227 houses, said Renee Pride-Dunlap, president of the Oaklawn Park Community Improvement Organization, in an interview with The Ledger. Most are brick ranch houses built in the 1950s. Like many other Charlotte neighborhoods, Oaklawn Park has felt development pressure, she says.
"Charlotte has almost torn down all of its history," Pride-Dunlap said. "We want to do this before the character of too many homes is taken from the neighborhood."
The proposal requires City Council approval. Charlotte's other six local historic districts are in Dilworth, Fourth Ward, Hermitage Court, Plaza-Midwood, Wesley Heights and Wilmore.
---
Today's supporting sponsors are Cardinal Real Estate Partners…

… and The McIntosh Law Firm/Carolina Revaluation Services:

---
Atrium details expansion plans to Dilworth neighbors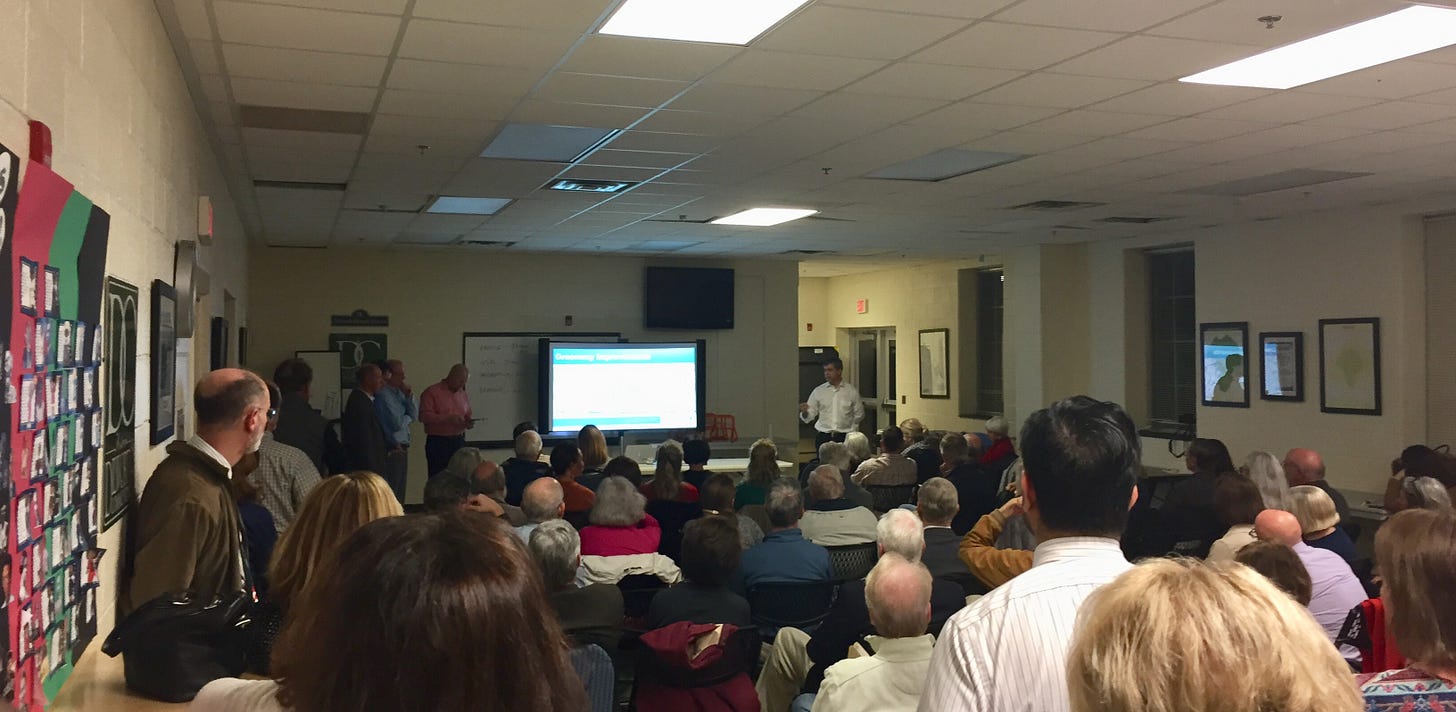 Atrium Health officials laid out construction plans to more than 100 neighbors at Dilworth Elementary on Wednesday night. They said no site has been publicly announced for a new medical school and that any apartments would be for workforce housing. They also fielded questions on buffers, saving trees, greenway renovations and the location of future parking decks. The company has filed for a rezoning for its Carolinas Medical Center campus that could be voted on as early as April.
---
In brief
Junior college surge: Enrollment in North Carolina community colleges increased 4.4% in the fall of 2019, the first increase in nearly a decade. Officials said the increase is attributable to a marketing campaign and a greater focus on workforce training. Central Piedmont Community College's enrollment was up 0.5%. (Business North Carolina)

McClatchy bankruptcy: More information on Chatham Asset Management, the hedge fund that looks like it will own Observer parent McClatchy Co. after the bankruptcy case finishes: Chatham "is also majority owner of the National Enquirer and Canada's largest newspaper chain." (NiemanLab)

Virtual bank insurance: A San Francisco company has become the first digital bank to receive approval for FDIC insurance. The company, Varo, is known as a neobank, which does not have physical branches. Most banks like that partner with others to have their deposits federally insured. The approval is a step toward receiving a national bank charter, which would allow it to "roll out more products, including credit cards and joint accounts." (Business Insider)

No arbitration: "Wells Fargo is no longer requiring arbitration for employees who file sexual harassment claims." (Barron's)

Quotable: Mayor Vi Lyles, asked about the streetcar at the Urban Land Institute conference this week, replied: "If you're looking at one of those projects, don't do it." Maybe it was a joke, maybe it wasn't. She added: "It's going to be fabulous. We've just got to get it done."

Something afoot in Eastover? The 0.3-acre parcel containing the Boston Market on Providence Road in Eastover recently sold, according to tax records. They show it was bought in October by EFC Middleton LLC for $1.8M.

University townhomes: A developer is asking the city to rezone 105 acres of land in the University area for a townhome development, records show. The parcel is at IBM Drive and Neal Road, near Innovation Park and Vance High School. It's owned by IBM Corp., and the LLC seeking the rezoning shares an address with Capstone Apartment Partners. No further details were available Thursday.

Truly confusing? As Truist and Truliant Federal Credit Union continue to fight in court over use of the letters "T-R-U," a UNC Chapel Hill business professor hired by Truliant says he conducted a survey in Charlotte that found consumer confusion. Professor Nicholas Didow said in an affidavit that 61% of consumers surveyed "mistakenly believed that Truliant and Truist were (either) the same financial services company, were affiliated, connected or associated with one another; or they did not know." (Winston-Salem Journal)

No demolition: In response to a reader question, the SECU building at Third Street and Kings Drive in Midtown might look as though it is about to get flattened, but county records show it's just a big renovation that includes replacing exterior walls, roof, restrooms and ductwork.

Just in time for Valentine's Day: The Carolina Raptor Center in Huntersville is raising money by allowing patrons to name a dead rat after an ex and have it fed to a hawk or an owl. "For a $14 donation, we will name a rat any name you choose — Caleb, Jake, Donald," the center's marketing director said. "They haven't all been men, but it does seem like women are a little saltier than men, so we have gotten mostly men names." (WFAE)
---
Best of Nextdoor: Cats for hire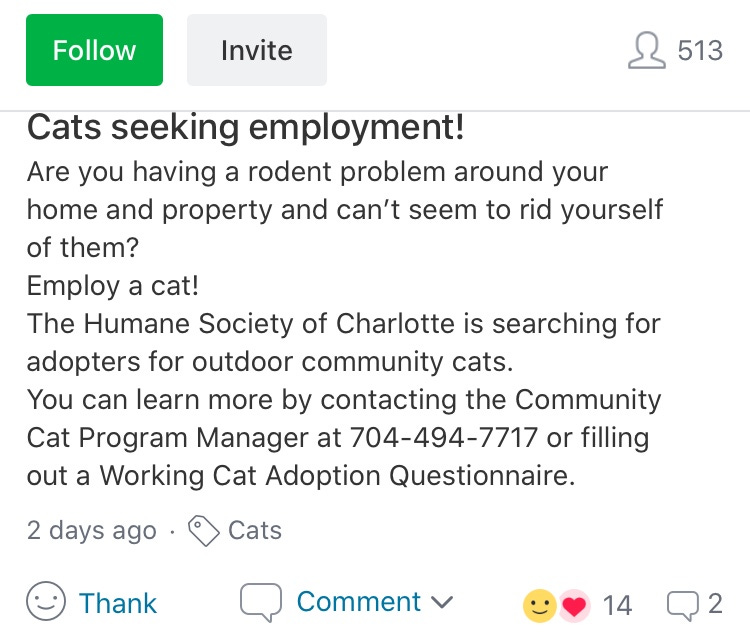 ---
Food and drink news
A weekly wrap-up of the week's eating and drinking developments
---
Need to sign up for this e-newsletter? Here you go:
Got a news tip? Think we missed something? Drop me a line at editor@cltledger.com and let me know.
Like what we are doing? Feel free to forward this along and to tell a friend.
Searchable archives available at https://charlotteledger.substack.com/archive.
On Twitter: @cltledger
Sponsorship information: email editor@cltledger.com
The Charlotte Ledger is an e-newsletter and web site publishing timely, informative, and interesting local business news and analysis Mondays, Wednesdays, and Fridays, except holidays and as noted. We strive for fairness and accuracy and will correct all known errors. The content reflects the independent editorial judgment of The Charlotte Ledger. Any advertising, paid marketing, or sponsored content will be clearly labeled.
The Charlotte Ledger is published by Tony Mecia, an award-winning former Charlotte Observer business reporter and editor. He lives in Charlotte with his wife and three children.